The 7 Best Celebrity Look-Alike Apps: Performance, Ideas, Features & Revenue Model
Author: Nabeel |
March 16, 2021 - Tekrevol Team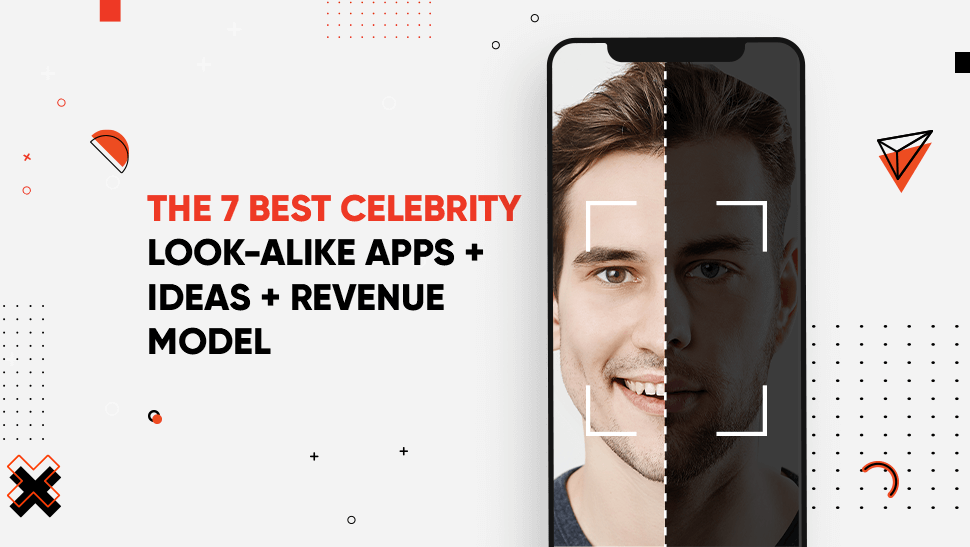 If you're an entrepreneur looking to transform into an appreneur, this article is for you.
Out of the hundreds of ideas that you can capitalize on, one idea is creating a celebrity look alike app.
I've rounded up the best celebrity look alike apps in this article along with their features, key highlights, ideas for building a celebrity doppelganger app, app download links and even the revenue model.
On the other hand, if you're a celebrity fanatic looking to find your celebrity doppelganger, the look alike apps on this list will seamlessly let you find your celebrity look alike.
The apps on this list were selected purely because of their innovative features and performance.
Below is a table in which I've listed the key feature, download links and detailed-information of the celebrity apps in better and easy language.
App's Name
Key Features
Play Store Link
App Store Link

Facer

Free For All Users.
Contain a list of 1000 celebrities.
AI-based face recognition.
Share images from the app.

Download link
Download link

Lookly

In-App Purchases.
Free For All Users.
Machine Algorithm searches for resemblance.
Share images from the app.
Lets you professionally edit your photos.

–
Download Link

My Replica

Let's you professionally edit your photos.
AI-based face recognition.
Add Collage, Filters, Stickers, and Frames.
Massive database of celebrities.

Download Link
–

Celebs

Quickly finds your celebrity lookalike.
In-App photo sharing feature.
Free For All Users.
Machine learning-based face matching.

Download Link
Download Link

Y-Star

Share images from the app.
Free For All Users.
A huge database of celebrities.
Instantly finds your celebrity lookalike

Download Link
Download Link

Star by Face

Face detection and pattern creation.
Neural Network-based comparison.
Increased quality of recognition.
Free For All Users.

Download Link
Download Link

Gradient

In-App photo sharing feature.
Filters, Glitches, Artistic and Double exposure.
Professionally edit your photos.
Free For All Users .

Download Link
–
Unlock Digital Disruption

Want to unlock your pivotal moment by building a product that rivals the upcoming great celebrity lookalike apps?

Strategy

Design

Development
An Overview Of The Doppelganger Apps
The daily usage of apps is increasing day by day.
According to research, the download count of mobile apps is said to surpass 250 billion in 2022.
That said, there are several apps today that are offering innovative and pretty useful features.
The credit of the drastic boost in the world of apps goes to the integration and contribution of emerging technologies such as IoT, artificial intelligence, and machine learning.
The combination of the two (latest technology and mobile apps) give rise to a recombinant innovation that in several cases has led to a significant increased in the performance, experience and value proposition of several apps by several folds.
Let's take the example of facial recognition technology to understand recombinant innovation.
According to several resources, facial recognition technology was invented by Woodrow Wilson Bledsoe in the 1960s.
Since then, the technology has gone through several improvements and evolutions.
Fast forward today, experts have developed sophisticated algorithms used to identify and detect faces.
The celebrity look-alike apps that we're about to discuss leverage the same facial recognition technology to identify the user's facial patterns and match them with the celebrities.
If you're interested in learning about facial recognition apps, here's another great blog in which we've listed the Top 10 Facial Recognition Apps.
So, without any further ado – let's start uncovering every top-of-the-line celebrity look-alike app out there that you can leverage to find your celebrity doppelganger.
1.   Facer App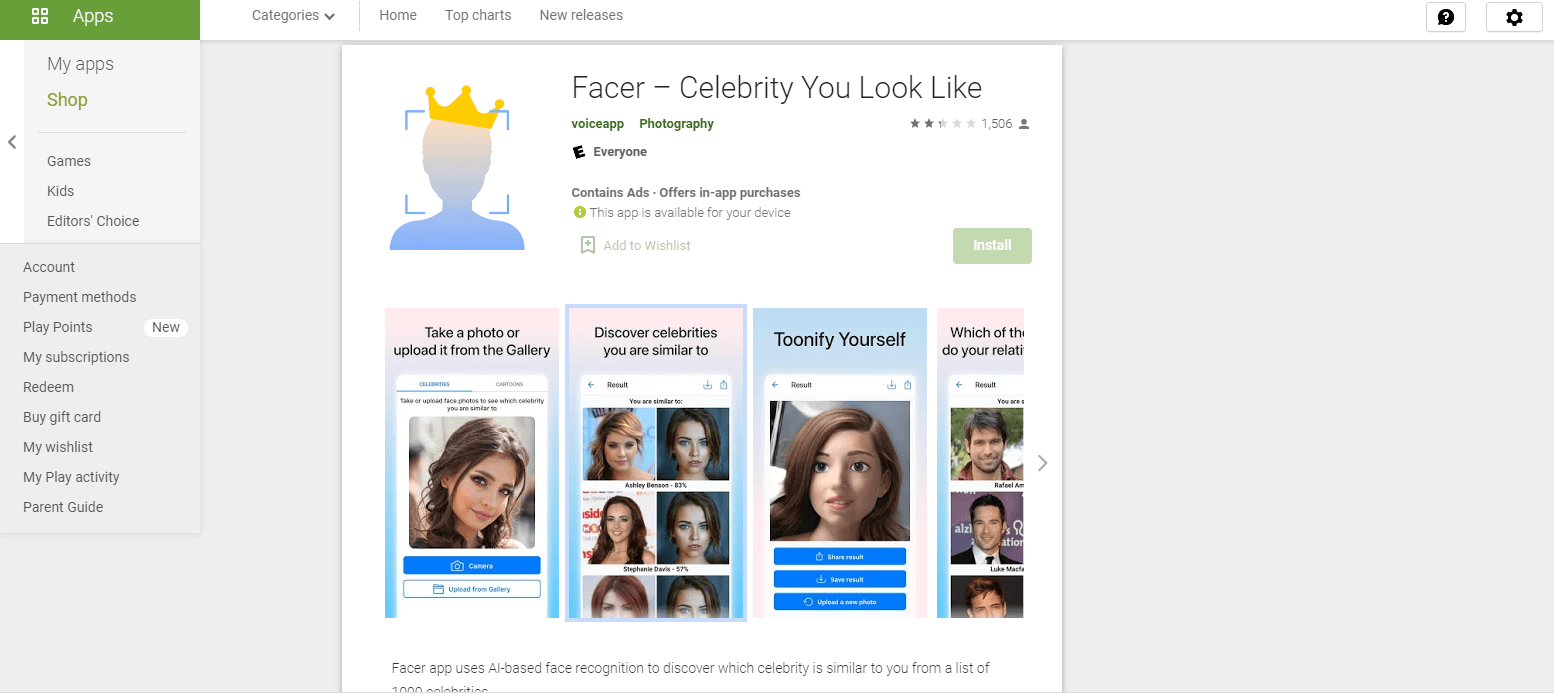 Facer app uses AI-based facial patterns recognition to discover your celebrity's best look alike.
It has a database of 1000 celebrities from which it extracts and matches the celebrity that looks similar to you.
The app has a simple yet feature-rich user interface that lets you quickly take photos and generate results in an instant.
However, the app does have in-app purchases and advertisements that can sometime clutter the UI and distract the user.
Lastly, the app advises its users to upload a clear and sharp picture to get the most optimum results and requires an internet connection.
Features Of Facer App
The results generated by the Facer app are super-accurate.
The AI-based algorithms help in improving celebrity look-alike.
A percentage of similarity is provided to the user with the generated results which is calculated by neural network.
Facer has a massive database of pictures of actors, athletes, politicians, and musicians.
2.   Gradient App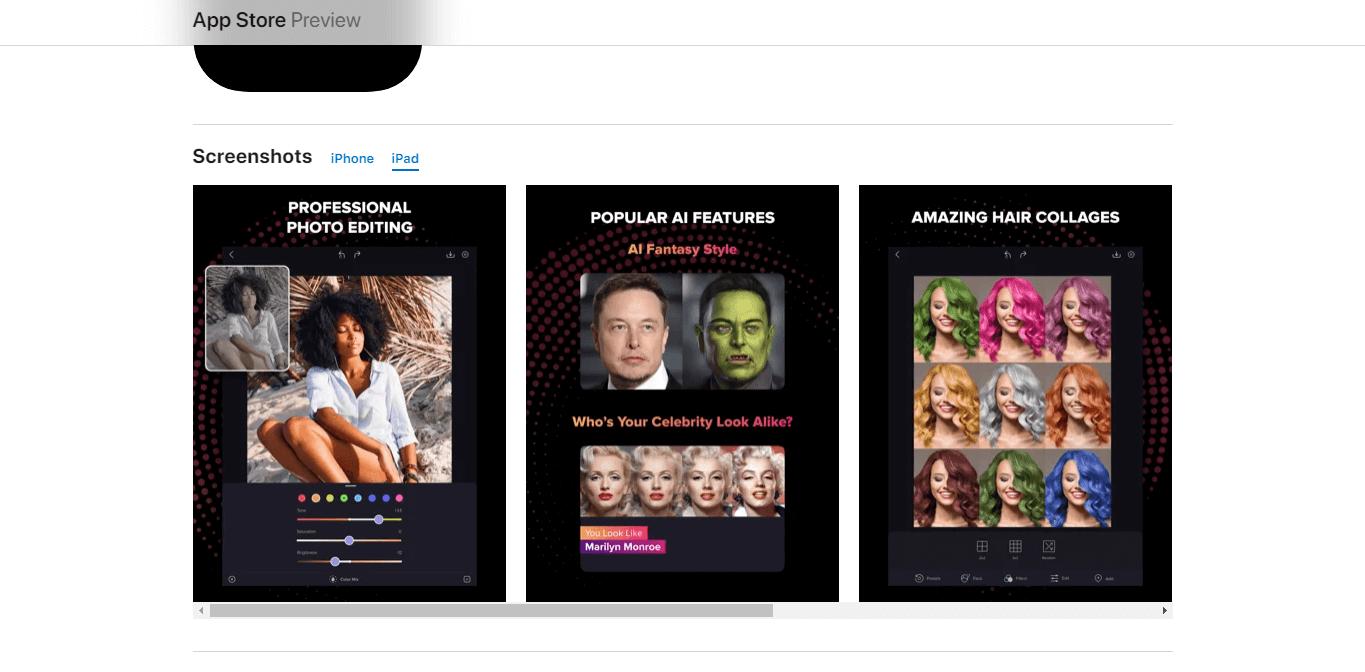 Gradient celebrity look-alike app offers much more than just the doppelganger feature.
The application offers photo editing, and its unique value proposition is the safety of the user's data.
Additionally, Gradient lets users upload their images and get a preview of the best celebrity look-alike instantly.
The app leaves no stone unturned in finding your celebrity look-alike that actually has facial features similar to yours.
The app's AI-based approach and beautification features are innovative and promise an exceptional experience for its users.
Moreover, like Facer, Gradient also has in-app purchases and advertisements.
Features Of Gradient App
Gradient has many filters and textures that enhance your pictures.
The AI-based approach enables impressive and quality outcomes.
You can take engaging AI portraits.
AI lets you estimate your beauty score.
3.   Celebs App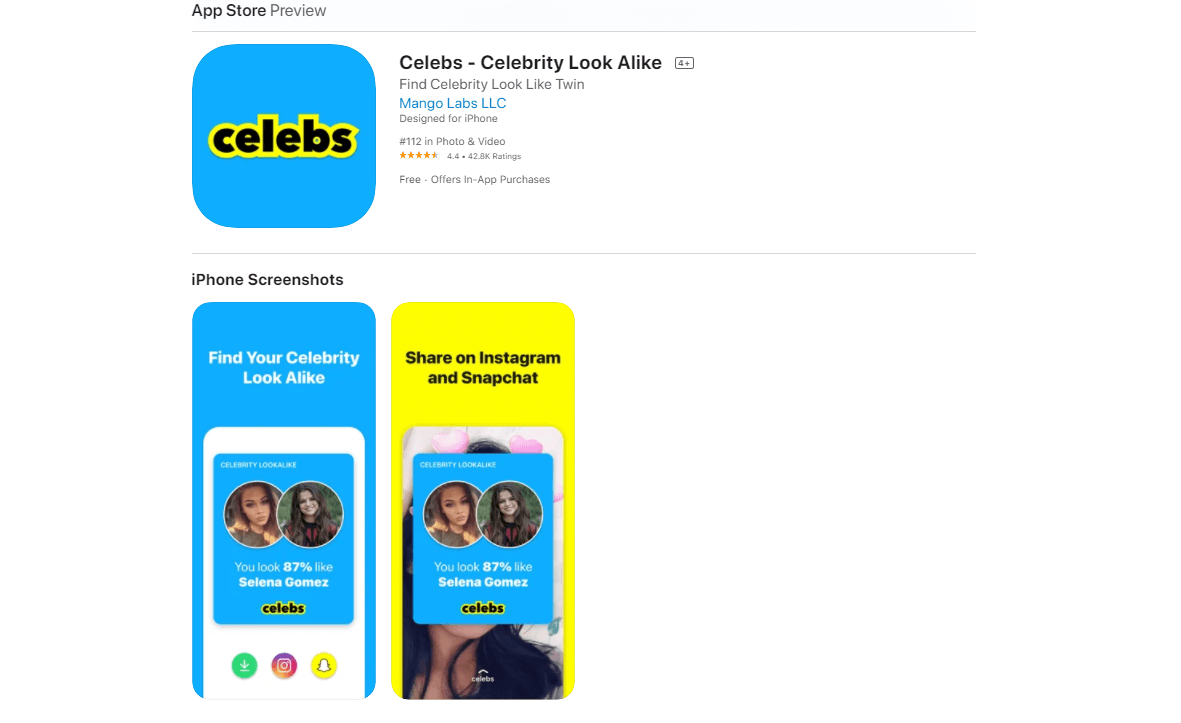 The Celebs app is yet another powerful doppelganger app specially designed to give answer to the users who are always wondering, "who do I look like?"
Fueled by impressive features and technology, the app gives you the most accurate and relevant results when it comes to finding your celebrity doppelganger.
The app leverages the machine learning approach to identify the emotions and expressions in a picture.
This revolutionary technology helps this look-alike finder to determine and showcase the best possible results.
Furthermore, the Celebs app also seems to have in-app purchases and ads which can also be considered as their revenue model.
Features Of The Celebs App
Accurate identification of your celebrity look-alike.
Instantly searches for the best look alike and shows results.
Identifies twin-faces.
Leverages machine learning technology that improves overtime.
You can also extract the results of the best animal you resemble.
4.   Star By Face App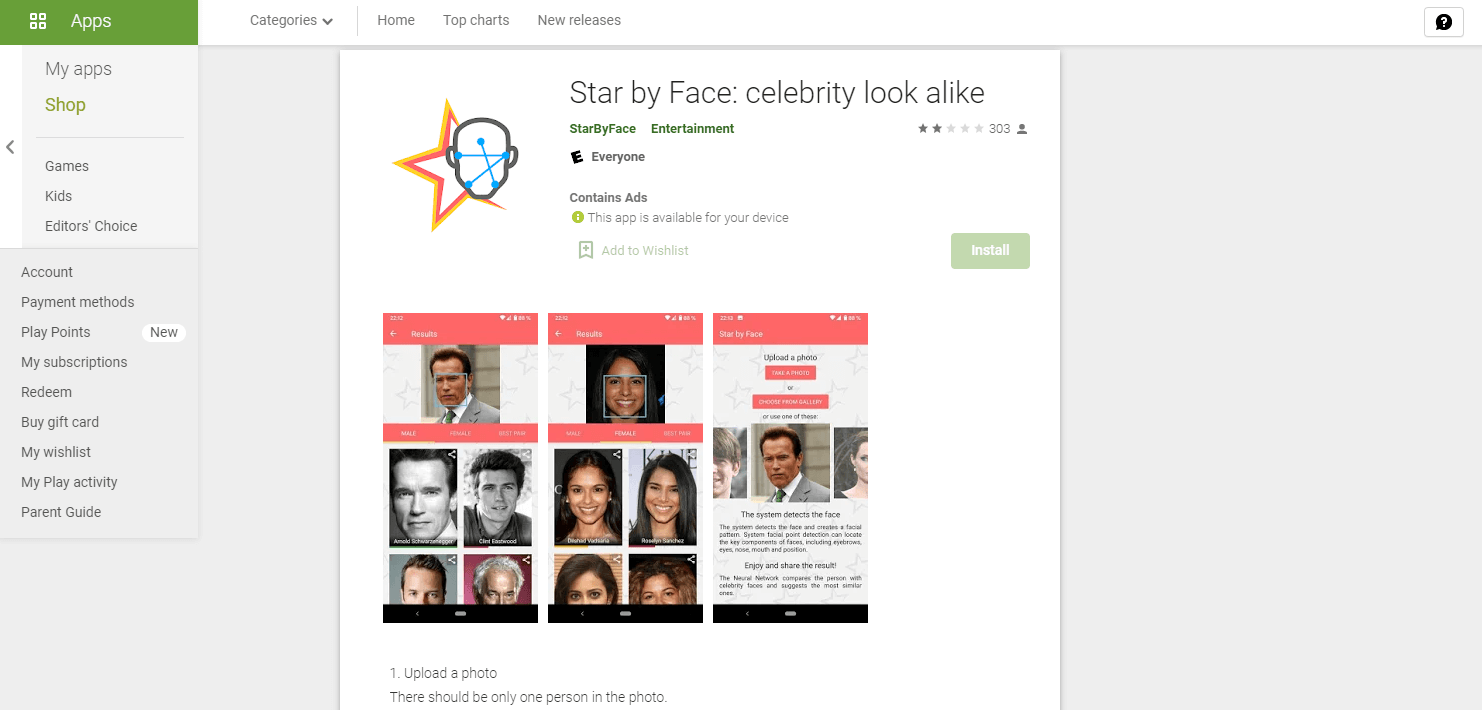 Star By Face is yet another treat for the celebrity look alike finding fanatics.
Integrated with the innovative facial recognition technology, the app showcases accurate results by matching your face with the celebrity you look like.
The app also allows users to upload photos to the app and analyzes the user's facial patterns to identify the best celebrity match.
Additionally, the application does not save or share the user data.
All of the photos generated by the user are deleted once the facial recognition and the face matching process is completed.
Also, the quality-oriented result makes the difference and enabled this spectacular celebrity look alike app to make this list.
Additionally, the app also has in-app purchases and advertisements.
Features Of Star By Face App
Star By Face generates high-resolution photos.
Every photo is modified to look amazing.
The app has a massive database that consists of thousands of celebrities.
Machine learning technology improves the functionality of the app.
5.   Y-Star App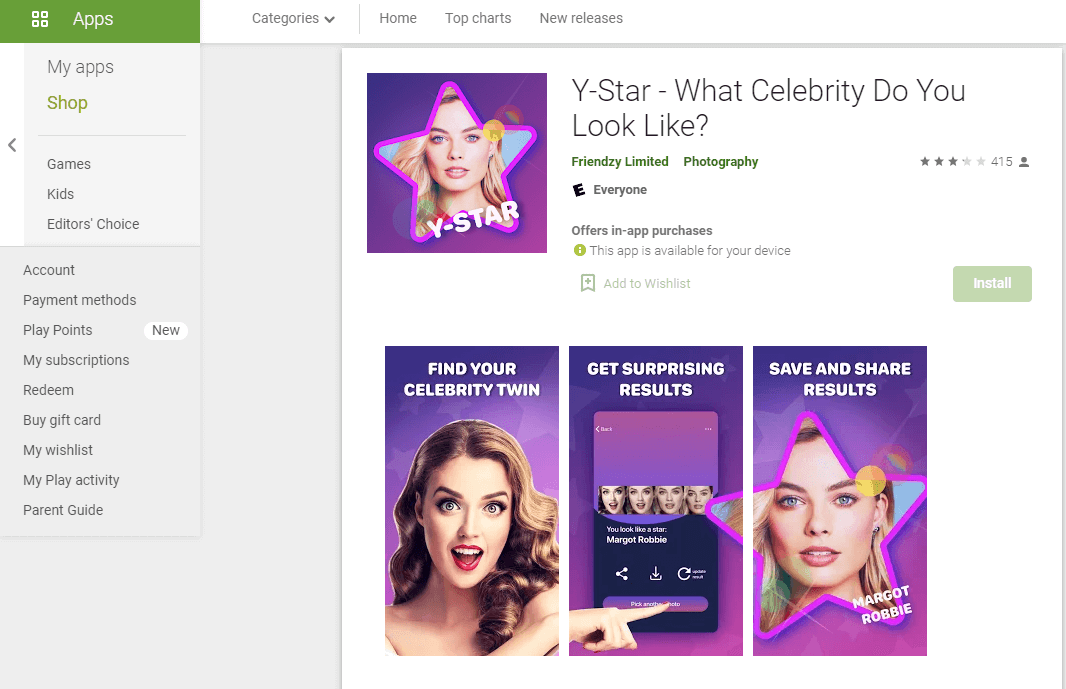 This celebrity look-alike app is all about providing users with instant quality-oriented results.
You can simply download Y-Star and take a photo from the camera – it is as simple as that.
The app automatically scans the facial features of the users and generates spectacular results.
The app matches your facial patterns instantly with the available collection of celebrity data and identifies the best look-alike celebrity.
You can also unlock advanced features of the app by purchasing them from within the app.
Moreover, the app doesn't distinguish between genders.
It calculates similarity based on facial features to provide relevant results.
Features Of The Y-Star App
The application is capable of creating impressive results.
The application uses face mapping to determine the best celebrity look alike.
It also focuses on the user's eyes, nose, mouth, and forehead to generate results.
6.   My Replica App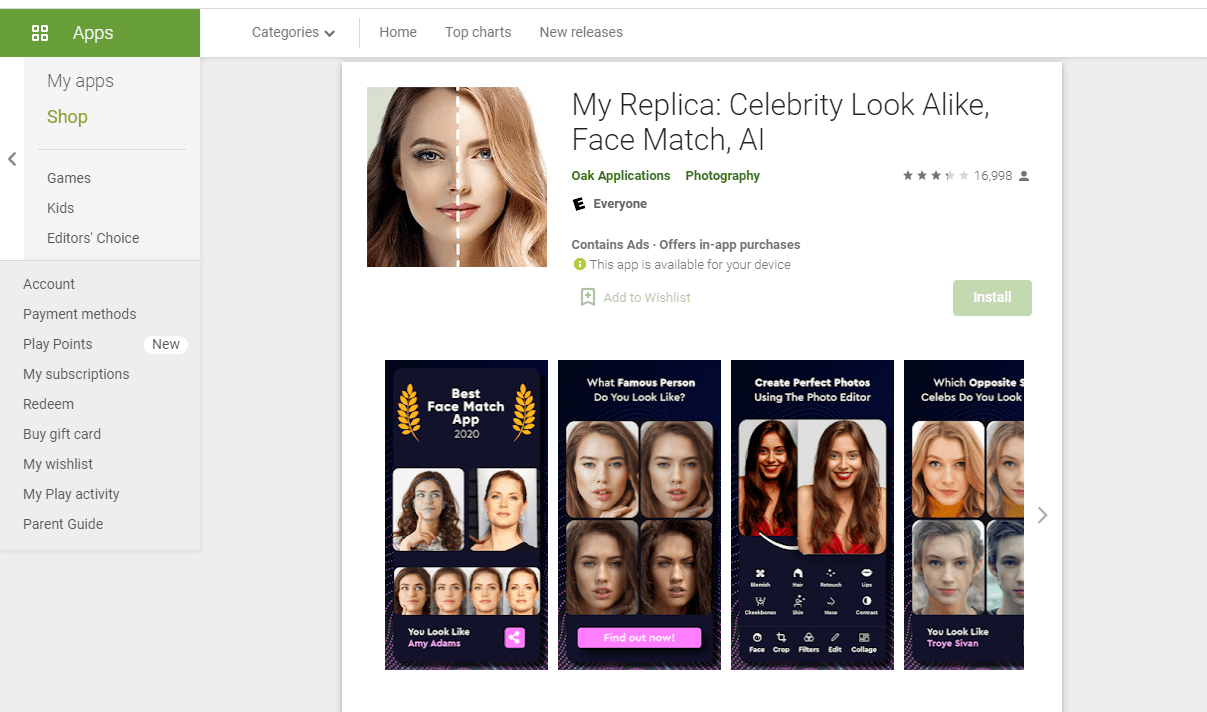 My Replica app is another celebrity look-alike finder or a doppelganger app.
The standout aspect of this app is that along with a celebrity look alike finder you also get a professional photo editor.
With filters, redo features, retouches, filters and cropping functionality, the app helps you create the most attractive photos.
The app also lets you share your edited photos on your social media profile from within the app.
Moreover, when matching your face to a celebrity, the app extract the perfect doppelganger with its huge data collection of celebrities and quality-oriented results.
And last but not the least, the app has got in-app purchases and advertisements like almost every other app in this article.
Features Of My Replica App
The app gives you answers to questions like; "Who do I look like?" or "who is my celebrity look-alike," "find my celebrity doppelganger."
The suggestions provided are highly relevant and accurate.
The app's database consists of several important figures, i.e., politicians, musicians, and actors.
7.   Looky App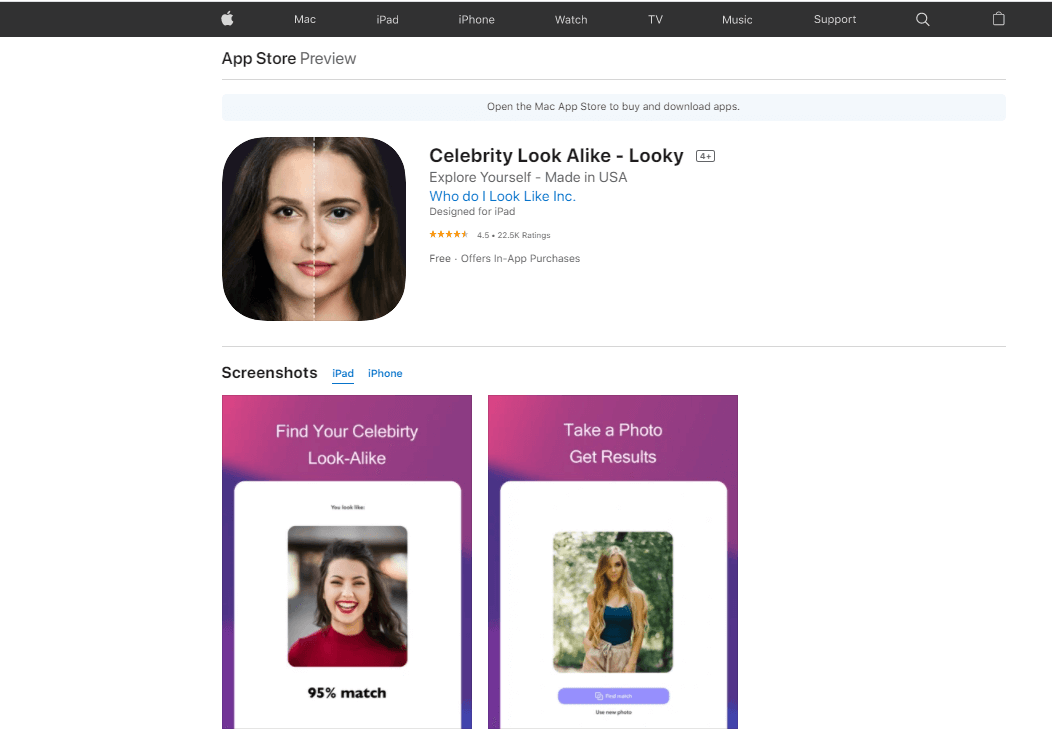 From incredible features to amazing user experience, Looky has got it all.
You can simply download the app, take a selfie from it and upload it from your smartphone gallery.
Furthermore, the app also fulfills its purpose of being your celebrity look alike finder and it does this in a spectacular way.
The app scans your facial features and extracts your celebrity look alike.
And if you're not happy with the results, you can opt for another round which in most cases has worked more efficiently than the first one.
Also, you can also save and share your images from within the app.
Features Of Looky App
Simple but powerful features.
Generates the best celebrity look-alike instantly.
Offers the "Try Again" feature to help the user generate more results.
You get all the features such as sharing, saving, and photo capturing within the app.
This great app's only drawback is that it is only available for 24 hours after the initial download. Afterward, you'll have to buy the app to keep using it.
Ideas You Should Consider To Build A Celebrity Look-alike App
Look-alike App Based On Voice Recognition
Tekrevol is known for leveraging the latest technologies in innovative ways so, here we would suggest that you make use of the voice recognition technology for your doppelganger app.
The apps mentioned on this list are using your smartphone's camera, their database, and an algorithm based on machine learning or AI to generate results, right?
How about building an app that would allow the users to easily choose the best look-alike celebrity by just speaking the celebrity's name.
For example, when the user takes his/her picture, and the app generates results, the user gets the feature of speaking the celeb's name to choose the specific celebrity he wants to match his facial features with.
However, you would need to utilize voice recognition technology to develop this kind of doppelganger app.
A Cartoon Lookalike Apps For Kids
It's a fact; kids are in love with smartphones. They're using these smartphones to play games, watch videos, learn and do much more. However, specifically, they love to watch cartoons and listen to poems.
So, what if there was an app that could easily let kids find their cartoon characters look alike?
The idea of getting an app primarily developer for the kids, equipped with an extremely user-friendly interface, would perform amazingly well in the competitive market of today.
You can also integrate more features for kids like sharing their photos, adding fun elements, and quizzes related to their favorite character. You can capitalize on countless possibilities to bring innovation to the market via a mobile app.
The Revenue Model of Celebrity Lookalike Apps
So, I presume you've come up with a great idea for your doppelganger app. Now, you may need to decide the ways you can make money with your celebrity look-alike app.
There are several opportunities through which you can earn money with your celebrity look-alike app. For example, you can offer premium features within your app that the user needs to pay for to use them.
However, here are some of the most basic ways through which your app can earn money.
Monthly Or Annual Subscription
One of the most beneficial ways to earn money through your app is selecting the amount you need to charge from the users for using your app.
However, you may need to integrate the best functionality and features within your app to make it worth it for the users to buy.
There are several features that you can offer to your customer after they've bought a monthly or annual subscription to your celebrity look-alike app.
For example, you can offer market-leading solutions like video tutorials, cloud storage, premium editing options to your customers once they've bought your app's subscription.
In-App Ads
If you've decided that your app will be free for all users, you must include in-app advertisements to earn revenue from them. According to eMarketer, in-app advertising is estimated to grow by 27.6% per year until it reaches $18.01 billion.
The stat mentioned above is enough to persuade you into featuring ads in your app. So, once the user downloads your application, you can show them the ads and get paid each time an ad is displayed or clicked on.
This is yet another viable revenue-generating idea that you can leverage to earn money from your app.
In-App Purchases
Offering In-App purchases is perhaps the simplest way to earn revenue through your mobile application. This approach involves the selling of virtual items within the app to the users.
You can include some premium features that are only unlocked once the user buys the feature from within your app. They can pay for the feature via PayPal, debit card, or any other payment method.
However, to see the magic of in-app purchases in action, you need to integrate useful and innovative features within your app that attract more users and intrigue them to buying the feature.
Moreover, if you want to learn more about the revenue your app can generate, check out our blog, "How much money can an app make?".
Let's check out some of the frequently asked questions
Frequently Asked Questions
What App Shows Your Celebrity Look Alike?
A Celebrity Lookalike App analyzes your facial patterns and features. After analyzing, it utilizes an algorithmic approach to extract the best celebrity that matches your facial features.
You can upload your image from your smartphone to the app or take a photo from within the app to let the celebrity doppelganger feature extract your celebrity look alike.
How Do You Find Your Doppelganger?
You can use the following apps to find your celebrity doppelganger:
Facer.
Gradient.
Celebs.
Star By Face.
Y-Star.
My Replica.
Looky.
Over To You
So, these were some of the best celebrity look-alike apps that you can use to find your celebrity doppelganger. From the revenue model to celebrity look-alike app ideas to features, we've covered everything in this article for you.
If you were looking for a celebrity look-alike app, we're sure you'll find the perfect app by learning about the apps in this article.
However, when it comes to developing an app for business purposes, you may need the help of a company that possesses strong command over mobile app development.
Tekrevol just happens to be the perfect choice for understanding clients' requirements and providing intuitive and detailed solutions for their apps.
So, if you're willing to get a celebrity look-alike app developed, reach out to us, and we'll be more than happy to assist you with your query.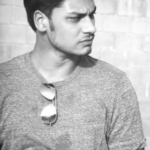 Author : Nabeel
Nabeel has a flair for strategic innovation and tech-driven transformation. He leads the Content Marketing Team at TekRevol. He thrives on exploring and sharing information about the transformative impact of technologies and strategic innovation on SMBs, startups, and enterprise-grade organizations.
Recent Blogs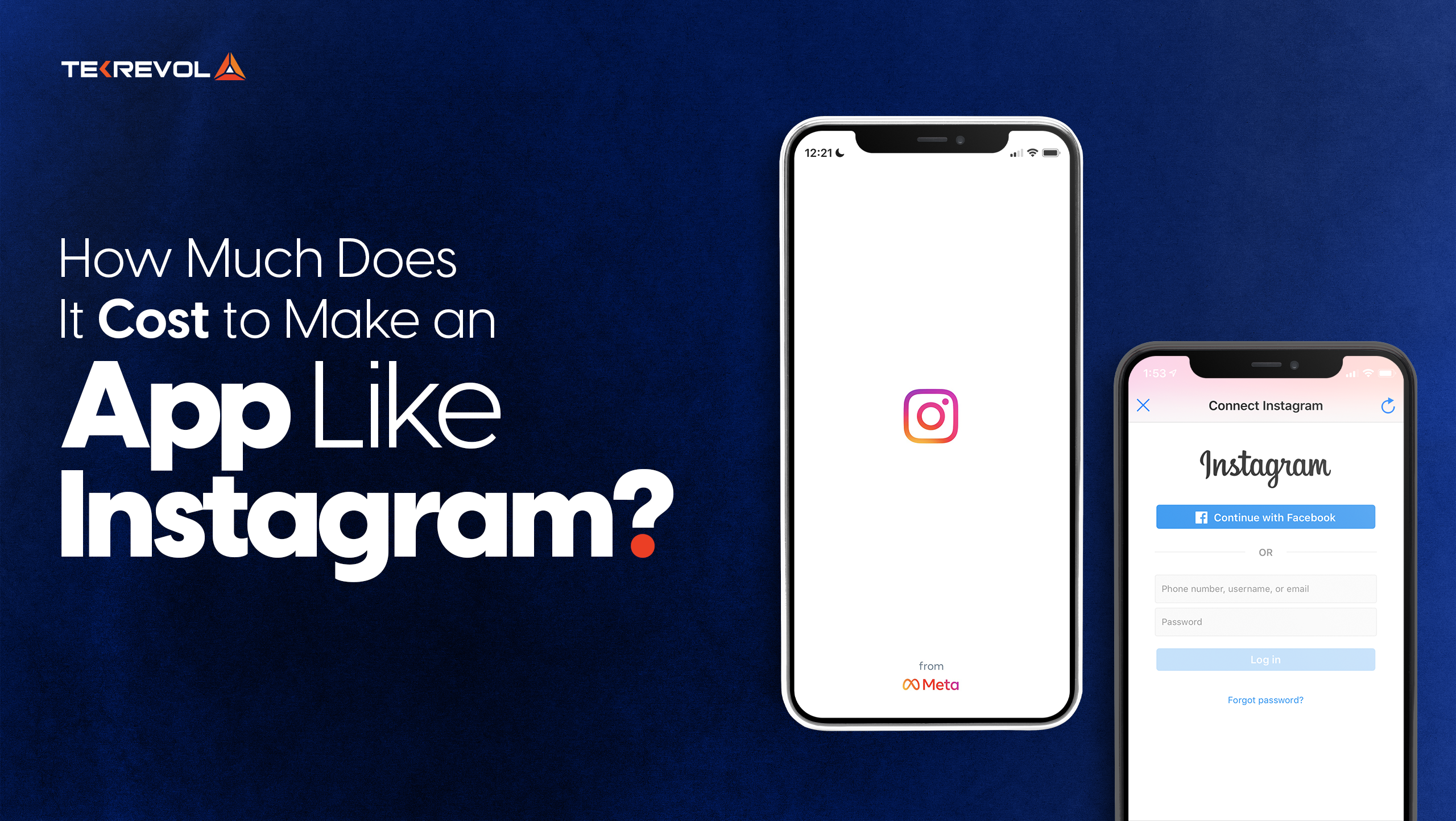 Tekrevol's Global Presence
Now expanding to multiple cities across USA, GCC region, Europe & Asia
Come meet us at a location near you!
USA
39899 Balentine Drive,
Newark, CA 94560
1301 Fannin St #2440,
Houston, TX 77002
501 E Las Olas Blvd Suite
230, Fort Lauderdale, FL
44 Tehama St, CA 94105, San Francisco
400 NW 26th St, FL 33127, Miami
740 15th St NW 8th Floor, DC 20005, Washington
CANADA
4915 54 St 3rd Floor
Red Deer, ABT T4N 2G7
UAE
Level 5, One JLT Tower 1 - Jumeirah Lakes Towers - Dubai, United Arab Emirates
Level 17, World Trade Center, Khalifa Bin Zayed the First Street, Abu Dhabi
Level 22 , West Tower, Bahrain Financial Harbour, Manama, Bahrain
Level 22, Tornado Tower, West Bay, Doha, Qatar
PAKISTAN
3/25, Block 5, Gulshan-e-Iqbal,
Karachi, Sindh 75650
USA
CANADA
PAKISTAN
UAE
talk to us
Got an idea?
Let's get in touch!
Let's discuss your project and find out what we can do to provide value.
I am interested in discussing my ideas with you for
COPYRIGHT 2023 TEKREVOL ALL RIGHTS RESERVED.