Top 15 Healthcare Apps of 2023
Author: Saba Sohail |
August 26, 2022 - TekRevol Team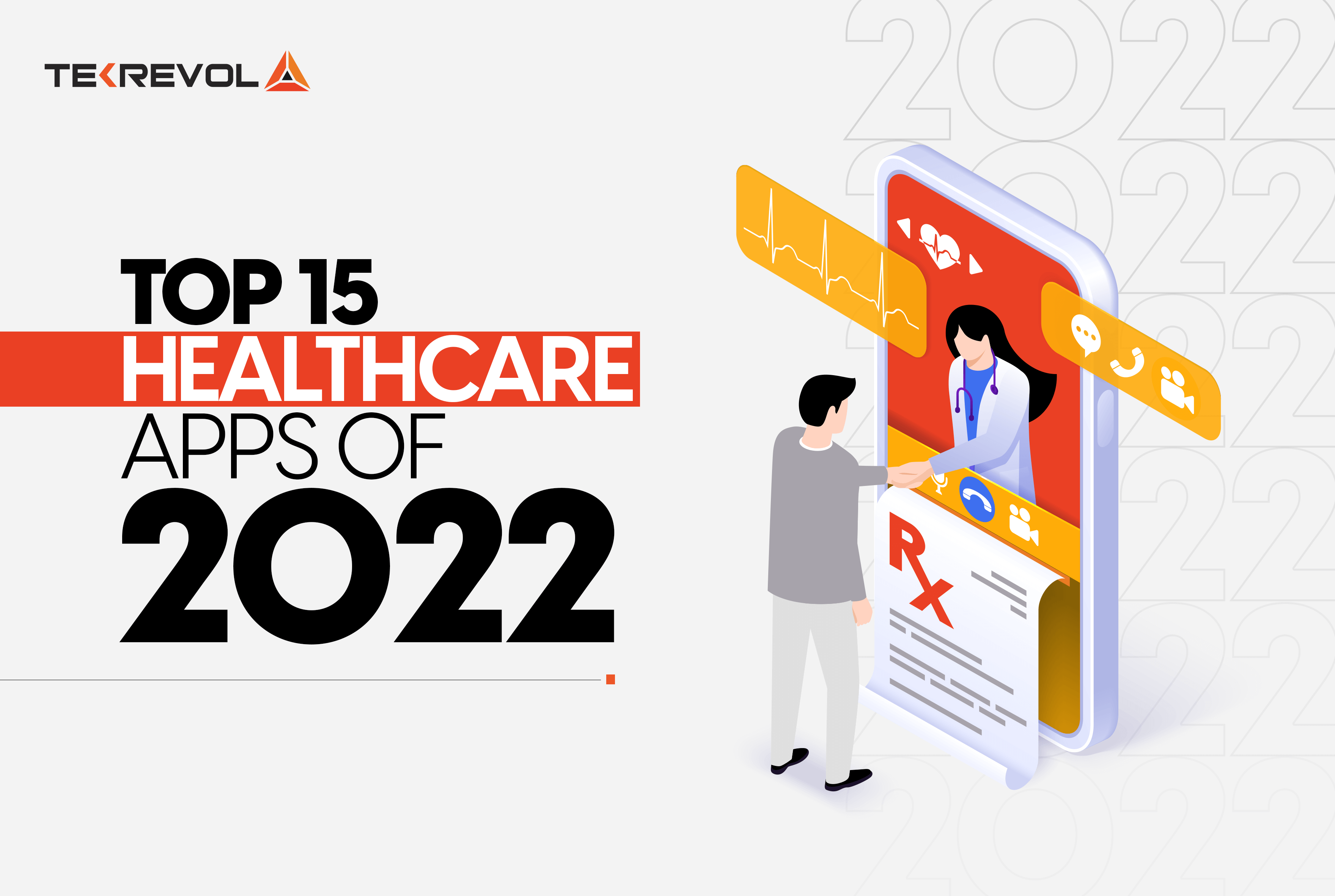 Like every other sector, healthcare apps have revolutionized the entire medical space. For different stakeholders, patients, medical professionals, and healthpreneurs, these apps are reshaping the overall experience.
Fitness tracking, telemedicine, remote symptom monitoring, smart health management, and pill reminders have put end-users in the drivers' seats.
For other stakeholders, like service providers and medical professionals, these healthcare apps have shared the load and automated delivery of routine services like therapies.
And then there are health-tech startups. This group has bridged the gap between the demand and supply of healthcare services for local and remote areas. The different medical apps have helped these brands establish stronger connections with their target audience and access to an ideal customer base.
This blog will discuss the top 15 healthcare apps currently optimizing the patient experience and reshaping how healthcare functions globally.
Fitness-based Healthcare Apps
1. AMJ Workplace Wellness
AMJ Wellness is a corporate app for employee well-being. This fitness and healthcare app aims to help employees stay active and agile during work shifts.
It reminds them of breaks, supplies nutrition plans for a better diet, and recommends physical and mental exercises.
Users can choose to create their workout plans and fitness challenges or follow ones that their company admins have posted for specific periods.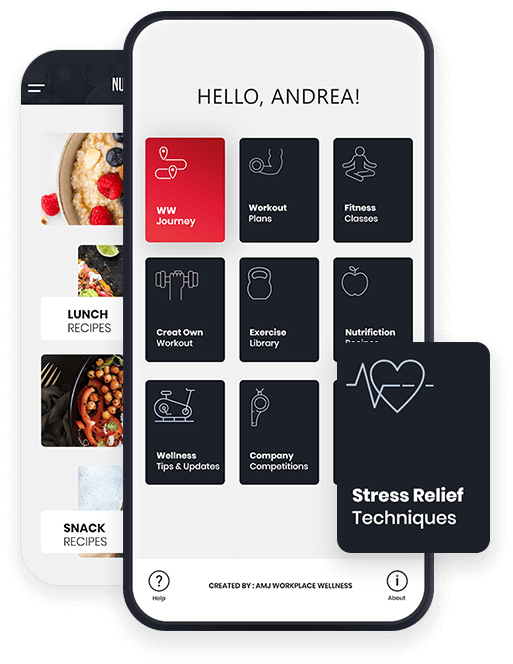 This app has a solid technical and experiential architecture, following contemporary healthcare app development trends. It sends push notifications about wellness tips, tricks, stress relief techniques, and statistics. Physical fitness workouts are categorized in different branches to help everyone, whether they already are in a fitness campaign or not.
It is a free app, and once users download it, they have to answer some questions related to their water drinking schedules, sleeping habits, weight loss plans, and stress levels. The app then processes the answers and sends out personalized recommendations. It is a cross-platform application currently available for Android and iOS smartphones.
Download AMJ Wellness: Android – iOS
2. Stop Vaping Challenge
Stop Vaping Challenge is another revolutionary healthcare app and a research project from the University of Toronto.
It aims to help users go without vaping for as long as possible. It has challenge start and end buttons. Users who wish to participate start the challenge timer. They add related information like mood swings and cravings.
Once they want to vape, they need to end the challenge timer and check for how long they resisted the urge.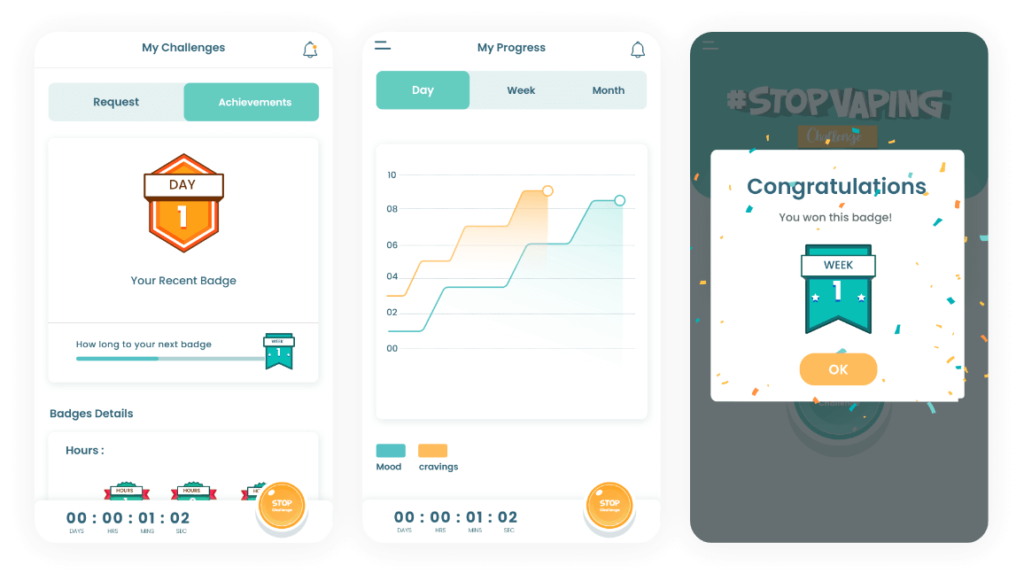 Stop Vaping Challenge has a leader board that rewards users with badges to make it more fun. Users can also create social communities on the app, invite their friends and family and monitor their progress as a group.
Download Stop Vaping Challenge: Android – iOS
3.  My Fitness Pal
My Fitness Pal is a nutrition and fitness app, a calorie counter at heart that helps users meet their weight loss and water goals. It works as a food tracker, meal planner, and food logbook, allowing users to monitor their daily, weekly, and monthly eating habits.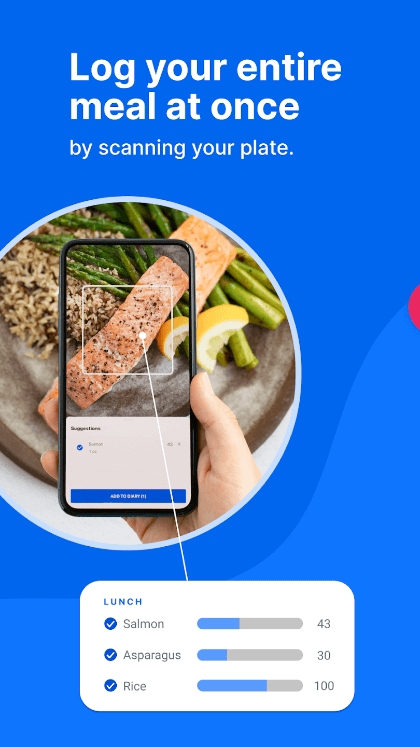 The app has an interesting working model—a built-in camera that helps with scanning food images and barcodes. Users add portions in grams, confirm ingredients, then extract detailed food reports.
With one of the most extensive food databases, My Fitness Pal currently has a rating of 4.4 on Google Play and 4.7 stars on the App Store and has crossed 100 million downloads.
Download My Fitness Pal: Android – iOS
4. Google Fit
Google Fit is Google's official healthcare app that tracks physical movement and monitors heart activity. Google has designed, developed, and launched the app in collaboration with American Health Association and World Health Organization to help users keep track of their everyday conditions.
Users get 'heart points' upon completing the recommended levels of physical movement. Google Fit is a cross-platform app that works on smartwatches and integrates well with third-party apps like MyFitnessPal, Nike, Runkeeper, Strava, and Basis.
Download Google Fit: Android – iOS
5. Apple Health
Apple Health is an iOS healthcare application and a flagship product available on all Apple devices. It monitors daily activity, including sleeping and eating habits, physical movements, heart rate, breathing, and other significant symptoms.
The app integrates with other third-party apps and generates comprehensive reports on well-being. It works on Apple's wearable devices like Watch. Popular AR games like Pokémon Go and Zombies, Run! Pair well with Apple Health.
Users can set customized alarms and alerts for health areas like sleep, water, etc. They can also view the progress of their symptoms or conditions in graphical formats.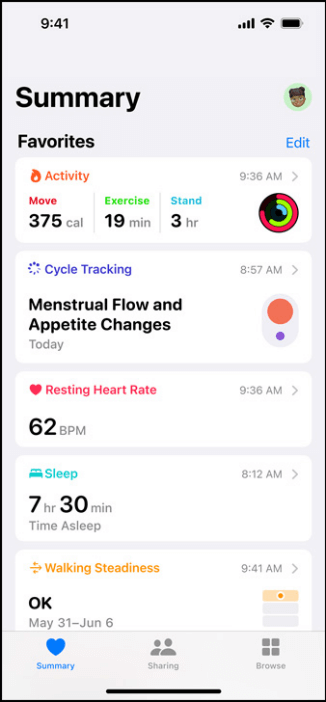 More importantly, Apple Health helps create a medical profile. Users can add their IDs, record medicines, immunization, vaccination records, lab tests, and insurance plans, and read informative healthcare articles.
Download Apple Health: iOS
Telemedicine and On-demand Healthcare Apps
6. Heal
Heal is a medical on-demand app with the facility to book virtual and in-person doctor visits. It works for remote health monitoring and scheduling doctor house calls. Users can pay for their sessions through Apple Pay and Google Pay.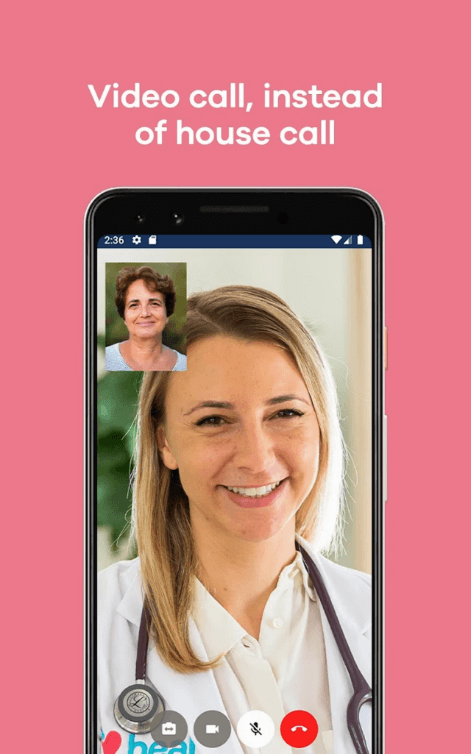 Heal app has an interesting working mechanism.
Users need to sign up with the app and add their details like address and insurance plans. Then they can directly book appointments with vetted medical care providers and nurses. They also can book sessions with the same or match with new providers. After deducting different insurance figures and allowances, they can view the upfront fee they'd have to pay.
Currently, 80 million Americans are using the Heal app. The app is geo-limited and only available in the United States.
It is a free app with a 4.8 rating on the App Store and 4.3 on Google Play.
7. Talkspace Therapy and Counseling
Talkspace, an online therapy app, matches users with therapists, counselors, and other mental health practitioners. It is HIPAA compliant and has in-app messaging, audio, and video communication features.
The official Talkspace listing suggests that 81% of survey participants believe Talkspace to be as effective as face-to-face therapy. More importantly, users who regularly used Talkspace for two months felt a noticeable difference in their stress and anxiety symptoms.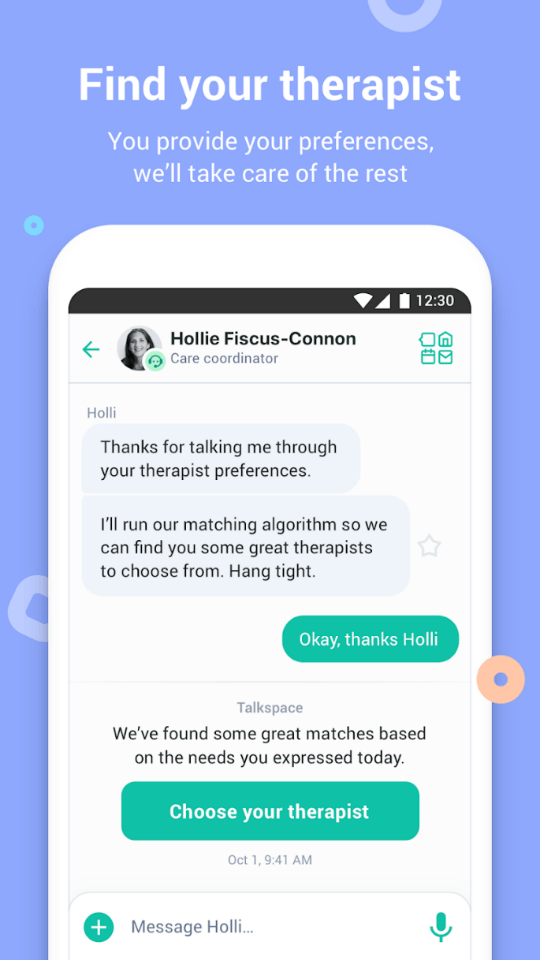 Talkspace, however, different from other healthcare apps on this list, is a premium app. And how much does Talkspace cost? It came with three different pricing plans and was billed weekly. The messaging plan costs $69 per week, while the live therapy package is $99 per week. The third plan, which includes messaging and live therapy, comes at $129 per week. Also, Talkspace may charge differently in some regions depending on the availability of practitioners and therapists. Other plans allow users choose from text, audio, and video therapies. Also, users can choose to pay monthly or quarterly to further enjoy up to 20% savings on their therapy sessions.
Some users consider Talkspace a pricey option. And if you weigh in only the therapy costs, Talkspace is a much more affordable option than in-person therapy sessions that cost an average of $200 per meeting.
Download Talkspace: Android – iOS
Mental Health Apps
8. Calm
Calm is a meditation and mental health app that improves sleep, mindfulness, and focus. It fits ideally with every self-improvement regime and helps reduce stress and anxiety.
It offers a high-end user experience and provides multi-lingual support, including English, German, French, Spanish, Korean, Portuguese, and Japanese.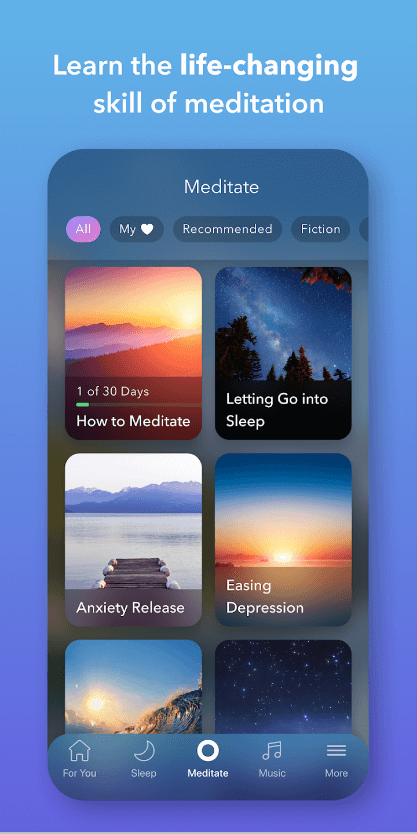 Whether or not you are into relaxation techniques and self-help, Calm has something for everyone. It has different plans, including Calm basic, Calm for Business, Calm for Students, and Family Plan.
Calm is a free app that offers in-app purchases. It is available for Android and iOS, has a robust web presence, and works with Apple TV, Apple Watch, and Wear OS.
Other premium Calm plans include a yearly subscription that costs $69.99 and a lifetime access plan that costs $399 one time.
9. Headspace
Headspace is another leading mental healthcare app and strong competition to Calm that helps with sleep and focus. It is currently a smaller brand than Calm but is growing rapidly in terms of the library.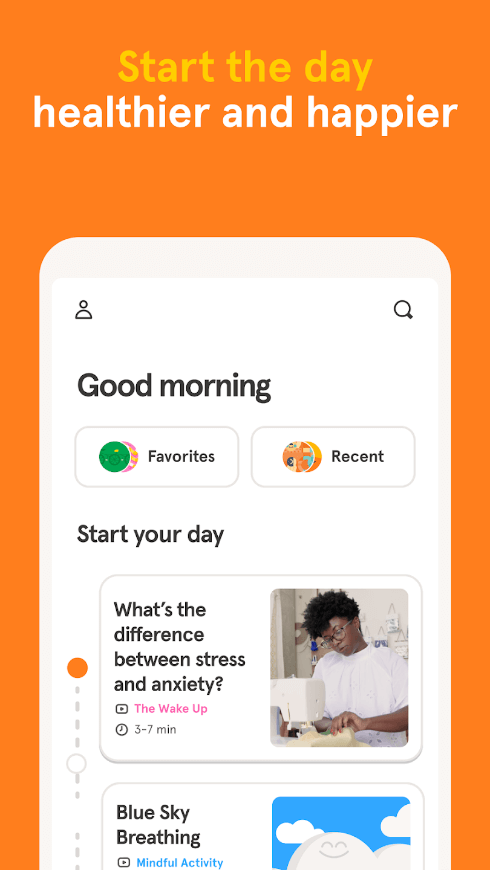 The app's interface revolves around healthy mornings, restful sleep, physical movement, meditation and mindfulness, focus and productivity, self-help, and self-improvement.
Users can access educational articles on stress relief, self-love, and coping with tragedies with a massive library of sleeping music and guided meditation audios.
Headspace also offers a free basic version. Its monthly plan is $12.99 per month, and its yearly subscription is $69.99 per year, offering 7- and 14-day free trials.
Download Headspace: Android – iOS
10. Wysa
Wysa is a one-of-its-kind mental health app that works for mood tracking, mindfulness, and anxiety relief. It is a chatbot; basically, an AI companion for users going through severe stress symptoms and depression but are not comfortable sharing with real human beings. For them, Wysa is a happiness buddy, a mood-booster, and a friend who inherently doesn't share any information with third parties.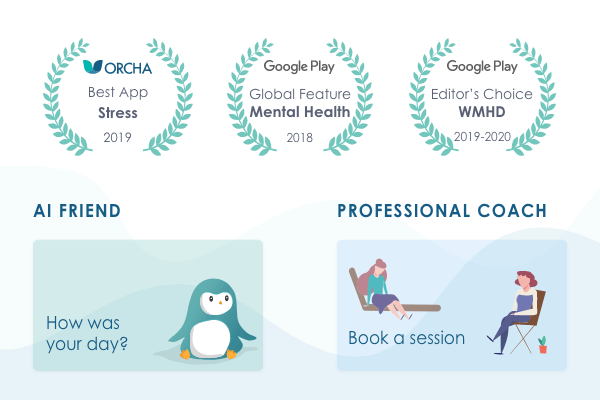 This chatbot's functionality and overall user experience make Wysa one of the best AI healthcare apps and a real innovation in the mental health app development landscape. For healthcare app developers, Wysa comes up with significant development goals, with the revolutionary use of artificial intelligence, blended with a fluid user interface, easy navigation, and high-end performance for a specific audience.
It helps with Cognitive Behavioral Therapy and uses conversational tools to help people sail through panic, conflict, and stress.
Wysa is free and comes with in-app purchases. Currently, it has 4.9 stars on the App store and 4.7 stars on Google Play. It has crossed 1 million downloads on both leading mobile app stores.
Recommended Read: A Guide on Mental Health App Development
Disease and Patient Management Apps
11. Aysa
Aysa is a digital skin advisor that guides users about mild skin diseases and symptoms. Users can take a snap of their affected skin, scan a rash, itch, or pimple, enter their symptoms and ask Aysa what to do.
After scanning the input images, the app asks several questions that help generate personalized recommendations. These questions include age, the part of the skin, skin color at the moment, fever and temperature conditions, etc.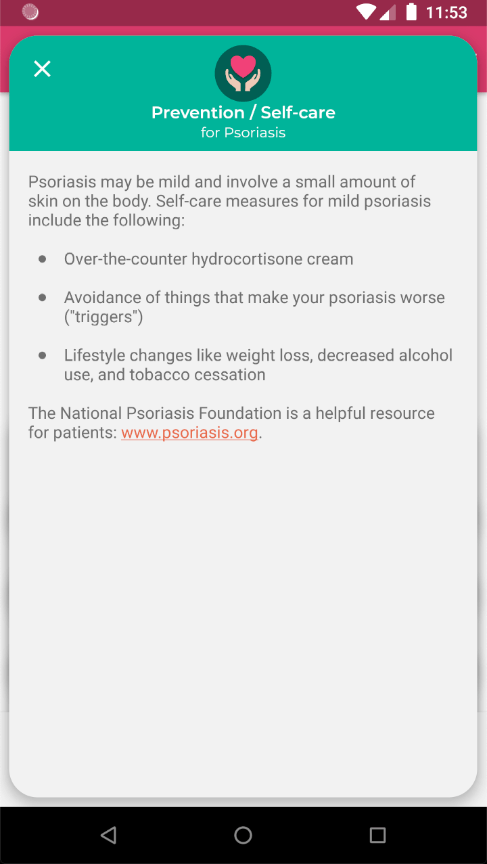 It has a robust backend with artificial intelligence and machine algorithms. The size of the fed big data comes from the experience of 47,000 medical professionals and 137 million search queries. And that's how Aysa works. When users scan a picture of their skin condition, Aysa searches in its extensive database and comes up with personalized guidance that does not diagnose a condition but provides information that forwards healthcare discussions in the right direction.
Because Aysa handles and processes sensitive personal information in the form of images, it has a firm privacy policy that says users' photos never leave their phones. It has 4.7 stars rating on both Google Play and iOS.
12. Diabetes:M – Blood Sugar Diary
As the name suggests, Diabetes:M – Blood Sugar Diary is a diabetes management app for different conditions, including Type 1, Type 2, and Gestational. In simplest terms, it works like a logbook, helps users record their symptoms, generates graphical reports, and lets them export those charts in PDF and XLS format.
Users can choose to add their glucose ratings, maintain personal or family profiles, and integrate with other health monitoring apps.
The app delivers an exceptional user experience. Firstly, it offers cross-platform compatibility and offers synchronization. Secondly, it is an intuitive smartwatch app.
Diabetes:M has 4.3 stars on Google Play and 4.6 on App store with over 1 million downloads.
Download Diabetes: M: Android – iOS
13. EyecareLive
EyecareLive is an optical healthcare app that eliminates the need to meet an eye care doctor in person. Users need to download the app, then take a picture or two of their current eye conditions or symptoms. They can either consult their doctor via secure video call or take guidance about diseases like dry eye, red eyes, or allergies.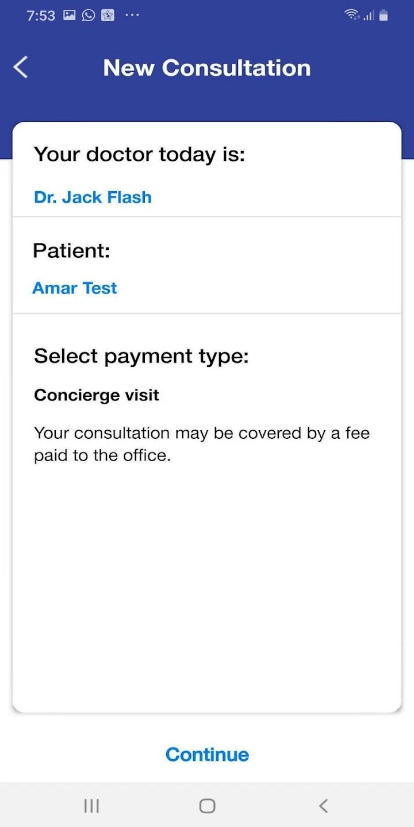 The app also keeps records of recommended consultancies and follow-ups about contact lenses. It is relatively new and is yet to make its mark in the healthcare industry. Yet, the minimal user interface and intuitive navigation suggest that it will allow greater access to eye care services in less time.
Download EyecareLive: Android – iOS
14. Medici for Doc – Medical Communication App
Medici is a telehealth communication app for secure messaging and voice and video chats. It helps with patient management and helps doctors stay efficient while they practice medicine.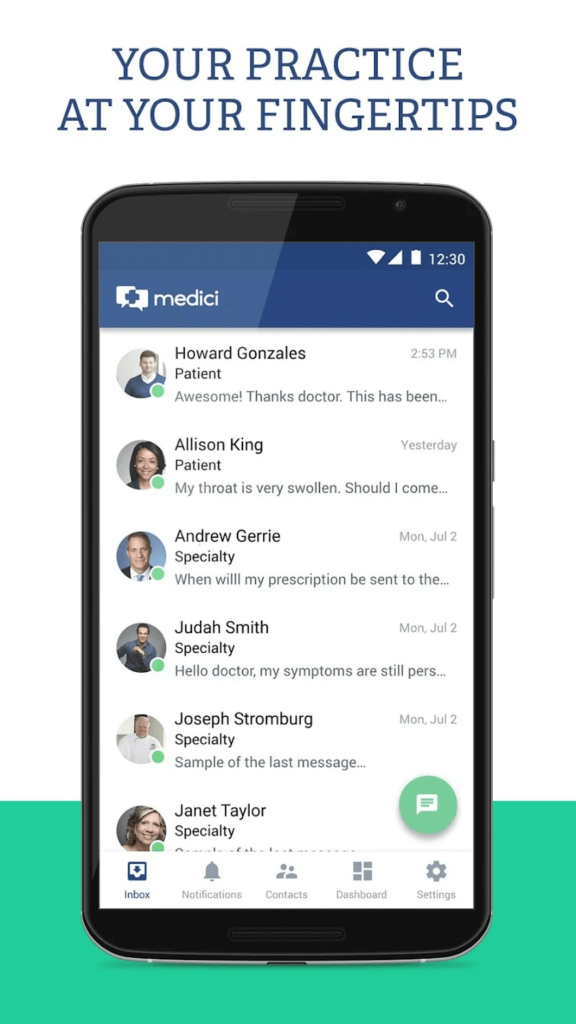 It is HIPAA compliant, makes medical practice effortless for busy professionals, and is quick and easy to set up.
Great help for doctors in the telemedicine domain, Medici comes with features like in-app payments for medical consultancy, in-app communication records, and send invite options for virtual sessions. Doctors can generate e-prescriptions, refer their colleagues to patients and connect with new patients.
Simple in-app billing allows doctors to calculate their monthly earnings, which makes tax filing easier.
Considering its minimal user interface and a high-profile user experience, Medici has secured 4.2 stars on Google Play and 3.8 on the App Store.
Download Medici for Doc: Android – iOS
15. PocketRx – Pill Reminder App
PocketRx is a HIPAA-compliant pill reminder app that also helps refill drugs and medicines, and lets users avail discounts. It has coupons that users can encash on top pharmaceutical brands.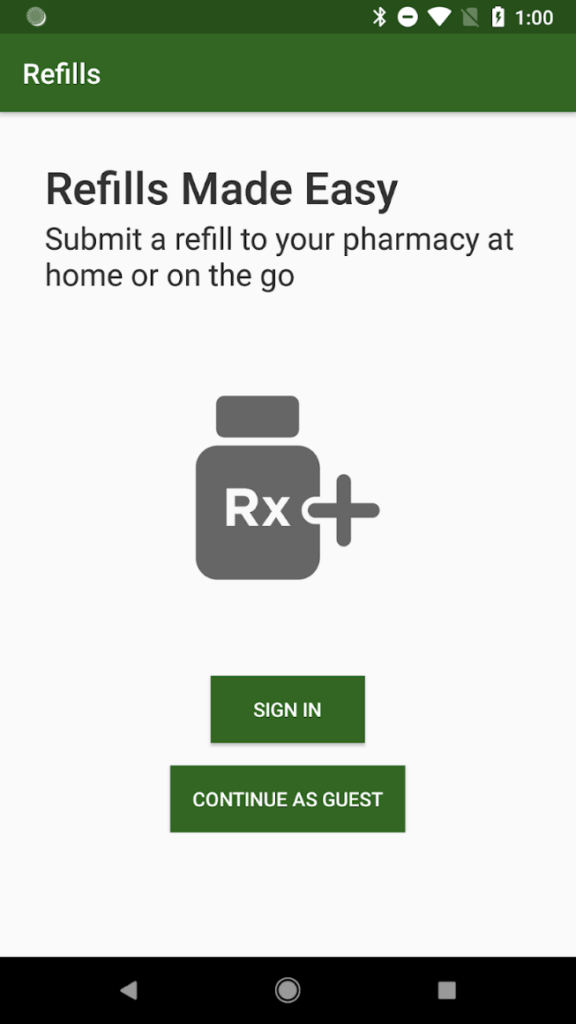 With that, users can set refill reminders, and request refills to their local pharmacies and drug stores on the go – subject to the facility available at one's provider.
Download PocketRx: Android – iOS
Investing in Healthcare App Development
So, this list of healthcare apps concludes here. What's next?
Healthcare app development is one of the fastest-growing domains in the tech industry. And then, certain considerations are associated with developing an app in this sector. Firstly, your app needs to be HIPAA compliant. It should be secure and keep users' information private. Secondly, because of the specific target audience, healthcare applications must have a minimal user interface – no clutter, overwhelming features, loud background noise, or even push notifications with high frequencies.
Also, healthcare apps have to choose from specific monetization models. You can launch a free app that earns through sponsored advertisements or in-app purchases. But the ad mechanism has to be thoughtful. Plus, the data that needs processing for specific, targeted apps should be exchanged per the terms and conditions and the privacy policies.
Considering this, most healthcare apps, such as Calm and Talkspace, choose to introduce premium models. These apps provide an ad-free experience, so users can focus on what's more important. Also, these apps earn through subscriptions and are making a viable turnover.
With user experience and monetization models, much more goes into healthcare app development: target audience, competitor analysis, features, technology stack, and testing. But one has to start somewhere, which usually happens with a world-changing idea, and a vision to make an impact in the healthcare sector.
Building a Healthcare App?

Let TekRevol help you with your next step. Perform a quick app discovery, estimate costs, and kickoff the design and development steps within 48 hours!
Frequently Asked Questions:
1. What are healthcare apps?
Healthcare apps enable people to care for their physical, mental, and emotional well-being. These apps include telemedicine and medical care apps, fitness apps, mental health apps, fitness trackers, physical activity monitors, symptom tracker and diagnosis apps, patient management apps, pill reminders, and communication apps.
2. How many healthcare apps are there?
According to Deloitte, there are around 350,000 apps available for users.
3. What are some free healthcare apps?
Google Fit, My Fitness Pal, Calm, and Stop Vaping are examples of free healthcare apps that deliver an exceptional user experience.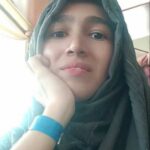 Author : Saba Sohail
Saba is all about strategic leadership and tech-led transformation. She comprehends, incubates, and iterates the idea of integrating tech-powered solutions and converts her knowledge into simple, valuable, and actionable blogs for tech leaders and businesses, much like TekRevol does with their products and solutions.
Recent Blogs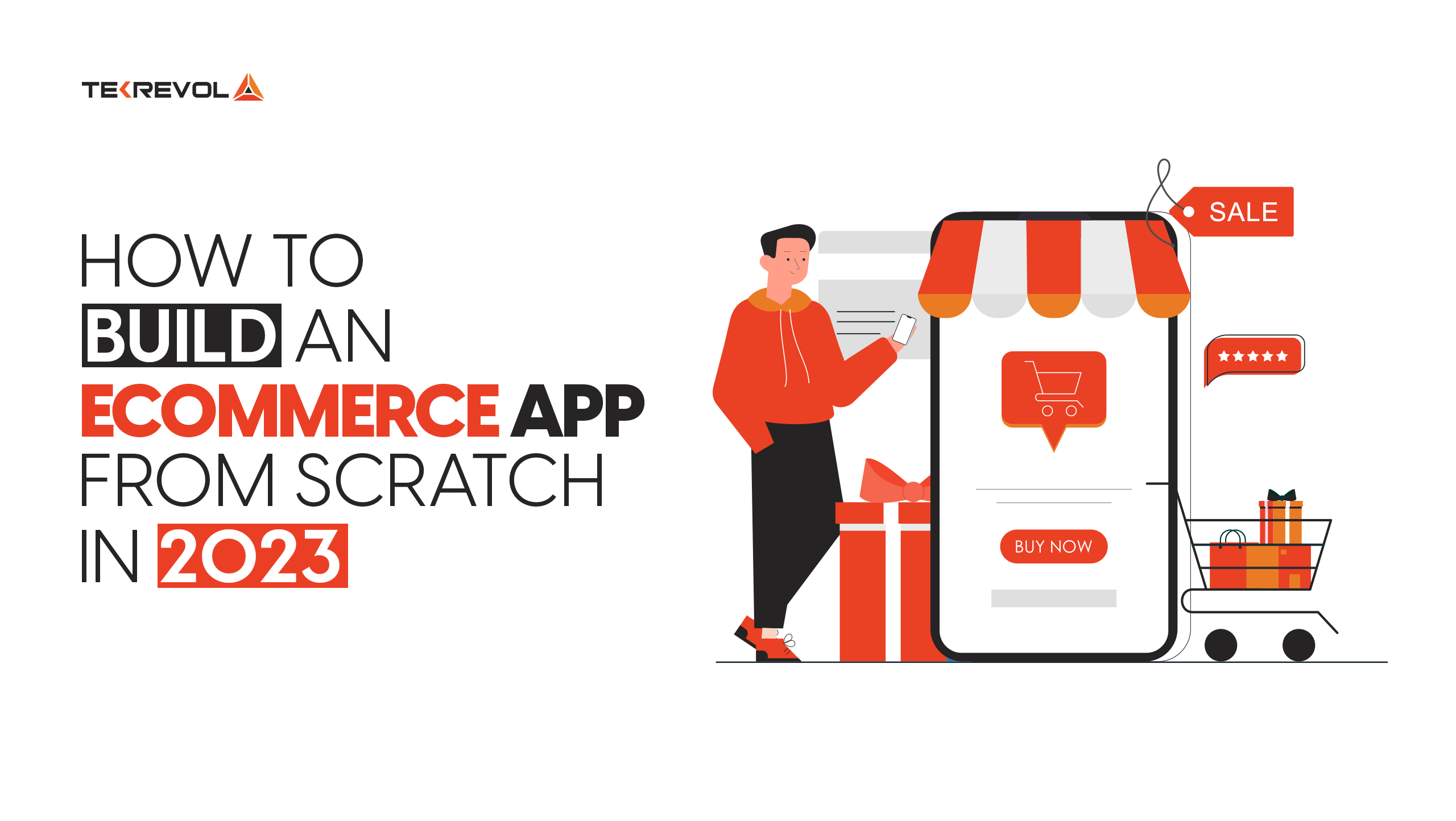 Tekrevol's Global Presence
Now expanding to multiple cities across USA, GCC region, Europe & Asia
Come meet us at a location near you!
USA
39899 Balentine Drive,
Newark, CA 94560
1301 Fannin St #2440,
Houston, TX 77002
501 E Las Olas Blvd Suite
230, Fort Lauderdale, FL
44 Tehama St, CA 94105, San Francisco
400 NW 26th St, FL 33127, Miami
740 15th St NW 8th Floor, DC 20005, Washington
CANADA
4915 54 St 3rd Floor
Red Deer, ABT T4N 2G7
UAE
Level 5, One JLT Tower 1 - Jumeirah Lakes Towers - Dubai, United Arab Emirates
Level 17, World Trade Center, Khalifa Bin Zayed the First Street, Abu Dhabi
Level 22 , West Tower, Bahrain Financial Harbour, Manama, Bahrain
Level 22, Tornado Tower, West Bay, Doha, Qatar
PAKISTAN
3/25, Block 5, Gulshan-e-Iqbal,
Karachi, Sindh 75650
USA
CANADA
PAKISTAN
UAE
talk to us
Got an idea?
Let's get in touch!
Let's discuss your project and find out what we can do to provide value.
I am interested in discussing my ideas with you for
COPYRIGHT 2023 TEKREVOL ALL RIGHTS RESERVED.