10 Best Smartwatch Apps [2023 Updated List]
Author: Saba Sohail |
April 15, 2022 - TekRevol Team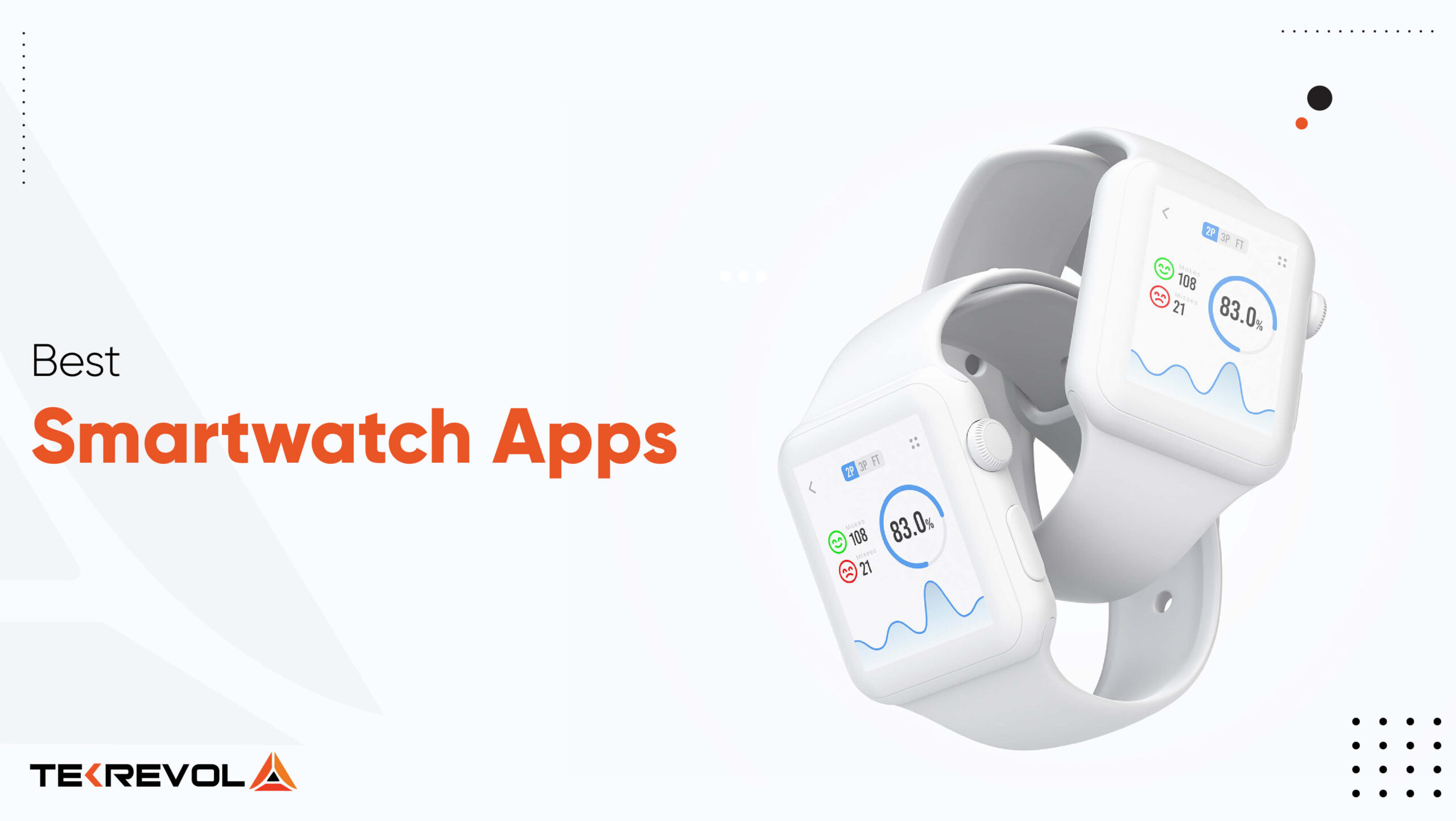 Smartwatch apps are simple software applications that run on these watches. These can be standalone Wear OS apps, or extensions of existing mobile applications. As the popularity of smartwatches grows, so does the use of these Wear OS apps.
For developers and aspiring appreneurs, these smartwatch apps have 5 interesting factors to notice. And so, this article covers all five of them for anybody who is planning to take a plunge into the smartwatch or wearable application development industry:
the diverse primary goals and niches of these wear OS apps
the user interfaces of these apps optimized for small screens
the user experience for cross-platform compatibility
the limited options for revenue models
yet, the huge business potential
Know how much these smartwatch apps earn?

Get quick insights!
So, without further ado, let's start with our list of top 10 smartwatch apps to seek development inspiration from in 2023:
1. Accu Weather
Accu Weather is a mobile and wearable application launched by a giant weather research and journalism company called Acc Weather. While we are talking about best smartphone apps here, Accu Weather is certainly the best weather app too available online.
The app delivers accurate forecasts and allows you to launch the Accu Weather simultaneously on other devices. In terms of user interface and user experience, Accu Weather wins the game because of its minimalist design and navigation super optimized for small watch screens.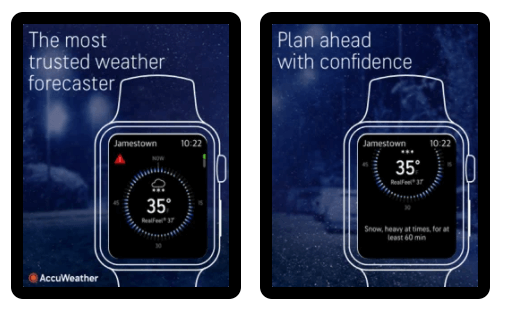 Accu Weather is a popular example of cross-platform apps. It is available for Android and Apple smartwatches, is free to download and use and earns through in-app purchases.
2. Zombies, Run
Zombies, Run is an AR game that progresses as players move in their real environments. Game developers have leveraged immersive reality and GPS technology to blend with the concept of running for life. The role play is basically spooky where players have to run for their lives because 'zombies can be anywhere' – hence 'Zombies, Run!'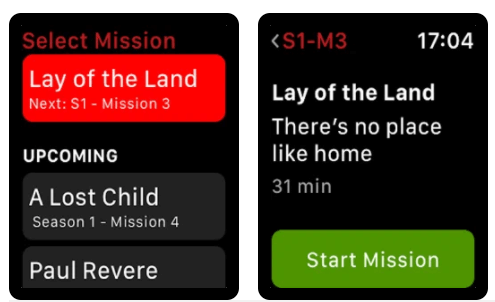 It has a minimalist UX on smartwatches. Players who wish to access this smartwatch app have to download it on their phones to make it accessible on Wear OS. The app pairs well with Bluetooth headphones.
The app is free to download and use and earns its major revenues from sponsored ads and in-app purchases. There are premium subscription packages for players who want to integrate the app with their iOS health application. While the app is popular because of its Immersive Reality fusions, it gets all the more traction during Halloween seasons.
3. Google Keep
Google Keep is a note making app for smartwatches. When you look at it as an organization tool, it is a multi-purpose app that lets you create checklists, pin notes, add location-based reminders, plan events and share all of this information with your friends and family through email or links.
As a smartwatch app, it works with plain text only. But its mobile version also allows users to draw and paint and literally put up anything that's on their mind at the moment.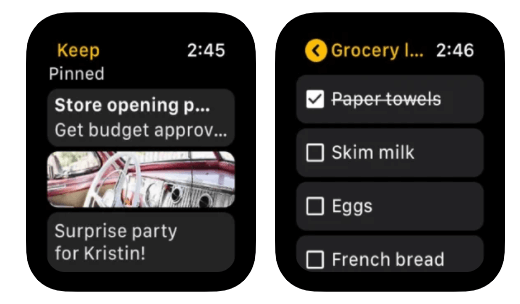 The app works with cross platform compatibility, so whatever you add gets synced on your smartphones, tablets and so on. It has a minimalist UI and UX with different colors popping up. As a pattern most Google apps follow, Google Keep also asks for a lot of permissions including camera, contacts, microphone, location and storage.
4. Wear Casts
Wear Casts is a standalone podcast app for Android Wear OS. Users can choose to listen to podcast episodes with Bluetooth headphones – without accessing libraries on their smartphones. With 4 built-in playlists, the app allows users to create custom playlists as well:
Downloads
In Progress
Local
New
The app comes with a podcast discovery feature. plus, you can access old and new podcast episodes while manually and automatically on the go – on the run even if you've left your phone at home or office.

While Wear Casts works independently from a phone, it does require manual setup initially. The only limitation of Wear Casts is that it works on Google's Wear OS devices only – which means users can't access the cross platform user experience on Apple or Samsung devices. Wear Casts is free to download and use. It earns through in-app purchases.
Download Links: Android
5. Spotify
Spotify is the most popular podcast and music app available for a wide range of devices including smartwatches. It has a collection of millions of songs and podcasts, audio episodes and guided meditation sessions.
As a smartwatch app, Spotify has set high standards in terms of user experience and it's actually tough for other music apps to beat its competition.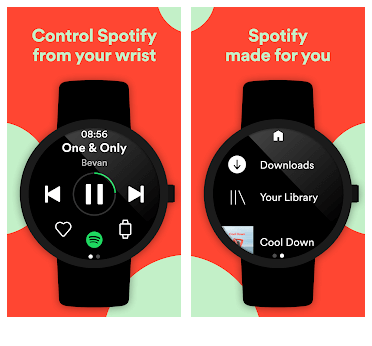 The app is free to download and use and earns through sponsored advertisements. an ad-free version is available starting from a $4.99/month which also allows offline music.
The wear OS app works with the premium package only – not with the free version.
6. Google Fit
Google Fit is a cross platform smartwatsch app that monitors the heart activity, a metric that's ideal for improving overall physical health and mental wellbeing. Google has officially launched this app with collaboration of World Health Organization and American Heart Association. For every moderate activity, users get a heart point, and for a hard activity, users get double of those hard points.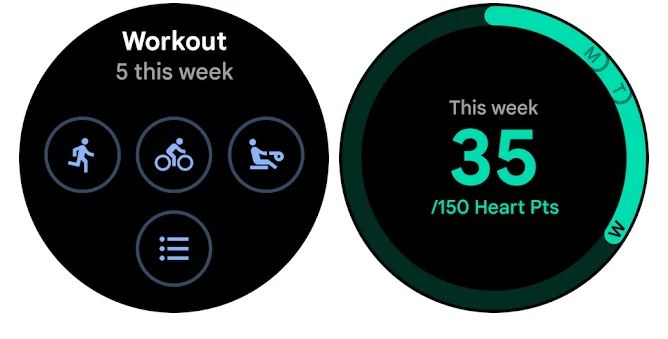 Because Google Fit is a cross platform application, it can be integrated with other devices and users can access their movement history and total heart points on phones as well. Other than that, the app lets users track their workout progress, make their physical activities count, and monitor their fitness goals.
7. App in the Air
App in the Air is a dedicated smartwatch app for flying enthusiast – travelers who explore the world by air. It allows users to book flights, check status, find new destination tips and navigate airports.
The app helps with map locations, runs GPS and uses Artificial Intelligence to show and filter flight booking options. It also helps book cabs and rides from airports to hotels. Plus, the app now lets users automatically check-in from their smartwatch.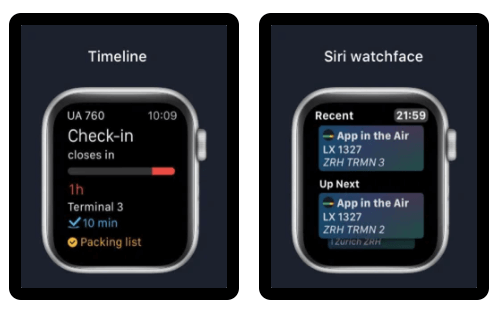 Most importantly, the app rewards users with loyalty points in form of Airmiles and can discounts on different airlines and ride booking companies.
The app is free to download use. But its major earnings come from the annual subscriptions starting from $29.99 USD.
8. Bring
Bring is a shopping list organizer app that works excellently on diverse range of devices including smartwatches. It allows users to create their custom shopping lists or choose from so many of cool templates. Users can personalize their lists with light or dark mode, use compact grid or list view, add attribute details like size, measurements, quantity, color and descriptions and images to keep the list handy.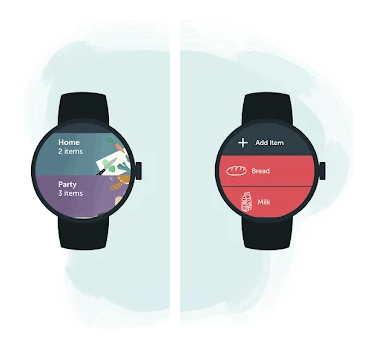 The app provides exceptional user experience as a smartwatch app too. Users can save their loyalty card details and share their lists with others on social media or bring app on the go. In fact, users can plan their parties, weddings, and other events using the Bring app while keeping others in the loop.
For users, the Bring app is free to download. It shows minimal ads on smartphone devices but offers in-app purchases as its main revenue model. The niche is unique yet highly usable by a lot of domestic as well as professional users.
9. Cardiogram
Cardiogram is a smartwatch app for monitoring heart rate and helps users understand their sleep patterns, levels of stress, cardiovascular activities and their responses towards certain medical and environmental factors.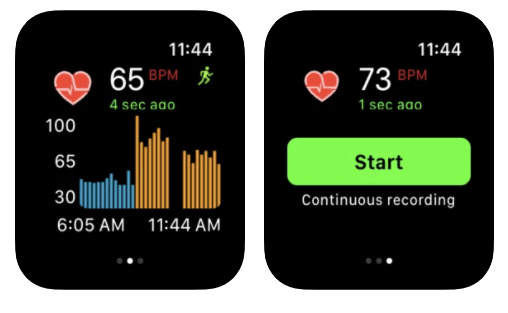 It works in integration to biosensors of the smartwatch that track pulse, monitor physical movement, records and processes heart health data, analyses this data to send in personalized recommendations. All in all, Cardiogram follows most of the UI and UX conventions of healthcare app development and works as a digital heart care diary and heart fitness tracker.
The app is free to use and download across different devices and earns its major revenues from in-app purchases. It also has premium subscriptions starting from $5 per month.
10. Lifesum
Lifesum is also an interesting smartwatch app on this list because it keeps a track of what you eat or drink throughout the day. The mobile app has an image recognition feature that automatically identifies the ingredients in food and calculates the calories depending on the portion size.
Once its Artificial Intelligence algorithms have processed enough user behavior, it starts sending in personalized recommendations, meal plans and challenges for health management.
For the monetization, the app is free to download and use, and offers in-app purchases. It currently has a 4.4 rating on Google Play and 4.7 on App store.
5 More Smartwatch App Ideas
If you are an aspiring appreneur, a developer or a tech investor looking for inspiration for smartwatch app development, here are 5 ideas that are guaranteed to work in 2023:
A fintech app, or an investment app that would show the real-time values of stock or crypto portfolios on a smartwatch
A real-time translation app for smartwatch that records and processes multiple languages using machine learning
A smart home app that would control home automation functions from the smartwatch remotely
An automotive app for locking and monitoring the vehicles remotely
A password or credit card manager that would help pay for groceries and shopping items on smartwatch
Wrapping Up – Where are smartwatch apps destined to go?
Research suggests that almost 1 out of 5 Americans currently use a fitness tracker or a smartwatch (Pew). Building some background, the smartwatches are part of the fastest evolving wearable technology, and this next-gen domain of gadgets have opened up endless opportunities for different stakeholders including developers, appreneurs, technopreneurs and venture capitalists who want to pair up with idea havers and book their share in the market that is not stopping anytime soon.
When the Android and Apple smartwatches were predicted to be successful in their early days of launch, some wearable or smartwatch apps had already made a splash with pebbles. What worked wonders for them was partly an app idea, and partly their early adoption – the secret to competitive advantage in the technological world.
If you too have an app idea for a smartwatch, bring it to digital reality today and open a sustainable and highly scalable revenue stream for your tech startup today!
Developing a smartwatch app?

Tekrevol can help! We have turned multiple epic ideas into success stories. Next could be yours with our expert business analysts, creative designers and experienced developers! Get a quick smartwatch app cost estimate and learn about the revenue potential.
Frequently Asked Questions:
1. How do I create a smartwatch app?
Decide a niche and smartwatch app category.
Write down app features.
Hire a developer.
Create a development strategy.
Design smartwatch app UI and UX.
Program the back-end and front-end.
Test the app.
Launch the smartwatch app.
2. Which is the best smartwatch app?
Zombies, Run, Spotify and App in the Air are the best smartwatch apps in terms of user experience.
3. Which smartwatch has the best apps?
Android smartwatch or Wear OS has the best apps. These apps have diverse functions, offer minimal UI, are somewhat independent of phones and available in abundance.
4. What are some best Samsung smartwatch apps?
Strava, Monster Vampire, Find My Phone and Uber are the best smartwatch apps for Samsung.
5. Which are the best android smartwatch apps?
Zombies, Run, LifeSsum, Wear Casts and Bring are the best Android smartwatch apps.
6. Best apple smartwatch apps?
Bring, Spotify and App in the Air are the best Apple smartwatch apps.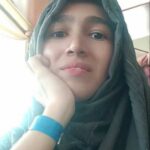 Author : Saba Sohail
Saba is all about strategic leadership and tech-led transformation. She comprehends, incubates, and iterates the idea of integrating tech-powered solutions and converts her knowledge into simple, valuable, and actionable blogs for tech leaders and businesses, much like TekRevol does with their products and solutions.
Tekrevol's Global Presence
Now expanding to multiple cities across USA, GCC region, Europe & Asia
Come meet us at a location near you!
USA
39899 Balentine Drive,
Newark, CA 94560
1301 Fannin St #2440,
Houston, TX 77002
501 E Las Olas Blvd Suite
230, Fort Lauderdale, FL
44 Tehama St, CA 94105, San Francisco
400 NW 26th St, FL 33127, Miami
740 15th St NW 8th Floor, DC 20005, Washington
CANADA
4915 54 St 3rd Floor
Red Deer, ABT T4N 2G7
UAE
Level 5, One JLT Tower 1 - Jumeirah Lakes Towers - Dubai, United Arab Emirates
Level 17, World Trade Center, Khalifa Bin Zayed the First Street, Abu Dhabi
Level 22 , West Tower, Bahrain Financial Harbour, Manama, Bahrain
Level 22, Tornado Tower, West Bay, Doha, Qatar
PAKISTAN
3/25, Block 5, Gulshan-e-Iqbal,
Karachi, Sindh 75650
USA
CANADA
PAKISTAN
UAE
talk to us
Got an idea?
Let's get in touch!
Let's discuss your project and find out what we can do to provide value.
I am interested in discussing my ideas with you for
COPYRIGHT 2023 TEKREVOL ALL RIGHTS RESERVED.