How to Make A Telemedicine App – A Comprehensive Guide
Author: Mehreen Saleem |
July 1, 2021 - Tekrevol Team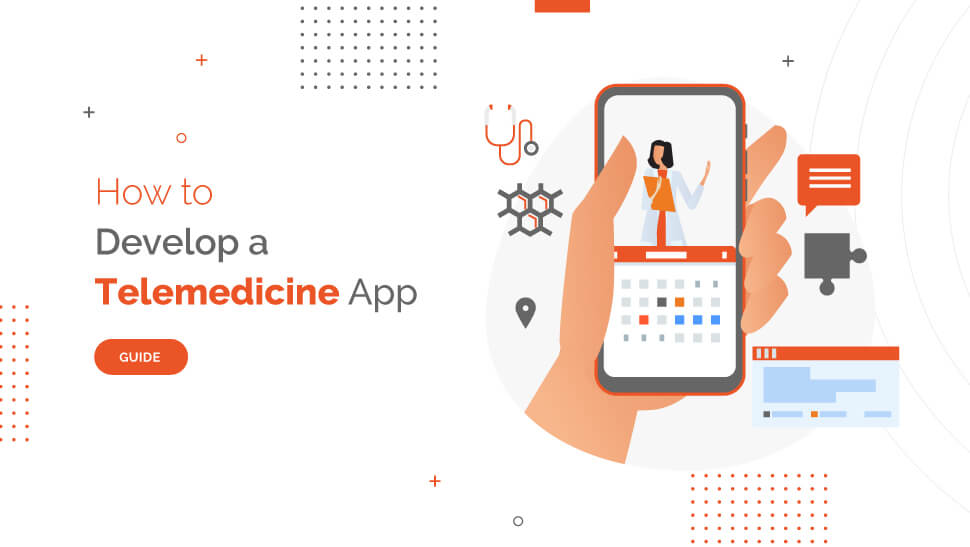 As the world is progressing towards a digitalized and fast-tracked performance, the need to have telemedicine mobile apps are now rudimentary.
But what makes them so special? Well, everything and more.
This article would bring you all the necessary information about why IT companies and healthcare industries should collaboratively invest in telemedicine applications.
The USA is on the verge of experiencing a catastrophic shortage of doctors and nurses by 2032. With the country's population growing to an alarming rate of 359.4 million in two decades, the shortfall of physicians would go beyond 46,900 to 121,900.
But how can telemedicine app development fill in the gaps that persist within the healthcare sector? Let's read below on what telemedicine apps are and why capitalizing on them is the need of the hour.
What is a Telemedicine App?
Telemedicine generally covers everything that helps a patient communicate and consult with a physician or medical professional without being in the same room.
Similarly, telemedicine app uses telecommunications and Information Technology to provide remote clinical services to patients. These apps are majorly employed to enhance the communication between healthcare providers and their patients.
Telemedicine vs. Telehealth
Although the terms are commonly used interchangeably, according to the US National Coordinator for Health, IT provides clear and distinctive definitions for both.
As explained, telehealth is a more generalized terminology that offers a broader scope of coverage to healthcare services. This may include medical education, administration services, and other non-clinical aspects.
Whereas, telemedicine solution enables doctors to extend their clinical expertise to patients with no/less access to physicians and decent medical care.
The 6 Important Benefits of Telemedicine App Development
As per Research, the global telemedicine app market has generated over $27.04 billion in 2019 and is expected to go beyond $171.81 billion by 2026; the sector would experience exponential growth.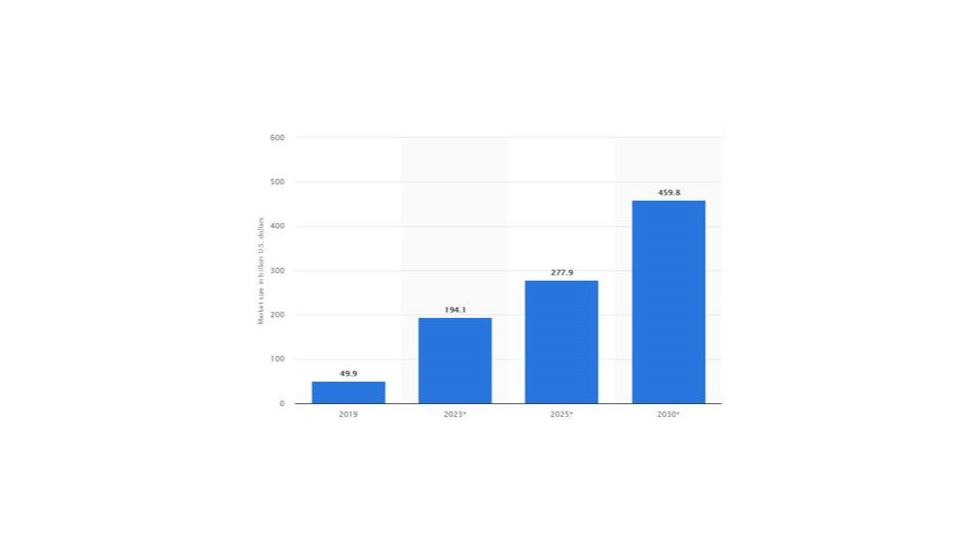 Image Source: Statista
But what's the reason for that?
Well, it's quite simple – everyone wishes to stay healthy and hearty. While the world has become chaos with the growing number of casualties daily and lack of required healthcare services, telehealth apps can be a great source to provide healthcare services to even remote areas.
Let's have a look at how telemedicine app development can improve the healthcare services
1.     Wider Availability of Medical Services
Among a few of the major benefits of the telehealth app, this one is essential.
The proportionality of the requirement of the healthcare services and the available services has been growing inversely.
The majority of rural and remote areas lack healthcare personnel for adequate access to health services. While for health workers in urban areas, the physician-to-population ratios are massively extending with 53.3 physicians per 100,000 patients.
The telemedicine app development would help patients and physicians bridge this gap and ensure adequate healthcare services.
2.     Efficient Record Keeping
Record keeping and data collection play a major role in conducting medical researches and deriving useful information. Employing telehealth app to provide medical aid to patients would help healthcare professionals in two ways;
Secure and timely data collection
Data collected would increase exponentially as a result of the enhanced provision of services.
3.     Timely Access and Availability of Medical Care
Employing some of the best telemedicine apps for healthcare services would save the time spent visiting hospitals or waiting in line to receive treatment, both appointment-based and urgent care cases.
These healthcare apps can be used to schedule an appointment for remote medical help. The patient and doctor can connect at the earliest convenience. This way, the app ensures that medical services are provided promptly.
Other than that, the app also supports emergency healthcare service provision to patients effectively.
4.     Time Management For Healthcare Professionals
Physical and mental health is important for healthcare professionals as well. As per Research, more than 15% of doctors experience burnout and depression due to extra work pressures.
The telehealth apps, in this regard, would help physicians and doctors to manage a healthier and balanced work life. On the other hand, this would also help them to examine their patients more adequately.
5.     Streamlined Administration Operations
Since most healthcare-related tasks would be automated, the need to fill out several forms and documentation of patient's info won't be required. As a result, the additional strenuous tasks would be reduced, improving the service efficiency.
6.     Better Patient Management and Monitoring System
Telemedicine app development can help doctors and physicians keep track of their patients more effectively.
With everything being automated, keeping track of medical data, providing consultations, follow-ups, monitoring chronic disease, etc., can become more streamlined.
Telehealth app services have been majorly implemented in cardiology, diabetes, chronic diseases, hypertension, dermatology, etc.
Planning to invest in telemedicine app development?

We're always ready to take you idea to the next level through our experience and expertise. In short, we can help you devise a strategic plan that suits your business need to ensure optimal outcomes in the digital world.

Strategy

Design

Development
While the healthcare sector is in dire need of going beyond the conventional means of providing services to the audience, telehealth mobile apps can be rudimentary solutions.
However, developing telehealth applications leverages advanced technologies and individual efforts to ensure the implementation does not go wrong.
Let's have a look at what are the major technical aspects of developing telemedicine apps. These aspects would help understand the entire process and evaluate how much does it cost to develop a telemedicine app.
Tech Specifications For Telemedicine Apps
To understand how telehealth mobile apps leverage technologies to integrate advanced features functionalities, it is essential to understand the process flow of the apps.
The diagram below gives a quick review of how telehealth apps work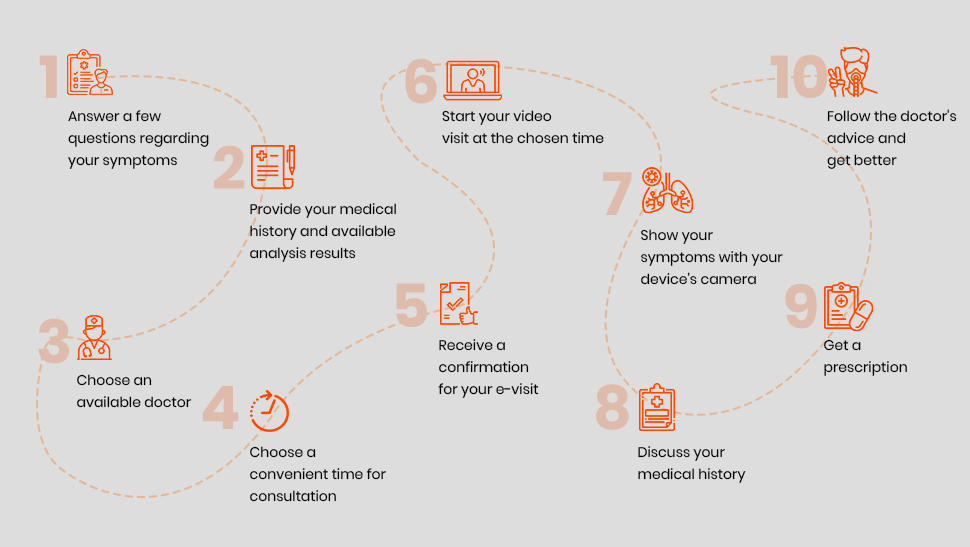 Since telemedicine applications are considered a step forward for healthcare services, the applications leverage some advanced technologies to be highly functional and feature-packed.
1.     Artificial Intelligence
Artificial Intelligence has been one of the majorly used technologies to ensure automated tasks and optimize the app.
Leveraging features like natural language processing, chatbots, voice recognition, etc. AI has been powering the performance of telehealth apps.
2.     Blockchain
The integration of blockchain technology has brought along better data security and management services. The resultant is improved service optimization for telemedicine app with no more loss of healthcare data.
3.     Big Data
With the massive amount of data being generated and processed by telehealth applications, Big Data analysis can help generate Electronic Health records (EHR) and derive useful data patterns.
As Research and development have now become part and parcel of every successive industry, Big Data can strengthen healthcare services.
4.     Internet of Things
Leveraging IoT functionalities, telemedicine apps are equipped with features like video calls, tracking vitals, treatment suggestions, diagnosis, and more. As the apps are now available across smartphones, digital cameras, medical kiosks, and smartwatches, telemedicine has improved tenfold.
Pro Tip: Since some innumerable ideas and technologies could improve the app's productivity, it is always important to be clear about your app idea.
Apart from the few technologies mentioned above, telemedicine apps also employ numerous features to strengthen the basic purpose of the app. Employing the mentioned technologies the telehealth app features assist in enhancing the reliability and productivity of the apps.
Salient Features of Telemedicine Applications
Since the app acts as a virtual bridge between patients and doctors, it provides a service similar to an on-demand mobile application.
And, like any typical on-demand app, telehealth services also have multiple modules; patient module, doctor module, and the admin module.
With every module having a specific purpose, it employs different features and functionalities. Let's have a look at some of the essential features of each module.
The image below can help you have a quick idea of how each module should be designed and integrated to ensure convenient and smooth availability of services.
Telemedicine App Features For Patients
If you ever used an on-demand service app, you would have an idea of how things move from the start – the process of registration, setting up service, and then finally using it.
Your telemedicine app should have relatively similar features since it is also providing an on-demand service app.
Registration – Using a two-factor authentication system, patients may register at the app via email, social media, or mobile numbers.
Patient Profile – Once patients have registered, they create their profiles by providing all the necessary information. This includes all the information that is necessary from a medical point of view.
Security – Since health apps deal with sensitive information about patients, implementing strict data protection measures is essential.
Personalized Dashboard – An interface that provides all the necessary medical information to patients. This may include their appointments, consultations, test reports, prescriptions, and so on.
Search – This feature should allow patients to search for their required medical specialist based on the available categories (specialization, rating, charges, etc.)
Appointment Scheduling and Calendar – The patients must be provided with access to the doctor's calendar to check the availability and schedule appointments.
Communication Mode – Now, this feature may include several other functionalities to improve accessibility. Such as audio chats, video chats, group video chats, or photo-based consultation. All must be adequately included to support healthcare providers in an extended manner.
Emergency Calls  – Patients may use the feature to speed dial physicians or hospitals in case of emergencies
Geolocation – Specifying the geolocation of both patients and doctors could help in further authentication of the services provided. Consecutively, location factors also help in better understanding the environment around the patient.
Navigation – The navigation feature in the telemedicine app can assist users in adding a route to and gain more information about the hospital.
Mobile Payments – While receiving medical consultation over mobile apps, integrating an authentic payment gateway system can improve the overall user experience for patients. Along with that, access to transaction history can make things easier for app users.
Chatbots – Leveraging built-in chatbots could help patients have a quick discussion over simple consultation cases or alternative to customer services. To explore further, read more on how Artificial Intelligence-powered chatbots can upgrade app user experience.
Secured One-to-One Chats – Allowing patients to conversate with doctors via end-to-end encrypted messages can help in better healthcare optimization.
Push Notifications – Automated reminders and notifications could keep patients from forgetting about their appointments. And could even help in keeping track of prescriptions and medications.
Reviews and ratings – This feature would help patients to ensure the provided service is qualitative and useful. Providing reviews about the experience with any doctor would also help other patients in making adequate consultation choices.
Cloud Data Storage – Cloud Storage could help keep all the EHRs safe, accessible, and secure for patients and doctors.
Telemedicine App Features for Doctors
The basic features a telemedicine app should incorporate for doctors are similar to the patient module. Such as registration, personalized app dashboard, push notifications, security, etc.
However, several dedicated features must be added to the doctor's module specifically for more personalized functionality.
Doctor Profile – functionally, this might be similar to the registration feature on the app. Setting up a profile would require physicians to enter correct and accurate information about themselves, such as specialization, years of experience, education, location of work, etc.
Communication – Primarily, the purpose of this feature must be similar to the patient module. However, adding the video conferencing feature to the doctor's module can assist in detailed medical consultation.
EHR Review – Doctors must be provided access to view and examine the patient's EHRs to provide better consultation and medical assistance.
Integrating HEALTHKIT and GOOGLEFIT – This feature might require extra effort from you; however, for a clearer idea of a patient's health conditions, integrating Apple's HealthKit and Google's GoogleFit would help doctors provide better medical assistance.
E–Prescriptions – Doctors and physicians should be allowed to provide prescriptions digitally through an authenticated process as per the medical conditions. This way, patients could easily get their medications and continue their treatment.
Pharmacy Database – This can be an additional feature in your telemedicine app. Integrating with licensed pharmacies and drug stores can assist doctors and patients in having direct access to required medications.
Video/Audio Recording Functionalities – Doctors, should also have the feature to record consultation sessions with patients for future records. The information could be used to keep track of patient's progress and medical references.
However, to abide by the ethical and legal regulations, the feature should first include the patient's consent.
The third module, the admin module, should have features that enable smooth processing of both patients' and doctor's modules. This module in any telehealth software must ensure that the users follow the ethical and legal policies pertaining to medical and cyber laws to avoid any misconduct.
Do you wish to Develop a Telehealth Solution?
Now, let's have a detailed look into the telehealth app development process and how much does a telemedicine solution cost.
How to Develop a Telemedicine Software
As an Android app development agency, Tekrevol implements a well-sought development plan for telemedicine software.
Since telemedicine apps integrate healthcare and mobile app development services, the mobile app development process is divided into three important processes.
These processes majorly include the research and Discovery stage, App development stage, and the Testing and QA stage.
The processes divided into each step help our team of professionals to stay organized while iterating and innovating your app idea.
Let's have a look at the different stages of developing a telemedicine app.
1.     Market Research
The first step for developing a telemedicine app would require you to capitalize on your research skills.
Market research helps specify your target audience, which are the people who would directly or indirectly use your product.
Moreover, several telemedicine app solutions are available for users, so why should they use your app? Conducting a market-wide analysis could help you specify the purpose of your app.
Also, by studying the features of an already existing app, you would devise a complete product charter for your app.
Another milestone of this step includes developing a telemedicine app business plan. A business plan incorporates all the information about the telemedicine app. Such as features and functionalities, budget, UI/UX specifications, technologies used, etc.
2.    Development Planning
The next stage pertains to planning and finalizing important procedures and steps of developing a telemedicine app. This includes catering to different development aspects.
During this phase, you may finalize the app's technological specifications, architectural perspectives, and UI/UX functionalities.
3.     Choose a Suitable Platform
Developing a fully functional telemedicine app would also require you to decide the app developing platform, i.e., iOS, Android, or cross-platform.
The factors that help you decide on a suitable platform for your telehealth app go back to the first step of the process. Your target audience and app features help you decide the right platform for your telemedicine app.
For instance, if you wish to cater to a wide audience across borders, you may develop a cross-platform app.
4.     Specify Your Telemedicine App Design
Next, you must specify your telemedicine app design, keeping your target audience, app features, and app platform in mind.
If you plan to develop a cross-platform telemedicine app, note that different mobile OS have different design interfaces. Furthermore, make sure your design interface incorporates all the features that adequately for the three different modules of the app.
Developing UX and UI design wireframes can be a good option to make sure all the features are well-executed and suit the mobile app platform.
5.     Integrating APIs in The Health App
API integration helps telemedicine apps improve their functionality in terms of better performance and system integration.
If you wish to read more about how APIs improve mobile app functionality and how you can develop customized APIs for your app, read our article on API development.
However, building a telehealth app without market-ready APIs can easily take 1 to 2 years. But with the components now readily available in the market, a telehealth app can be built in 3-6 months.
6.     Testing and QA
You would want your app to work flawlessly to provide better healthcare services while leveraging technology.
Therefore, testing and QA steps is the crucial ones. Conducting code reviews, beta testing, and app flow evaluation could help you identify the app shortcomings and improve them timely.
Similarly, Quality Assurance helps in ensuring the overall app performance and functionality are on point. Conducting QA tests like regression and stress testing helps in evaluating overall functionality from different standpoints.
7.     App Deployment and Maintenance
After evaluating and testing your app from every aspect and for every functionality, the next step is to successfully deploy your app.
Since telemedicine apps are developed to assist in better healthcare service provision, updating and upgrading the apps to newer practices and regulations is highly essential. Other than that, for your telehealth app to maintain a consistent user base and function better in the competitive market, updates are necessary.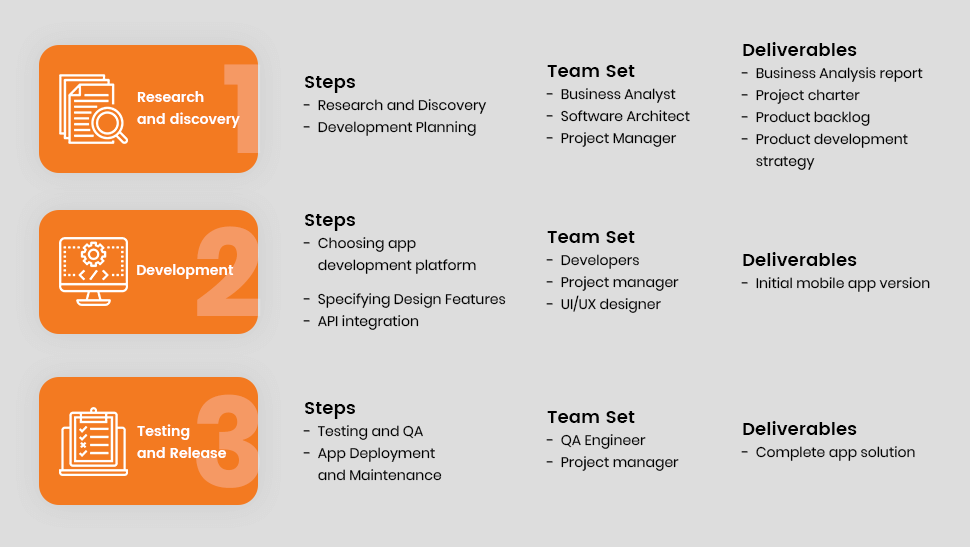 <alt text>the telemedicine app development process </>
This is what looks like the telemedicine app development process employed at Tekrevol. But since so much goes into developing a telemedicine software solution, the developing cost is also essential to look at.
So, what is the cost of developing a telemedicine app? Continue reading below.
How Much does it Cost to Develop a Telemedicine App Solution?
Along with the cost of telemedicine software, it is essential to include the investment made in the app's marketing and distribution in the total health app budget.
For telemedicine solutions, evaluating the cost of developing an app is subject to the technologies, functionalities, and platforms used. As developing telemedicine software requires developers and strategists to outline the entire app concept, development approach, and competitive features, the development cost may vary for every project.
But, to give an estimation for telemedicine app development with basic features of all three modules may range from $70,000 – $180,000. This price can however, extend beyond this range if you plan to incorporate more complex features.
Just for the record, this telemedicine app development estimation includes single platform development (iOS or Android) at an hourly rate of $60, which is the average hourly rate in the USA for 3 to 6 months.
Pro Tip: As there are several telemedicine app solutions already available on the market, your telehealth app must have an innovative concept and feature at the core. And, this may require you to invest considerably in research and analysis alongside hardware and software aspects.
Suppose you wish to have a clearer view of what could be other important factors that impact your overall telemedicine app development investment. And, how individual app development process may cost you, read through our article; How much does it cost to make an app?
App Monetization Strategy for Telemedicine Apps
If you don't know, the app monetization strategy includes several ways for free apps to make money. Including in-app purchases, subscription charges, crowdfunding, and so on. Choosing for suitable monetization strategy comes down to the nature of the app and services provided.
If you wish to know about monetization strategies, read more in one of our articles about how free apps make money.
Since telemedicine apps relatively fall into the category of on-demand app services; the suitable monetization strategy could be to earn through fees, just like Uber. For every consultation between a doctor and the patient, the app receives a specific percentage of services.
For instance, a telemedicine app, Doctor-on-Demand, charges 25% of the total fee for every consultation.
Moving on, as alternative options, telemedicine app can also employ the following monetization models;
Pay per consultation – subjective to specialist or consultation duration, the app could charge money for every consultation. For instance, the Tele Doctor Program charges $0.08 for every consultation.
Subscription model – In order to use the service, the patients would be required to register to the telemedicine app as subscribed users. MycaNutrition employs this model to capitalize apps across different countries.
Franchising – distributing your telemedicine app as a franchise to the global market. An example of franchising could include SkyHealth that franchised the app for $3000.
Soft-as-a-service (SaaS) – It refers to providing your telemedicine app (software) as a service to a medical establishment such as hospitals. Doctor-on-Demand is a good example of the SaaS model, which charges $1 per employee per month.
6 Major Challenges in Telemedicine App Development
Nothing comes without challenges. Since telemedicine app development is one of the next big things, it comes along with several challenges you must consider. These challenges may include both internal and external telemedicine app aspects.
Let's outline some of the major challenges in telemedicine app development
1.     Compliance with Healthcare Legislation
Your telemedicine software solution must abide by the local healthcare legislation of the target country. In the USA, the app should be compliant with the HIPAA policies for patient and physician safety.
2.     Data protection and Security
As your telemedicine app solution directly deals with patient's and doctor's data, the app must include adequate data security and protection protocols. This would help in avoiding any discrepancies, illegal data manipulations, and cybercrimes.
Implementing two-factor authentication and biometric identification features can help improve security measures.
3.     Telemedicine Apps are Still not Very Common
The use of telemedicine apps is still restricted to the well-established markets of the USA and Europe. Reason being – lack of trust. The majority of people still prefer physical consultation services with a doctor over telemedicine applications.
However, focusing on improved app market strategies and better feature integration can help fill the gap.
4.     Back-end Infrastructure
Integrating third-party services in these health apps to enhance the service provision and user experience. However, this could help improve the app's functionality, it may require extra efforts and budget.
5.     Interface Design Implementation
Since designing an interface is to provide better feature accessibility of the app to the users; it can be difficult to integrate for different types of users. It must be noted that a telemedicine app has different modules for doctors and patients, which means different interface designs.
6.     Collaborating with Skilled App developers
You would agree; For entrepreneurs, turning their ideas into actionable – result-oriented entities while spending a lot of time and resources is a great deal. Therefore, collaborating with people who value your app idea and help you make it successful is an essential step.
Choosing for correct app development partners for your telemedicine app comes down to evaluating certain aspects if you plan to outsource your app. The aspects majorly include their take on your idea, resources in hand, experience, service charges, etc.
Developing a successful telemedicine app would require you to pay attention to all the major and minor details. This would help you in avoiding the pertaining challenges and have a smooth development process.
To make sure your development process is smooth, I have a few tips for you that could help you make things more streamlined.
Important Consideration for Telemedicine App Development
Investing in telemedicine app development is one of the trend-changing technology. However, there are several options you can opt for. Instead of developing the entire telemedicine app solution, you can also develop a module-based telemedicine app.
Such as considering one of the following options can be helpful;
A telemedicine solution that provides collaboration between healthcare providers, institutions, and hospitals, etc.
Developing a telemedicine app and healthcare mobile apps provides an end-to-end encrypted video chat and conferencing solution
Develop a data analytic telemedicine app solution for general and prophylactic treatments.
Provide a telemedicine app solution that enables remote-based healthcare consultation services.
Similarly, for any of the solutions you wish to develop, there are several aspects you must consider to ensure hassle-free, seamless telemedicine app development.
The industrial and societal aspects you must take into account before commencing with telemedicine app development are the following;
Strict follow-through of the national and international medical policies.
Decentralization of medical services to effectively widespread it to a greater majority for the greater good of the society.
The use of telemedicine app software to be commercialized over public networks for better affordability.
So far, we have looked into several important aspects of telemedicine app development to give you a clear idea of everything that goes into it. However, if you are wondering what some of the best telemedicine apps you must know and research about? We have an answer for that too.
Let's look at some of the examples of telemedicine apps that are widely being used by patients and doctors commonly.
5 Widely Used Telemedicine Apps
1.     American Well (Amwell)
AmWell is one of the earliest telemedicine apps widely used in the United States by patients, healthcare institutions, and the government since 2009. The app employs a SaaS platform for medical professionals.
AmWell provides specialized healthcare solutions to patients over a broad healthcare spectrum as a telemedicine app solution for the masses. The specialization categories vary from general healthcare to specialized services such as cardiology and cognitive health.
The app employs fees charging the monetization model and charges $59 for emergency services and $95 for online consultation.
2.     Doctor-on-Demand
The Dr-on-demand is one of the most popular and trusted telemedicine apps for online video-based medical consultation. The high-performance features of the app allow patients to connect with a specialized doctor within 3 minutes.
The app, available to users on smartphones, the web, and desktops is one of the 20 most popular and useful apps. Also, since the app's consultation charges are slightly higher, it collaborates with several insurance companies to provide better service to patients.
Dr-on-demand, as a telemedicine app startup, raised an $86.7 million investment from Richard Branson and Google
3.     Teladoc
What makes Teladoc the top telemedicine app in terms of customer satisfaction and support is its UI/UX interface. An easy-to-use interface that enables patients to create their profiles and choose the right medical care conveniently.
Since most of the app services are covered by insurance plans, managing service charges becomes easier for patients. So, if you are planning to develop an enterprise-level telemedicine app, you must take some notes from Teladoc.
4.     MDLive
A well-known telehealth solution company that has been in the field since 2009. This telemedicine app is one of the most feature-packed apps with video conferencing, medical records, E-Prescription, etc.
The recent collaboration with Walgreens has enabled enhanced medicine and prescription features. With all these advanced features, MDLive is great telemedicine to watch out for.
5.     Medici
Medici is one of the few telemedicine apps that is focused on healthcare professionals. The app is developed to assist experienced medical professionals and doctors in staying connected with their old patients by giving virtual consultations.
The app is packed with features appointment scheduling, language support with translation to/from 20 languages, and easy contact import features for doctors. With such features at work, the app has been a helping hand in adapting and incorporating technology in healthcare industry.
Interested in Developing or Investing in Telehealth Services?
Frequently Asked Questions
How do I make a telemedicine app?
The telemedicine app development process involves following steps
Conduct business analysis and create and a business charter
Research the market and your competitors for better insight into existing products
Define your unique value proposition as the prime purpose of your app
Create a prototype, conduct testing, and get feedback.
Research marketing channels and implement effective marketing strategies
Will apps for telemedicine be successful?
Well-developed telehealth apps can assist doctors in providing medical consultation and assistance to patients virtually. With online access to patient's EHRs, prescribing medicine and providing consultancy becomes easier and reduces additional paperwork. Therefore, it can be inferred that telehealth apps will be successful in integration in the healthcare sector.
What is needed to create a telemedicine app?
Telehealth app development employs numerous technologies to improve app functionality. This may include APIs, third-party software, and frameworks. Similarly, technologies like AI, IoT, Big Data, Blockchain also improve the overall health app performance.
Wrapping it Up
Telemedicine app development might be a relatively fresh concept; however, the idea of integrating medical care and mobile app development can bring revolutionary changes to healthcare services.
Since the idea is still in the growing phase, thoughtful planning and execution of the development process would help optimize time and resources.
Making efforts critically to ideate, iterate, and innovate the telehealth services idea while learning from existing examples can significantly help develop a functional app solution. Also, specifying salient features and other technical aspects like API integration also hold great value in telemedicine app development.
Moreover, adequate integration of healthcare policies and patient data security must also be well-integrated features for the functional stability of your app.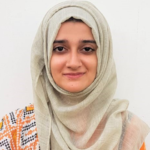 Author : Mehreen Saleem
Mehreen is an avid tech-researcher and thrives on accelerating business value by sharing her research that spans the intersection of technology to business resilience and sustainability-related topics. She's also an advocate for ensuring that every content created at TekRevol is epic.
Recent Blogs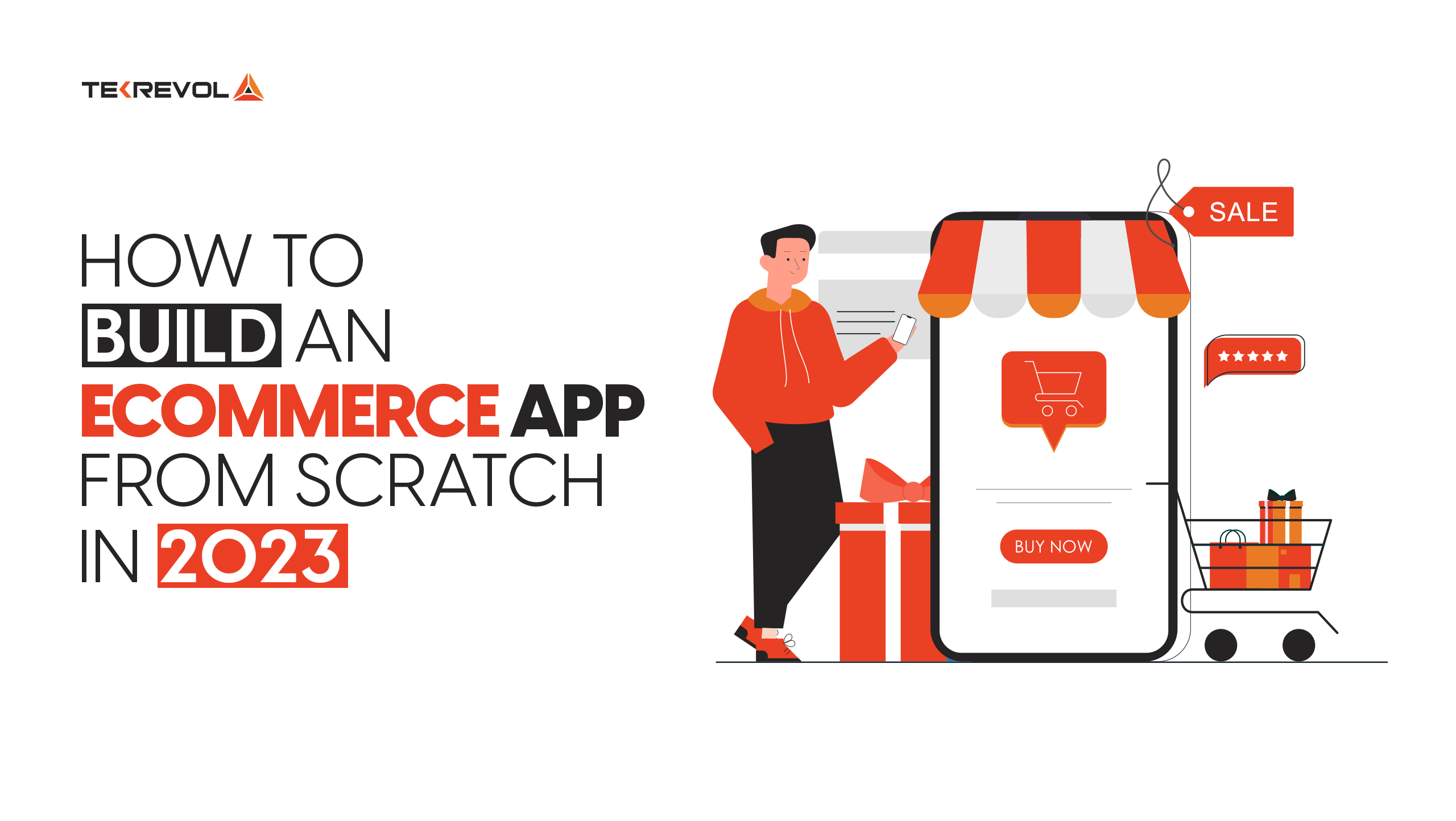 Tekrevol's Global Presence
Now expanding to multiple cities across USA, GCC region, Europe & Asia
Come meet us at a location near you!
USA
39899 Balentine Drive,
Newark, CA 94560
1301 Fannin St #2440,
Houston, TX 77002
501 E Las Olas Blvd Suite
230, Fort Lauderdale, FL
44 Tehama St, CA 94105, San Francisco
400 NW 26th St, FL 33127, Miami
740 15th St NW 8th Floor, DC 20005, Washington
CANADA
4915 54 St 3rd Floor
Red Deer, ABT T4N 2G7
UAE
Level 5, One JLT Tower 1 - Jumeirah Lakes Towers - Dubai, United Arab Emirates
Level 17, World Trade Center, Khalifa Bin Zayed the First Street, Abu Dhabi
Level 22 , West Tower, Bahrain Financial Harbour, Manama, Bahrain
Level 22, Tornado Tower, West Bay, Doha, Qatar
PAKISTAN
3/25, Block 5, Gulshan-e-Iqbal,
Karachi, Sindh 75650
USA
CANADA
PAKISTAN
UAE
talk to us
Got an idea?
Let's get in touch!
Let's discuss your project and find out what we can do to provide value.
I am interested in discussing my ideas with you for
COPYRIGHT 2023 TEKREVOL ALL RIGHTS RESERVED.