How Much Does It Cost to Develop an iOS App
Author: Mehreen Saleem |
March 9, 2022 - TekRevol Team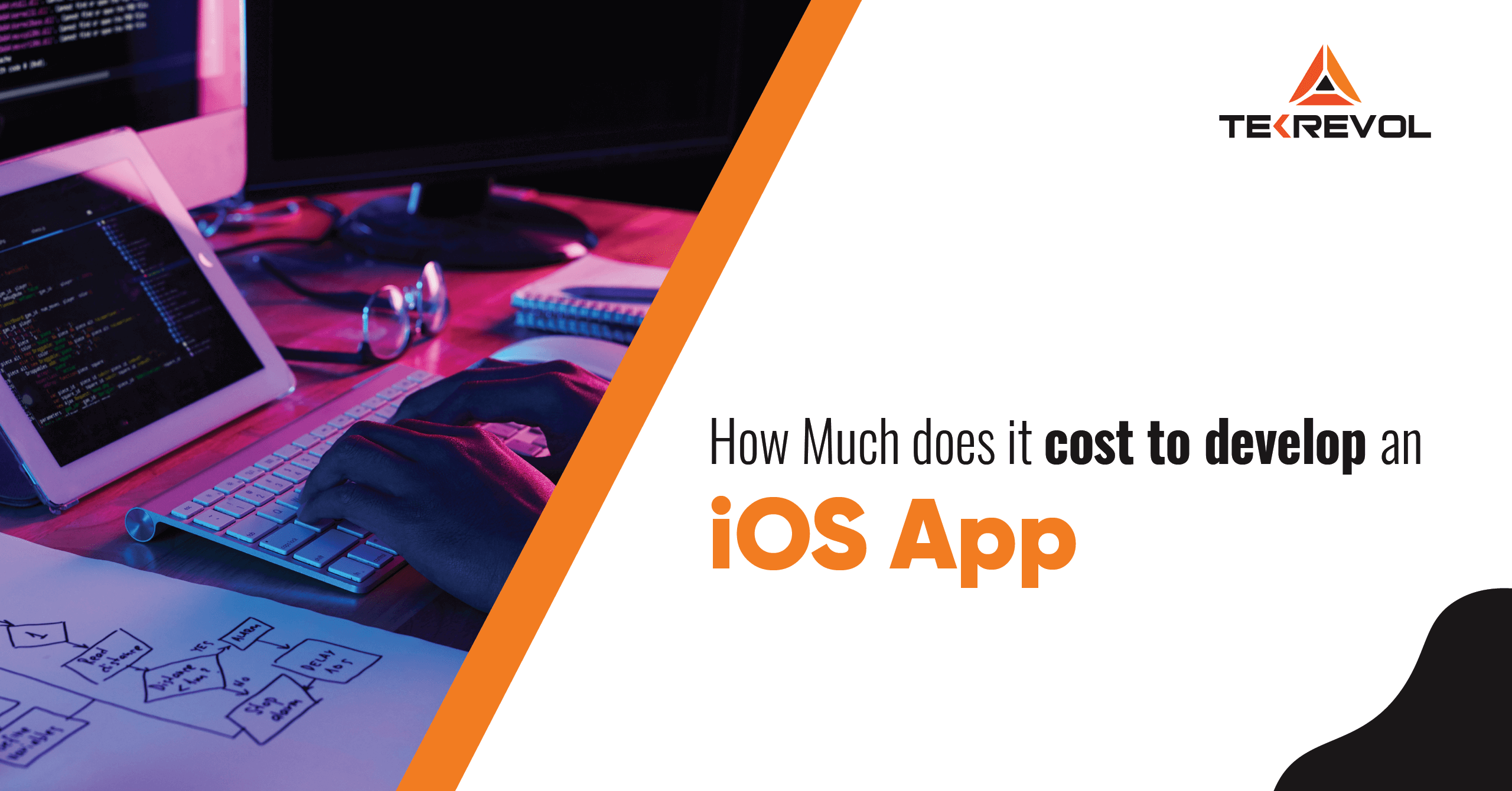 Looking to invest in iOS app development?
With a market share of more than 53%, iOS holds more than half of the mobile OS market in the US as of May 2021 – which highlights that you are targeting the right market.
However, there is always more to think about before starting with app development.
Such as how much does it cost to develop an iOS app?
If you have a similar question in your mind, this article answers the question for you; the article details everything important to iOS app development cost.
Here's a quick glimpse of everything we are going to talk about;
Benefits of iOS app development
Factors Affecting the iOS app development cost.
Tips to reduce the iPhone application costs.
So, let's get started.
Why Choose iOS App Development (Benefits)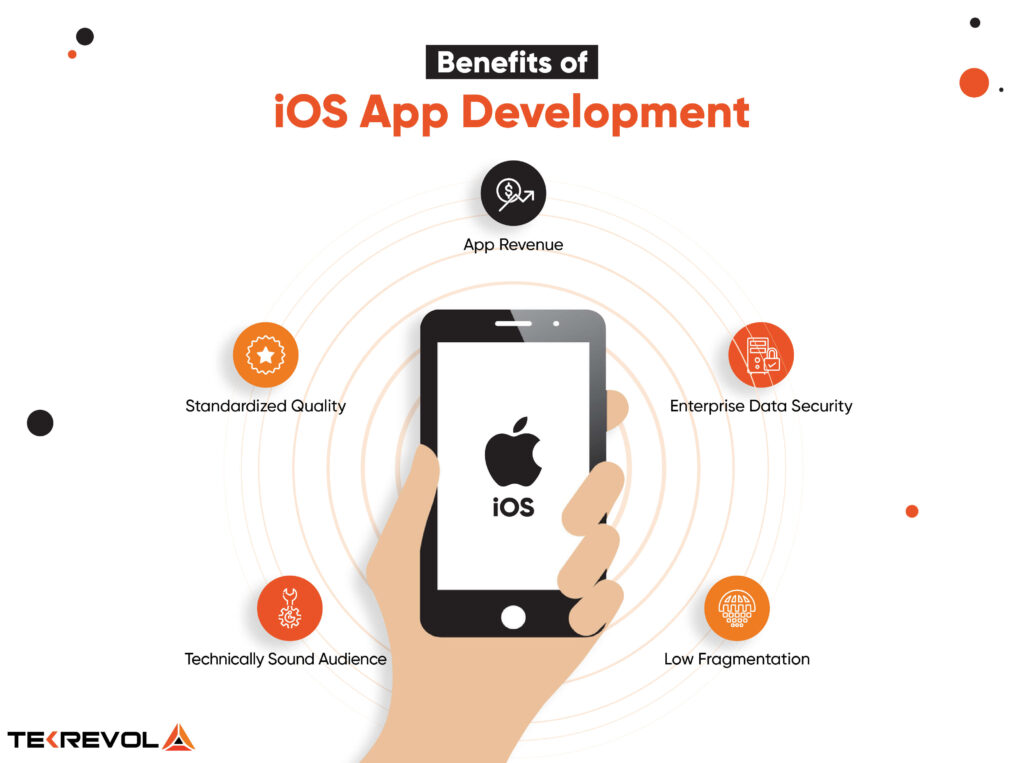 Apart from helping developers and entrepreneurs to tap into the second largest mobile OS market, iOS app development brings the following benefits to the business;
1. App Revenues
Although android holds a whopping 72.2% of the entire global mobile OS market, when it comes to generating revenue, iOS truly wins the case.
As per the research by Inc, the estimated profit margin of the App Store is 80%, and it generated an economic value of more than 600 billion in the second quarter of 2020.
2. Enterprise Data Security
Apple app development ensures complete data security and authorization – which makes it the best choice for business applications.
It is because iOS offers centralized administration that offers control over all connected iOS devices.
Also, this enables enterprises to implement the BYOD principle and leverage a set of advanced mobile management tools.
3. Standardized Quality
As compared to the Google Play Store, App Store undergoes a strict and thorough app scanning process before the app is published.
This not only signifies the quality and standardization of the app, but it also helps create a stellar user experience and a positive user response.
4. Technically Sound Audience
Since iOS users have a more innovative and open-minded approach, iOS app development lets you cater to a technically sound audience.
Also, it helps iOS developers to create state-of-the-art apps that are different, innovative, and revenue-driven.
5. Low Fragmentation
One of the salient features that set iOS apart from android (or any other mobile OS) is that it has a closed ecosystem.
This means mobile apps development for iPhone devices would only run on limited devices, unlike android apps.
Subsequently, this helps iOS developers and QA testers to evaluate app performance and credibility on devices like iPad and iPhones.
iOS app development offers a variety of benefits with a profitable market to invest in as compared to android. And this brings substantial business opportunities for appreneurs. Read our article "how to convert an android app to iOS" to tap into the iOS app market.  
Wondering how much does it cost to build an iOS app?
Here's our iOS app cost calculator.
Factors Affecting the iOS App Development Cost
To have a ballpark average of the iPhone app development cost, we can say it depends on several factors involved in iOS app development.
Subsequently, the real answer to how much does it cost to make an iPhone app can be simple, "it depends."
However, what's noteworthy here is that it depends on a lot more things than you can think of.
Following are some of the factors that directly affect the iOS app development cost.
1. Size of the iOS App
Starting with the basics, the iOS app size massively impacts the time duration and iOS app development cost.
The great the size of the iOS app, the greater would be the time required and cost to develop an iOS app.
2. iOS App Feature Set
This technically coincides with the above-mentioned point; as the features of an iOS app increase, so does the complexity and size of the app.
Therefore, the cost of developing an iOS app with minimal features would be lesser than a feature-packed, complex iOS app.
Or, for a complete cost breakdown and analysis of your iOS app, head to our app cost calculator.
3. The iOS app development Process
The process also directly impacts the iOS app development cost.
A complete full-fledged iOS app development process includes a series of steps and a hardworking app development team.
For more insights on the iOS app development process, read our blog "how to develop a basic iPhone app."
And every step in the iOS development process significantly impacts the iOS app development cost.
For instance, at Tekrevol, the prototyping step takes up almost 20% of the entire time, effort, and budget.
Below given is the time and cost breakdown of the entire iOS app development process at Tekrevol.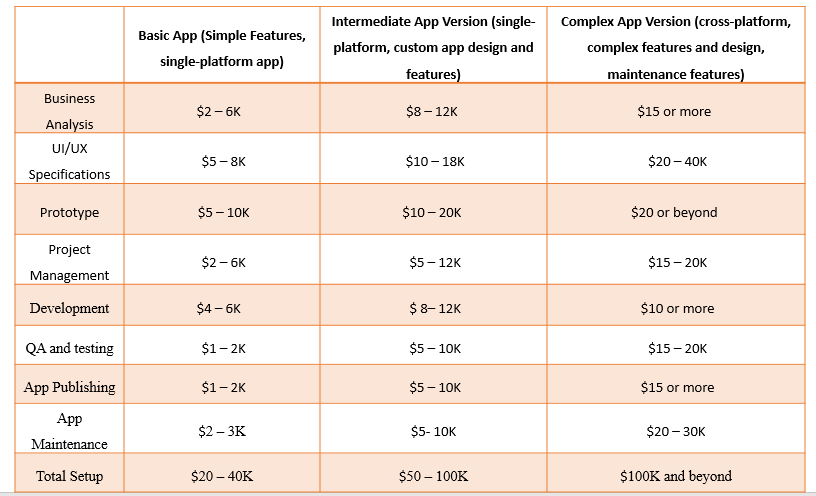 4. iOS App Development Cost as per App Categories
Another notable factor that impacts the iPhone app cost is the app category.
The image below shows the most popular app categories on the App Store, with market share percentages as of December 2021.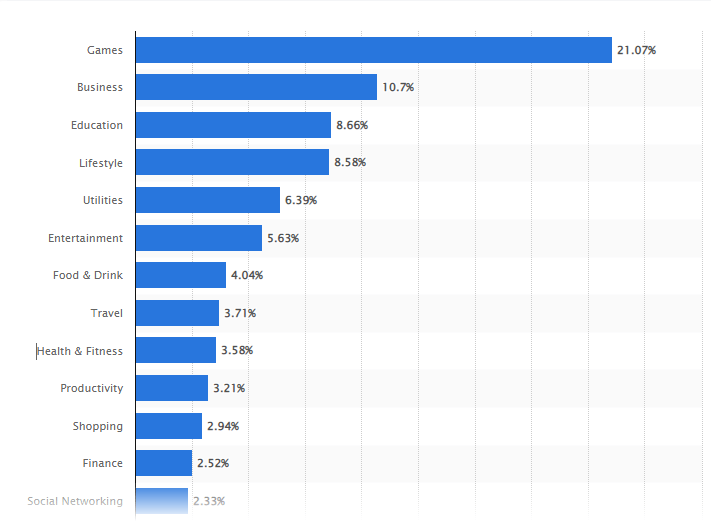 Image source: Statista
The graph shows that the most popular iPhone app category is games, followed by business, lifestyle, entertainment, and health.
Subsequently, the chosen app category also impacts the apple app development cost.
When opting for custom iOS app development services, it is important to make a wise decision in terms of choosing the iPhone app category.
Simply because it can cost you a fortune if every element in your strategy is not properly aligned, as it requires a high amount of resources.
To help you make the right decision, we have a complete guide on the Top 10 Apple app store categories and how to choose the right one for your iPhone app.
5. Location of the iOS app Development Team
The location of the development team also directly impacts the iOS app development cost.
Since every country or region has a different lifestyle and living cost, it directly impacts the hourly rate of the developing team.
And so impacts the cost of developing an iOS app.
For instance, the hourly development rate in the UK is $40 – $120 per hour. Whereas the hourly app development rate in the USA is $40 – $120 per hour like cities of New York, Houston, Chicago, Miami, and Austin.
6. Online vs. Offline iOS App Development Cost
Well, this is generally included in the feature-set or complexity of the iOS app.
However, choosing to develop an online or offline app also impacts the iOS app development cost.
And it is pretty understood that online iOS app development requires more resources to build and sustain a credible internet connection for the app – ultimately leading to higher costs.
Similarly, offline iOS app development costs would be slightly lower, and it can help in gaining more user traction.
Here's a brief comparison between online and offline apps.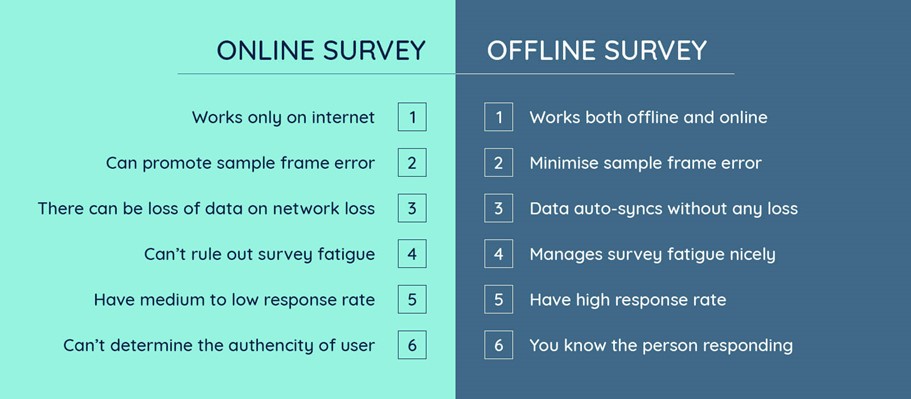 7. API Integration in iOS App Development
Depending on the type and usage of the app, iOS developers integrate different APIs to enable extended functionalities.
API integration is one of the most crucial parts of iOS app development that help applications connect with other organizations and leverage various app features.
Following are some of the common API integration essential in iOS app development with corresponding cost estimations.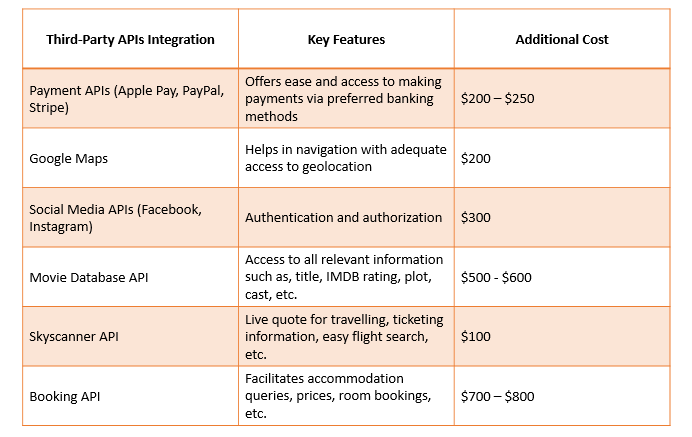 8.     iOS App Development Hidden Costs
Apart from the above-mentioned aspects, there are always some hidden aspects that impact the iOS app development cost.
The following are additional hidden charges that add up to the total iOS app development cost.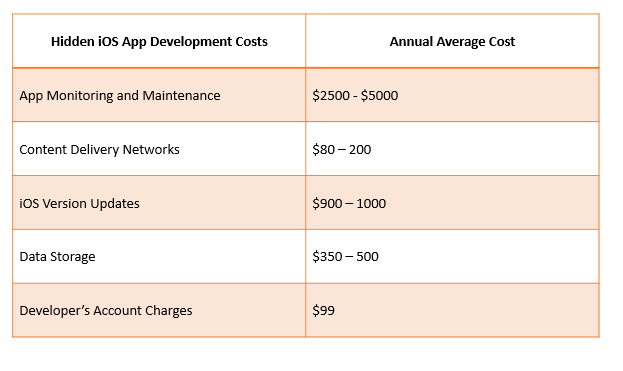 Need more insight on factors that add up to the cost of iOS app development?

Our growth consultants and analysts at Tekrevol can help you chalk out the entire cost breakdown of your custom iOS application.
Tips to Reduce the iOS App Development Cost
By now, you must have understood that there are plenty of factors that directly impact the cost of iOS app development.
And, seeing all these cost add-ups can sometimes be demotivating. That's why here are some practical tips and tricks to minimize the iPhone app costs.
So, let's get started.
1. Minimal Viable Product Development
A Minimum Viable Product or MVP is an initial version of the app with minimal features launched in the target market to evaluate the user reaction and perspective.
The MVP method is especially not new to people who belong to the digital world – and it is a prominent method to cut down the additional app development cost.
MVP development approach has been a preferred method for a majority of app and web companies.
For some popular examples and more insights on MVP, read our blog "Top 10 Minimum Viable Product Examples."
2. Go For Cross-platform App Development
Instead of developing an iPhone app, you can always go for custom cross-platform app development that;
Helps you target a wider audience
Have a cost-effective app development procedure
Tap into the market with an updated strategy
Increase your return on investments (ROIs).
3. Outsource your iOS App Development
Outsourcing your iPhone app development project can always help in optimizing the iOS app development cost.
As discussed earlier, the location and development process has a significant impact on the cost to build an iOS app.
So, choosing a full-cycle app development company like Tekrevol that opts for a well-defined iOS app development process and has optimal hourly charges can be a perfect fit for your project.
Do you have an iPhone app development idea?

Collaborate with Tekrevol for a powerful and tech-automated app development process that guarantees significant growth stats and ROIs
The Way Forward
Developing an iOS app comes with its own challenges; the cost of developing an iOS app is a significant one.
However, making wise choices, having an appropriate app development strategy, and choosing the right app development strategist can help you pave the way.
Evaluating each of the highlighted factors adequately before starting off with the development process can always yield positive results.
Similarly, choosing one of the above-mentioned tips to cut down the iOS app development cost can always help you go cost-effective.
iOS is an ideal platform if you wish to target a market with high purchasing intent and massive growth approaches.
However, all you need is the right approach and strategy to move forward.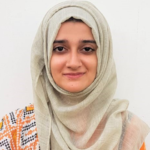 Author : Mehreen Saleem
Mehreen is an avid tech-researcher and thrives on accelerating business value by sharing her research that spans the intersection of technology to business resilience and sustainability-related topics. She's also an advocate for ensuring that every content created at TekRevol is epic.
Recent Blogs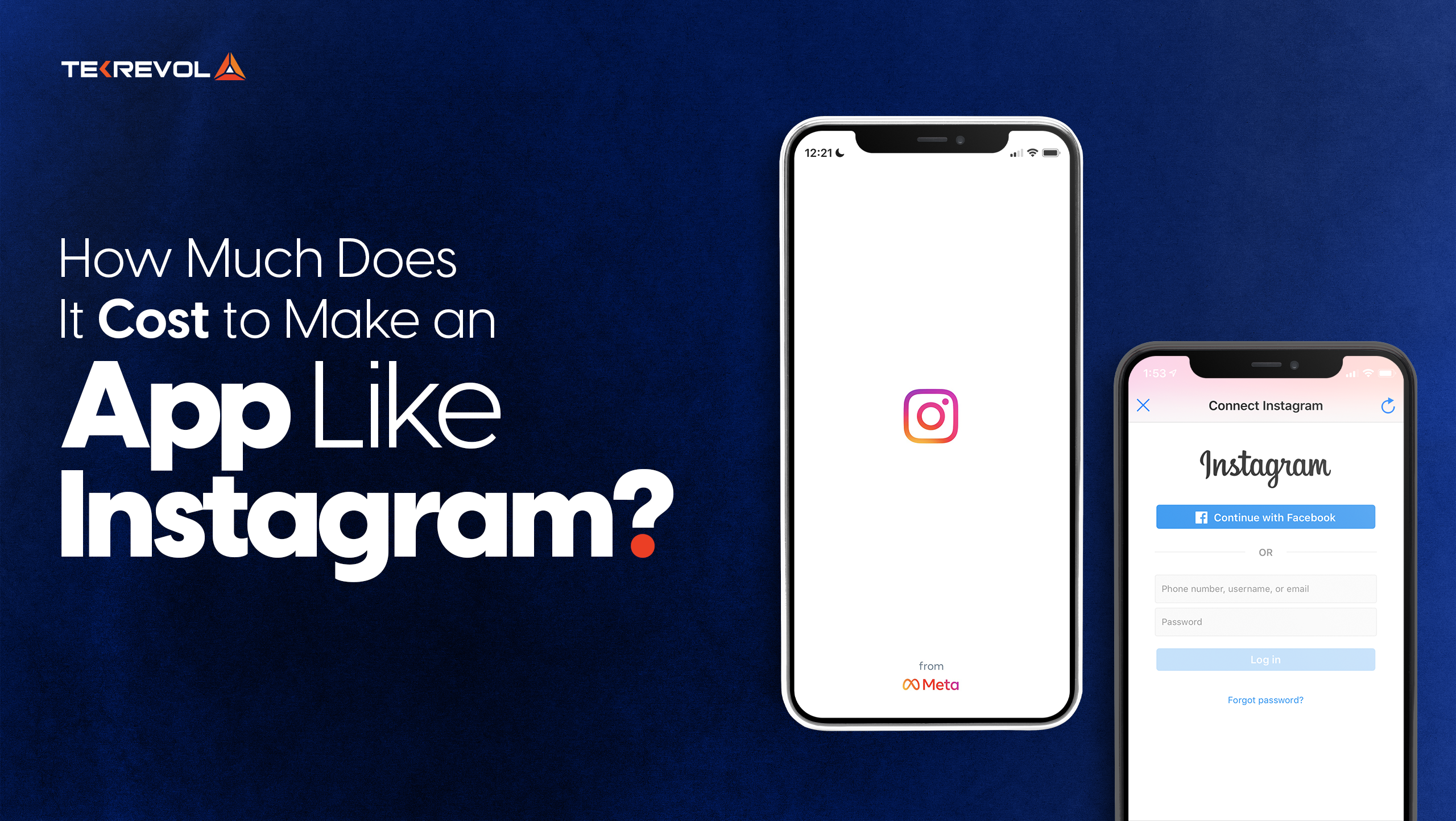 Tekrevol's Global Presence
Now expanding to multiple cities across USA, GCC region, Europe & Asia
Come meet us at a location near you!
USA
39899 Balentine Drive,
Newark, CA 94560
1301 Fannin St #2440,
Houston, TX 77002
501 E Las Olas Blvd Suite
230, Fort Lauderdale, FL
44 Tehama St, CA 94105, San Francisco
400 NW 26th St, FL 33127, Miami
740 15th St NW 8th Floor, DC 20005, Washington
CANADA
4915 54 St 3rd Floor
Red Deer, ABT T4N 2G7
UAE
Level 5, One JLT Tower 1 - Jumeirah Lakes Towers - Dubai, United Arab Emirates
Level 17, World Trade Center, Khalifa Bin Zayed the First Street, Abu Dhabi
Level 22 , West Tower, Bahrain Financial Harbour, Manama, Bahrain
Level 22, Tornado Tower, West Bay, Doha, Qatar
PAKISTAN
3/25, Block 5, Gulshan-e-Iqbal,
Karachi, Sindh 75650
USA
CANADA
PAKISTAN
UAE
talk to us
Got an idea?
Let's get in touch!
Let's discuss your project and find out what we can do to provide value.
I am interested in discussing my ideas with you for
COPYRIGHT 2023 TEKREVOL ALL RIGHTS RESERVED.