25+ Cash Advance Apps Like MoneyLion: Say GoodBye to Payday Loans in 2022
Author: Muhammad Bin Habib |
May 27, 2022 - TekRevol Team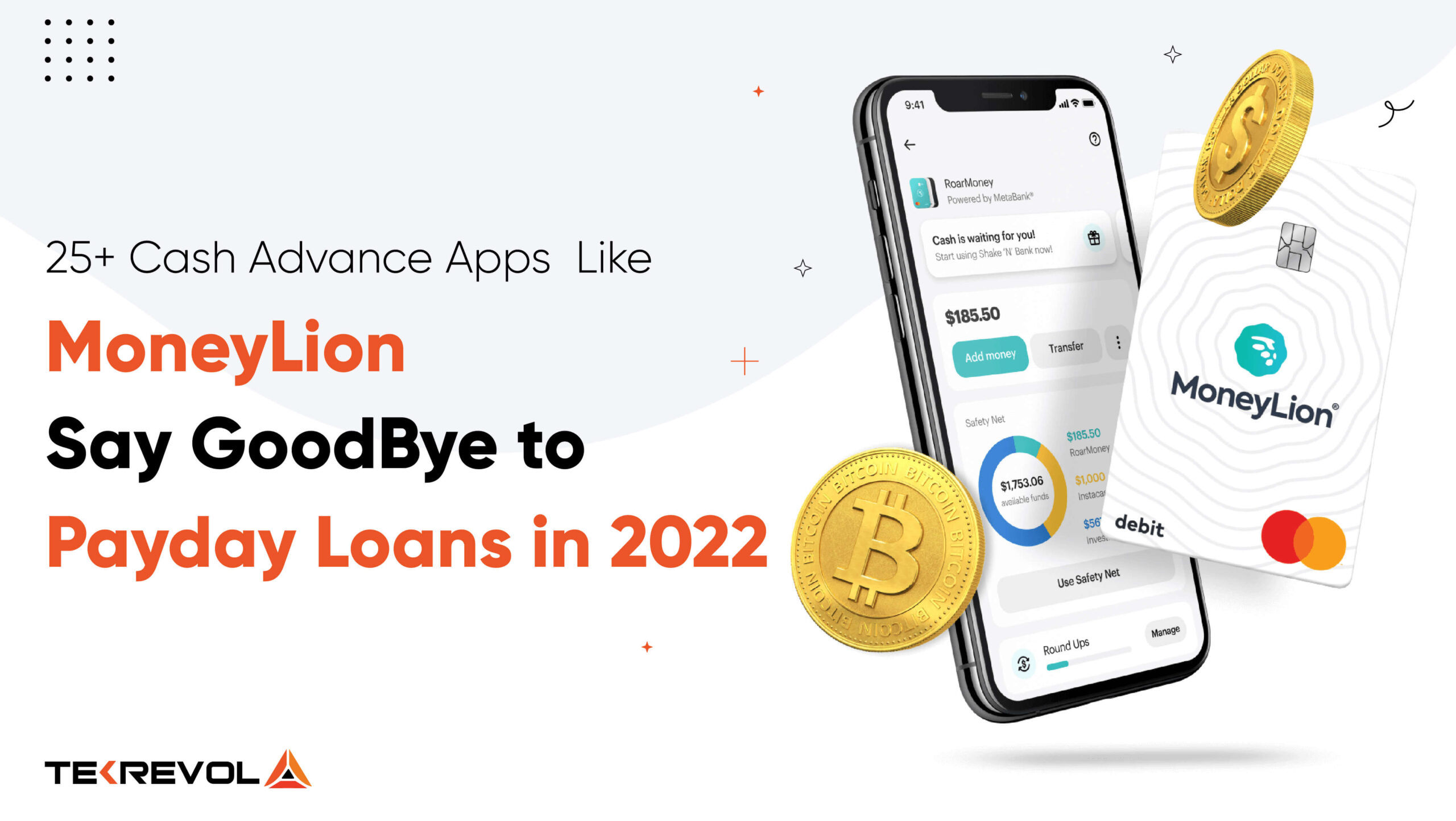 The world is moving forward at a fast pace. The day-to-day rise in inflation has gotten to many households, and if you are among those who rely heavily on your paycheck to make your ends meet, this blog is for you.
Today, you will discover options. And wait, if you think it is some payday loan, you might want to read the title again. If you need quick money or quick cash to pay for your gas, groceries, or other utilities, MoneyLion and other apps like MoneyLion can help you.
There are a lot of ideas that can help you make money through an app. But if you are a user, you can find numerous options as well.
There are several apps similar to MoneyLion, and when you have decided to go for some quick cash, the undermentioned 25+ options will help you get the money easily.
(Read 25+ app ideas that haven't been made)
Let's know more about what we will be learning today.
Top 15 Apps Similar to MoneyLion
Other Alternatives for the MoneyLion App (10 Apps)
What Are Cash Advance Apps & How Do They Work?
Payday Loan Apps Vs. Apps Like MoneyLion: What's The Better Choice?
Requirements to Quickly Get Cash Advance
Features That You Must Consider in a Cash Advance App Like MoneyLion
Building an app is not an issue now.
What is MoneyLion App?

The MoneyLion App is a mobile application that allows free of a charge cash payments of up to $250 through Instacash. This application is among the leading cash advance applications.
This application suits you better when you have an unusual work situation. When and if you need money before your paycheck arrives, the MoneyLion app is for you.
Obviously, there are certain requirements that need to be fulfilled in order for you to qualify for the $250 cash payment. You would have to pay for the amount back when the due date arrives after your next deposit.
There are many ways of making money through an app, and this is one of them.
Eligibility Requirements & Cost for MoneyLion App
Every cash advance app like MoneyLion has certain requirements which come at a cost.
The preliminary requirement is that you have a checking account with the below-given features.
The account is active
The account is older than a couple of months
The account has a positive balance and has never been in negative
The account has a consistent income deposit
As far as the cost is concerned, you don't have to pay for the MoneyLion Core account. For the "Plus" package, users have to pay a $19.99 monthly fee. If you choose to go for the cash advance feature, the plus version is not required.
Mobile apps like MoneyLion work in a similar fashion to other payday loan apps and work perfectly for payments up to $250 through the Instacash app if you qualify.
Top 15 Apps Like MoneyLion to Download in 2022
There are a number of mobile applications like MoneyLion that you can find in the market. But obviously, you cannot choose to use them all, and a few of them are better than others.
Any leading app development company can build the perfect mobile app. Whether you need to build finance apps, healthcare apps, real estate apps, music apps, or more – everything can be built. But that's the topic for some other day.
I have compiled a list of top 15 apps like MoneyLion for you. Skim through the apps, review their features and conditions and choose the best one you like. These applications are also known as apps similar to MoneyLion or MoneyLion competitors.
1. Brigit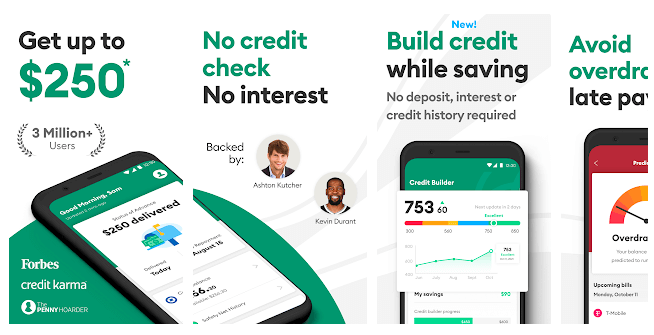 Brigit, as the name suggests, is an app like MoneyLion that bridges the gap between paydays. Moreover, the application also keeps a check on the user's banking activity as well, and in case of any overdrafts, it notifies.
When the Brigit app notices an expense, that will be a lot, or you may overdraft the account. You will get a notification. Users can also apply for a Brigit advance of up to $250 – which is indeed a bigger part of it. The payback date is determined by the application based on the activity.
iOS Rating: 4.5
Android Rating: 4.8
2. Chime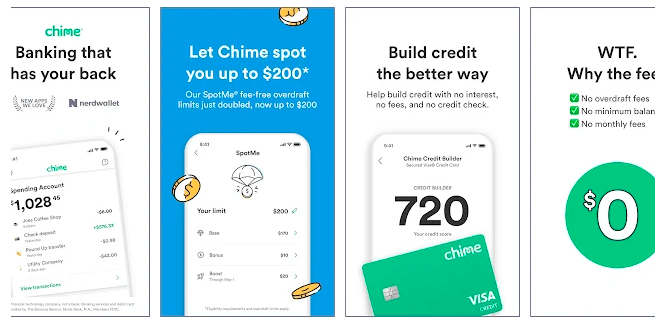 The Chime app is considered the most direct and one of the first Competitors of MoneyLion app. It is essentially a banking services provider application but has a lot of other benefits compared to a conventional bank.
This app is slightly different from other applications as it doesn't offer on-demand loans or cash advances to the users. However, the app does offer its users free overdraft protection of up to $200 that can be managed through a Chime debit card.
iOS Rating: 2.8
Android Rating: 3.1
3. Earnin
In the list of apps like MoneyLion, Earnin is a famous app, maybe because it offers the lowest tariff. A large number of people around the globe prefer Earnin. The Balance Shield Alerts and Balanced Cash Outs are the two different ways it got famous.
Through this, users get notified when their balance falls below the $400 bench, and if it falls below $100, the users will be allowed to get cash out of up to $100. Earnin also offers a way to withdraw your wages, which means there is no wait to get to your pay day.
iOS Rating: 4.7
Android Rating: 4.4
4. Dave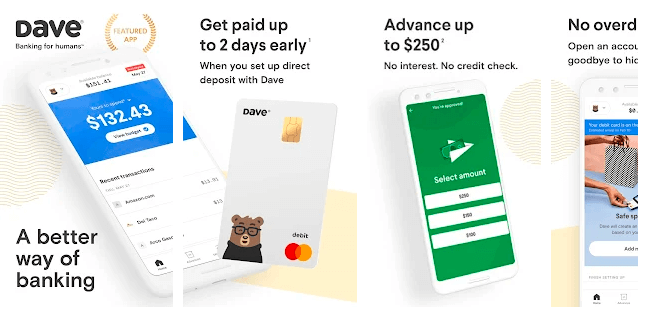 The Shark Tank famed application Dave is one of a kind that got its fame after getting featured on the show and getting significant funding from Mark Cuban. The Dave application is popular because it helps users easily avoid overdraft fees.
The Dave app terms itself as a platform of banking for humans and is another app like MoneyLion. The Dave application is linked to the user's bank account, and if there is a possibility of an overdraft, the app will send an alert. Users can get up to $100 in advance cash.
iOS Rating: 4.8
Android Rating: 4.4
5. Empower
Empower Cash Advance app is an app like MoneyLion that allows users to get money in the form of advance cash and repay it from the next expected deposit. The Empower app charges no late fees or interest from the users, but it does deduct a smaller amount.
In order to get qualified, users have to fulfill a few requirements, such as the proof of income and bank account details, and then you qualify for the cash advances. Through the Empower mobile application, users also receive free financial coaching as well.
iOS Rating: 4.7
Android Rating: 3.2
6. Branch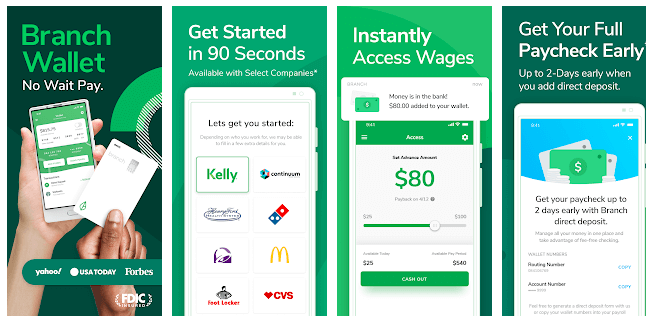 This app, like MoneyLion, is loaded with amazing features but with employer-side functions, which assist employers in helping employees with their specific monetary needs. This way, users can request cash advances on time from their hard-earned money.
The Branch app doesn't work on fixed limits; rather, it reviews the hours you have worked, and through that, you get the money. If you qualify, you will get up to 50% of the next paycheck that you are going to get. You can also pay a minimal amount to get the money instantly. It then gets debited when you receive your paycheck.
iOS Rating: 4.3
Android Rating: 4.8
7. Klover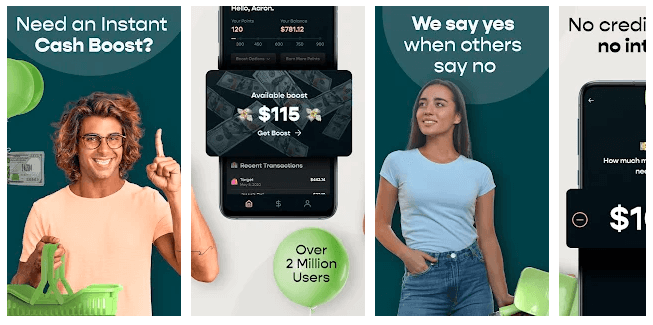 Another app like MoneyLion that is on the list is Klover. Through this mobile application, users can easily get up to $100 in advance. The app works by presenting tasks that provide you with points, such as answering a few questions.
The number of points you get defines whether you will be qualifying for the additional amount. So once you have answered the set number of questions correctly, you will get the points. Those will eventually lead you to the cash amount.
iOS Rating: 4.7
Android Rating: 4.3
Have you made up your mind to build a finance mobile app?

Our experts at Tekrevol are always ready to build the perfect mobile application that will generate significant revenue through the app. Connect with us and rest assured, you won't go wrong.
8. Affirm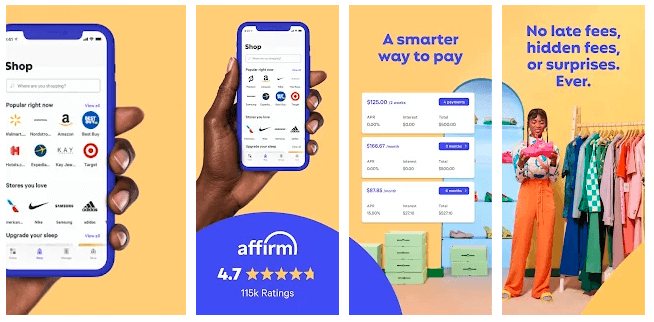 Affirm is another leading mobile app like MoneyLion, which is known as a marketing app, but it is not a typical one. The Affirm app has its own unique way and flow of managing the processes through which you don't have to spend the entire amount of your paycheck.
When you use Affirm to process your purchases, you don't have to worry about a few important factors. This includes no fines, no hidden charges, no late or due fees, and more. Moreover, the user-friendly UI is a great plus for everyone.
iOS Rating: 4.9
Android Rating: 4.5
9. AfterPay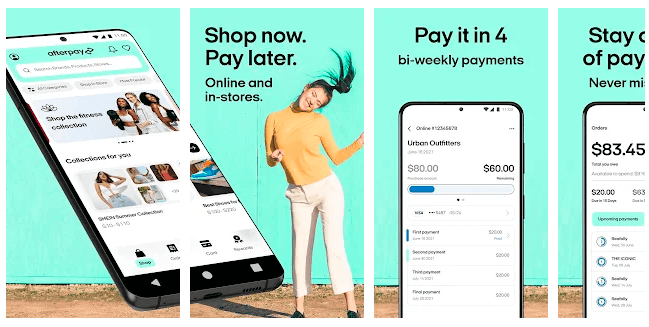 The application's name, AfterPay, suggests what it does. This app, like MoneyLion, allows users to buy something and pay for it later. The remaining amount can be paid later in four equal installments while you get the delivery after you have paid the first.
Furthermore, the application is equipped with some of the most amazing features. This means that you don't have to worry about rising mortgage rates or do some other stuff to make ends meet. Also, the remaining installments can be easily paid.
iOS Rating: 4.9
Android Rating: 4.8
10. Avant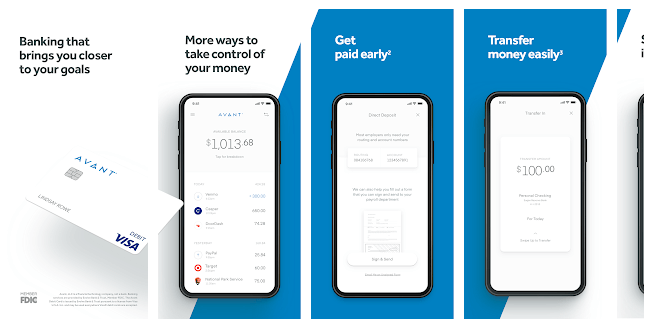 Avant app is another useful application that allows its users to seamlessly manage the loan. The app is equipped with state-of-the-art features and functions through which you can easily manage the payment history.
Moreover, you can also be notified about upcoming payments, ensure additional payments are done and review all other pertinent factors. The application is available for both Android and iOS platforms and can be managed by everyone.
iOS Rating: 4.8
Android Rating: 4.6
11. Axos
The next app is the Axos Bank Direct Deposit Express. The first thing for anyone to do is to make a checking account. Once the account is active, users can access their money two days early through Direct Deposit Express and use it in whatever way they want.
Axos doesn't charge you any fee or doesn't even have any minimum requirements for balance. Also, overdraft on the Axos account makes the experience even better. In a way, it is a digital bank, replacing conventional banking with modern features.
iOS Rating: 4.7
Android Rating: 4.4
12. Ingo Money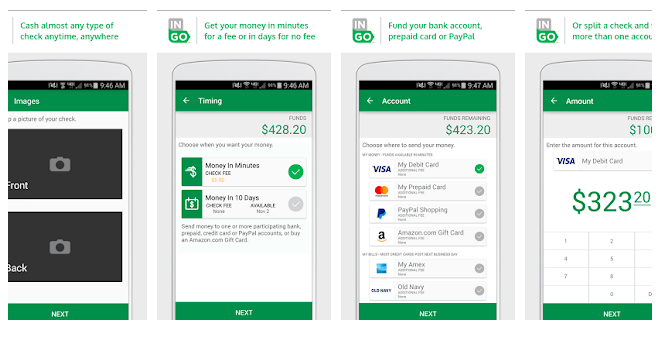 Ingo Money is the instant money service through which users can do a lot. From cashing the business checks, business checks, and more – everything can be done easily. Transferring the money to any bank or digital account is also very easy.
First, the users are needed to create an account through the application, followed by linking their bank account, PayPal account, and more. Once that is done, and the profile is approved, you can submit the picture of the check that will be paid upon approval.
iOS Rating: 4.1
Android Rating: 3.8
13. Payactiv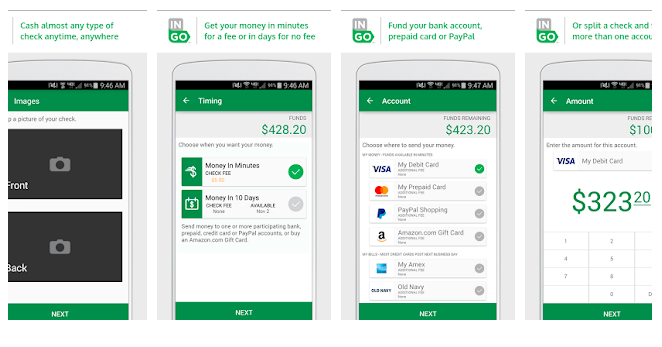 The Payactiv application allows users to access their earned money even before their payday. Through this application, users can also get financial counseling depending on their situation. Users can also pay their bills through the application.
The Payactiv app also allows users to have a debit card linked to the application. Through this debit card, it becomes easier to access the app quickly and avoid any fraudulent activity. Users might have to pay a fee of $1 when using Payactiv, while there is no fee for direct deposit.
iOS Rating: 4.8
Android Rating: 4.6
14. Possible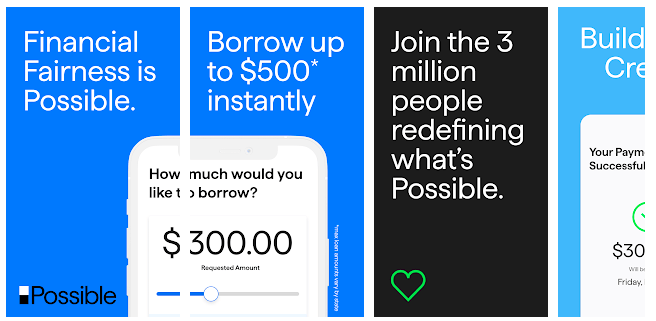 Among the list of top apps like MoneyLion, the Possible Finance is among the leading applications. It allows short-term installment-based loans of up to $500. The rates offered may differ depending upon the state user is based, but usually, it is around 10% to 15%.
Moreover, the period for each loan is two months. Users are allowed to make four payments over eight weeks to return the loan till it is paid off. Moreover, once the case is closed, the Possible Finance app will prepare a report and send it to relevant bureaus.
iOS Rating: 4.8
Android Rating: 4.5
15. Wealthfront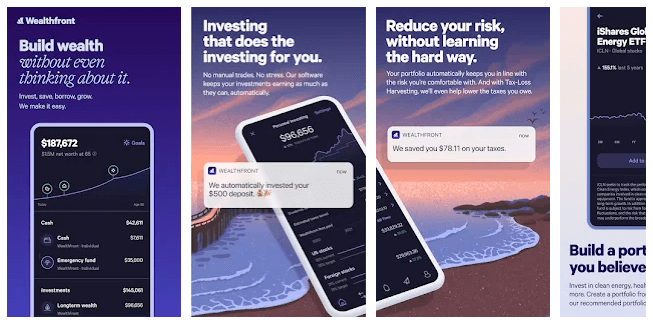 Wealthfront is another amazing app like MoneyLion, which is a comprehensive investment solution. Through this application, you can earn money from your saving. Also, you can also connect with the banking account to get your paychecks on time.
While Wealthfront might not be a proper cash advance application compared to a few other apps like MoneyLion, users can easily get their paycheck faster as compared to the traditional bank. Depending upon the payment, it might take up to two days to receive the payment.
iOS Rating: 4.8
Android Rating: 4.6
Make Your App Idea Go Worldwide

Expert developers at Tekrevol are a perfect choice for building a great mobile application. So, whatever your idea is, connect with us today and begin building the perfect mobile app.
Other Apps Similar to MoneyLion: Top 10+ Apps
Other than the applications that we have discussed above, there are a few other mobile apps like MoneyLion that have some amazing features and functions. These apps might not be your first priority, but these are indeed among the best applications like MoneyLion.
Let's have a look at some more apps similar to MoneyLion.
1. Even
2. PockBox
3. FlexWage
4. B9
5. LendUp
6. ActiveHours
7. DailyPay
8. CashNetUSA
9. Varo
10. Digit
11.  Stash
12.  SoloFund
All the above-listed mobile applications have various features and functions, and most of them are similar to somewhat related to the MoneyLion app.
What Are Cash Advance Apps?
Cash advance apps are the kind of applications that allow users to deposit money earned into a specific checking account well before the payday.
Most of the apps that are similar to MoneyLion app are completely free to use. Some of the applications, though, charge a nominal amount or a fee. Yet, almost none of the apps charge any interest.
The use of these cash advance applications offers great convenience to the users. The fee or the charges you pay for the app usage eventually pay off. These applications are indeed a great alternative to payday loan apps or hefty credit cards.
Moreover, the cash advance mobile applications are available for multiple platforms, including iOS, Android, and more. Users can download and use the app on the platform of their choice and repay the amount when the paycheck arrives.
How Do Cash Advance Apps Work?
Cash advance applications work in a way that provides the users and borrowers advance payments of the money that they have earned but haven't received.
These apps are extremely useful for people who want some extra money to make them work.
Once the users provide all the details and qualify, they can borrow applications between $100 to $500, and the payment depends.
Since their usability and the value these applications offer, many users prefer these applications over any other apps.
Payday Loan Apps Vs. MoneyLion App: What's The Better Choice?
There are payday loan apps, and then there are apps like MoneyLion, and both differ from each other. Usually, the users go towards apps similar to MoneyLion, mostly because of the sky-touching interest rates and lack of convenience.
These are some of the factors because of which the users are reluctant, diverting users towards a better option such as an application like MoneyLion. So, if you ask me, the MoneyLion app is indeed a better choice among the two options.
Requirements to Quickly Get Cash Advance
When in need, everybody needs a cash advance to survive till their paycheck.
So, when you need quick cash, the first thing you have to do is to find a cash advance application and set up your account. It can be conveniently done online by filling in the necessary details.
The details may include.
Personal identification (identification card, employee card, etc.)
Personal contact information (phone, email, mailing address, etc.)
Bank account details
Employer's information and credit details
The details you submit might vary from one platform to another. Also, some would take a couple of minutes to approve, while others might consume a couple of days.
Once your application gets approved, you can request a cash advance. Again, you might receive the amount in a few minutes, or it might take up to two business days to get the amount.
Features of any mobile application define how well
Features That You Must Consider in a Cash Advance App Like MoneyLion
it will be received by the audience. These may differ from one app to another, but as a whole, these provide the best value to the intended targeted audience.
Here are a few features that must be considered while searching for a cash advance app like MoneyLion.
1. Fee
The first thing in a cash advance app to see is the fee. Usually, cash advance apps don't charge much, but still, mobile apps may charge a few bucks for the subscription. This fee can range from $1 to $15.
2. Response Time
The next feature in apps like MoneyLion is the response time for approval of the application. The quicker you can file the application and it can approve, defines the efficiency of the platform. Multiple apps have a quick turnaround time, while a few offer premium packages to get reviewed quickly.
3. Cash Advance Limit
Another feature that must be considered in smartphone applications like MoneyLion is the cash advance limit. There are various borrowing limits offered by multiple applications. Most of the apps offer between $100 to $500. The limits depend on multiple factors that you will only know once you use the app.
4.  Account Eligibility Requirements
Not everyone can get a cash advance. There are varying requirements and eligibility criteria. The common requirements include being a US citizen and above the age of 16. At the same time, other requirements might include minimum credit score, employee record, and more.
5. Other Complementary Features
Apart from the features we have discussed above; there are a few other features that you must keep in consideration. These can be usual banking features that make the app experience even better and allow you to be more productive while using the application.
Conclusion
Cash advance loans can be helpful for individuals who often find themselves short of funds at the end of the month. Through this facility, they can easily make their ends meet without going for hefty loans with unjustified interest rates.
In this article, there are 25 apps that you can use to ease your financial hardships and spend wisely on the things most necessary.
Till your next payday, these cash advance apps like MoneyLion can benefit you a lot and help you solve your problems. But be mindful that this is not a permanent or long-term solution, and figuring out your expenses and earnings might be the best way to move forward.
Those who fall short on funds at the end of the day must ponder over their spending habits and limit their expenses. This way, not only will the savings increase, but they won't also have to go for loans in case of emergencies.
There are many other applications that can help you provide what you want. Or, you can build your own mobile app by consulting with an expert app development company. Just decide your niche, finalize your idea, and get started building an app.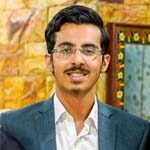 Author : Muhammad Bin Habib
Muhammad Bin Habib is a computer science graduate passionate about technology, writing, and automobiles. He writes on emerging technologies, mobile apps, cyber spheres, fintech, and digital marketing. He prefers watching documentaries covering military strategy and technology, international security, warplanes, and reading books that fall under the same domain in his leisure time.
Tekrevol's Global Presence
Now expanding to multiple cities across USA, MENA region, Europe & Asia
Come meet us at a location near you!
USA
39899 Balentine Drive,
Newark, CA 94560
1301 Fannin St #2440,
Houston, TX 77002
501 E Las Olas Blvd Suite
230, Fort Lauderdale, FL
44 Tehama St, CA 94105, San Francisco
400 NW 26th St, FL 33127, Miami
740 15th St NW 8th Floor, DC 20005, Washington
CANADA
4915 54 St 3rd Floor
Red Deer, ABT T4N 2G7
DUBAI
Level 5, One JLT Tower 1 - Jumeirah Lakes Towers - Dubai, United Arab Emirates
PAKISTAN
3/25, Block 5, Gulshan-e-Iqbal,
Karachi, Sindh 75650
USA
CANADA
PAKISTAN
DUBAI
talk to us
Got an idea?
Let's get in touch!
Let's discuss your project and find out what we can do to provide value.
I am interested in discussing my ideas with you for
COPYRIGHT 2022 TEKREVOL ALL RIGHTS RESERVED.