8 Best Investment Apps That Investors Can Use In 2022
Author: Nabeel |
November 4, 2021 - TekRevol Team
With 80.76% of the world's population using a smartphone, Investing in stocks has never been easier.
And not only investing in stocks but also learning about investment, low-cost trading, gifting stocks, getting financial insights, and more.
Literally, anyone can hop on to their Google play store or App Store and download any investment app to kickstart their financial journey.
So, if you're an investor looking for the most insightful investing apps, this article is for you.
The Investing apps on this list are articulated after analyzing them from the user-experience perspective, functionality, and technology standpoint.
Now without any further ado – let's start exploring some of the best investment apps to get your financials on track.
Lastly, this particular investment apps list is for beginners, making the whole boring investment fun and easy to learn.
The Top 8 Best Investment Apps 2022
Acorns
Wealthbase
Invstr
Wealthfront
Robinhood
Betterment
Stockpile
Webull
Insights of the Best Investment Apps In 2022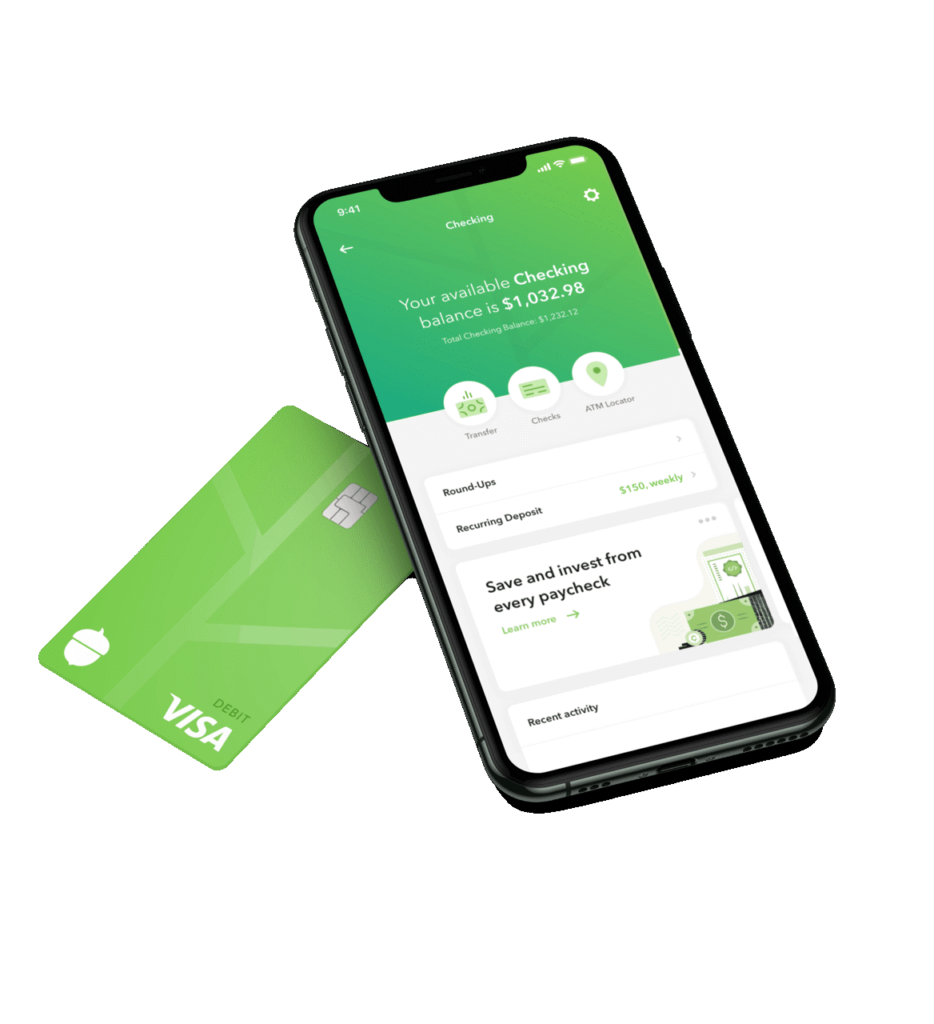 1. Acorns
Looking To Save Money? Acorns Have Got You Covered
The seamless experience, predictable navigation, and impactful features are the reason why Acorns made the list of the best investing apps in 2022.
Acorns is an older app as compared to the new finance apps mentioned on this list, but this surely doesn't mean that it is outdated or not worth it!
In fact, Acorns is one of the most popular investors apps on the market currently, and the credit goes to the features mentioned in the first line of the paragraph and its remarkably simple use.
Here's how simple it is to use Acorns
Download the app
Enter your information
Link your credit or debit card to your account
And you're good to go!
See, it's that simple, and once you're done setting up your account, Acorns will automatically analyze the total purchases and invest the difference into a few ETF portfolios.
Moreover, the app offers different pricing for different versions of the app, like the Acorns lite, which will cost you $1/month.
But if you want to take your investing experience to another level, you can download the Acorns Personal that comes along with the Lite version.
You can buy this version for $3/month.
The $3/month bundle offers users with I.R.A or individual retirement account that can be opened in one of the following three versions:
Let's talk about the retirement planning feature of Acorns.
What Acorns does is that it automatically chooses your portfolio based on the projected time of your retirement (let's assume as age 60).
As you reach closer to your retirement age, the Acorns becomes more conservative.
Additionally, the retirement planning version of the app provides you with an FDIC-protected checking account with no extra fees and free access to thousands of A.T.M.s around the globe.
Last but not least, for $5/month, Acorns give you the complete financial solution which means, you get the first two tiers as well as an investment account for your children.
Verdict
The app is designed to help the money-saving community at a very reasonable price.
It offers super-effective features that I'm sure will help you to make a difference in your budgeting.
Plus, Acorns is completely free if you want to open a savings account, and the fees are only applicable when you're selecting specific service tiers.
To conclude, if you like getting automatic investments, a free savings account, and minimal spending on an investing app, the Acorns app is built for you.
Download: iOS – Android
2. Wealthbase
App That Gamified the Digital Investment Experience
Wealthbase is a comparatively new player in the investing market that came into the fray in 2019.
The app quickly gained traction and became a household name in the world of investment apps mainly due to its user-friendly experience.
However, the gamification of the whole investing experience, which can also be called the value prop of Wealthbase, played an integral role in skyrocketing its success.
Additionally, with Wealthbase, investors can make the whole stock investment experience fun.
So, how did Wealthbase actually break the conventional investment app's experience?
Well, they allowed the users to set up finance-related games, namely, the 'Stock Market Trading Contest' with their friends for as long as they wanted.
The game could last up to a few hours, days, and weeks and the gamers are given $100,000 in virtual cash to start investing.
While training through virtual cash, users are also allowed to build their portfolios by picking stocks, ETFs, and cryptos.
Some other honorable differentiators are the social media resembling news feed that allows you to see which stocks are trending or the ones your friends are picking.
The gaming experience is also embedded in the news feed as apart from investing information, you'll also see who's winning the contest.
Moreover, from a technological standpoint, Wealthbase is powered by advanced technologies that offer a smooth, quick, and lag-free experience.
Hence, it is safe to say that even if you're a professional investor, you'll have fun using this great investment app.
By the way, did I forget to mention that you can trade crypto in the simulation of the investment app as well?
Well, you can!
Lastly, Wealthbase gives you an omnichannel experience with a robust presence on the web and mobile.
Verdict
Amid all the reasons for getting this app to start your investing journey, the social media functionality, gaming experience, simulation, and the environment that you can create with your friends and other professionals stand out.
These aspects make this app one of the top investment apps out there that you want to download.
Download: iOS – Android
3. Invstr
The Perfect Investment App to Learn Investing
It won't take you long to learn the ropes when you've got Invstr by your side.
This investing app has all the tools, features, and investment demonstrators that you need to learn all about investing.
In a nutshell, Invstr is what you get when you combine real-time investing, a knowledgeable community of investors, and a shallow learning curve altogether.
After backing you up with knowledge coming directly from veteran investors, you can plunge into the world of stocks where you can seamlessly trade, invest, multiply your revenue and learn along the way.
The best part about this investing app is that it gives you a demo account or, as Invstr likes to call it a Fantasy Finance, where you can assist in managing a $200 billion digital portfolio.
Moreover, the Fantasy Finance game also gives you $1 million in digital money that you can use to learn and $5 for free whenever a new user opens and funds an account.
Plus, the app's social networking capabilities and the news feed can be leveraged to ideate new strategies and implementation to get an edge in the market.
The app also gives you the freedom to turn your fantasy picks into real-life investments by enabling you to buy fractional and whole shares in the app.
Oh, and did I mention commission-free?
Yes, the investments you'll make are commission-free, so that's another great advantage of using Invstr.
Verdict
Invstr is a one-stop solution for all your investment needs.
Whether it's learning about investing or having a demo account where you can get familiar with the what, why, and how of digital investments or connecting with expert investors, Invstr App has got your covered with all of them.
Lastly, the Fantasy Finance game just adds more value to the experience of the app, making it one of the best apps for investors.
Download: iOS – Android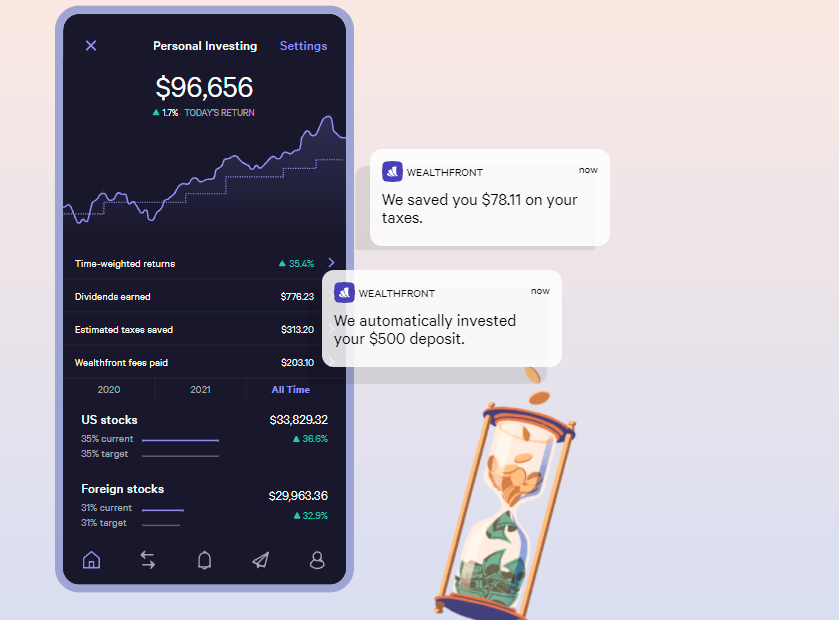 4. Wealthfront
Designed To Help You Manage Complex Financial Portfolios
Wealthfront, with its omnichannel presence, is helping countless corporate entities get ahead of their financials by managing, automating, and optimizing their financials.
Whether it is building a portfolio, lowering your taxes, or managing all your investments, the Wealthfront app is one of the best apps for investors.
For taxable account, individual retirement account, savings, and more, the app automatically plans and set aside all the cash that you need to hit your financial goals.
Moreover, this amazing app is one of the largest Robo-advisors in the industry.
And since Wealthfront can be integrated into all your accounts, you can collectively view all your savings through just one app.
Furthermore, by utilizing low-cost E.F.T.s, Wealthfront automatically decides how much risk you may want to take as per the money you're currently earning.
This enables the user to have a super-solid idea of how much money they can invest at the current moment so that their accounts can stay balanced.
Now, with all the revolutionary features available at your disposal, there's a small amount that Wealthfront is asking from its users, which figuratively is, 0.25% of the entire amount managed by the app.
For example, if you have an average monthly balance of $100k, then you'll be charged an advisory fee of $20.55 annually.
However, the annual fee will increase in case your account balance increases.
Amazingly, there's another great feature which is 'automated tax-loss harvesting' that Wealthfront provides to its users.
And according to the company, the above-mentioned features cover the annual fee for many clients.
Verdict
Wealthfront is one feature-packed investing app for investors.
And there are some other feats of the Wealthfront app worth mentioning, like the competitive interest rate you get without even signing up for an investment account, early access to direct deposits, and free-of-cost services.
Lastly, all you need to do is simply add money to your account and let Wealthfront do the rest for you.
However, you do need a minimum balance of $500 to get the app working for you.
Download: iOS – Android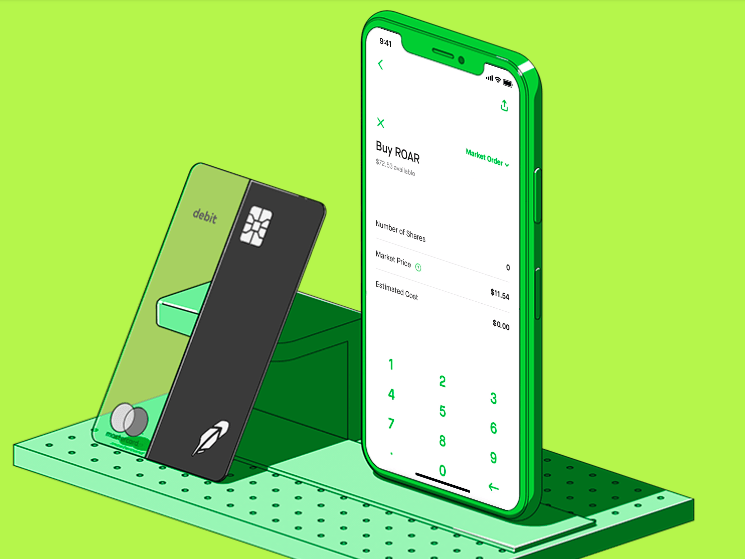 5. Robinhood
Meant To Help You Simplify Trading
With so many options available in the market, Robinhood investing app cuts through the red tape by offering a smooth interface with predictable navigation and by eliminating trading commissions from the users.
So, what you're basically getting with this app are commission-free investing, tools to manage your financials, E.F.T.s, first-free stocks, and cryptocurrency.
All of the above-mentioned aspects combined with the smooth and sleek U.I. of the app that helps the users easily skim through different screens makes the Robinhood investing app much more fascinating.
On the other hand, there are some drawbacks to this investing app.
For example, unlike Acorns, the app doesn't offer expert advice when you're investing.
Therefore, you need to be sure about the stuff that you're investing in so that you can avoid heavy losses.
In addition to that, there are some limitations to features that the app is offering concerning trading, finance management, and more so, that's another thing that you should know.
On the positive end, I would say that Robinhood is much more focused on the experience that it is providing to the users.
For instance, the app has super-predictable navigation.
While using the app, you can seamlessly access information about the stocks from the search bar at the top of the screen.
You can also pull up charts detailing information about the trending stocks or statistics.
Once you've chosen what you want to trade, all you have to do is enter the number of shares to buy or sell, swipe up, and the order is on its way.
Additionally, there's this great news feed that collects useful stories, news, articles, and trends from credible investing sites, which enable you to stay up to date on what's going on in the market.
Lastly, Robinhood gives you instant delivery and enables you to start trading immediately for the first $1,000 that you've deposited into your account.
The basic version of this investing app is free, but for Robinhood Gold users (the premium version), you can get access to even higher amounts, figuratively up to $50,000.
Verdict
Judging from the core features, functionality, and experience of this investing app, I think it is designed to help investors get quickly into investing or trading.
Also, since the expert advice or automated trading option is missing, I think this app is meant for skilled investors and not for beginners.
The app is asking no commission for stocks, trading, options, or E.F.T.s, and that's amazing.
The trading, buying, selling, or investing experience has been made super-convenient, which is pretty much the reason why users just keep coming back to the app for more investing.
Download: iOS – Android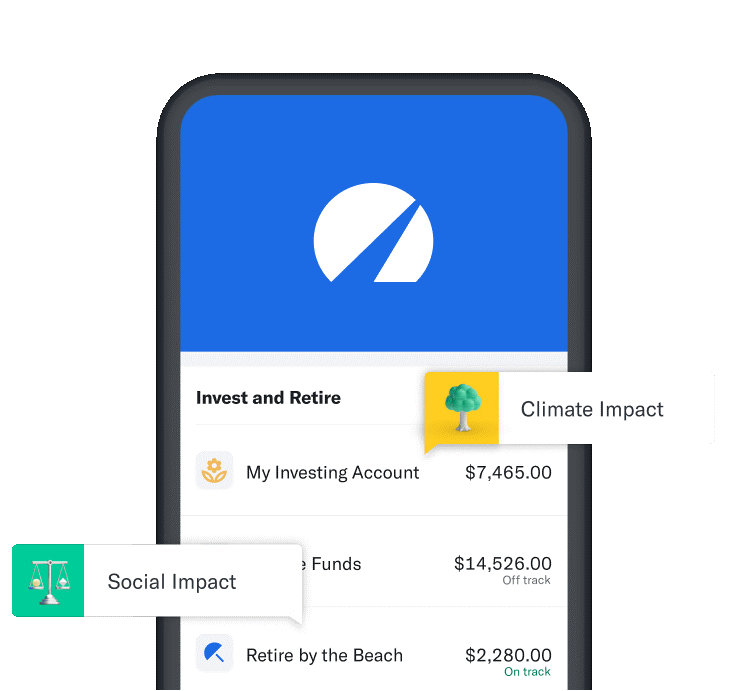 6. Betterment
A Comparatively New Approach Towards Investment
Betterment is, as the name suggests, an investing app backed by a new wave of Robo-advisors.
What really sets Betterment apart from other investing apps on this list is its focus on creating socially responsible portfolios, even those that are related to climate change or social impact.
Think of the socially responsible investing part as their U.S.P. or core value.
The people behind the Betterment app believe that through socially responsible investment, they can drive a more positive impact for the investors and the world.
Hence, they're eager to work with the investors who believe in what they believe in.
Some other aspects of the app are that firstly, it makes investment super-easy with expert guidance, goal setting, and saving features.
Backed by E.F.T.s, Betterment pretty much guarantees that your investments won't go in vain and experience less volatility.
Furthermore, like Acorns, Betterment also comes with an annual fee of 0.25%, which is covered through the intelligent tax saving and strategic finance optimization features of the app.
The app is also capable of finding and investing your money in E.F.T.s or stocks that offer higher potential returns.
However, if you need a safer portfolio, Betterment can do that for you as well.
Lastly, the app's finance management features are automated, which enables you to relax while the pros handle your finances for you.
Verdict
Betterment is a cost-effective financial solution, and its core value of striving for social responsibility is innovative.
You can set goals, plan your retirement and handle all your finances with an easy-to-use dashboard without the concern of having an account minimum.
Although the app does pretty much everything that other investing apps on this list can do, like charging extra money from the users if they want to invest in the same E.F.T.s that Betterment wants to invest in.
But still, it's a cheaper and another powerful finance handling asset available for the investors.
Download: iOS – Android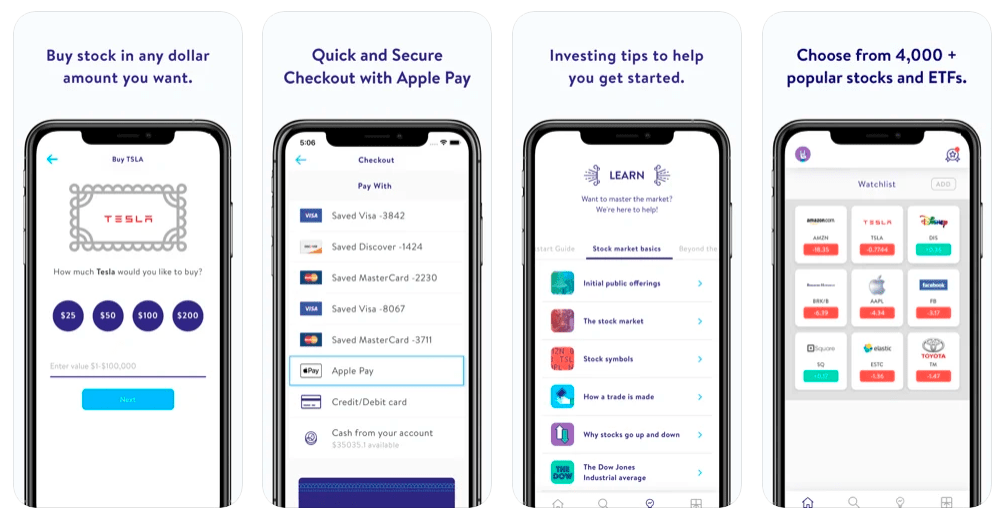 7. Stockpile
Send Stocks as Gifts to Your Loved Ones
In the end, we've got Stockpile which seriously is one hell of a trading platform for investors.
This great investing app stands among one of the best investing apps because of its relatively new approach towards the entire stock investing domain.
Let's keep the unique approach aside for a while and discuss what this investing app has to offer in general to the users.
For starters, Stockpile allows the users to buy fractional shares of companies. This is perhaps the best part about the app because it allows users with a low budget to start buying stocks.
How does it work?
Well, if you're not able to buy an expensive stock of $500 of a company, you can leverage Stockpile to buy fractions of the share, let's say, starting with only $150.
Plus, you don't have to pay any commission or fees to Stockpile for allowing you to buy stocks in partnership with other investors.
The next big thing that sets Stockpile apart from its competitors is that it allows you to send gift cards in the form of stocks to your loved ones. I think this is an interesting and fun way to get someone to start their investing career.
Plus, what if I tell you that you don't even need an account to send gifts?
Well, you don't so, here's another reason why you should download this great investment app.
Verdict
Stockpile is specifically curated for beginners. It gives them the opportunity to safely trade while learning about digital investments.
The app even lets kids share their preferred investments with their family and friends.
The idea behind this feature was to enable kids to get experts suggestions on how they're doing and what they can do to learn more.
Additionally, the option of buying fractions of stocks is yet another great opportunity for the users that aren't capable of buying expensive stocks.
With Stockpile, users can buy inexpensive stocks or fractions of stocks and sell them later on at a higher price, or they can simply gift the bought stocks to their relatives.
Download: iOS – Android
8. Webufll
An Investing App for Low-cost Trading
Webull leverages state-of-the-art technology to empower investors.
It is an investment app that offers free of cost, trading, and investing to the users before it became a norm.
The app was offering 0 commission trades and no minimum deposits while being transparent in the initial stage.
Fast forward, today, particular tiers or versions of the app are paid, and the amount that the app is asking for specific actions is clearly defined on their pricing page.
Also, this best investing app also gives you the option to opt for free trades on crypto, including Bitcoin, Ethereum, Dogecoin, and more.
Furthermore, there's no limit to using the app.
The app is always ready to use for investors for extended hours. You can enjoy trading in the morning, evening, after midnight, or whenever you want.
Webull does ask for a small amount in return for the trading and services that it is providing, but that's negligible.
Still, however, if you want to know about it, you can visit the pricing link that I've given above.
So, after going through all the aspects of the app, the question arises that after all the investing apps that you've read about, why one should specifically go for this one?
Well, unlike many top investing apps mentioned on this list, Webull gives you the facility of setting up your own taxable account.
You also get the individual retirement account (I.R.A.) which gives you, even more features to get your financial life managed.
Last but not least, Webull is a cross-platform application which means you can also access it through your desktop.
In the desktop version of the app, you can easily personalize checklists, check and evaluate stocks and manage all your investments.
Verdict
The app is not asking for any commission from you.
It has made the overall trading process super easier for the users, has an omnichannel presence, and you're given the opportunity to set up an I.R.A. account.
I would say that the app is perfect for beginners, the people who are willing to get some experience in the investing domain.
Download: iOS – Android
Planning Your First Digital Investment
The best part about all of the above-mentioned apps is that they've super-simplified stock trading, buying, and selling.
However, this simplicity has raised a question which is, how much money should one invest in stocks in the beginning?
And the best answer to this question is that most of the apps mentioned on this list are giving away free accounts to the users.
Therefore, to get familiar with virtual trading, users don't have to spend a dime.
The myth that you might've heard over the years that the more you invest in digital currency, the higher the returns is, off-course a myth!
The strategic and well-honed process of becoming a successful investor through these apps is by adding small amounts of money to your investments regularly over time.
Keep an eye on the stocks that are trending and those that will trend in the future.
Also, you may need to learn about analytics monitoring in investment apps so that you can keep track of your progress and how the world of virtual investments is changing.
In the fewest possible words, I would say that it all depends on your financial condition and how much you're willing to invest.
Considering the low brokerage, account, and advisory fees of the investment apps on this list, I think you'll surely end up having more money in your pocket than others.
To Conclude!
You may have already guessed that the majority of investment apps on this list are more focused on education.
However, some of them are a little advanced.
They're taking the users directly into the world of investments so that they can start executing trades.
For example, some investment apps have games like the Fantasy Finance or Stock Market Trading Competition for you to learn, but they're not going to invest your money for you.
On the contrary, investment apps like Acorns and Betterment will invest your money for you.
And there are brokerage apps like Webull where you can easily learn about the stocks that are trending and which ones you should actually go after.
In a way, all of the investment apps mentioned on this list have a specific set of features, benefits, learning curves, and more that'll help in your investment journey.
They're built for specific audiences with particular preferences, but in case these apps are missing what you think could be the next greatest thing in the virtual trading world – why don't you build it for yourself and for the audience.
Interested in creating an app?
Being an app development company that deeply studies innovative technologies such as Blockchain, A.I., and more, we're more than capable of converting great product ideas into revolutionary digital assets.
Frequently Asked Questions:
1. Are investing apps on this list good for actively trading?
I would say not all investing apps are good for active traders.
However, for actively trading, you might want to select one that is offering to trade the asset that you're interested in.
Moreover, for low-cost trading, investors can turn to apps like Robinhood mentioned in this list that offers E.F.T.s, Crypto, Stocks, and more.
2. How to select the best investment app for investors?
There are several metrics, qualities, aspects, features, and much more that you can consider before selecting an investment app.
Plus, why you want to download the investment app may also play a critical role in changing your decision to download an investment app.
Honestly, there are a lot of investment apps out there.
From investing apps that are educational in nature to the apps that are actually allowing you to trade and invest real money, you've got literally every type of investment app at your disposal.
The difference, however, may be that one app is charging more fees as compared to others or in terms of features.
3. Is the money I'll invest in trading insured?
You're investing money in the market; therefore, it's implied that you could end up losing the invested money.
The assets that are dependent on markets like funds, E.F.T.s, bonds, crypto, or stocks are always in flux.
Their value fluctuates over time, which means that either you could end up making a lot of money or end up losing all your investment.
This usually happens because the assets that you're investing in have a high probability of increasing or decreasing in monetary value.
4. Can you trade on any assets in the investment apps?
It highly depends on the type of investment app that you're using for trading.
For example, brokerage apps like Webull will allow you to trade in a variety of assets while other apps that are more focused on educating the users will not.
An example of an educational investment app is Wealthbase.
Can you use the investment to trade stocks?
There are certain investment apps that give you the option of trading in stocks and other assets.
But you have to be sure that your investing app allows you to trade.
Some aspects of the apps that allow you to trade are listed below:
Brokerage apps are designed to help you buy/trade in stocks and E.F.T.s.
Automated apps invest your money on your behalf into lucrative niches and create a portfolio for you.
Some apps are educational in nature, and they're designed to help you learn all about investing through games or certain actives.
Therefore, the ability to buy stocks depends on the app itself.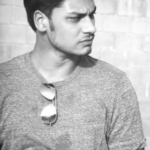 Author : Nabeel
Nabeel has a flair for strategic innovation and tech-driven transformation. He leads the Content Marketing Team at TekRevol. He thrives on exploring and sharing information about the transformative impact of technologies and strategic innovation on SMBs, startups, and enterprise-grade organizations.
Recent Blogs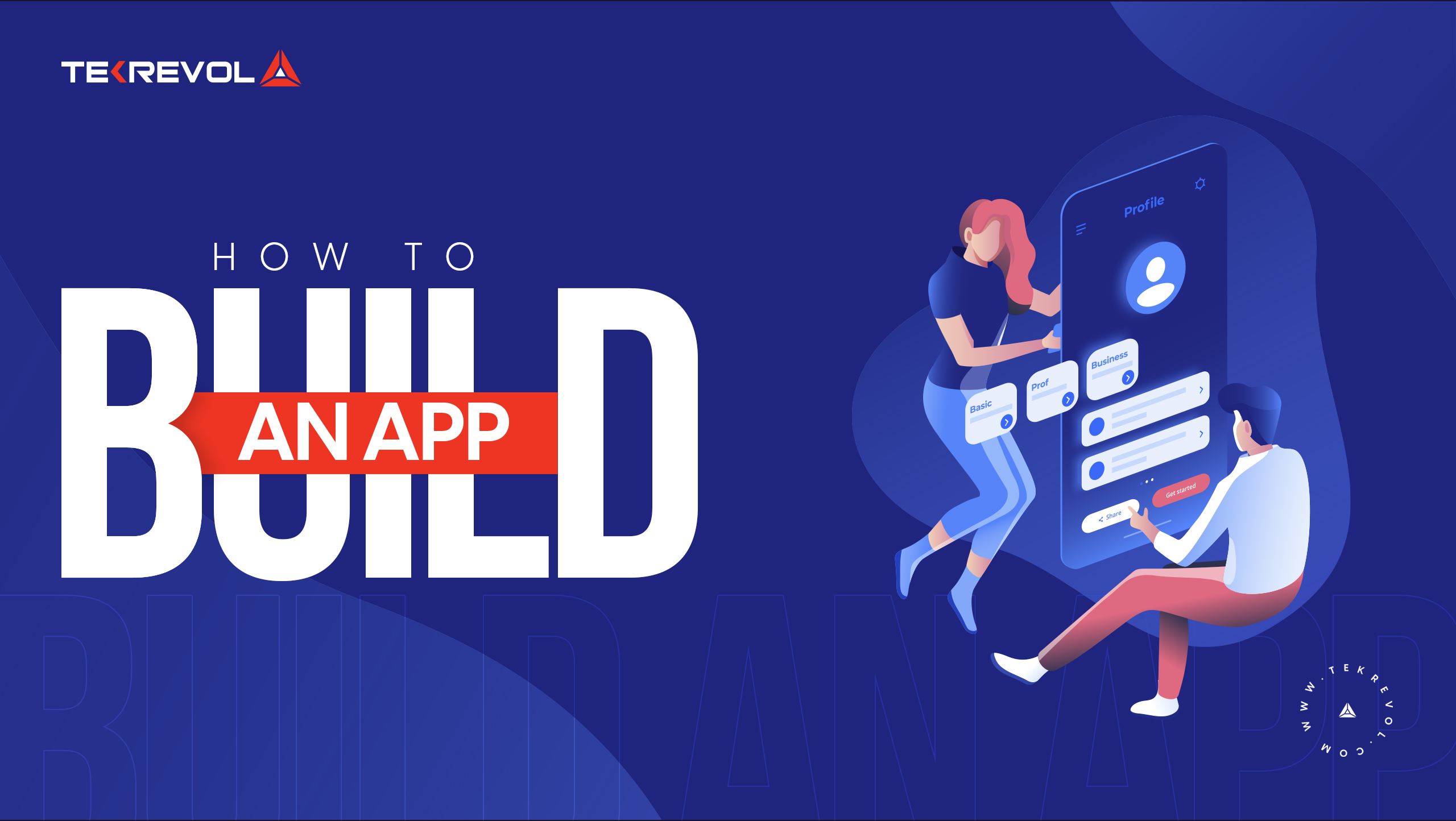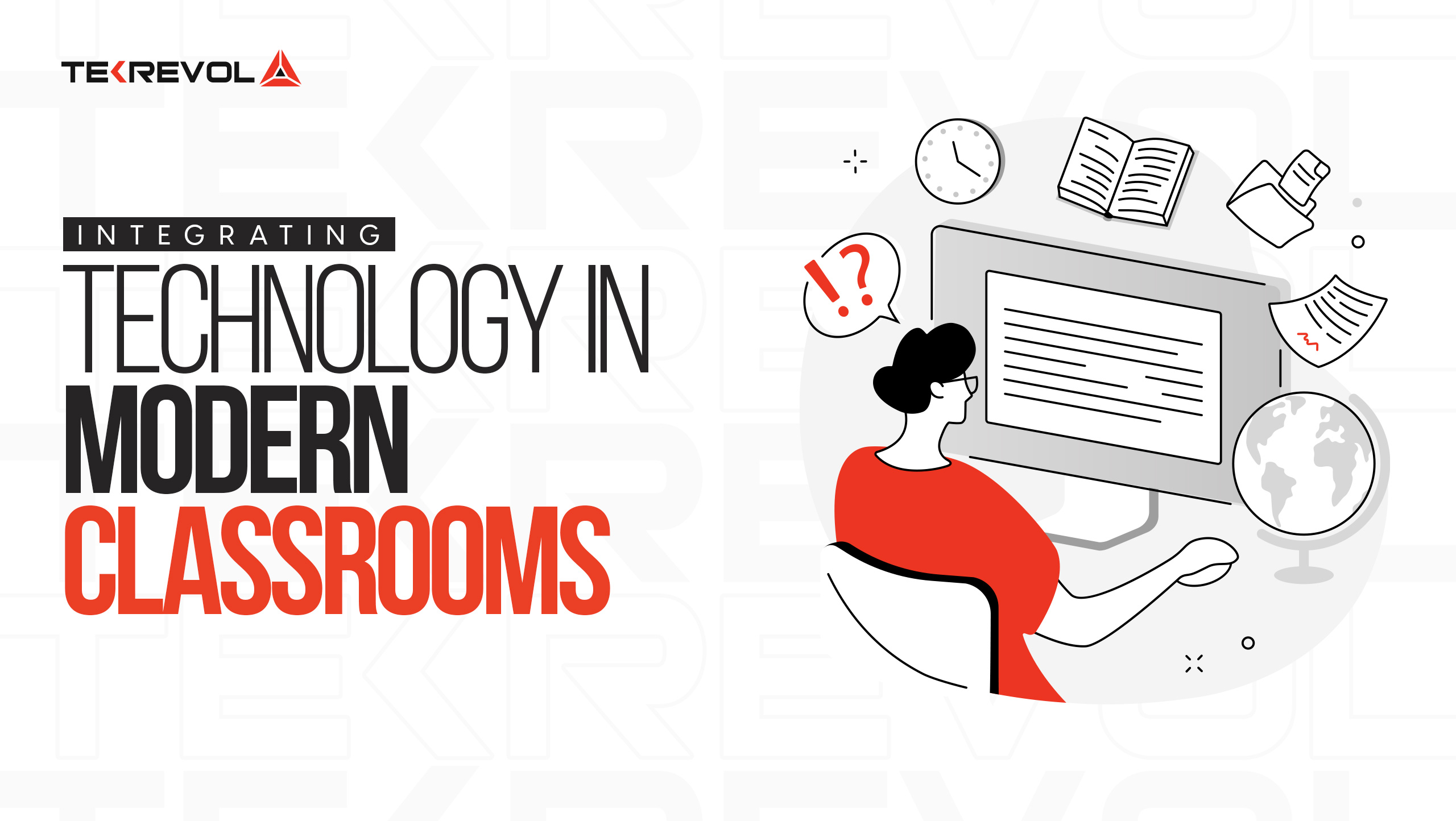 Tekrevol's Global Presence
Now expanding to multiple cities across USA, GCC region, Europe & Asia
Come meet us at a location near you!
USA
39899 Balentine Drive,
Newark, CA 94560
1301 Fannin St #2440,
Houston, TX 77002
501 E Las Olas Blvd Suite
230, Fort Lauderdale, FL
44 Tehama St, CA 94105, San Francisco
400 NW 26th St, FL 33127, Miami
740 15th St NW 8th Floor, DC 20005, Washington
CANADA
4915 54 St 3rd Floor
Red Deer, ABT T4N 2G7
UAE
Level 5, One JLT Tower 1 - Jumeirah Lakes Towers - Dubai, United Arab Emirates
Level 17, World Trade Center, Khalifa Bin Zayed the First Street, Abu Dhabi
Level 22 , West Tower, Bahrain Financial Harbour, Manama, Bahrain
Level 22, Tornado Tower, West Bay, Doha, Qatar
PAKISTAN
3/25, Block 5, Gulshan-e-Iqbal,
Karachi, Sindh 75650
USA
CANADA
PAKISTAN
UAE
talk to us
Got an idea?
Let's get in touch!
Let's discuss your project and find out what we can do to provide value.
I am interested in discussing my ideas with you for
COPYRIGHT 2023 TEKREVOL ALL RIGHTS RESERVED.