Top 12 Emerging Mobile App Technologies for 2023 and Beyond
Author: Mariam Amin |
March 27, 2023 - TekRevol Team
New Technology
|
Web & App
|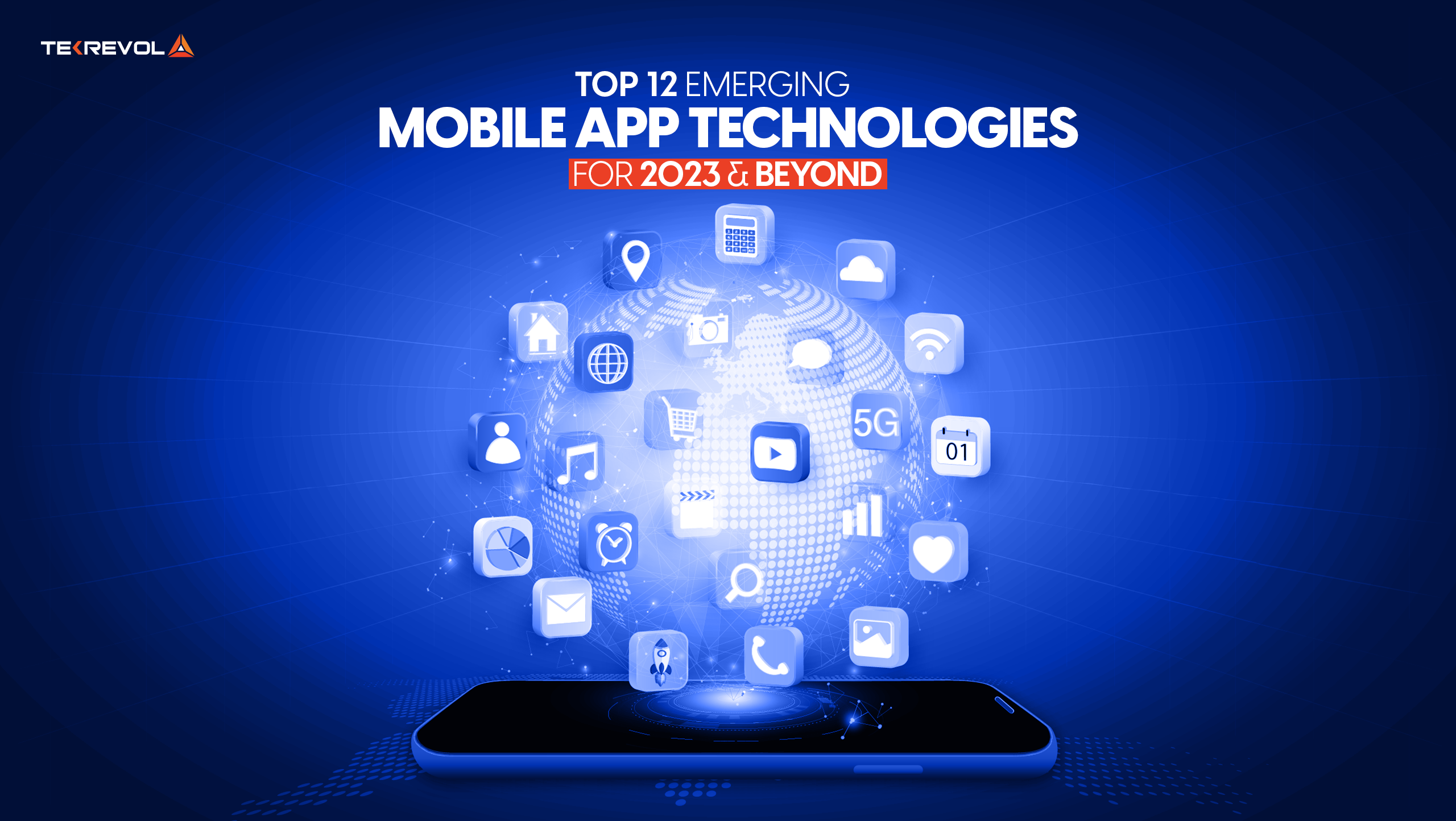 Needless to say, mobile apps have become a ubiquitous part of our daily lives. Undeniably, we are dependent on these apps for almost every task. Be it listening to a song, watching a movie, ordering food or buying groceries, or even just scheduling a doctor's appointment. Right?
In other words, we can say that – "Mobile apps have transformed the way we interact with businesses and products."
Nowadays, millions of apps are available in app stores, enabling users to perform and manage their tasks effortlessly.
Currently, more than 5 million apps are accessible on app stores. And this number is expected to grow further in the upcoming years. However, not all apps perform as intended.
The key to staying ahead in this highly saturated market is to stay up-to-date with the latest mobile app development trends that best cater to customer needs.
In this article, we'll discuss the top 12 emerging mobile app technologies that will dominate in the coming years.
Ready to discover? Let's delve deeper together.
Don't miss out on the opportunity to boost your business to higher levels. Let us help you stay ahead of the competition with innovative and user-friendly app solutions.
12 Mobile App Development Trends that will Dominate in 2023
The year 2023 is set to bring about significant changes in mobile app development with new trends and emerging technologies.
Below, we will shed light on the top 12 breathtaking trends that will dominate the mobile app development industry in the upcoming years.
1.     Artificial Intelligence (AI)
The use of artificial intelligence (AI) has been a game-changer for the mobile app industry. Though, the potential of this tremendous technology is far from being fully realized. You can analyze its demand with the help of this graph.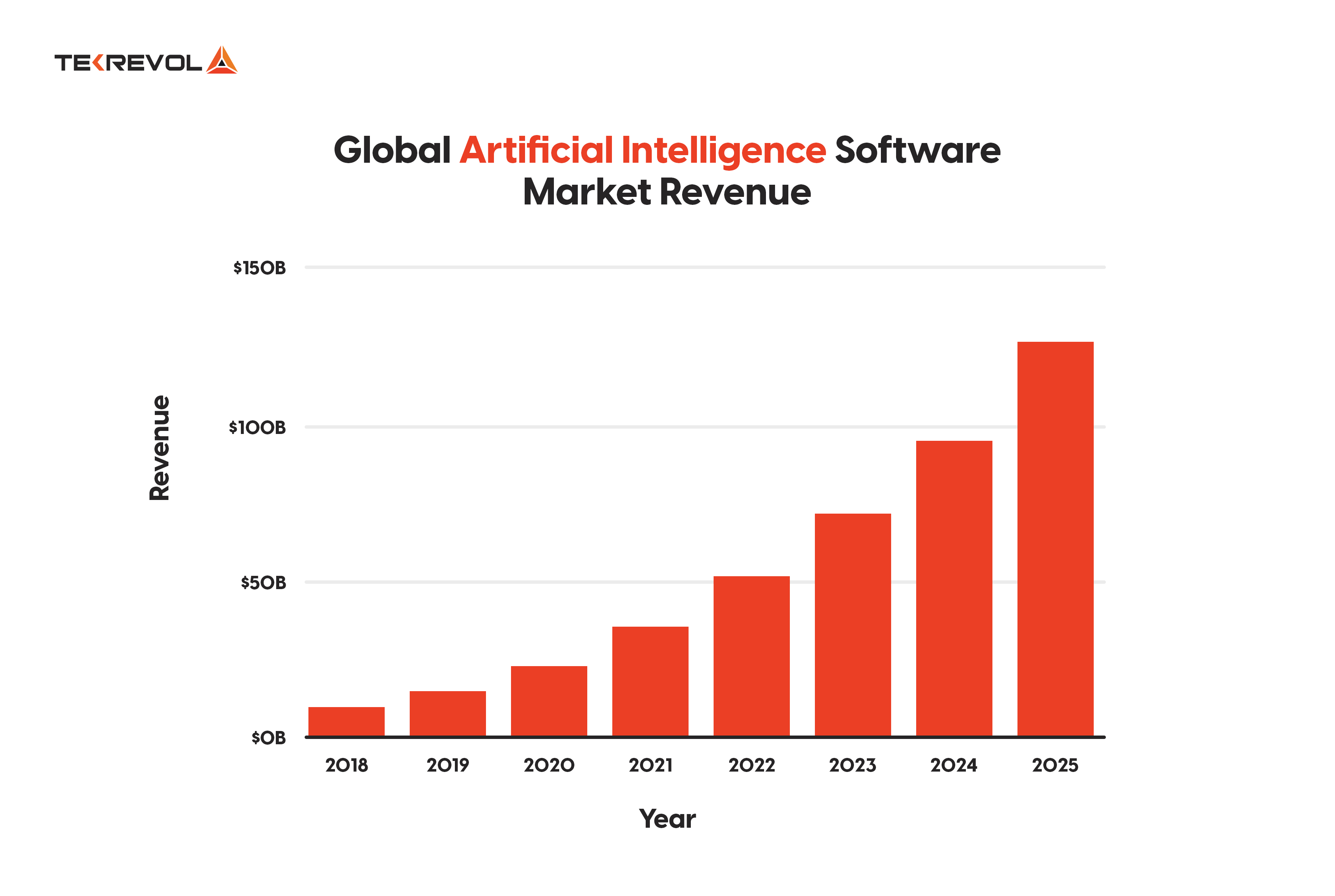 With the new advancements and innovations in AI, 2023 is set to be a groundbreaking year for mobile app development.
The integration of AI in mobile app development offers immense benefits. Some of them are,
Personalized user experiences
Improved app performance
Enhanced security features
When we talk or hear about AI, the first thing that comes to our minds is "AI-powered virtual assistants like Siri and Google Assistant," Right?
Exactly, these two marvelous innovations have transformed the way users interact with their mobile devices, but there's so much more that can be done.
Besides, the integration of AI in mobile app development will further take the industry to new heights.
Having said that, developers and businesses will be able to create efficient, smarter apps that can analyze data, identify patterns, and make predictions.
This will enable apps to provide more personalized experiences that meet the unique needs and preferences of individual users.
Moreover, AI-powered chatbots will also become more common in mobile apps, providing users with instant assistance and support.
Plus, these chatbots will be able to analyze user behavior, understand user intent, and provide personalized recommendations, improving user engagement and retention. And the list goes on.
In summary, AI will continue to transform the mobile app industry in 2023. The possibilities are endless.
Here are some of the most popular use cases where AI technology is utilized:
Personalized ads and product recommendations in eCommerce
Motion and facial detection apps for surveillance systems
Financial forecasting solutions for businesses and individuals
Voice recognition apps for gaming, entertainment, and hands-free communication.
2.    Augmented Reality (AR) & Virtual Reality (VR) Technology
The use of augmented reality (AR) and virtual reality (VR) in mobile apps has been rapidly increasing. And this trend is set to leverage further in 2023.
According to Allied Market Research, the mobile AR market was valued at $12.61 billion in 2020 and is projected to reach $184.61 billion by 2030.
Also, the following graph helps you to analyze how this splendid innovation will transform the mobile app industry in the upcoming years.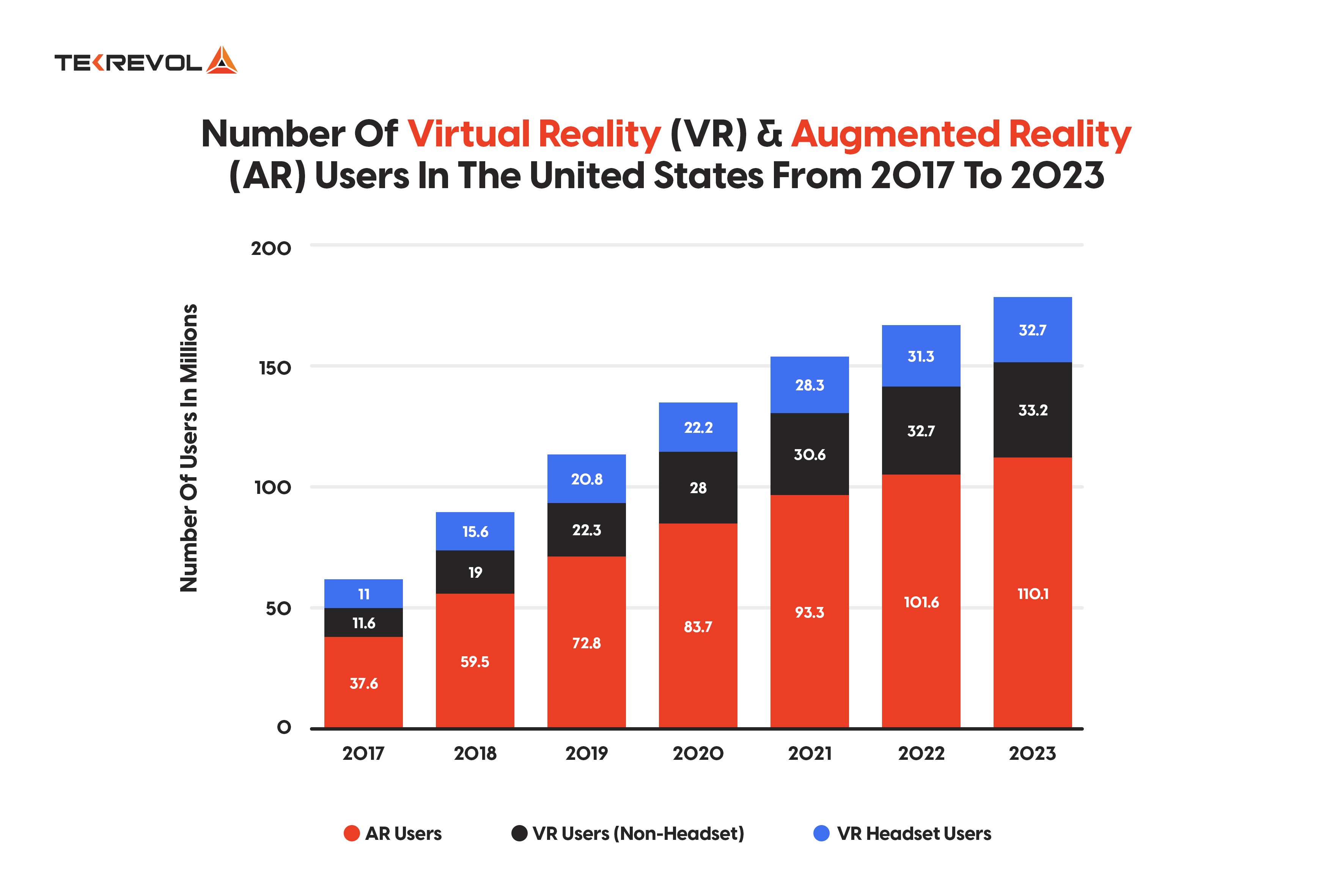 AR/VR apps offer limitless possibilities by overlaying digital objects in the real world. Initially, they were used mainly in gaming and marketing. However, with time, it is now being used for more practical applications. For example, object measurement, navigation, interior design, education, and user manuals.
Also, IKEA, Snapchat, and Houzz are some of the tremendous examples of AR/VR technology.
Moreover, the new advancements in this industry are opening up new opportunities for businesses to create innovative and engaging experiences for their customers.
Some of the use cases where AR/VR are highly used:
Virtual product try-on for fashion and beauty products
Location-based AR for interactive tourism and museum experiences
Interior design and home improvement with AR/VR visualization tools
Educational apps that use AR/VR to provide immersive learning experiences
3.     Mobile Commerce
The trend of mobile commerce shows no signs of slowing down, and 2023 will be no different. In today's world, almost every business needs a mobile app to stay competitive and maximize revenue.
Mobile commerce apps have become increasingly popular among retailers and personal brands alike. In fact, they provide an easy and convenient way for customers to shop from anywhere at any time.
To ensure continuous success in the overly-saturated mobile app industry, businesses must focus on creating user-friendly mobile commerce apps that provide a seamless shopping experience.
With over 70% of ecommerce sales coming from mobile devices, it's clear that mobile apps will further escalate businesses. Also, you can predict the revenue generated from these apps with the help of this graph.
In short, mobile commerce will continue to lead the mobile app industry in 2023, and businesses must plan accordingly to stay ahead of the competition.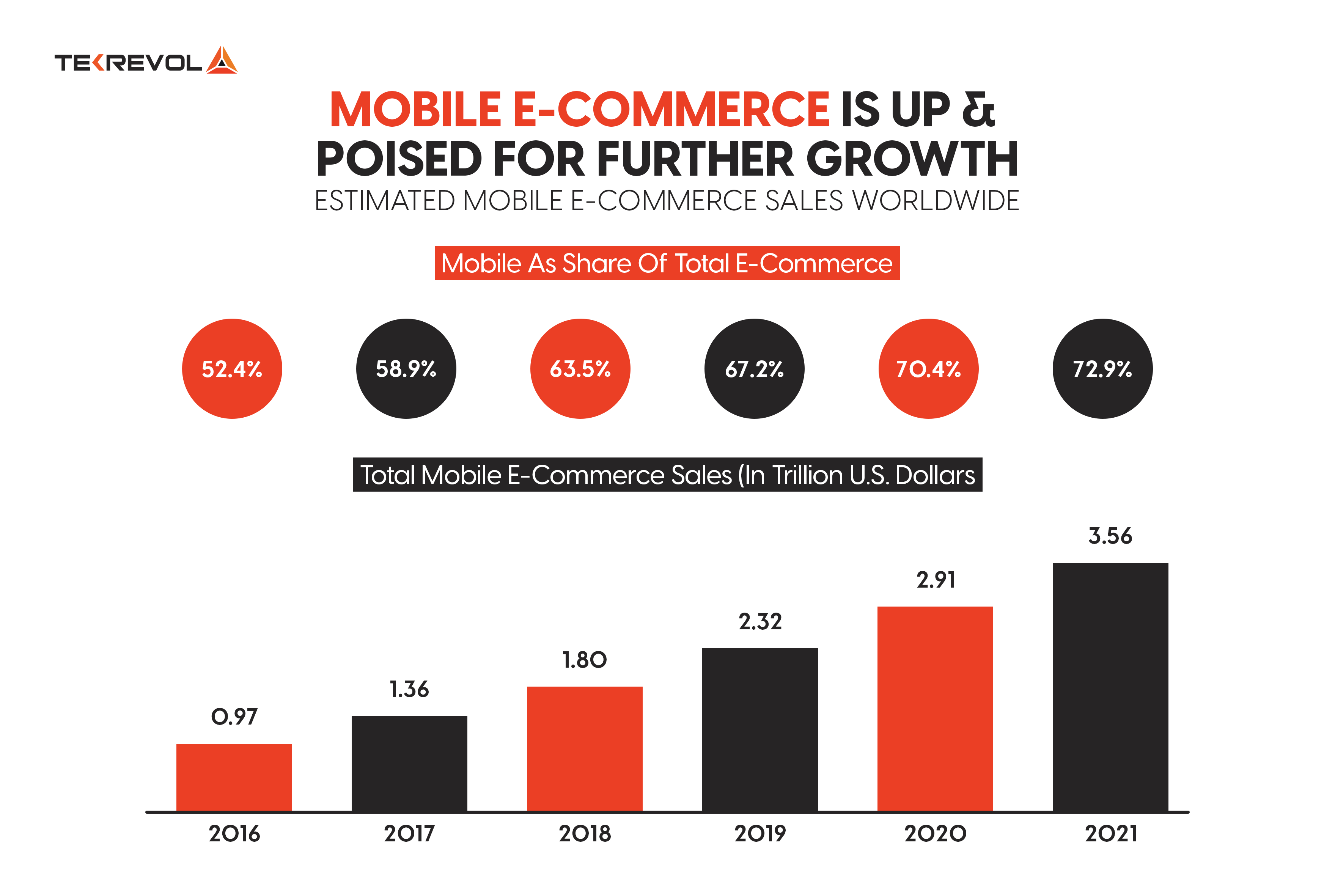 In short, mobile commerce will continue to lead the mobile app industry in 2023, and businesses must plan accordingly to stay ahead of the competition.
4.     Cloud-Based Mobile Apps
As mobile apps increasingly integrate advanced technologies such as AI, machine learning, and IoT, storage space on mobile devices becomes a challenge.
On the other hand, users are reluctant to install large-sized apps on their devices.
Cloud computing is the ideal solution for this problem.
Cloud servers provide remote storage space, ensuring smooth app functioning with quick downloads and no impact on internal device memory.
Besides, Cloud computing offers secure operation on multiple devices, saving hosting costs, providing better storage and loading capacity, increasing user retention, and streamlining operations.
In 2023, the use of cloud computing is set to revolutionize the mobile app industry, enabling businesses to create more innovative and powerful apps.
Some of the most popular use cases where cloud technology is highly used;
Better integration of mobile apps with other cloud-based technologies, such as AI and IoT
Enhanced app security and data protection
Faster app development and deployment
Reduced app development costs
5.     Chatbots
Chatbots have revolutionized the mobile app industry by providing unmatched ease and convenience to customers.
With their ability to communicate in a natural, human-like manner, chatbots have become the go-to solution for many businesses to handle customer queries and support.
It's no surprise that chatbots are increasingly becoming popular as they offer instant, 24/7 customer support. Henceforth, they significantly reduce the workload of human customer service teams.
In 2023, chatbots will continue to lead the way in customer support, personalized recommendations, and automated processes.
With the advancements in AI technology, chatbots are becoming more sophisticated and capable of handling complex requests, making them essential tools for mobile app developers.
As the chatbot market continues to grow, more businesses are adopting chatbots to increase efficiency and customer satisfaction, making it a popular trend for years to come.
6.     Cross-Platform Mobile Development
In today's mobile app industry, Android and iOS are the dominant platforms, accounting for over 99% of the market. Therefore, many businesses find it more cost-effective to invest in cross-platform app development. The reason is that these apps allow them to reach a wider audience of users across all necessary platforms.
Cross-platform development has been a popular trend in mobile app development company for several years now, and it offers several benefits to businesses.
This approach helps to reduce the time and cost needed to create an app, making it a more feasible option for small and medium-sized businesses.
Not investing in cross-platform development could result in a loss of potential users.
Overall, with cross-platform development, businesses can ensure their app is accessible to the largest possible audience. This could help them maximize their chances of success.
7.     Advancements in 5G
5G technology is all set to bring a major transformation in the world of mobile apps in 2023.
With enhanced wireless connectivity, businesses, creators, and developers will be able to create and utilize mobile applications in a completely new manner.
In fact, with 5G, it is now possible to implement advanced technologies such as IoT, AI, AR, and cloud computing into mobile devices.
Take a look at this graph, and determine how the 5G technology will further rise in the upcoming years – especially in 2023.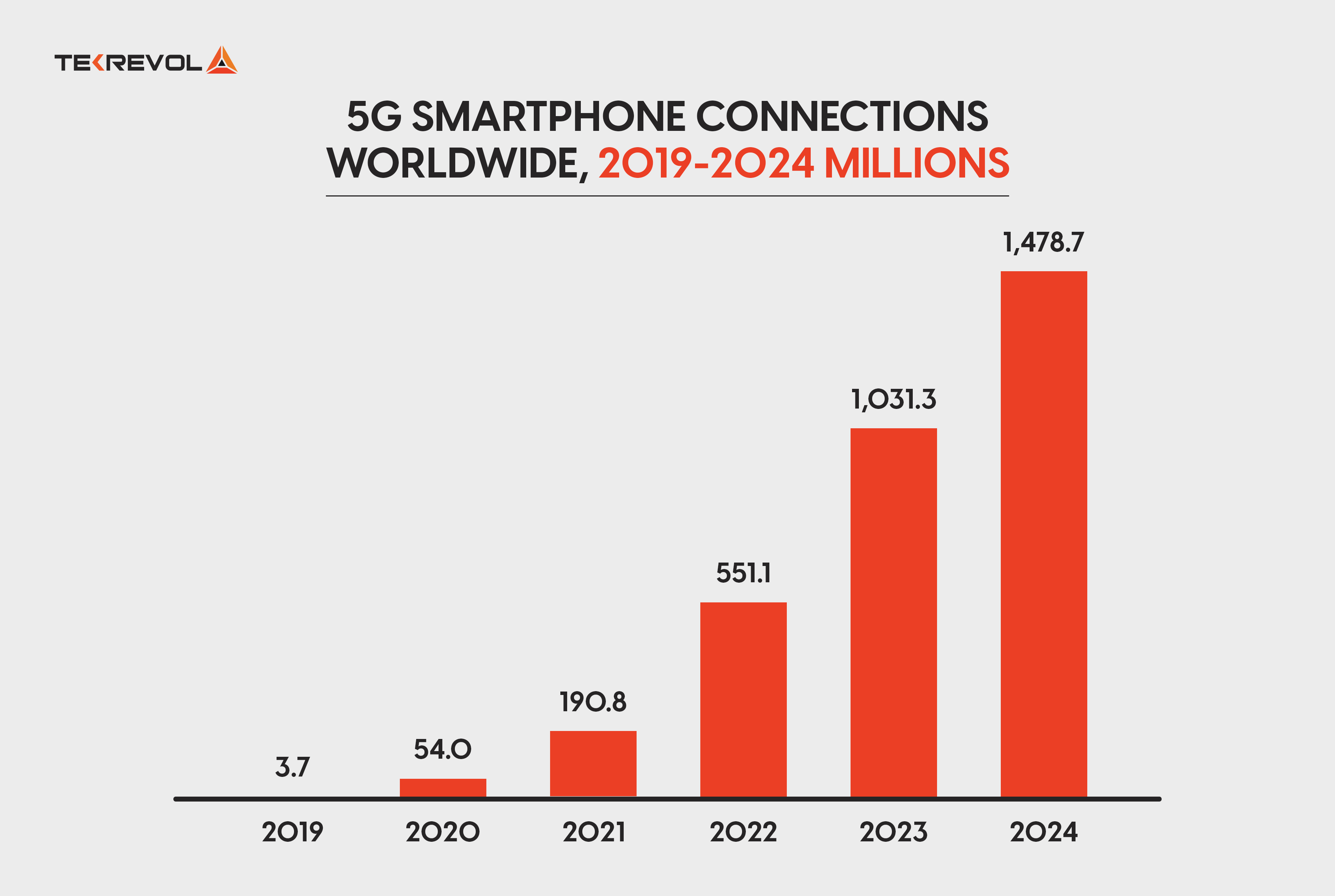 Overall, the 5G standard is 100x faster than 4G, ensuring real-time data processing with ultra-reliable low latency communication (URLLC).
Also, with the use of 5G, connectivity will improve significantly, enabling the development of more efficient and robust mobile apps.
Furthermore, with 5G, the speed and efficiency of mobile apps will increase considerably, providing a seamless user experience.
8.     IoT-Based Mobile Applications
The Internet of Things (IoT) has become widely adopted in various industries, ranging from healthcare and agriculture to manufacturing and transportation.
This has resulted in a surge in the development of mobile IoT applications, which have transformed the way businesses operate.
While mobile apps are just a component of the IoT infrastructure, they can improve productivity, streamline processes, and revolutionize the way we live and work.
In short, mobile IoT apps enable users to monitor sensor readings, view live video footage, analyze data, generate reports, and manage devices.
They are also beneficial for both customer-focused solutions (wearables, smart home appliances) and enterprise-grade management (autonomous cars, oil, and gas networks, etc.
The global Internet of Things (IoT) market is predicted to expand to $318 billion in 2023, with $226 billion coming from software, particularly mobile apps.
Statista forecasts that the revenue from IoT-associated technology will exceed $1.6 trillion by 2025.
With this growth, more mobile app development with IoT in mind is expected in 2023, targeting household devices, automobiles, display devices, smart devices, and healthcare sectors.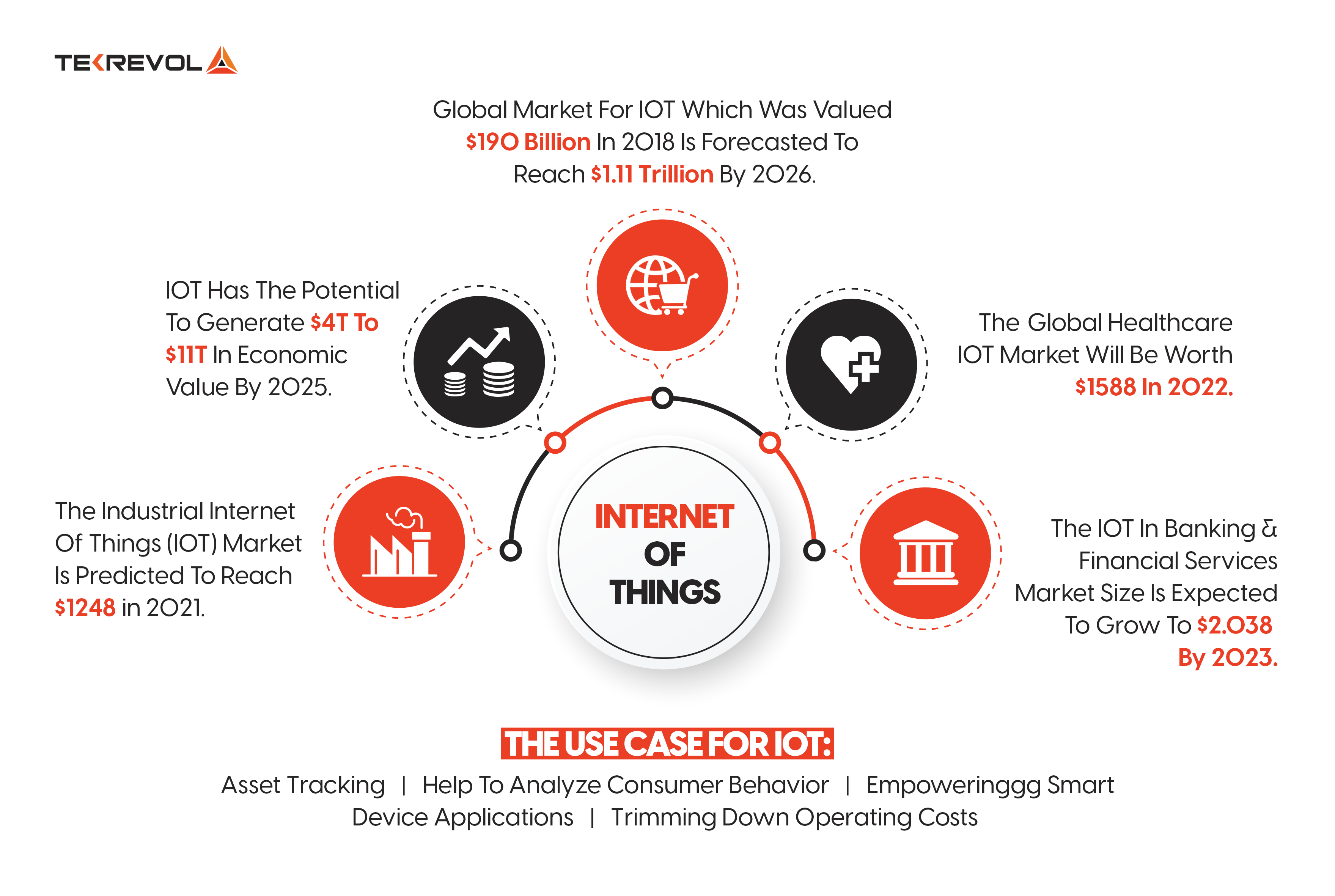 9.     P2P Mobile Apps
P2P (peer-to-peer) mobile apps are quickly becoming a hot trend in the mobile app industry, and for a good reason.
These apps allow individuals to transfer funds to one another easily and securely without the need for a traditional bank or financial institution.
The preceding graph shows how these apps will further transform mobile app businesses.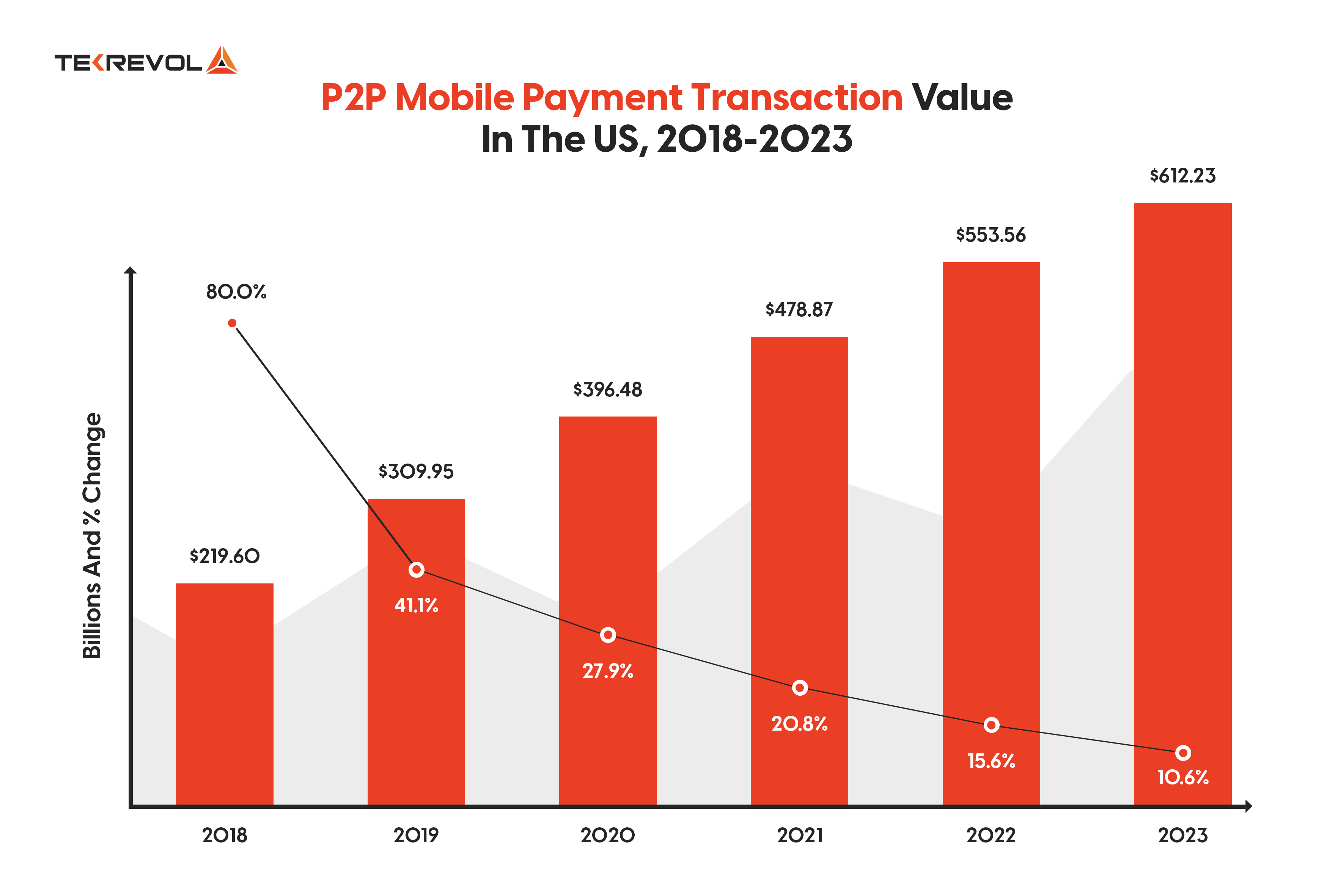 As the popularity of P2P mobile apps continues to grow, it is expected to have a significant impact on the mobile app industry.
More and more businesses are expected to incorporate P2P capabilities into their apps, providing a more convenient and efficient way for their customers to make transactions.
Additionally, the rise of P2P mobile apps is likely to drive innovation and competition in the mobile payments industry, leading to more innovative features and offerings for users.
Overall, the P2P trend is set to revolutionize the way we think about mobile payments and money transfers, creating a more connected and efficient world.
10.     Blockchain Technology
Blockchain technology is rapidly transforming various industries by providing security, transparency, and decentralization.
In recent years, it has also been identified as a game-changer for mobile app development.
The use of blockchain technology in mobile apps can help businesses reduce costs, streamline operations, and enhance security.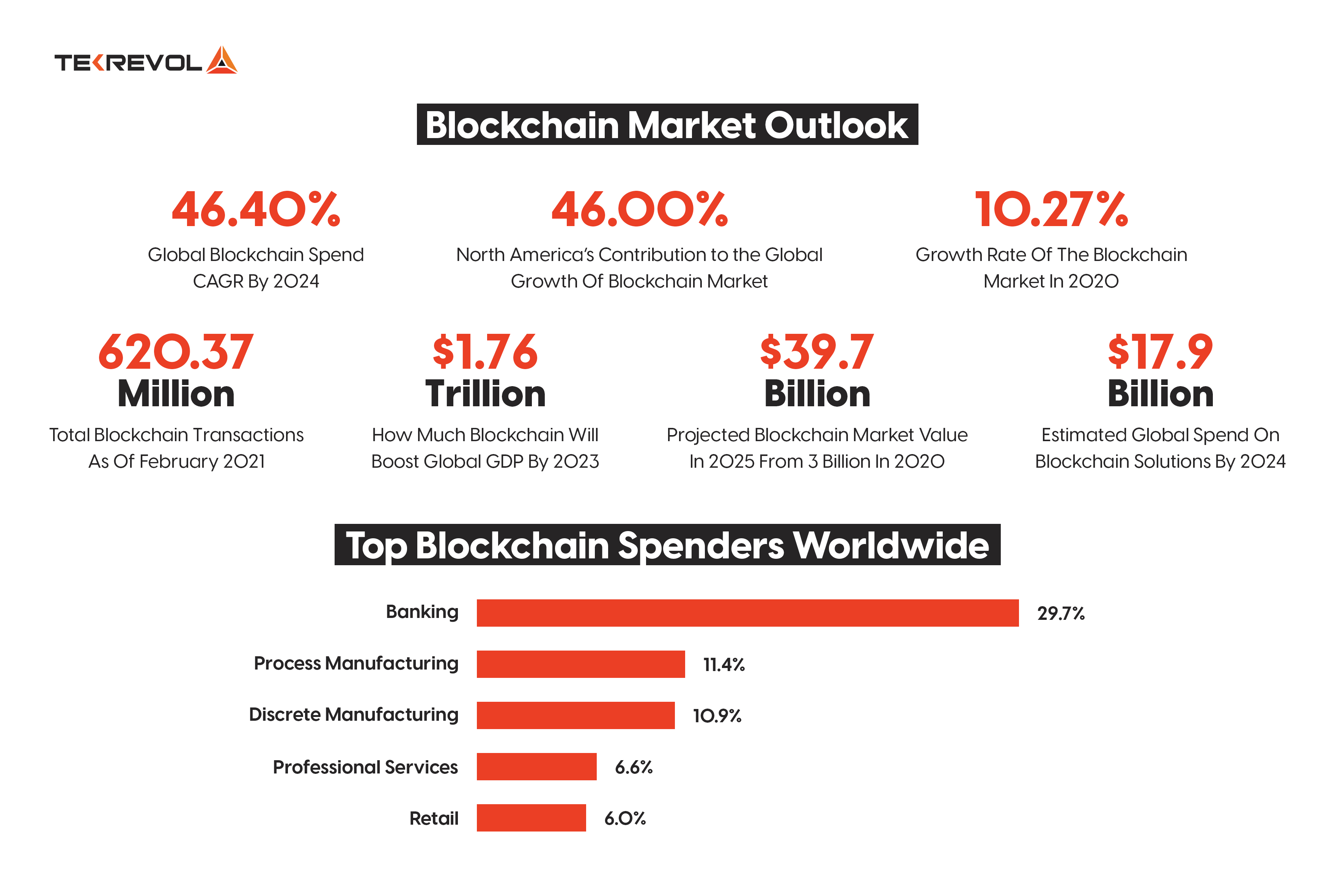 By leveraging blockchain technology, mobile apps can provide secure and tamper-proof transactions, thus preventing fraud and data manipulation.
To sum up, Blockchain technology can also enable the creation of decentralized mobile apps where users can control their data without the involvement of intermediaries.
The adoption of blockchain technology in mobile app development is expected to increase in the coming years as more businesses realize the benefits of decentralization and security.
This trend will lead to the creation of innovative blockchain-based mobile apps that will dominate the mobile app industry in the near future.
11.     Mobile Entertainment & Mobile Gaming
Mobile gaming has already taken the world by storm, and this trend is set to continue dominating the mobile app development industry in 2023 and beyond.
According to recent statistics, the global mobile gaming market is expected to reach a staggering $120 billion by 2023.
The number of mobile gamers is also projected to surpass three billion by the same year, indicating a massive potential market for game developers.
In addition, with the introduction of cloud gaming services and advancements in mobile device technology, the quality and accessibility of mobile gaming will only continue to improve, making it a lucrative and exciting space for app developers to explore.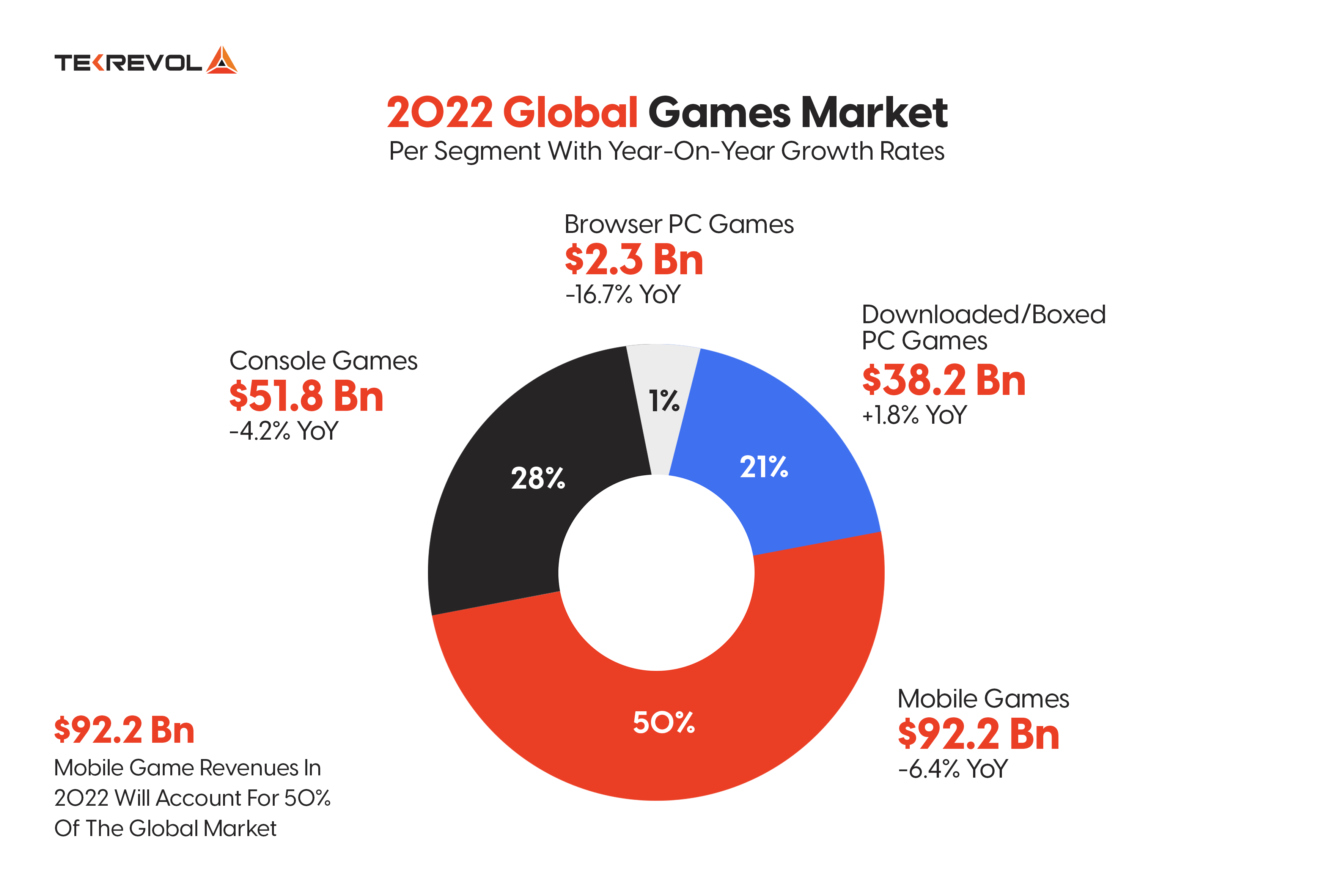 Furthermore, due to the rising popularity of mobile gaming, recent advancements in mobile technology have made gaming more accessible than ever before.
The growth of 5G networks, which offer faster and more reliable connectivity, will enable developers to create even more immersive gaming experiences for players.
Moreover, the COVID-19 pandemic has further accelerated the growth of mobile gaming, as more people spend time at home and seek out forms of entertainment on their mobile devices.
All in all, this trend is expected to continue into 2023 and beyond, making mobile gaming a dominant force in the mobile app development industry.
12.     Mobile Payments & Wallets
Mobile payment methods, such as Apple Pay, Google Pay, and Samsung Pay, are on the rise.
Recent statistics show that the total worth of transactions through mobile wallets was $6.1 billion in 2019, and this figure is expected to reach $13.98 billion by 2023.
In the next two years, the mobile wallet market is projected to double, with more smartphone users adopting mobile payment options and leveraging app functionalities for payments on wearable devices.
As a result, businesses should consider mobile wallet integration in their apps to cater to the growing demand for convenient payment options.
It is expected that mobile wallet usage will become a standard feature in apps that process transactions in the near future.

Ready to take your business to the next level? Partner with us today at TekRevol and stay ahead of the curve with the latest mobile app development trends in 2023.
Why Should You Partner with TekRevol for Mobile App Development?
Partnering with TekRevol for your mobile app development needs can provide you with several benefits. Our team of experts has extensive experience in developing custom mobile apps that are not only user-friendly but also visually appealing.
We take pride in our ability to create mobile apps that are unique, engaging, and tailored to meet the needs of our clients.
We prioritize transparency and collaboration throughout the entire app development process, ensuring that our clients are involved every step of the way.
Additionally, our team stays up-to-date with the latest mobile app trends and technologies to ensure that your app stands out in a crowded marketplace.
TekRevol has a proven track record of delivering high-quality mobile app solutions to clients across various industries.
With their extensive experience, technical expertise, and commitment to customer satisfaction, they have established themselves as a reliable partner for businesses looking to develop cutting-edge mobile apps.
Furthermore, their focus on creating customized solutions that meet the unique needs and goals of each client sets them apart from other app development providers.
Bottom Line – Going Mobile is a Tremendous Way to Escalate Your Business in 2023
In conclusion, the mobile app development industry is poised for significant growth and innovation in 2023.
From the rise of blockchain technology and P2P mobile apps to the dominance of mobile gaming and the emergence of metaverse-like experiences, businesses must keep up with these trends to remain competitive in the digital landscape.
Going mobile is a tremendous way to escalate your business in 2023, as mobile apps provide unparalleled access to customers and streamline operations.
Don't get left behind in this rapidly evolving industry – partner with a reliable app development provider to achieve your business goals.
Don't miss out on the mobile app revolution – let Tekrevol help you harness the power of mobile technology to grow your business in 2023 and beyond.
Schedule a consultation with our experts today to explore how we can help you achieve your goals.
Frequently Asked Questions:
What is the future of app development in 2023?
The world of app development is continuously evolving, and the future looks promising.
In 2023, we can expect to see the emergence of app experiences that resemble a metaverse, which can be accessed through super app ecosystems. This will enable users to have a more immersive and interactive experience while interacting with a variety of services from a single platform.
It's likely that we'll see more integration of cutting-edge technologies like AR/VR and machine learning in app development, which will enable developers to create more personalized and intuitive experiences for users. As technology continues to advance, the possibilities for app development in 2023 are endless.
What type of mobile apps will make the most money in 2023?
The type of mobile apps that make the most money in 2023 varies based on different factors, such as target audience, monetization strategy, and industry. However, mobile gaming and entertainment apps continue to be the top-grossing apps globally.
According to recent statistics, gaming apps alone generated over $79 billion in 2020 and are projected to exceed $100 billion by 2023.
Other profitable app categories include social media, e-commerce, and financial management.
Is it worth developing a mobile app for businesses in 2023?    
Yes, mobile apps are expected to continue to be a lucrative investment for businesses in 2023.
With the increasing number of mobile users and advancements in mobile technology, businesses can leverage mobile apps to reach a wider audience and provide better user experiences.
Additionally, mobile apps offer a more personalized and convenient way for customers to interact with a business and its services.
Overall, investing in mobile app development can provide significant benefits for businesses in terms of revenue growth, customer engagement, and brand recognition.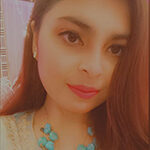 Author : Mariam Amin
Mariam Amin is an Electronics Engineering graduate. As a content marketer, with her insights on engineering and digital strategy, she showcases informative guides and content that is built on imparting knowledge. When away from marketing and the digital landscape, you can find her looking over the food industry, and fitness trends, and catching up on a documentary or a movie.
Tekrevol's Global Presence
Now expanding to multiple cities across USA, GCC region, Europe & Asia
Come meet us at a location near you!
USA
39899 Balentine Drive,
Newark, CA 94560
1301 Fannin St #2440,
Houston, TX 77002
501 E Las Olas Blvd Suite
230, Fort Lauderdale, FL
44 Tehama St, CA 94105, San Francisco
400 NW 26th St, FL 33127, Miami
740 15th St NW 8th Floor, DC 20005, Washington
CANADA
4915 54 St 3rd Floor
Red Deer, ABT T4N 2G7
UAE
Level 5, One JLT Tower 1 - Jumeirah Lakes Towers - Dubai, United Arab Emirates
Level 17, World Trade Center, Khalifa Bin Zayed the First Street, Abu Dhabi
Level 22 , West Tower, Bahrain Financial Harbour, Manama, Bahrain
Level 22, Tornado Tower, West Bay, Doha, Qatar
PAKISTAN
3/25, Block 5, Gulshan-e-Iqbal,
Karachi, Sindh 75650
USA
CANADA
PAKISTAN
UAE
talk to us
Got an idea?
Let's get in touch!
Let's discuss your project and find out what we can do to provide value.
I am interested in discussing my ideas with you for
COPYRIGHT 2023 TEKREVOL ALL RIGHTS RESERVED.