TekRevol's Collaboration with CodeGirls: Empowering Women in Tech
Author: admin |
May 4, 2023 - TekRevol Team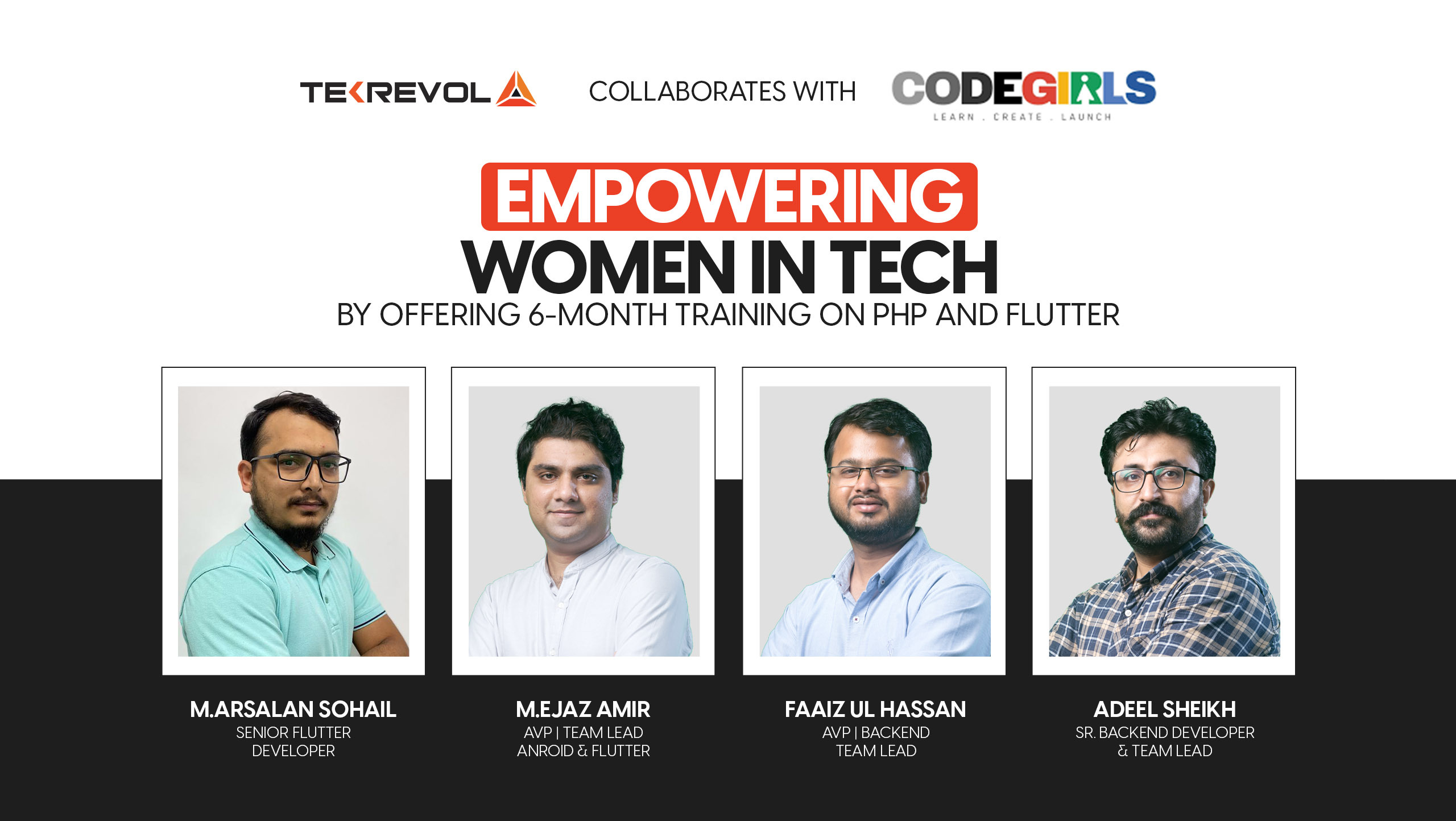 TekRevol is honored to announce a partnership with CodeGirls, an exclusively women-only coding boot camp, to empower women in the tech industry.
CodeGirls has a worthy goal of cultivating gender equality in Pakistan's tech industry. TekRevol aims to back this mission by offering a 6-month training program on Flutter and PHP for CodeGirls students.
This partnership is a step towards producing a more diverse and comprehensive tech industry where women have equal chances to flourish.
The Training Program
The 6-month training program offered by TekRevol provides two popular programming languages: Flutter and PHP.
The program is intended to deliver in-depth knowledge and hands-on experience to the students, allowing them to create high-quality mobile applications and software.
This program is led by TekRevol's highly qualified and skilled tech professionals and specialists in their fields.
The training program includes a range of topics, counting basic programming concepts, app development, UI/UX design, database management, and cloud computing.
The program is led in a hybrid format, with online lectures, collaborative sessions, and practical assignments.
The students also get hands-on experience with state-of-the-art tools and technologies used by TekRevol, which improves their learning experience and skills.
Empowering Women in Tech
The tech industry has long been dominated by men, with women fronting frequent challenges and partialities in their career paths.
Initiatives like the training program presented by TekRevol and CodeGirls are critical in addressing these issues and endorsing gender equality in this industry.
By empowering women with essential skills and knowledge, we aim to form a more diverse and comprehensive industry where every person has an equal opportunity to thrive.
The training program also works as a platform for women to partner and join forces with other like-minded entities, which benefits in building a sympathetic and inspiring community.
By forming a void where women can learn and organize, we can tear down the barriers that have previously barred women from entering and growing in the tech industry.
TekRevol's Commitment to Giving Back
TekRevol is dedicated to social accountability and positively influencing the communities it serves. The partnership with CodeGirls is just one instance of this commitment.
We have commenced several initiatives and programs to give back to the community, including supporting events, contributing to charitable establishments, and backing up local businesses.
Concluding thoughts
TekRevol's collaboration with CodeGirls is a momentous step towards endorsing gender equality and diversity in the tech industry.
The training program offered by TekRevol offers women the vital skills and experience to thrive in their tech careers, and the partnership with CodeGirls forms a supportive and encouraging community for women in this field.
Empowering women in the tech industry can fashion a more diverse and comprehensive industry that aids everyone.
We inspire readers to support similar initiatives and take action to spread equality in their communities. Together, we can create a better and more impartial world.
TekRevol believes that collaboration is the key to driving positive change in our society

If you're working on similar causes, we'd love to collaborate with you.
Tekrevol's Global Presence
Now expanding to multiple cities across USA, GCC region, Europe & Asia
Come meet us at a location near you!
USA
39899 Balentine Drive,
Newark, CA 94560
1301 Fannin St #2440,
Houston, TX 77002
501 E Las Olas Blvd Suite
230, Fort Lauderdale, FL
44 Tehama St, CA 94105, San Francisco
400 NW 26th St, FL 33127, Miami
740 15th St NW 8th Floor, DC 20005, Washington
CANADA
4915 54 St 3rd Floor
Red Deer, ABT T4N 2G7
UAE
Level 5, One JLT Tower 1 - Jumeirah Lakes Towers - Dubai, United Arab Emirates
Level 17, World Trade Center, Khalifa Bin Zayed the First Street, Abu Dhabi
Level 22 , West Tower, Bahrain Financial Harbour, Manama, Bahrain
Level 22, Tornado Tower, West Bay, Doha, Qatar
PAKISTAN
3/25, Block 5, Gulshan-e-Iqbal,
Karachi, Sindh 75650
USA
CANADA
PAKISTAN
UAE
talk to us
Got an idea?
Let's get in touch!
Let's discuss your project and find out what we can do to provide value.
I am interested in discussing my ideas with you for
COPYRIGHT 2023 TEKREVOL ALL RIGHTS RESERVED.