How Much Does Mobile Game Development Cost – A Complete Guide
Author: Hammal F. |
June 15, 2021 - Tekrevol Team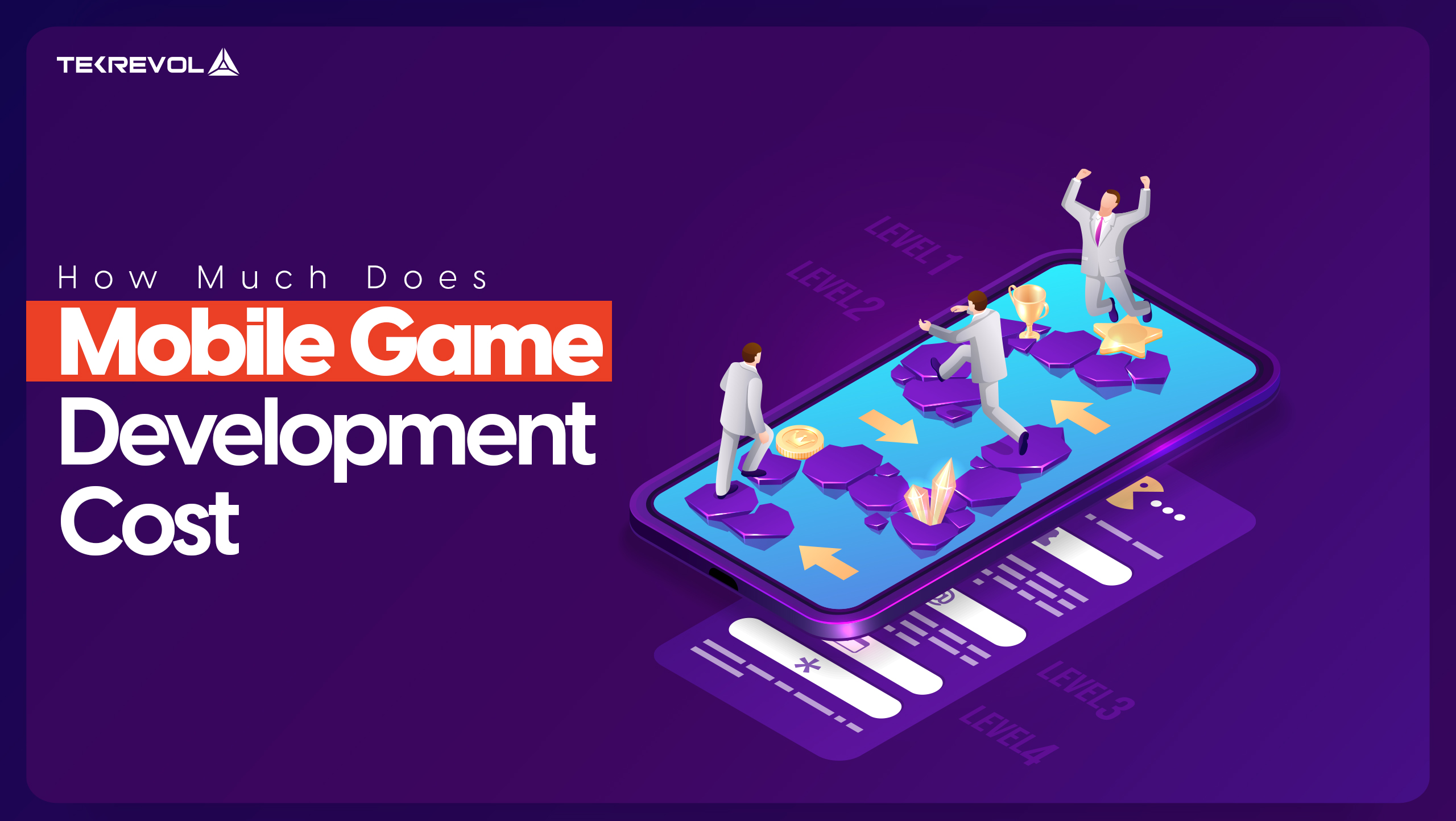 There's a question that keeps entrepreneurs and investment strategists intrigued: how much does mobile game development cost? Well, understanding the complexities of development costs is crucial for those looking to invest in this booming industry.
As mobile gaming keeps on surging in popularity, statistics reveal impressive revenue figures and ever-growing user numbers, making it clear that the investment potential in this sector is undeniable. 
However, the mobile gaming market is not an easy ground; it's a progressive and lucrative field where success is closely tied to understanding the complexities of development costs.
This complete guide is designed to help you navigate the important insights of mobile game development expenses. 
It will cover various aspects, from the typical costs of game app development to the stages involved, the factors influencing the cost, and even technologies and strategies for reducing expenses.
This guide will equip you with the knowledge to make informed decisions and better estimate the investment required for your mobile game development journey.
So, let's get started with the mobile game development cost breakdown. 
---
Mobile Game Development: What Statistics Suggest?
Here are some of the fascinating statistics on mobile gaming, according to Statista:
Mobile Games market revenue will hit

US$173.60 billion

in

2023

, with a

6.42% annual growth rate

to reach

US$222.70 billion by 2027

.

It is expected that the

number of users will touch 2.3 billion

in the Mobile Games market by

2027

.

The United States leads in generating the most revenue with

US$46,470.00m in 2023

.

The

average revenue per user (ARPU)

in the Mobile Games market is projected at

US$90.16 in 2023

.

The mobile game market is expected to reach

USD 284.4 billion by 2030

.

Nearly half,

49%, of mobile gamers

spend money on mobile games.
As a significant part of these stats comes down to the ever-growing rise of mobile and gaming applications development, we have the ultimate investment guide for all the entrepreneurs, app developers, and investment strategists to help you through mobile game app costs.
If you are in any way linked with mobile application development, you would know that a lot goes into it. Just in case you're not aware of that then reading through how to make a mobile app can be very helpful.
---
What is the Typical Game App Development Cost?
The total cost of developing a typical game app can be as low as $20,000 or as high as $80,000. 
A game app that includes only a minimal set of features often referred to as a "minimum viable product" or MVP, will come at a lower cost compared to an app that includes all intended functionality.
Other than that, the development cost of any game is dependent on factors like the game genre, complexity, game engine, development time, and more.
However, we at TekRevol can give you an estimate for your mobile game idea. All you have to do is give the cheeky little button below a push to calculate your mobile game app development cost.
Have a Game Idea?

Let's Discuss the Cost.
---
What are the Stages of Mobile Game Creation?
You need to start with the basics and work your way up on where your money is being spent while creating your mobile game application.
Here are the 9 stages of mobile game creation:
| Stage | Action | Description | Duration |
| --- | --- | --- | --- |
| Stage 1 | Market Research | Involves researching the target audience, competitive landscape, current industry trends, and market demand to inform game development decisions. | 1 week |
| Stage 2 | Game Design Document | Comprises defining the game's overarching vision, including its image, intended audience, choice of platform (iOS or Android), game genre, and monetization strategies. | 1 week |
| Stage 3 | Technical Specifications | This stage outlines the technical aspects, encompassing game mechanics, coding components, game physics, and other technical requirements necessary for development. | 2 weeks |
| Stage 4 | Prototyping | A preliminary phase involving the creation of a basic game sketch without detailed elements primarily focused on visualizing core gameplay mechanics. | 1 week |
| Stage 5 | Game Design | Encompasses the creation of 2D and 3D assets, characters, environments, and interface elements that define the game's visual aesthetics and player experience. | 3 weeks |
| Stage 6 | Game Programming | Involves the development of program code, server setup, database integration, APIs, and the incorporation of 2D/3D assets and visual effects. | 2+ months |
| Stage 7 | Sound Design | Focuses on the creation of music, interface sounds, and other sound effects to enhance the audio aspects of the game and improve the overall user experience. | 1 week |
| Stage 8 | Testing | Encompasses the process of identifying and resolving minor glitches and issues to ensure a smooth and enjoyable gameplay experience. | 1 week |
| Stage 9 | Publication | Involves making the game accessible to users by uploading it to online platforms such as Google Play Store or App Store. | 1 day |
---
Factors Affecting The Mobile Game Development Cost
Here are the key factors that have a direct influence on the overall mobile app game development cost: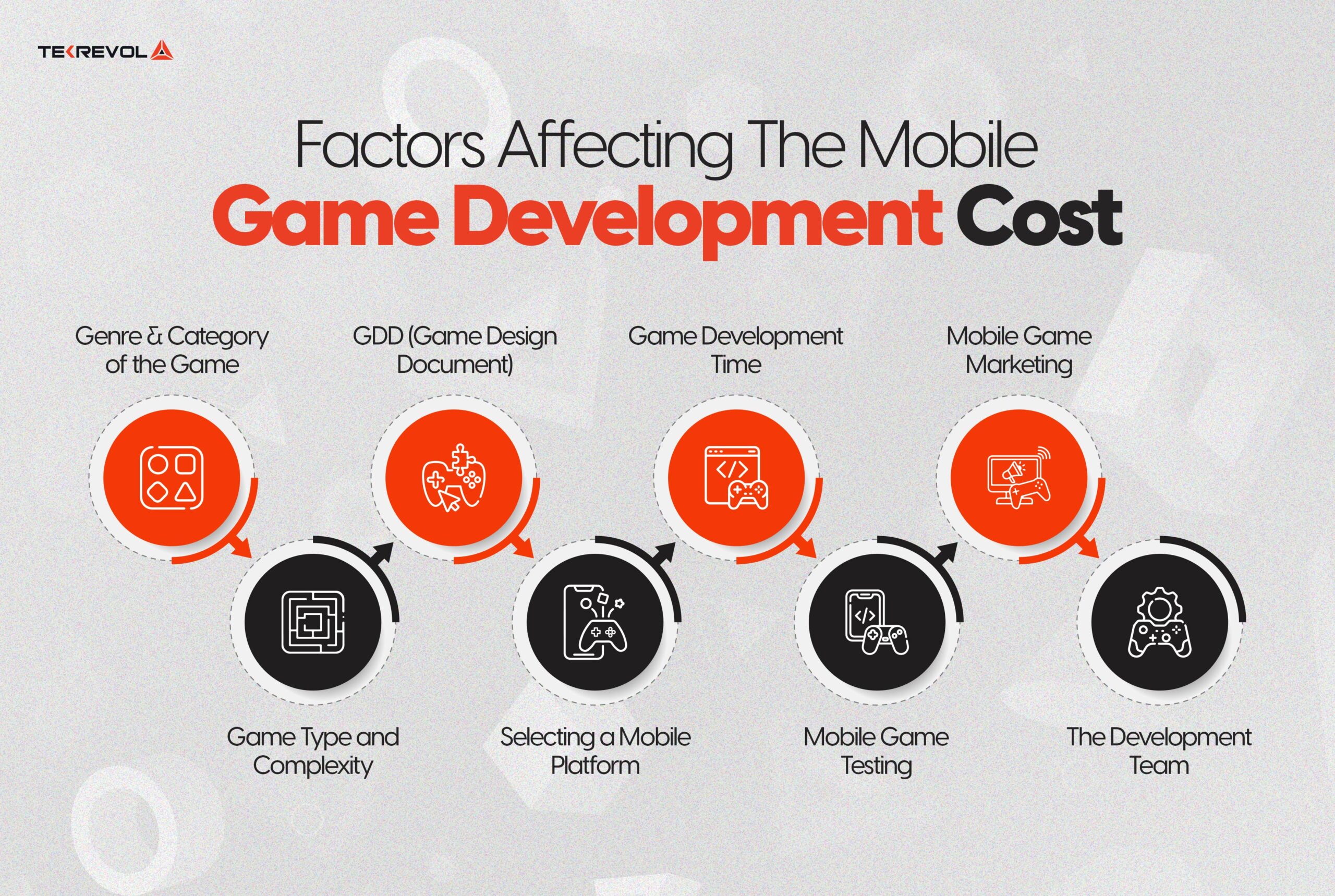 1.   Genre and Category of the Game
The genre and category of a mobile game plays a pivotal role in shaping the overall development cost.
Mobile game genres can be categorized based on multiple criteria, such as the platform, game modes (single-player, multiplayer, PvP, etc.), and narrative themes (horror, mystery, and more).
The chosen genre has a direct impact on the development cost. For example, developing a multiplayer open-world game would be more challenging and costly than a single-player puzzle game.
However, it's important to note that genre alone does not provide a precise cost estimate.
That's because there is further categorization within genres like adventure-based games, fighting games, puzzles, RPGs, simulations, sports games, strategy games, etc.
Each of these subcategories demands distinct gameplay mechanics.
For example, strategy games require the creation of extensive economic systems, while fighting games necessitate diverse fighting styles for different characters.
These complexities contribute to the overall mobile game development costs.
2.   Game Type and Complexity
The complexity of a game directly correlates with its cost. Every additional feature and element adds to the overall expense.
Mobile games can be categorized as small, medium, or large in terms of scope and complexity, and they can also fall into different types like casual games, social games, business game apps, or mid-level and high-level games.
The other factors that significantly impact the development cost include animation style (2D or 3D) with 3D games requiring higher budgets.
3.   GDD (Game Design Document)
GDD or Game Design Document is precisely what it sounds like, a comprehensive written document that encapsulates every crucial detail about your game.
The importance of a well-structured Game Design Document cannot be overstated in the mobile game development process. It serves as the roadmap to a successful end product.
However, it's important to recognize that creating a high-quality GDD is not only integral but also a resource-intensive task, demanding a significant investment of time and money.
A typical Game Design Document is organized into sections and subsections that present the details of all the essential aspects of your mobile game.
The key sections typically include:
General Game Descriptions: This section provides a comprehensive look at the game, including its story, setting, and the overall concept that shapes the gaming experience
Design Essentials: This section delves into the core game mechanics, describing gameplay features, objectives, and user interactions, which are fundamental to the player's experience.
Technical and Business-Related Information: This part covers the technical requirements, platform considerations (such as iOS or Android compatibility), monetization strategies, and other business-related aspects that influence development and cost.
4.   Selecting a Mobile Platform
Unity and Unreal Engine, which are the most commonly used mobile game engines, do not have a direct influence on the mobile game development cost.
However, if a mobile game's requirement becomes overly complex and there is a need for changing the mobile game engine during the development process then it will lead to additional costs.
The primary strategy when selecting a mobile platform is to opt for cross-platform game engines.
This approach allows for the simultaneous deployment of the game on both iOS and Android, minimizing the need for separate development efforts for each platform.
Some of the leading game engines that are optimized for multiple platforms include:
Unity
Unreal Engine
Construct 3
Defold
Game Maker Studio 2
Godot
For more insights on the development cost of hybrid game apps, here is our article on all cross-platform games and their revenues.
5.   Game Development Time
The time required to develop a mobile game varies significantly based on the game's scope and complexity.
Developing a small mobile game with straightforward gameplay and no complex storyline typically falls within the timeframe of 2 to 4 months.
However, as the size and complexity of the game increase, so does the development timeline. Large and complex games may necessitate one year or more to reach completion.
Another critical aspect affecting mobile game development costs is the geographical location of the development team.
For example, game development services in the US can cost between $100 to $150 per hour, depending on the game's complexity and the expertise required.
Moreover, grand and complex games often demand the expertise of various professionals, including game and narrative designers, producers, artists, writers, testers, and numerous other specialists.
Their collective contributions further influence the development timeline and, subsequently, the cost.
6.   Mobile Game Testing
Testing in the domain of mobile game apps is not just a supplementary process; it is equally as crucial as the development phase.
Gamers in today's market have grown increasingly impatient with game-related bugs and issues.
The importance of a smooth and bug-free gaming experience cannot be overstated. Players have little patience for games marred by bugs or sluggish performance.
They demand a gaming experience that is not only without issues but also provides a rich and immersive user experience.
Typically, game app development companies incorporate testing services as an integral part of the overall project lifecycle.
It's a crucial step in making a game, as no game should come out without thorough bug testing
Furthermore, it is essential to note that the complexity of your game directly corresponds to the level of testing required. Mobile game testers often charge hourly rates, and the more complex the game, the more extensive the testing required.
Consequently, the thoroughness of your testing process is not only an essential aspect of development but also a critical factor influencing the overall cost of mobile game development.
TekRevol is a top-class iPhone and Android game app development company that has a bug-free game testing process to ensure that your game not only meets industry standards but exceeds them.
We leave no stone unturned in the quest for perfection.
Our team of skilled testers rigorously examines every aspect of your game, from its functionality and performance to its user interface and overall gameplay experience.
Mobile Game Marketing
Developing an excellent game is merely a starting point; true success comes through smart marketing.
It's a common fallacy to assume that a remarkable game app will automatically gain market traction on its own. However, the success of your game app hinges on the strategic efforts put into marketing.
To make your game app go viral and gain the visibility and rankings necessary for success in the Apple and Google Play stores, you must allocate a budget for effective marketing. This strategic marketing approach is often referred to as App Store Optimization (APO).
Games are developed to generate revenue, and achieving a return on investment necessitates a proactive and well-planned marketing strategy.
The Development Team
One of the most critical decisions you'll face is selecting who will bring your game idea to life: freelance developers or a professional mobile app development company.
Each option has its distinct advantages and disadvantages. The complexity of your game is a crucial consideration when choosing your development team.
For simpler and less intricate game projects, freelance developers can be a cost-effective choice. They can efficiently create straightforward games, helping to reduce overall expenses.
Other than that, for larger and more complex game development projects, enlisting the expertise of a professional development team is often the more prudent choice.
These teams bring a wealth of experience and skill to the table, ensuring that your game meets the highest quality and functionality standards.
However, it's important to be prepared to meet their rate expectations, which may be higher than those of freelance developers.
Additionally, exploring the option of outsourcing development to other countries can yield significant cost differences.
Different regions offer game developers with varying hourly rates, which can have a substantial impact on your game development cost.
TekRevol stands as a distinguished Android and iPhone game development company that prides itself on offering not only exceptional game development services but also highly reasonable prices for creating game apps.
Our commitment to affordability is deeply ingrained in our ethos, and we firmly believe that groundbreaking game development should be accessible to all.
Partner with Industry-Recognized Game Developers!

Your Vision, Our Expertise - The Perfect Game Team
---
Development Costs for Popular Mobile Game Apps
The development costs for popular mobile game apps can vary widely, influenced by factors such as complexity, platform, and design.
These successful games often entail significant investments, reflecting the competitive and dynamic nature of the mobile gaming industry.
Here are the details on the mobile app game development cost for popular games:
| Game | Developer | Development Cost |
| --- | --- | --- |
| Angry Birds | Rovio | USD140,000 |
| Candy Crush Saga | King | USD 500,000 |
| Genshin Impact | miHoYo | USD100m |
| Pokémon GO | Niantic, Inc. | USD200m |
---
Which Technologies To Use For Game App Development?
Opting for a specific gaming engine to develop your mobile game app has undeniably an essential share in the entire app development cost.
Although there are many successful technologies and trends in mobile game development including some highly preferred gaming engines. Here are some of the popular ones:
1.   Unity
The most preferred game engine in the world with all the essential features and functionalities, Unity is one of the favorite game development engines at TekRevol.
Developed for multi-platform gaming app development, it comes as a complete package and is free for start-up-level app developers, having annual earnings of less than $100K.
However, with additional features and more technical business requirements, it incorporates additional subscription charges.
Unity Pro edition: USD185/mo per seat or USD2,040/year per seat
Unity Industry edition: USD450/mo per seat or USD4,950/year per seat
Despite the subscription charges, the engine works well for all mobile, desktop, web, and console platforms and is highly compatible with 2D and 3D games.
To name a few, Escape Plan, Angry Birds 2, Wasteland 2, and Temple Run Trilogy are some of the high-level games developed on Unity.
For more insights, visit our detailed blog on how to get started with Unity3D.
2.   Cocos2d-X
An open-source, cross-platform game development engine based entirely on C++ language, the engine is widely preferred for GUI-focused game apps.
Also, incorporated with JavaScript and Lua bindings, it is easy to learn and highly functional.
One of the significant reasons TekRevol highly prefers this game engine is that it is lightweight, robust, and highly result-driven.
Plus, it speeds up the game development process by optimizing the overall app performance.
Castle Clash, Dragon City, Clash of Kings, and Badland are some of the most played games developed with Cocos2d-x.
Ready to Transform Your Vision into Gaming Brilliance?

Partner With Our Industry-Recognized Game Developers.
---
How to Monetize A Game App?
There are multiple ways to monetize a mobile app, including in-game purchases, premium paid downloads, in-game advertising, ongoing subscriptions, and sponsorships.
The entire purpose of including a monetization strategy in your mobile app is to make sure that every time a user downloads your app, you earn some bucks.
Generally, there are different app monetization strategies that can help you generate revenue from mobile gaming. Here are the details:
1.   Ongoing Subscriptions
Ongoing subscriptions are a sustainable monetization method, often employed by mobile game developers.
Users are required to pay a recurring fee, typically on a monthly or yearly basis, to access premium content, features, or benefits within the game.
The subscription model can provide a steady income stream while maintaining user engagement.
Pricing options can vary, ranging from affordable monthly fees to premium subscriptions with exclusive perks, catering to different user segments.
2.   Premium Paid Downloads
Premium paid downloads are a straightforward monetization strategy where users pay an upfront fee to download and access your game.
This model is most effective when your game offers unique and high-quality content that users are willing to pay for.
While it can generate revenue without relying on in-game purchases or advertisements, it's essential to deliver exceptional value to justify the initial cost to users.
Premium paid downloads are a one-time source of income and can be combined with other monetization methods to maximize earnings.
3.   Sponsorships
Sponsorships represent a lucrative monetization method for mobile game apps.
This strategy involves collaborating with external companies or brands to promote their products or services within your game.
In exchange for featuring sponsored content, you can earn a steady stream of revenue. This approach is especially attractive if your game has a large and engaged user base.
It's essential to ensure that the sponsored content aligns with the game's theme and doesn't disrupt the user experience
In-game purchases
Another standard monetization method mostly used by mobile app developers is to include features in the app requiring users to pay for real.
Now, the exciting thing about these apps is that they are available to the users without any charges, but the developers keep a few features locked that would require users to pay with real money.
Freemium
The premium apps are those that are initially available to the users, as a free version, without any extra or additional charges.
But, once the users get the hang of it and start acknowledging the features and efforts put into the game, they ask you to buy the paid version.
We prefer this monetization strategy over others as it helps users evaluate and understand the worth of your mobile game and keeps them hooked to it.
Advertising
Now, if you are an avid mobile game user then you would agree that this one is the least favorite. That's because no one likes to get disturbed by advertisements in the middle of a game.
However, this is one of the monetization strategies that developers use to make money with their gaming apps.
---
How To Ensure You Are Reducing Game Development Costs?
Reducing game development costs requires a strategic approach to budgeting, resource allocation, and efficiency. Here are key steps to ensure cost reduction:
Plan Your Budget Early
Start your project with a well-defined budget plan that encompasses all development costs.
Creating a comprehensive financial plan before initiating the project empowers you to track spending and manage finances more effectively throughout the development process.
Prioritize Features
Identify the core features of your game and prioritize them based on their importance and impact on gameplay.
By focusing resources and time on essential features, you can ensure that the critical aspects of your game are well-developed without unnecessary expenses.
Consider Outsourcing
Outsourcing certain elements of the game development process, such as art and sound design, can be a cost-effective strategy.
It not only saves money but also alleviates the workload on your in-house team, allowing them to concentrate on core development tasks.
Use Open-Source Tools
Explore open-source alternatives for game development tools and software.
These cost-effective options can serve as viable substitutes for expensive proprietary tools while maintaining the quality of your project.
Test and Iterate
Regular testing and iteration are invaluable for cost reduction.
By identifying and addressing issues early in the development cycle, you can prevent costly delays and ensure that the game maintains a high level of quality.
Continuous testing and improvement throughout the development process can lead to a more efficient and cost-effective outcome.
---
The Roadmap to Profitable Mobile Game Ventures
As mobile gaming continues to grow in popularity and revenue, understanding the complexities of development costs is crucial.
This complete guide has provided valuable insights into the typical costs of game app development, the stages involved, and the various factors that influence these costs.
By considering factors like game genre, complexity, development team, and monetization strategies, you can better estimate the investment required for your mobile game development journey.
Remember, planning your budget, prioritizing features, and exploring cost-reduction strategies are key to managing development costs effectively.
As the mobile gaming market continues to thrive, it's an exciting time to embark on your mobile game development journey and tap into the industry's immense potential.
Frequently Asked Questions:
How Much Does It Cost To Design A Game App?
The average budget for an Android or iOS game development lands between $50,000 to $200,000.
However, the cost can go up to $1,000,000+ or higher, depending on the complexities of visual effects, art assets, mechanics, plot, and type of players involvement.
How Much Does It Cost To Make A Small Mobile Game?
A 2D mobile game development cost can be between $ 5,000 – $ 20,000.
However, the cost can rise to $50,000 – $ 20,000 if the game has more functionalities.
Other than that, the cost of a 3D game will be much higher than a 2D game cost.
How Much Did It Cost To Make GTA 5?
The cost for developing Grand Theft Auto 5 (GTA 5) was a whopping $265 million to develop and publish.
This encompasses the primary budget of approximately $140 million for the game, along with substantial marketing expenses appropriate for a release of this magnitude.
How Much Does AAA Game Development Cost?
The cost for developing an AAA game can range between $50 million to $300 million.
It can even extend up to 1 billion dollars as costs are influenced by a range of factors, including graphics, audio and sound design, game development software, staffing, post-production expenditures, and marketing efforts.
Are Phone Games Profitable?
Yes, mobile game development has become the most profitable sector of the gaming industry with an expected number of users touching 182.0 million by 2027.
Why Are AAA Games So Expensive?
High Production Value, AAA games are created by large mobile games development companies with substantial resources and budgets, enabling substantial investments in elevating the game's graphic design, sound effects, music, and overall presentation.
How Long Does It Take To Build A Game App?
A game app usually takes 583 hours to build. However, the development time can range from as little as 267 hours to as much as 1,067 hours.
The exact timeline mostly depends on how complicated your app is. In general, if your app demands highly custom designs, specialized features, or non-standard release platforms, the development timeline tends to extend.
What Are The Risks And Challenges Of Building A Game Application?
Game apps frequently encounter legal and reputational challenges linked to improper utilization of in-app purchases, disputes regarding intellectual property rights, and instances of gaming rule violations.
Another common risk in game development is technical issues which are problems that arise from the software, hardware, or development tools deployed in the game creation process.
These technical challenges encompass issues such as glitches, system crashes, compatibility dilemmas, performance shortcomings, and security vulnerabilities.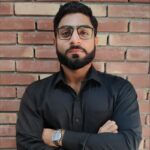 Author : Hammal F.
Hammal is a seasoned copywriter and a content specialist with significant experience in the field. He has a knack for crafting persuasive and impactful content that can drive engagement and achieve marketing results. Apart from his professional endeavors, Hammal enjoys quality music occasionally, finding solace and inspiration in its melodies. He believes that a well-curated playlist can serve as the perfect backdrop for creativity and productivity.
Recent Blogs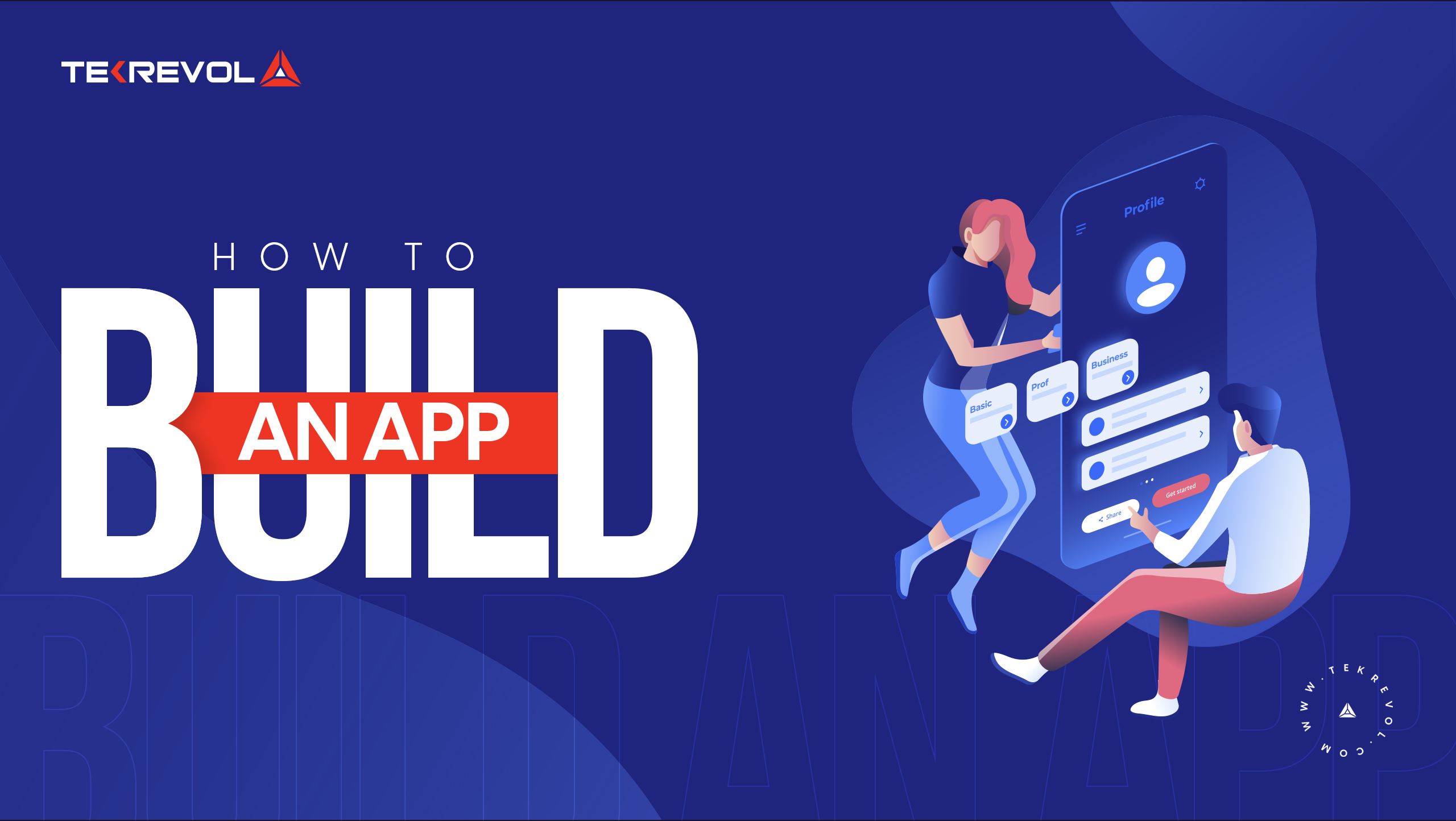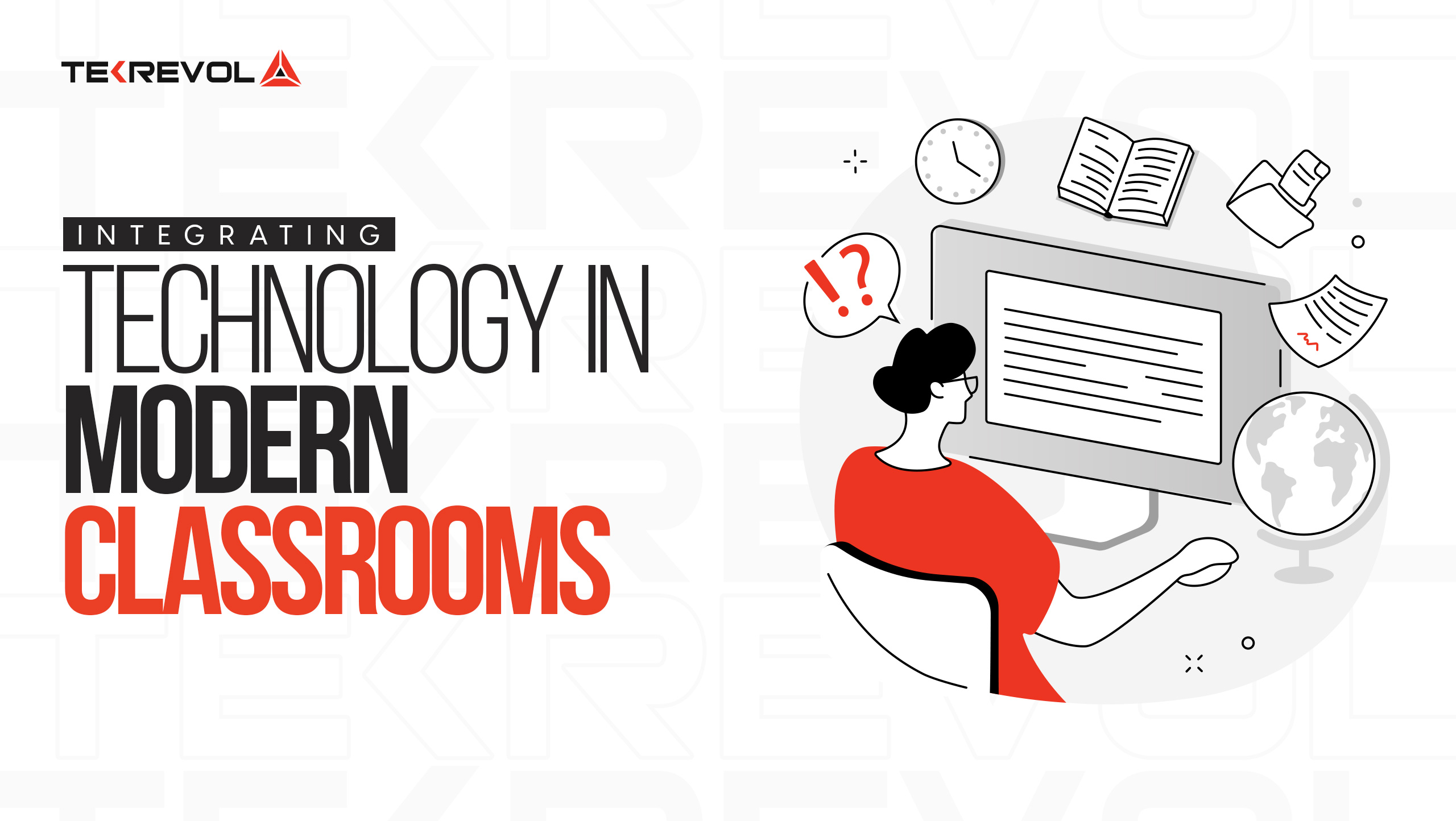 Tekrevol's Global Presence
Now expanding to multiple cities across USA, GCC region, Europe & Asia
Come meet us at a location near you!
USA
39899 Balentine Drive,
Newark, CA 94560
1301 Fannin St #2440,
Houston, TX 77002
501 E Las Olas Blvd Suite
230, Fort Lauderdale, FL
44 Tehama St, CA 94105, San Francisco
400 NW 26th St, FL 33127, Miami
740 15th St NW 8th Floor, DC 20005, Washington
CANADA
4915 54 St 3rd Floor
Red Deer, ABT T4N 2G7
UAE
Level 5, One JLT Tower 1 - Jumeirah Lakes Towers - Dubai, United Arab Emirates
Level 17, World Trade Center, Khalifa Bin Zayed the First Street, Abu Dhabi
Level 22 , West Tower, Bahrain Financial Harbour, Manama, Bahrain
Level 22, Tornado Tower, West Bay, Doha, Qatar
PAKISTAN
3/25, Block 5, Gulshan-e-Iqbal,
Karachi, Sindh 75650
USA
CANADA
PAKISTAN
UAE
talk to us
Got an idea?
Let's get in touch!
Let's discuss your project and find out what we can do to provide value.
I am interested in discussing my ideas with you for
COPYRIGHT 2023 TEKREVOL ALL RIGHTS RESERVED.