How Much Does It Cost to Build an App in the UK?
Author: Areeba Akhtar |
May 19, 2023 -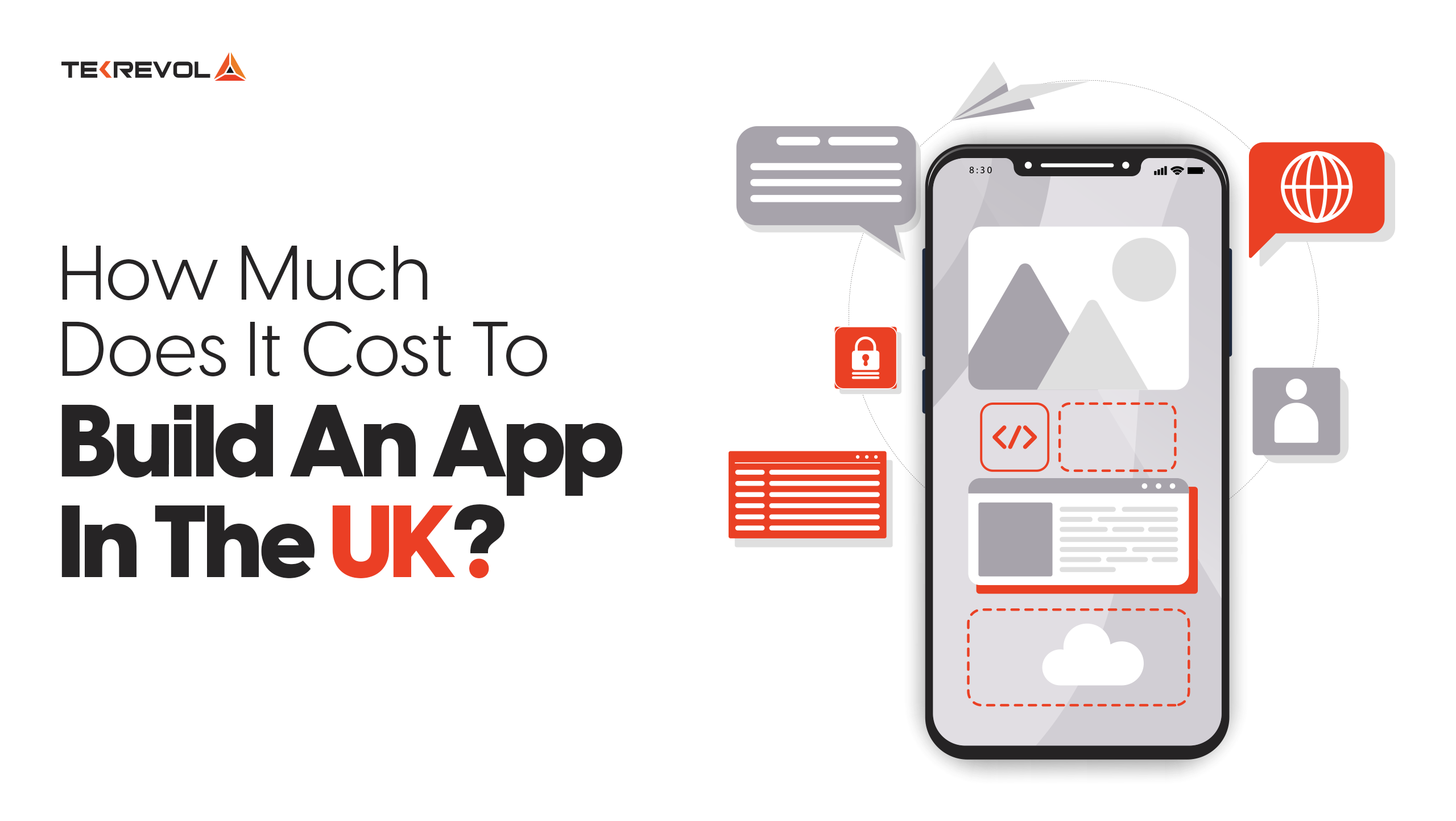 There is no doubt that customer-centric mobile solutions help businesses connect to their clients globally by giving an unconventional user experience. 
But, the cost of app development in the UK is a significant factor that businesses and companies must contemplate before commencing their app development journey. 
You should also know what influences the app development price, which depends upon the app's complexity, selected platform, and support and maintenance costs.
This article will give an overview of the app development cost, launch, support, and maintenance, as well as what it takes to market an app in the UK market.
Furthermore, you'll understand how to make or decide on a budget and which company to contact to estimate app development cost UK.
TekRevol created this article based on our vast experience creating the best-performing native and cross-platform app development solutions. 
Stay tuned to learn more about "how much does it cost to make an app" and discover our automotive, healthcare, and other on-demand app development solutions costing.
Mobile App Development Cost Analysis
As we know, the total number of apps available in app stores is more than 7 million, but there is still room for more apps. Undoubtedly people are getting attracted to apps like crazy. As a startup or business owner, if you are wondering how much does it cost to develop a mobile app, then this blog is for you, and I hope you'll have a better understanding of how much you need to invest to turn your app idea into an outstanding reality.
You probably are researching aggressively to find out the cost to develop an app. Clutch conducted research and it resulted that the average cost for an app is around $37.973 and $171.450. However, the real cost of a mobile app is completely dependent upon the complexity of its functionality and the technology stack used; the more complex the app's functionality is, the costlier it is.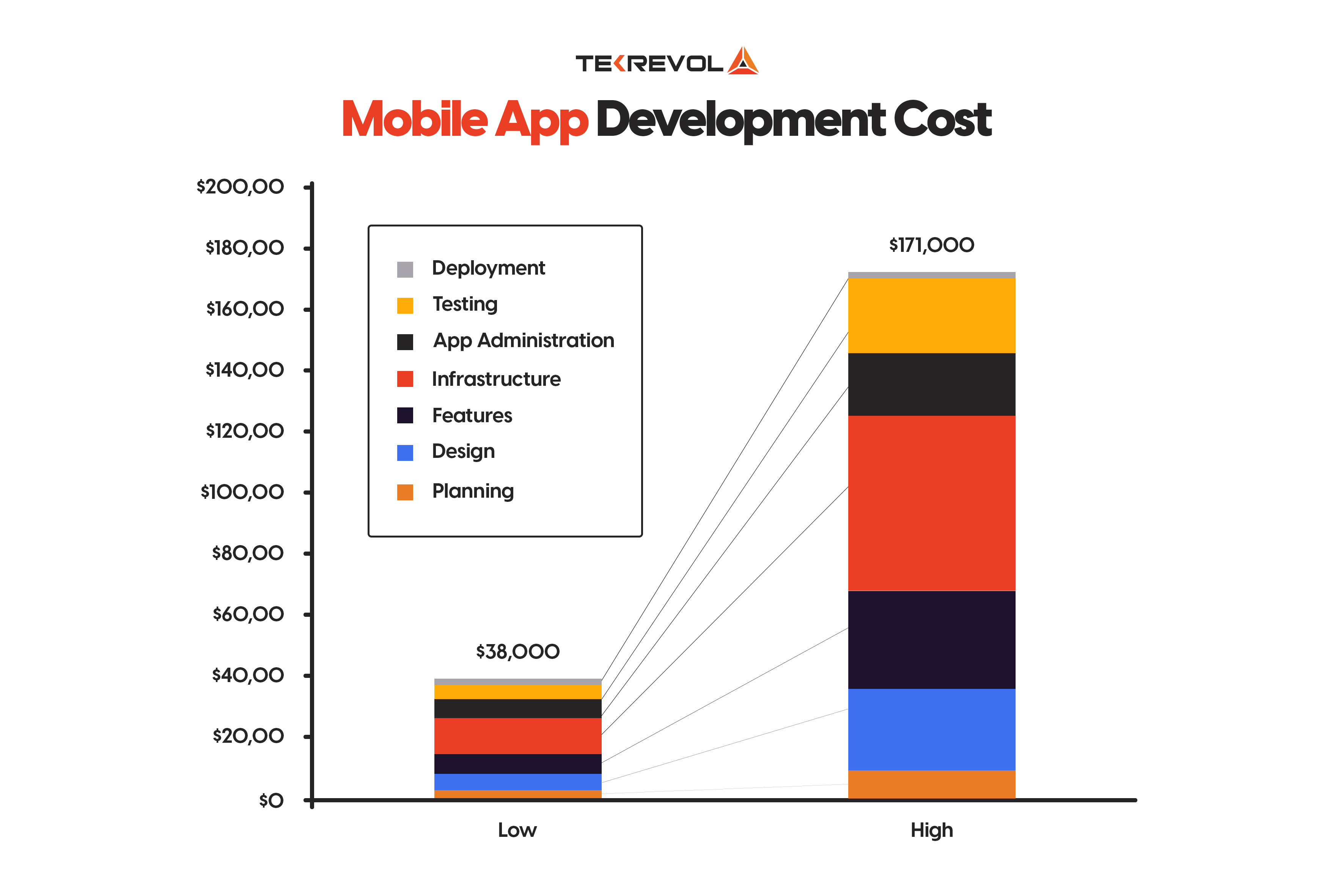 So, let's look at the development cost breakdown and how each phase will eat up a segment of your app development budget.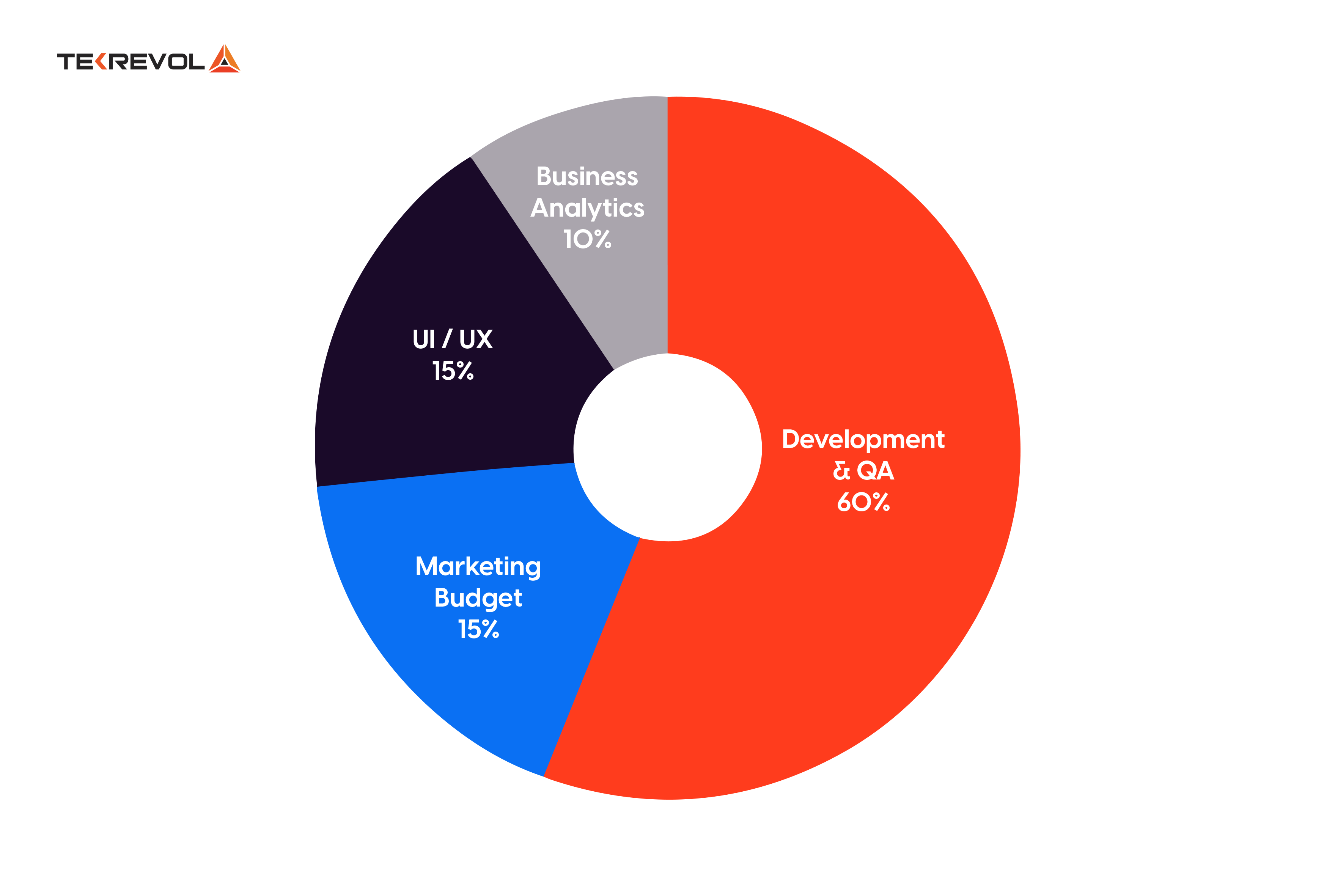 What Is The Cost Of The Mobile App Strategy Phase?
This phase is all about in-depth analysis and market and user research. Furthermore, you need to identify an objective definition, and MVP conceptualizing. 
Your excellent app idea requires an in-depth plan for mobile app business and market analysis.
You should expect almost 10% of the cost of the mobile app to invest in this phase and it can take around 20 hours to 200 hours. At the end of this stage, you have the following;
An Objective definition 

Market & User Research

Competitive Analysis

Technology stack

Platform selection

Monetization strategy

MVP Concept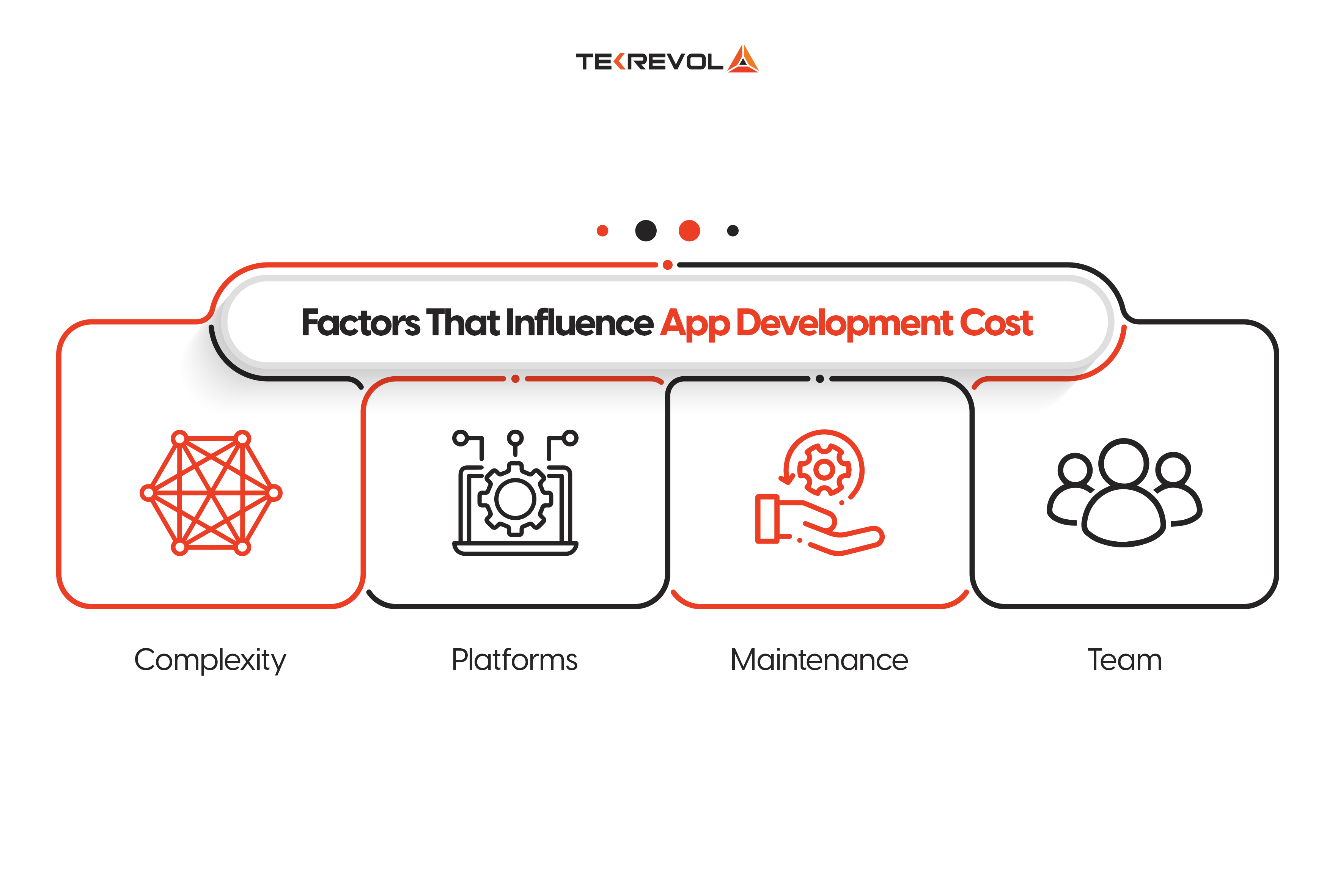 Decoding the Factors Influencing App Development Cost
The overall app development costs significantly rely on the software goal and the time needed to code it. There are multiple factors influencing how much you need to invest in development.
App Complexity
The more complicated your desired app is, the higher the app development costs in the UK. To ensure the quality of the app's features, you must decide whether you need an application programming interface (API) or a content management system (CMS) to integrate with other services.
Platforms
The number of platforms you choose for your desired app impacts the total cost of the app development. For instance, native app development for a single operating system (OS) costs less than a cross-platform. 
But, keep in mind that if you only choose Android app development, you will have to lose possible iOS users. So, in order to succeed, you must target the users of Android as well as iOS.
Team
The more skilled and experienced the development team is, the higher you will pay for the app development. Keep in mind that the bigger and better team involved in the application development will eventually impact the quality of the product and the date of its release.
Support and Maintenance
Post-release development has the same importance as the pre-launching stage. It must be assured that the application performs seamlessly.
Moreover, there should be no glitches, including fixing bugs, security updates, and compatibility with advanced operating system versions.
The ongoing support occurs for a specific time after launch, almost six months. The cost of building an app globally, including in the United Kingdom, also accounts for the mobile app maintenance cost.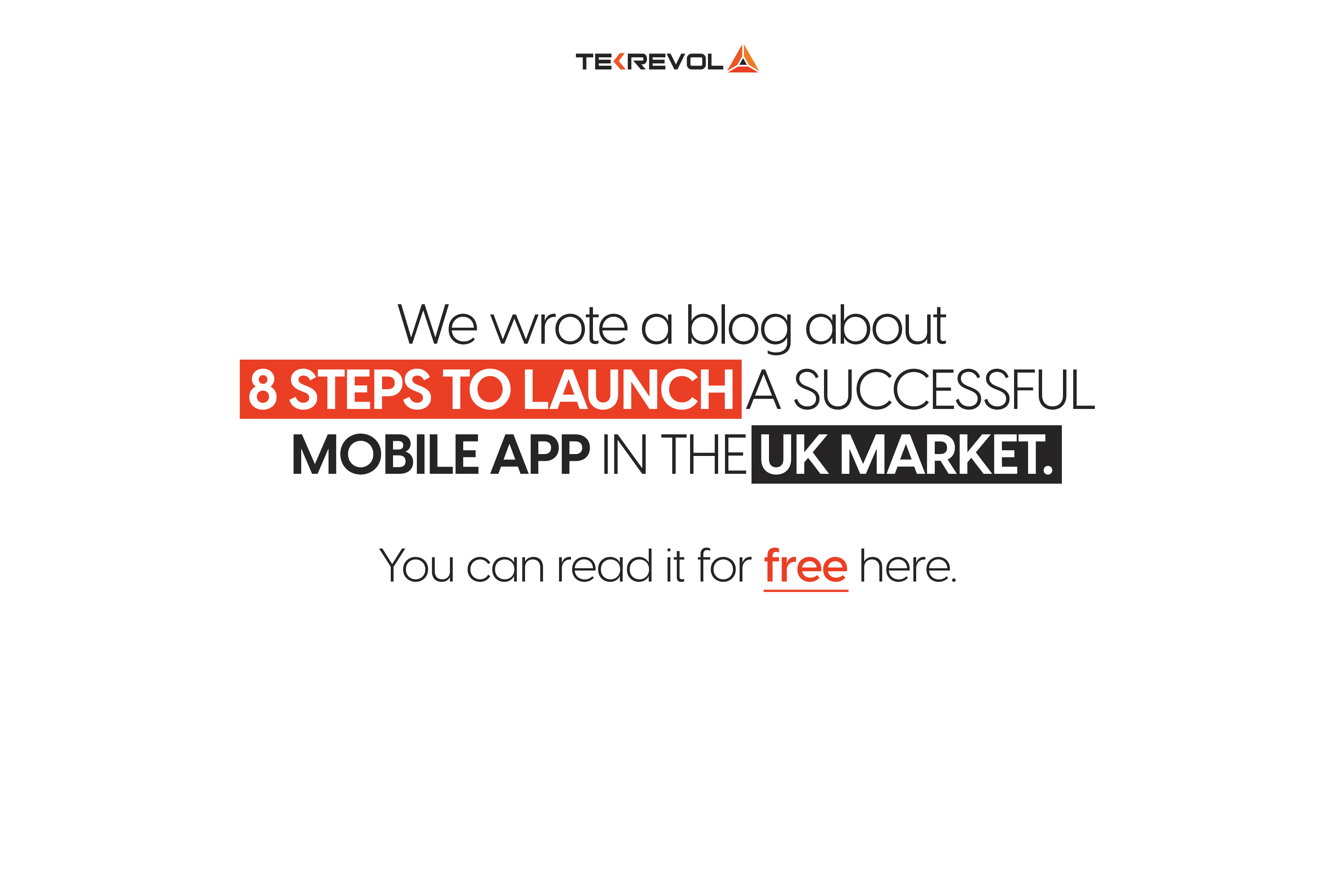 How Application Scaling Impacts App Development Cost UK
The scale of an application might impact the cost of developing an app in the UK. 
Here's how application scale influences the cost:
User Base
The number of users the application is expected to serve can affect development costs. 
Features and Functionality
The more complex features and advanced functionalities an application needs, the more development time and cost because of further development resources and testing endeavors.
Data Management and Storage
Applications that handle confidential or valuable data may require data management systems, and implementing secure data storage and processing systems might be costly and time-consuming.
Performance and Scalability
Applications that address high volumes of simultaneous users or data traffic require advanced infrastructure for maximum performance and scalability. Such complexity will affect development costs.
Integration with Third-Party Services
App integration with external systems, APIs, or third-party services is a complex process requiring increased development time and resources, ultimately increasing app development costs.
App Compatibility
App development on multiple platforms like iOS, Android, or the web escalates development costs because each forum demands separate coding, optimization, and testing efforts, multiplying overall expenses.
Backend Infrastructure
Apps relying on complex infrastructure such as servers, databases, and cloud services involve additional configuration and maintenance costs.
Core Crux,
The scalability of an app determines its ability to maintain interactions with users effectively. As well as rising demands and accommodating growth in users, data, and usage without significantly declining functionality.
In other words, a scalable mobile app can handle an increasing user base, data volumes, and higher traffic.
Users want an impeccably working mobile app without any issues. The lack of scalability will cost the reputation of your business.
The Rule Of Thumb
The more comprehensive your target audience is, the more scalable your platform must be.
The complex mobile applications could cost over £100,000. Developing a simple app with a few screens and no server connectivity, The scalability of an app,000. Next, the table will show different types of apps and their approx—development cost. Here you go;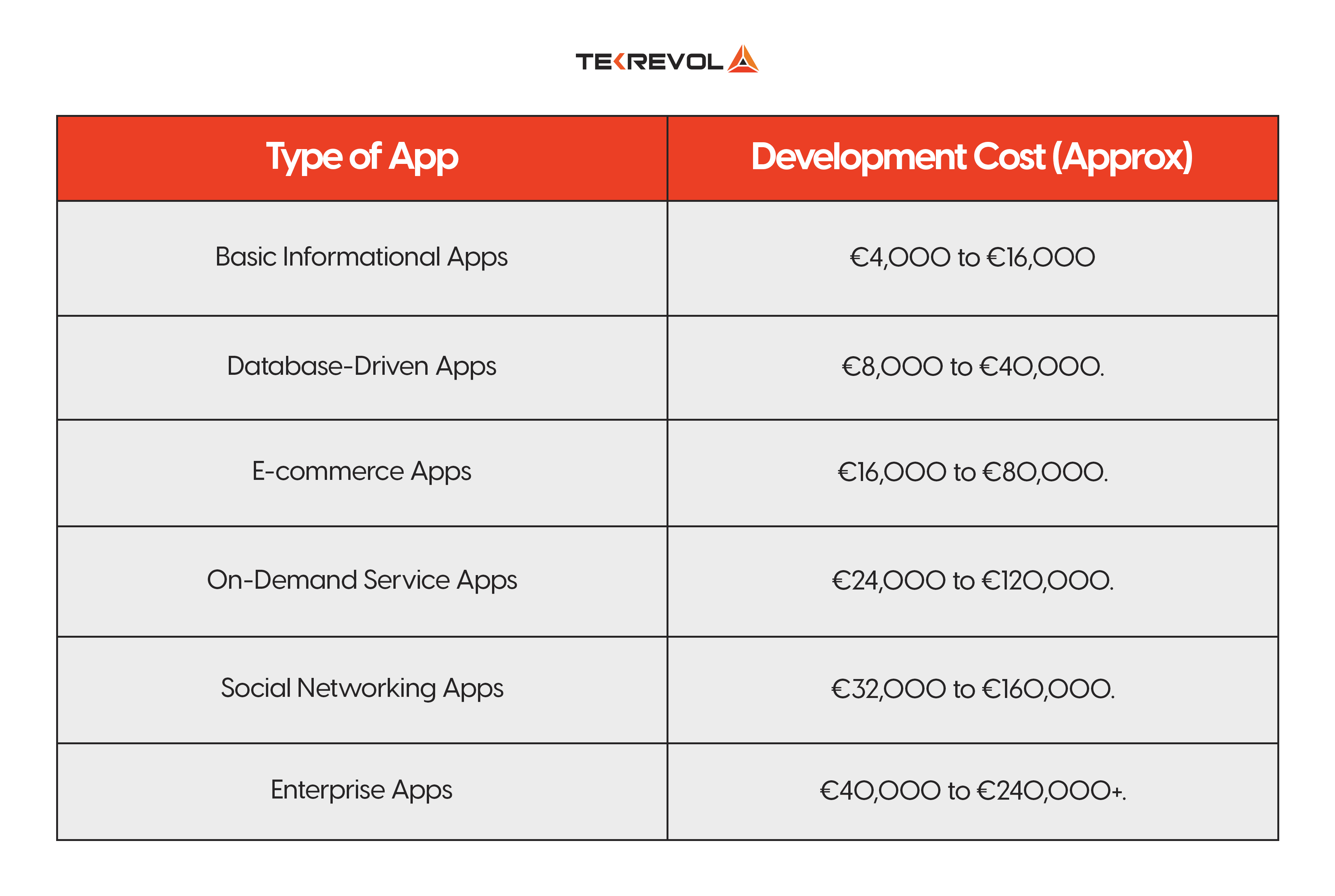 The price of app development in the UK starts at €4,000 and might reach up to €300,000. A robust social media application for sharing media, like Instagram or Facebook, may cost around €32,000 to €160,000.
Nevertheless, it's crucial to consider all the functionalities you want in your mobile app to make it intuitive and innovative.
To crezte an app like TikTok, you must pay a considerable cost to attain music licenses and integrate various services and features for user engagement and satisfaction. Such an app creation cost in the UK starts at €130,000.
How about an on-demand app like Uber or Just Eat? This kind of app requires building specific separate app features for restaurants, clients, and managers. The total cost of creating such apps in the UK might cost around €65,000 to €400,000.
If we talk about an online dating app, an app like Tinder will cost between  €20,000 and  €50,000.
App Marketing 
App marketing begins before the app launch and sustains the app lifecycle. Here we discuss some critical stages of app marketing: Pre-Launch
App marketing efforts to build anticipation and include teaser campaigns to generate buzz through press releases or media coverage.
Launch
When the app is ready to be launched, marketing efforts are augmented by optimizing app store listings and promoting the app through multiple marketing channels like social media, paid advertising, email marketing, and many more.
Post-Launch
Once the app has been launched, your marketing efforts must revolve around user acquisition through targeted advertising or referral programs.
Ongoing Marketing
App marketing is a continuing process throughout the app's lifecycle. It involves monitoring user behavior and optimizing marketing strategies. These strategies are based on data insights and fostering user engagement through push notifications, loyalty programs, and many more.
Finally, it's essential to have an in-depth marketing plan resonating with your app's objectives and audience.
How Much Does It Cost To Market An App?
The cost of marketing an app can vary widely. Here's a table that wraps the approximate cost ranges for the app marketing strategies: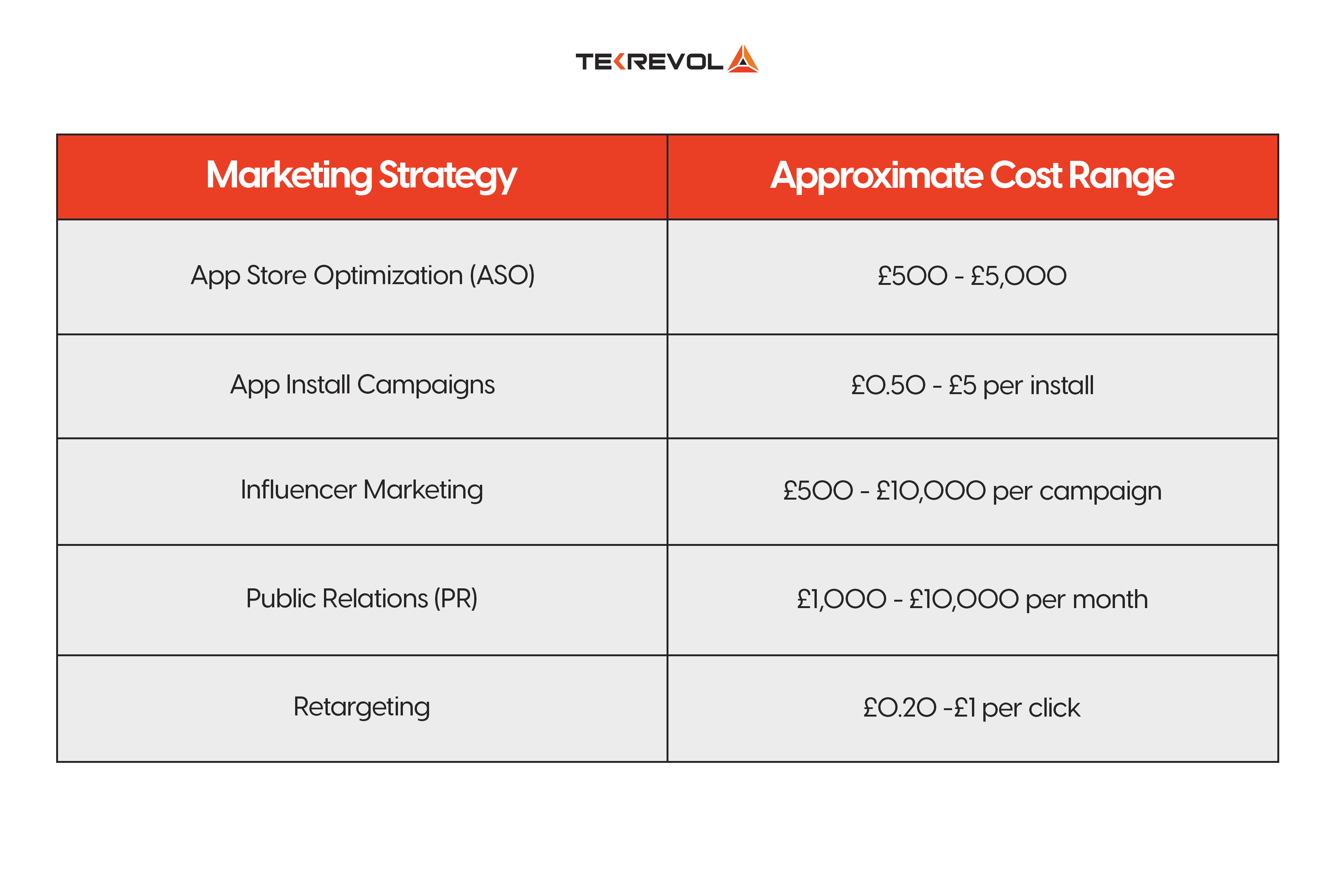 App Store Optimization (ASO)
ASO is all about optimizing your app's metadata to enhance the app's visibility in app store search results. Usually, it is a one-time cost that relies on the app's complexity and the magnitude of optimization needed.
App Install Campaigns
App install campaigns focus on driving installs. They include ads on social media platforms, mobile ad networks, and other channels. The amount charged varies with the platform, targeting options, and the competition level in your niche.
Influencer Marketing
Influencer marketing is all about partnering with social media influencers so that they can promote your mobile app to their followers. It is an effective strategy to obtain a targeted audience. Influencer marketing costs vary, depending on the influencer's reach and engagement.
Public relations (PR)
PR generates buzz and credibility for your app but certainly requires a substantial investment of time and resources.
Retargeting
It covers showing ads to users who have already downloaded or interacted with your app. This way, you can re-engage users and encourage them to use it more frequently.
How Much Does It Cost to Publish an App on the App Store?
Along with app development costs, finding out the cost of putting an app on the App Store is also essential. The following table shows the cost and timeline to publish an app on the App Store.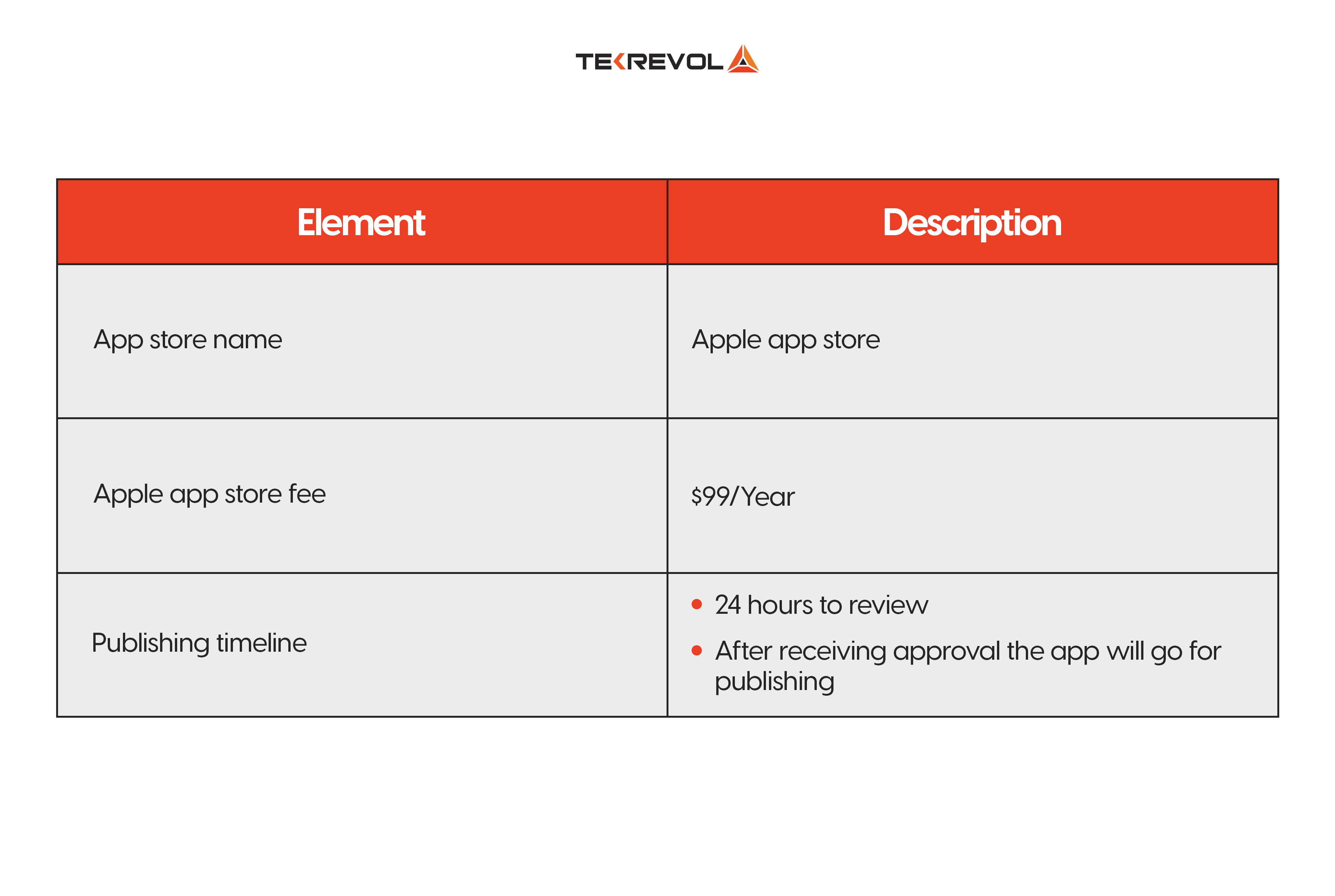 Google Play Store Publishing Cost
Considering the number of Android users relying solely on the Google Play Store to download apps and games. 
The cost of publishing an app on the Google Play Store is a one-time fee of \$25. This fee covers operating the Play Store, and once you have paid the payment, you can publish as many apps as you wish.
In addition, Google charges a 30% cut of all in-app purchases and subscriptions. Therefore, if you sell an app for $1, Google will take \$0.30, and you will receive \$0.70.
How to publish an app on the Google Play Store?
Create an account on the Google Play Developer Console.

Upload your app's Android Application Package file. Now, pay the \$25 registration fee.

Fill out the app's details, including its name, description, and screenshots.

Review your app and submit it for review.

Define app releases and roll out.

Once your app has been approved, it will be published on the Google Play Store.
Our experienced developers can help you out.
What is the Publishing Cost of Amazon Appstore?
The Amazon Appstore is an alternative app publisher with a more transparent pricing policy than other App Stores. You can register as a developer, and mobile app publishing is free. Moreover, 30% of fees will be charged for each transaction.
Now you must clearly understand the cost and timeline to publish the app on the App Store and Play Store.
Key Takeaway
To wrap it up with a final note, the app development cost ranges from  €4000 to €240,000+ and yes, it is challenging to predict the exact upfront cost. 
Moreover, the first phase of the process, the strategy and discovery phase, is costly and time-consuming, but it makes the difference between a successful and unsuccessful project.
Now that you have an idea of the factors influencing the cost of your mobile app development, you can start working on your budget for your upcoming project. 
TekRevol being a leading mobile app development company in the UK knows how to take your app idea to success. Join us in this innovative venture, and conquer the digital abyss like never before!
Frequently Asked Questions:
How much does it cost to make an app in the UK?
The cost of making an app in the UK depends on multiple factors, like the complexity of the app and the features and functionalities required. Other factors like the design complexity, the platform(s) it will be developed for (e.g., iOS, Android), the level of customization, and the skill set of the development team also make the costs higher.
As an approximation, the cost to develop a basic app in the UK may range from £10,000 to £50,000. And, the more complex apps having modern features, backend integration, user authentication, and custom designs can cost anywhere from £50,000 to £200,000 or more.
How Much Does It Cost to Develop an App Like Uber?
The cost to build an app like Uber might range between £30,000 and £40,000 for iOS and Android, respectively. However, the pricing can exceed based on the experience of your hired App development company or application developer in the UK.
How Much Does it Cost to Make an App Like Instagram?
The estimated cost of developing a social app like Instagram would range from €32,000 to €160,000.
How Much Does it Cost to Develop An App Like Tiktok?
The cost of developing a TikTok-like app starts at €130,000, depending on the customized features. 
How do I create an app in the UK?
Create your app by following these steps;
Define your app idea.

Create a detailed plan.

Choose a development approach.

Design the user interface (UI) and user experience (UX)

Develop the app

Test and debug

Obtain necessary legal considerations

Publish on app stores

Market and promote your app

Maintain and update.
Is it expensive to publish an app?
The cost of publishing an app can vary depending on several factors. The app's complexity, platform compatibility, development approach, and other factors affect the cost of developing an app in the UK.
Both Apple App Store and Google Play Store charge fees for publishing and maintaining apps. Apple charges an annual fee of $99 for individual developers and $299 for organizations to enroll in the Apple Developer Program. Google Play Store charges a one-time fee of $25 for a Google Play Developer account.
How much time does it take to develop an app?
The development process may take up to several months. An app like Uber takes a development time of around 1200 hours. Simultaneously, Tinder may take up to 1000 hours.
How do I choose a trustworthy app development company in the UK?
Choosing a reliable app development company in the UK is crucial; you can follow the following steps to help you achieve a successful app;
Define your requirements

Research and shortlist app development companies in the UK.

Verify the company's credibility by checking its website, portfolio, case studies, and client references.

Assess expertise and technology stack.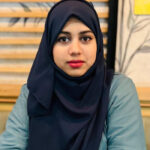 Author : Areeba Akhtar
As a dedicated tech writer, I am deeply invested in the constant evolution and progress of the tech industry. My writing reflects my unyielding conviction that technology can create a better future for all of us. I cover everything from cutting-edge software technology to simple mobile apps in my work. Join me in pursuing technological advancement and staying up-to-date on the latest developments.
Tekrevol's Global Presence
Now expanding to multiple cities across USA, GCC region, Europe & Asia
Come meet us at a location near you!
USA
39899 Balentine Drive,
Newark, CA 94560
1301 Fannin St #2440,
Houston, TX 77002
501 E Las Olas Blvd Suite
230, Fort Lauderdale, FL
44 Tehama St, CA 94105, San Francisco
400 NW 26th St, FL 33127, Miami
740 15th St NW 8th Floor, DC 20005, Washington
CANADA
4915 54 St 3rd Floor
Red Deer, ABT T4N 2G7
UAE
Level 5, One JLT Tower 1 - Jumeirah Lakes Towers - Dubai, United Arab Emirates
Level 17, World Trade Center, Khalifa Bin Zayed the First Street, Abu Dhabi
Level 22 , West Tower, Bahrain Financial Harbour, Manama, Bahrain
Level 22, Tornado Tower, West Bay, Doha, Qatar
PAKISTAN
3/25, Block 5, Gulshan-e-Iqbal,
Karachi, Sindh 75650
USA
CANADA
PAKISTAN
UAE
talk to us
Got an idea?
Let's get in touch!
Let's discuss your project and find out what we can do to provide value.
I am interested in discussing my ideas with you for
COPYRIGHT 2023 TEKREVOL ALL RIGHTS RESERVED.