8 Steps to Launch a Successful Mobile App in the UK Market
Author: Tekrevol |
April 25, 2023 -
Startups
|
Technology
|
Web & App
|
Are you looking for ways to launch a successful mobile app in the UK market? No worries, we've got you covered up!
Nowadays, every business must have a mobile application to sustain in the digital landscape. Whether it's a small business or a large-level enterprise, your target audience is mobile-loving, and companies must catch them where they are.
Gone are the days when people were only into websites, but now people are more towards mobile applications.
Successful Mobile App Launch Can Take Your Brand To Next Level 
As mobile app user reach expands, brands have infinite possibilities for branding through mobile app launch. It is no wonder that having a mobile app is lucrative. Alone, in 2022, in-app consumer spending reached up to $167 billion. 
According to data.ai, the global app market is rewarding. It revealed outstanding perseverance despite the economic hardships.
Moreover, app consumers are expected to invest $34.1 billion in app stores in the first quarter of 2023, marking the record for the highest quarterly consumption.
After knowing these remarkable statistics, you are undoubtedly considering developing your mobile app. But these are all success stories, do not get overwhelmed by them.
Before you decide on making your own app, you need to know the exact process of launching an app.
But, when we talk about mobile apps, app development takes the spotlight, and the proper app launching process doesn't get enough coverage.
Today, in this article, you'll learn the go-to steps to launch an app like a pro.
This will help your mobile app compete against the 2 million apps already existing. These are 10 of my recommended critical steps to launching a thriving app in the UK market.
So, stop fretting over how do you launch an app and without further ado, let's get started!
How Can You Kick-Start The Process Of Launching A Successful Mobile App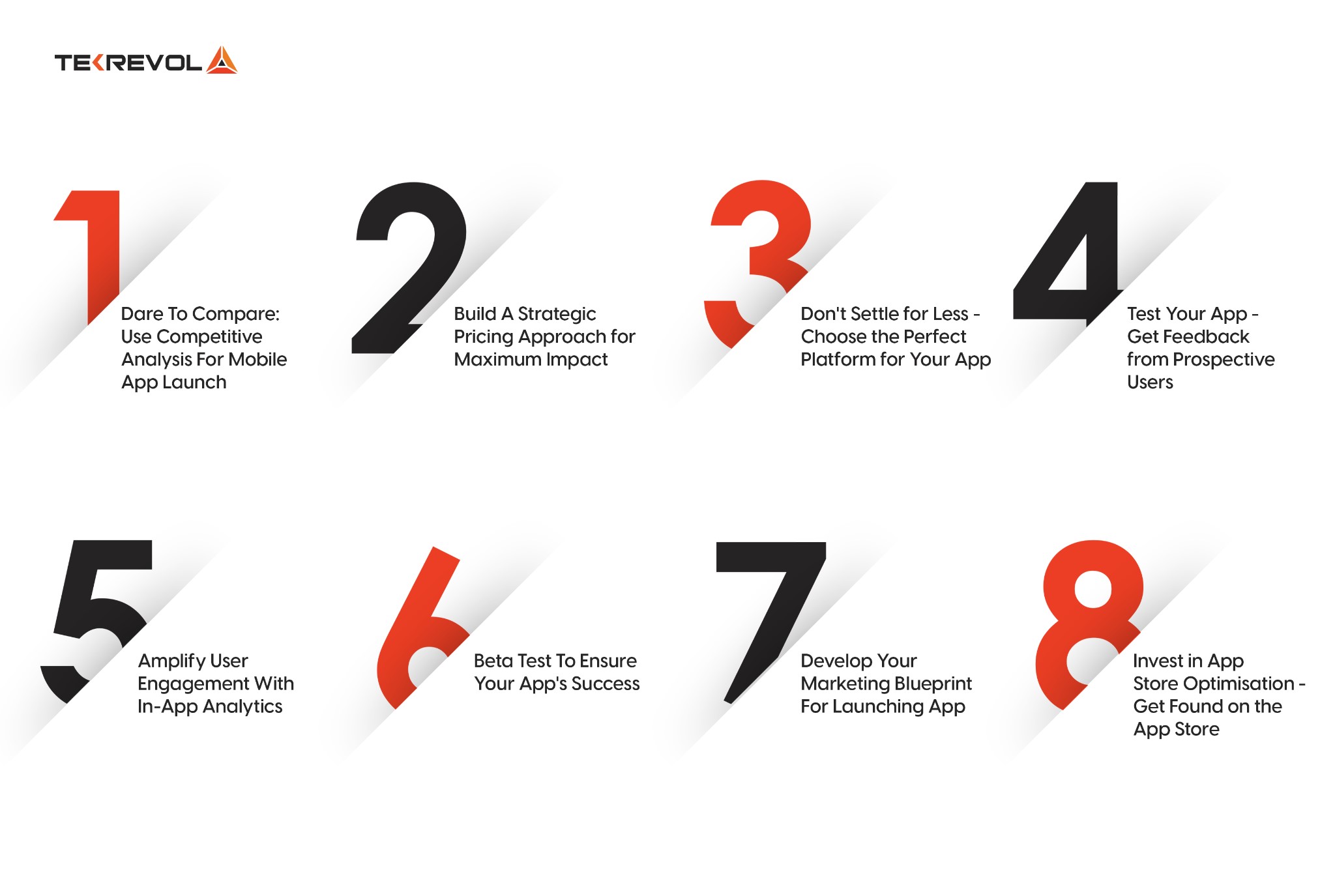 In this section, we will walk you through the critical steps of launching an app without any hassle! Are you ready to discover it with us?
1.   Use Competitive Analysis For Mobile App Launch
Market research is the key to discovering where your target audience exists; accurate competitive analysis can help you determine the demand for your product. You can quickly get insights into how to stand apart from the competition.
It is more likely than ever that your app will have competitors with almost the same objective as your app.
An intensive competitive analysis will assist you in finding out precisely who you're up against, what's getting preferred and successful, and what areas your competition lacks that you can take advantage of.
"How do I launch an app?" is the most typical question many entrepreneurs and businesses ask themselves when their app is ready to launch. But, most importantly, consider asking questions like the ones given below before your app launch,
How prevalent are your competitor's apps in the app stores?
What are reviews about competing apps?
What are the objections of the reviewers?
Why are users downloading these apps?
Is there a need in the market that your app can meet?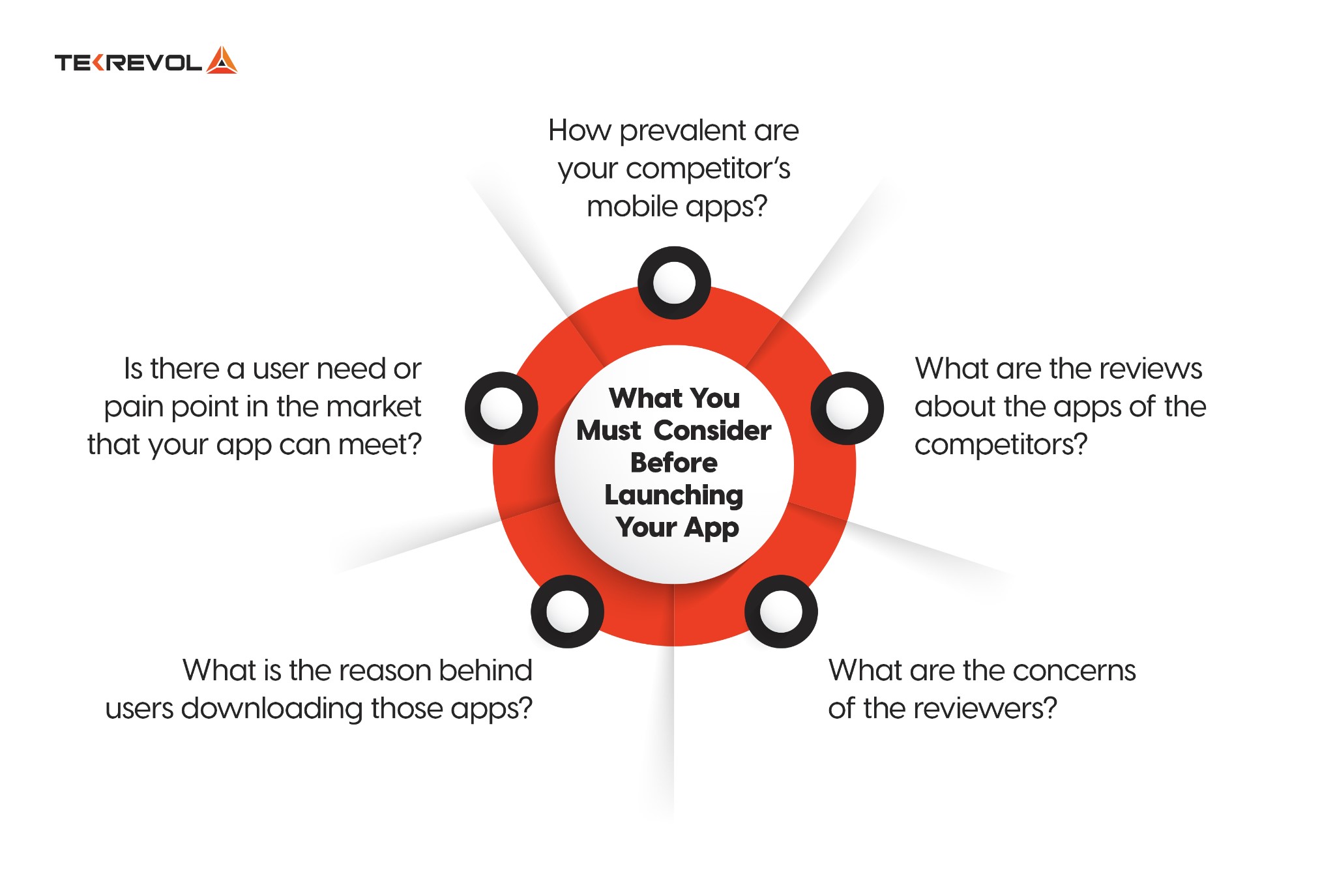 Download competitors' apps, and check out their app store reviews. It is crucial to develop a  unique app that resolves users' problems or meets their needs.
The app marketplace is overly saturated, and your app must bring something extraordinary. You can find these answers through in-depth market research that must be done at the very beginning of launching an app.
Want To Launch Your Mobile App Like A Pro?
2.   Build A Strategic Pricing Approach for Maximum Impact
An app's pricing strategy determines how you monetise the model and should be identified early. Your choice depends upon various factors, including competition, industry trends, target audience, etc.
A suitable monetisation model should be chosen before directly impacting the product's functionality, marketing approaches and design.
The top three monetisation models include:
1.    Free Monetization Model
Users can download your app for free from the app store and monetise through advertising or other monetisation strategies.
2.    Paid Monetization Model
In this model, users pay a download fee to install your application on their devices. This is the Pay-per-Download model; users must pay once they download the app.
3.    Freemium Monetization Model
Users can download your app for free but have limited user functionality. Users need to pay if they want to enjoy the app's full functionality.
Partnerships, ads, affiliate marketing, and other strategies can be integrated with these models for additional revenue.
3. Choose the Perfect Platform for Your App
Launching mobile apps takes work; you must decide whether to launch on iOS, Android, or both.
Choosing a launching platform depends on numerous factors, such as the target market or audience, pricing & budget, and development resources.
Here are some critical considerations that you must keep in mind before making a final decision about app development for each platform:
1.    iOS App Development
Apple has a substantial customer base and a reputation for high-performing mobile apps. iOS developers must follow guidelines for app development; these may limit creativity but guarantee the best quality and security.
Development costs of iOS mobile apps may be higher because of Apple-specific software and hardware usage.
Hence, you can look out for essential business apps on the Google PlayStore and research their launching process.
In this way, you will get to know how tough the process of launching a successful mobile app is.
2.    Android App Development
Launching a new app on Android acquires a more significant market share because of the higher number of Android users compared to iOS users in many countries, including the UK.
Android has fewer restrictions than iOS, and the development costs may be lower as Android apps can be developed on a broader range of devices.
Moreover, launching on both platforms will maximise the app's potential audience and revenue channels. But it requires more development, marketing resources, and efforts customised to each platform's market.
Ultimately, the final decision of which platform to launch your mobile app depends on the app's goals and target audience.
4.   Get Feedback from Prospectives
Your app launch checklist must include testing prototypes with potential users. Real users must test your app before the launch. Things may not seem obvious to you. Users might use the app differently.
It is essential to get conceptual feedback from the target market; it can help validate your app design and minimise errors.
We recommend that undergoing user testing to discover how users will use your app is a user-oriented approach.
You must implement this strategy for a successful app launch—and leverage these user-centred design perspectives to launch a top-notch app.
Moreover, building an engaging mockup is obligatory for gathering critical feedback on your app design and user flow.
Therefore, getting your app tested by perspectives will give you an exact idea of how your target users will interact and navigate through your app. Also, It will let you identify which sections of the app need improvement.
This way, you can iterate your design swiftly and thoroughly, escaping the need for re-work down the line.
So, all you need to do is encourage these test users to become app promoters.
They may review your app on launch day. Encourage these testers to become your app ambassadors and help you get your initial reviews in the app store.
5.   Amplify User Engagement With In-App Analytics
When the app is out in the marketplace, you need in-depth in-app analytics to enhance the overall user experience and give an edge to your marketing strategy. You must consider figuring out this process before the app launch.
Further, observing app engagement and users' behaviour and preferences through in-app analytics offers insights into improving the user experience and streamlining the marketing strategy, securing your app's success.
Making a powerful strategy for in-app analytics will be helpful in acquiring the relevant information needed for performance evaluation and the success of your app.
You must know your business model's most exciting and acquire valuable metrics. Hence, implementing a comprehensive mobile analytics platform can be an essential strategic tool for optimising the user experience.
Check out which app features are making users download your app. How often do they use your mobile app? Is your app losing retention in any particular section of the app?
A clear understanding of these metrics helps engage users with targeted and customised campaigns that will eventually maximise app loyalty and retention.
6.   Beta Test To Ensure Your App's Success
Beta testing must be done before launching your app. Beta testing aims to get a genuine experience of how your app will perform with real-world users.
In fact, an interpretation of your user's needs, the relevance of using the app, and their pain points, is essential to developing a successful app.
To add more, the beta release is to find bugs, test interactions, and other parameters like loading times; that's why it is essential.
Your app's beta users are the test group; they must be accurate and play the role of your app's critics. These testers will identify errors in your app's beta version.
These errors might be related to user-friendliness, bugs, navigation process difficulties, performance on multiple devices, etc.
Finally, assembling such insights can help ensure you have your app's most influential user interface.
Unlock your app's full potential with TekRevol's preeminent app solutions.
7.   Develop Your Marketing Blueprint For Launching App
The most promoted apps result in more successful apps; apps must be well-promoted before their launch date. Once you've researched the market and nailed down the features of your app, now is the time for your marketing plan to be structured.
Some core fragments of your marketing plan must include your app name, the proper keywords to advertise your app, making preview videos, and establishing a press kit.
Initially, you might feel your marketing efforts are in vain, but keep it up and don't be discouraged. Keep posting to your preferred channels before your app launch.
Trust The Power of Social Proof
Remember to emphasise how to launch an app and build buzz for your brand. Reaching out to partners and associates, industry connections, and perspectives is an excellent idea to get some support and seek their feedback!
Reaching out to influencers or industry leaders can be a wise move, and influencer marketing can be your shortcut to reaching the target audience and boosting brand exposure.
The easiest way to reach influencers is to connect with them through social media platforms. Remember that an enthralling pitch must include a media kit that enfolds your marketing campaign's specifics.
A.   Create A Web Landing Page For App Launch
Creating a web landing page for your app is best – it's never a bad idea to initiate building buzz and creating a fan following.
Design a clean landing page that presents your app's features, screenshots, and launch date.
Creating a simple yet interactive landing page with captivating call-to-actions and a contact form can help collect email addresses of perspectives, offering an excellent opportunity for promotion.
You must invite users to sign up for launch notifications and provide social media sharing tools.
B.    Extend Your Network For App Launch
It is essential to extend your network. Reporters and bloggers can be extremely helpful in creating awareness of your app's upcoming launch.
Likewise, it's critical to know the most relevant people in the industry and your specific target market so you can reach out to them and promote your app.
The game is to identify key influencers and reporters interested in your app.
You need to ensure they know the specific date and time of app launch.
C.   Leverage Social Media For App Launch
Using social media wisely can serve you as a superb platform to drive organic growth and user engagement for your mobile app. Social media app promotion lets you create buzz and drive organic traffic to the landing page and the app stores.
Secondly, creating and establishing an app presence on prominent social networks beforehand ensures a successful app launch.
Thirdly, your official social media pages on all relevant platforms, such as Facebook, Twitter and Instagram, will build heightened brand awareness before the app launch.
Lastly, posting feature previews and demos will develop great interest and lead users to your landing page; this way, they can join the waiting list.
D.   Build an Effective Press Kit For App Launch
Boost your app visibility as much as possible; candidly, if a journalist or blogger can't find relevant information about your app, they might not write about it. You can easily avoid this by creating a press kit ahead of launch.
Create a single file about your app so they can find all the information in a single file without fretting over anything. Be sure to include the following information;
Press release,
App store icon and screenshots,
Video demo,
App description,
Reviews and company information.
8. Invest in App Store Optimisation – Get Found on the App Store
Investing in App Store Optimisation (ASO) strategies must be your highest priority. With the help of ASO, your app can rank higher in the marketplace; you know very well that the higher an app ranks, the more accessible it will be to prospects.
Therefore, organic growth can be achieved by optimising your app store listing – success or failure may hinge on it.
Hence, it will help you get a respectable number of initial downloads.
Look into the search terms or keywords your competitors are ranking for. Also, you must observe their ASO strategy closely.
Remember to reiterate your designs based on the feedback gathered from A/B testing.
Compare Your App With Contemporary Apps In The Market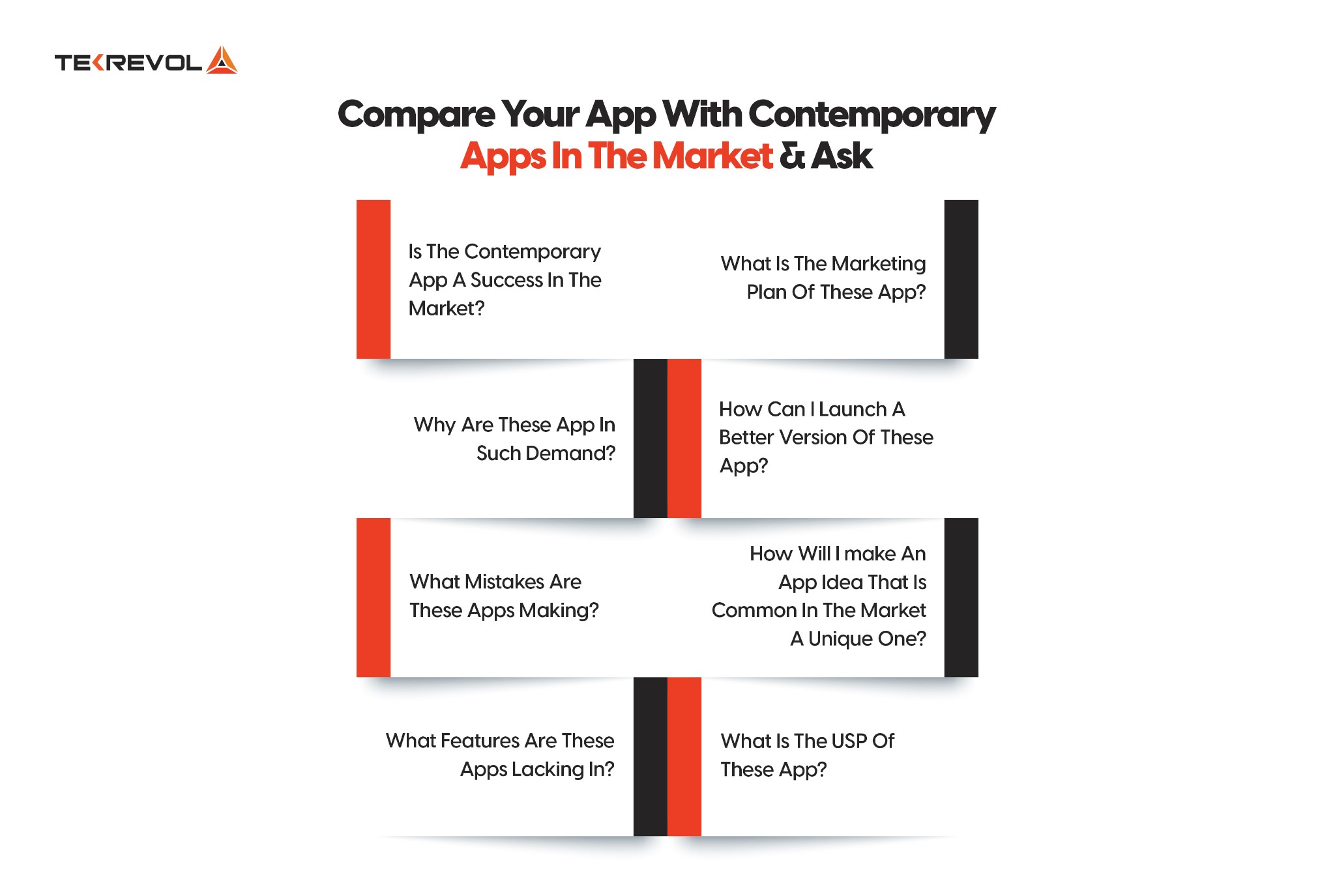 Comparing is always helpful in building a successful app; here are some key points; let's look!
Identify strengths and weaknesses by comparing your app with similar apps in the market.

Stay competitive by comparing your app with contemporary apps.

Improve user experience by comparing your app with contemporary apps; you can see how other apps approach user experience.

Identify market trends and see where the market is heading.

Improve your app marketing efforts by understanding what contemporary apps are doing in the market.

How will you have an app idea that makes you stand apart from the competitors?
Core Crux
Provide a short yet crisp description of the app.

Recognise the purpose of your app and what problem it is solving. App's essential features, functionalities, and design are necessary for a successful app.

Plan for the financial side of the app development.

Decide on the mobile platform(s) you want to target (iOS, Android, or both).

Develop a marketing strategy. Use social media, advertising, and other marketing channels to increase your app's visibility and attract users.

Ensuring app security is essential;
1. Use secure authentication.
2. Encrypt user data.
3. Regularly update the app.
4. Implement access controls.
5. Conduct regular security audits.
Test your app periodically and make necessary adjustments.
Rev Up Your Mobile App with TekRevol – Setting Strategy into Action!
Whether you're a start-up or an enterprise, we understand that achieving success is always a top priority. And, TekRevol believes in creating disruptive and innovative mobile apps. That's why we've put together these proven futuristic tips to help you elevate your app launch and reach new heights.
If you're looking for forward-thinking resources to help take your app to the next level, look no further than TekRevol.
At TekRevol, we're passionate about building revolutionary and scalable mobile app solutions. We pride ourselves on being your partner in success.
Frequently Asked Questions:
How do I launch my mobile app?
Launching a mobile app is a lengthy process; here are some key steps you can follow:
Use Competitive Analysis For Mobile App Launch
Build A Strategic Pricing Approach for Maximum Impact
Choose the Perfect Platform for Your App
Test Your App – Get Feedback from Prospective Users
Amplify User Engagement With In-App Analytics
Beta Test To Ensure Your App's Success
Develop Your Marketing Blueprint
Invest in App Store Optimisation – Get Found on the App Store
Definitely, yes, you can launch your app. The advancement in the mobile app development industry has made it accessible for entrepreneurs and businesses to build their apps.
However, launching an app is comparatively time taking and needs more efficiency than just building it. App launch requires technical expertise, such as app development and store optimisation.
Can I launch an app for free?
Launching a successful app on Google Play Store or Apple Store is no longer a task for professional android or iOS developers only! Now everyone can build a compelling mobile application without even prior programming languages.  TekRevol, an award-winning mobile app development company in the UK strives to educate users with the guides to build, strategize, and launch a successful app instantly. Alpha Anywhere Community Edition is a free app development software available for creating both android and iOS applications for users with ease and proficiency.
How can I make my mobile app popular?
Pay attention to App Store Optimization (ASO)
Endorse your app on your website.
Start email marketing campaigns.
Take support from social media.
You can use in-app and online ads.
Don't forget to plan a PR strategy.
Think of a unique app idea or something that revolves around your user's pain points.
Research and analyse information
Analyse your target market and users
Develop Your App or get it developed by a proficient app development company.
Launch Your App
Find potential investors and pitch them.
Tekrevol's Global Presence
Now expanding to multiple cities across USA, GCC region, Europe & Asia
Come meet us at a location near you!
USA
39899 Balentine Drive,
Newark, CA 94560
1301 Fannin St #2440,
Houston, TX 77002
501 E Las Olas Blvd Suite
230, Fort Lauderdale, FL
44 Tehama St, CA 94105, San Francisco
400 NW 26th St, FL 33127, Miami
740 15th St NW 8th Floor, DC 20005, Washington
CANADA
4915 54 St 3rd Floor
Red Deer, ABT T4N 2G7
UAE
Level 5, One JLT Tower 1 - Jumeirah Lakes Towers - Dubai, United Arab Emirates
Level 17, World Trade Center, Khalifa Bin Zayed the First Street, Abu Dhabi
Level 22 , West Tower, Bahrain Financial Harbour, Manama, Bahrain
Level 22, Tornado Tower, West Bay, Doha, Qatar
PAKISTAN
3/25, Block 5, Gulshan-e-Iqbal,
Karachi, Sindh 75650
USA
CANADA
PAKISTAN
UAE
talk to us
Got an idea?
Let's get in touch!
Let's discuss your project and find out what we can do to provide value.
I am interested in discussing my ideas with you for
COPYRIGHT 2023 TEKREVOL ALL RIGHTS RESERVED.