Healthcare Web App Development in 2023 – A Comprehensive Guide
Author: Mariam Amin |
February 14, 2023 - TekRevol Team
Digital Solutions
|
Software Development
|
Technology
|
Web & App
|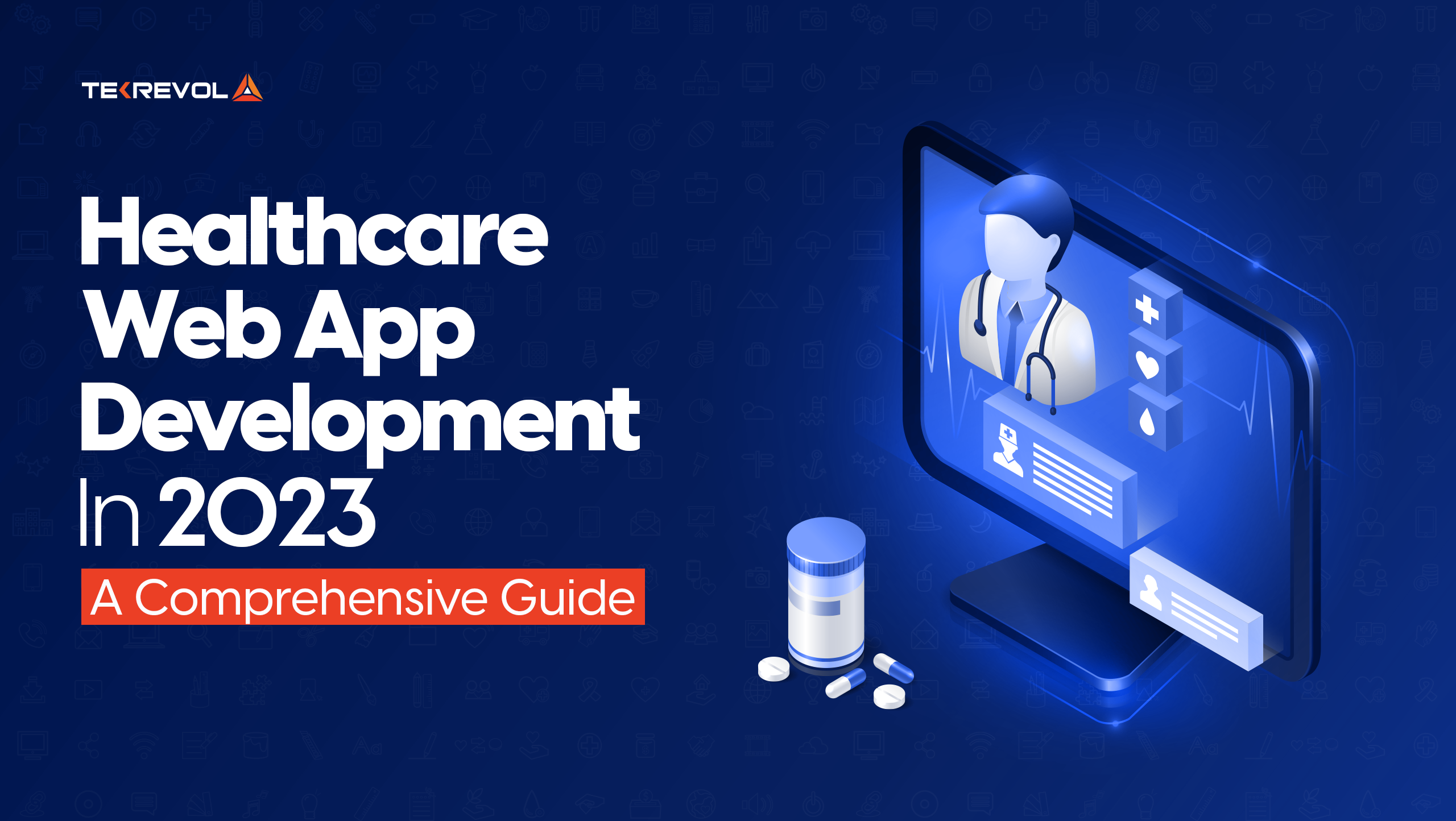 The healthcare industry has witnessed a significant transformation in the past few decades, especially during pre and post-pandemic. With the rapid advancement in technology, the telemedicine industry has transformed drastically.
Nowadays, there is a growing demand for less invasive treatments, and there is a possible cure for almost every crucial disease.
Currently, healthcare web apps have become the new trend these days in the mainstream markets. Users can literally perform any activity within just a few minutes. And, that too in the comfort of their homes.
As per Statista, it has been observed that the digital healthcare industry will surpass $500 by the end of 2024. Now you can assume, how much lucrative this industry will be in the upcoming years.
The following guide is specially designed for startup founders, aspiring entrepreneurs, and business owners who aim to invest in the healthcare industry.
Below, you'll learn everything related to healthcare web apps. For instance, what it is, why one must invest in this technology, current trends, and the must-have features. Also, we have covered a step-by-step guide on how a healthcare app develops and how much expenditure is required in order to invest in this trending technology.
Ready to discover? Let's begin.
What is a Healthcare Web App?
A healthcare web app is a digital platform that allows users to access healthcare services from the comfort of their homes.
Also, it enables organizations to control and manage their patient-related workflows in a more precise manner.
Besides, it lets patients manage their health records, schedule appointments, communicate with healthcare providers, and pay for medical services.
Moreover, patients can easily access their prescriptions and lab reports at any time.
To sum up, with a robust healthcare web app, users can easily perform any challenging and time-consuming activity within just a few clicks.
Do you have an idea for Healthcare web app?

We can assist you to transform your dream app into reality
Why one must Invest in Healthcare Web App in 2023?
Investing in a healthcare web app is a smart move for the success of any business, especially in today's digital era.
Below, we have highlighted the three recent statistics from 2023 that elaborate on the importance of having a healthcare web app.
Increased Demand for Telemedicine
A recent survey shows that nearly 70% of patients are now using telemedicine services. And, this number is expected to grow in the coming years. This highlights the growing demand for virtual healthcare services and the need for businesses to invest in a healthcare web app.
Improved Patient Satisfaction
A study conducted in 2023 found that patients who use healthcare web apps are more satisfied with their overall healthcare experience. They appreciate the convenience and accessibility of healthcare services at their fingertips. By investing in a healthcare web app, businesses can improve patient satisfaction and retain more customers.
Boosted Revenue
A recent report found that businesses that offer telemedicine services through a healthcare web app have seen a significant increase in revenue. In fact, businesses can reach a wider audience through healthcare apps.
These statistics demonstrate the clear benefits of investing in a healthcare web app for the success of any business. By providing convenient and accessible healthcare services to patients, businesses can improve patient satisfaction, boost their revenue, and stay ahead of today's competition.
Learn more about why the healthcare industry has a huge potential in recent years.
Types of Healthcare Web Apps
Here is a quick rundown on the top 5 healthcare web apps that are currently in-demand.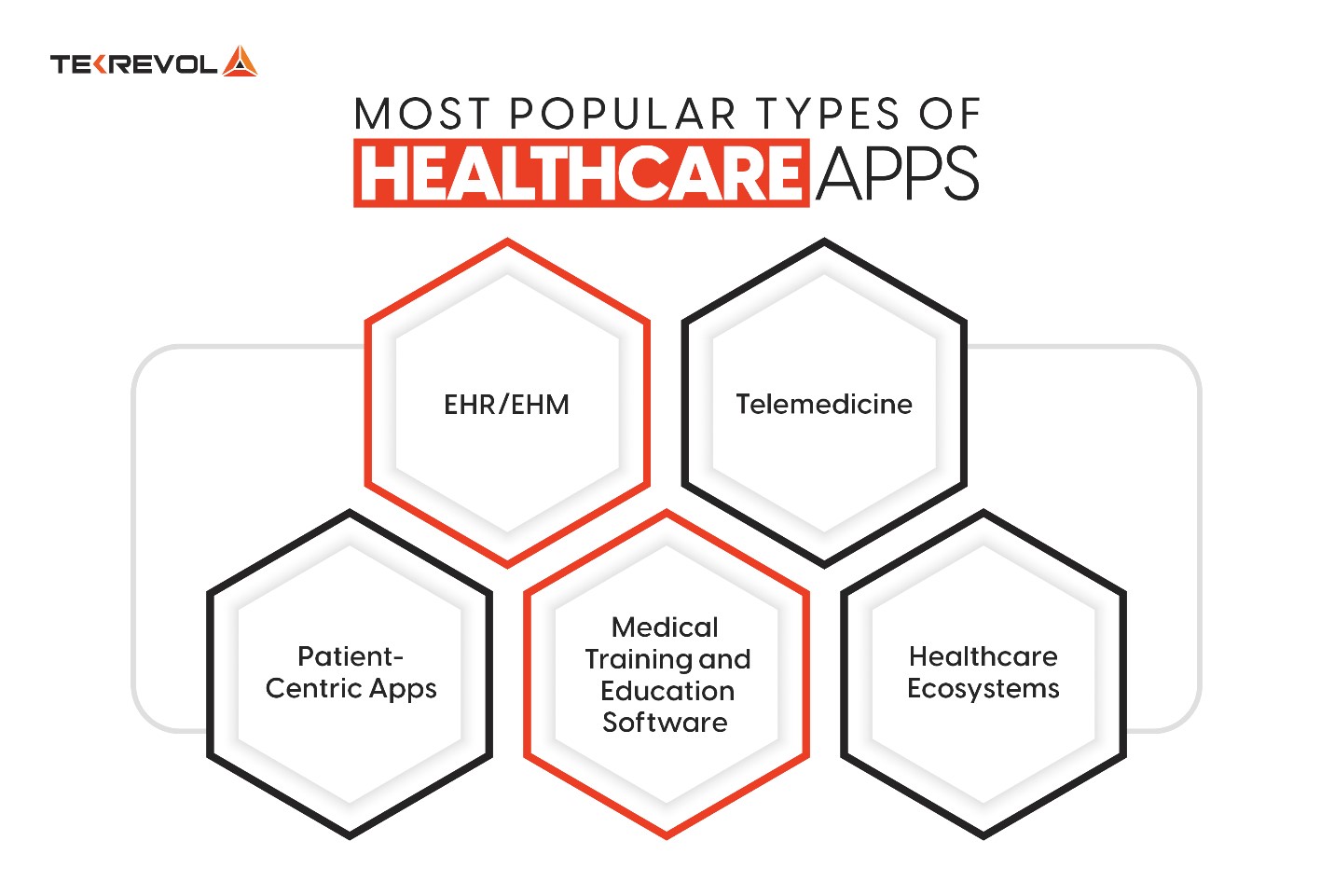 EHR/EHM (Electronic Health Record/Electronic Health Management)
EHR/EHM web apps are used by healthcare providers to manage patient health records electronically. They store patient data such as medical history, test results, and medications, making it easier for healthcare providers to access and share information about a patient's health.
EHR/EHM web apps also enable patients to access their own health records, making it easier for them to manage their health and stay informed about their conditions.
Telemedicine
Telemedicine web apps are used for virtual medical consultations. They allow patients to connect with healthcare providers through video or audio calls, enabling them to receive medical advice and treatment without having to visit a physical location.
Telemedicine web apps are becoming increasingly popular as they provide a convenient and accessible way for patients to receive healthcare services.
Patient-Centric Apps
Patient-centric healthcare web apps are designed to put patients in control of their own health. They allow patients to manage their health records, schedule appointments, and receive reminders for medications and check-ups.
Some patient-centric apps also provide information on health conditions, treatments, and medications, enabling patients to educate themselves about their health.
Medical Training and Education Software
Medical training and education web apps are designed for healthcare professionals to improve their skills and knowledge. They provide access to online courses, videos, and simulations that enable healthcare professionals to learn about the latest medical treatments and techniques.
These web apps are an effective way for healthcare professionals to stay up-to-date with the latest developments in their field.
Healthcare Ecosystems
Healthcare ecosystem web apps are designed to bring together all the different components of the healthcare system.
Healthcare ecosystem web apps also allow healthcare providers to access patient data, enabling them to provide more informed and effective care. These web apps are an important tool in improving the overall healthcare system and making it more efficient and accessible.
Want to discover the top healthcare apps? Check it out here.
Must-Have Features in Healthcare Web Apps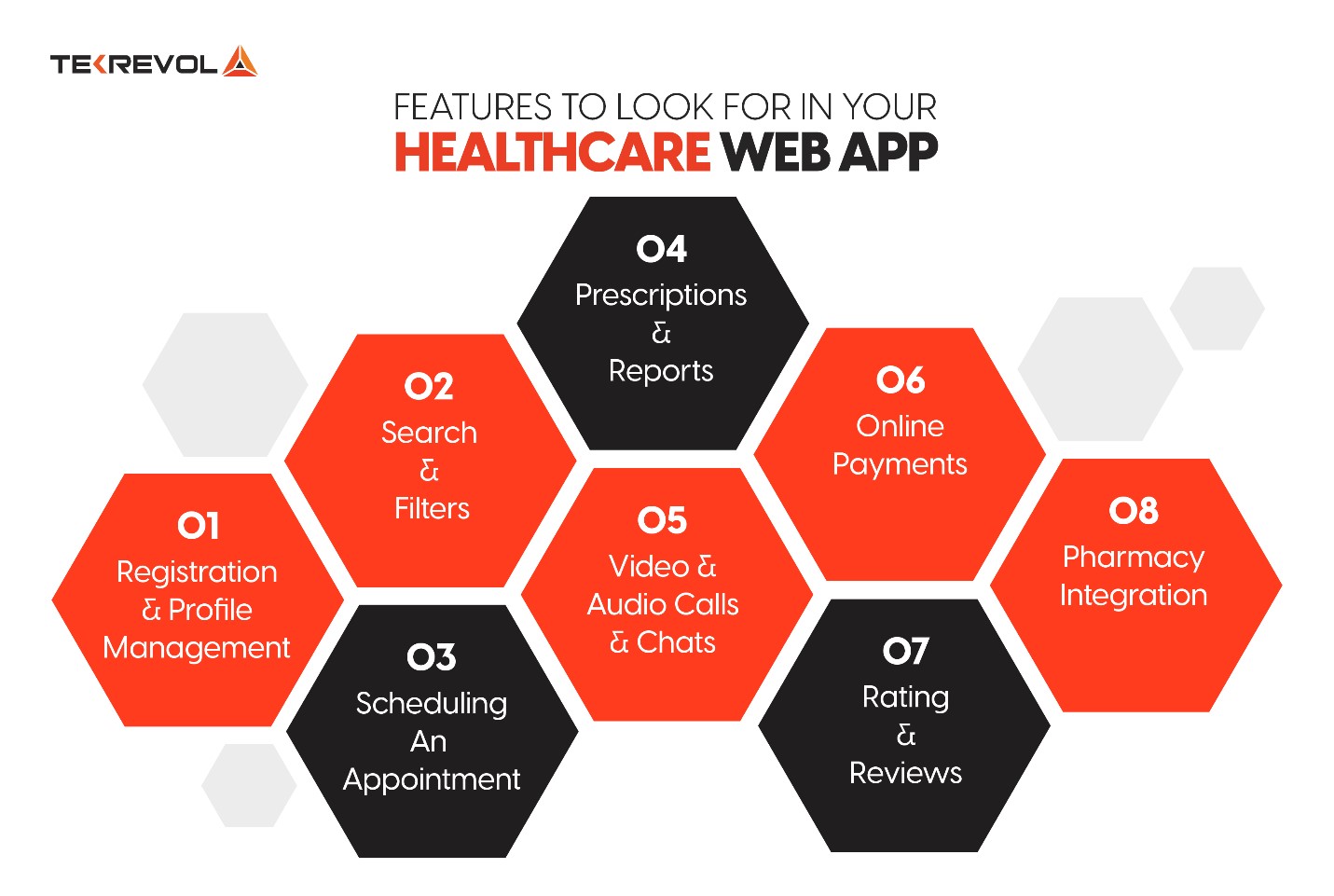 Let's consider the most distinctive features of healthcare apps development that make any app stand out from the crowd.
Registration and Profile Management
The first and foremost element your app must include is the user's registration and profile management system. This typically involves providing basic personal information, such as name, address, and contact details.
The profile is used to store important information about the patient's health history, medications, and allergies.
Search and Filters
Many healthcare web apps provide a search and filter functionality that allows patients to find the information they need quickly and easily. For example, patients can search for healthcare providers based on their specialty, location, and availability.
The filters can be used to narrow down the results based on specific criteria, such as language, gender, and insurance coverage.
Scheduling an Appointment
Another key benefit of using a healthcare web app is the ability to schedule appointments online. Patients can view the availability of healthcare providers. Also, they can select a convenient time slot as per their desire.
Plus, they can easily book an appointment with just a few clicks.
Prescriptions and Reports
Healthcare web apps can also be used to manage prescriptions and access medical reports. Patients can view their prescription history, renew prescriptions, and request new prescriptions from their healthcare provider.
Users can also access and download medical reports, such as lab results and diagnostic images, through the app.
Video / Audio Calls & Chats
Using video or audio calls and chats feature allows patients and healthcare providers to easily connect and discuss their problems with ease.
Also, this feature enables patients to receive medical consultations, diagnoses, and treatments anywhere at any part of the day.
Online Payments
Healthcare web apps also offer the convenience of online payments. Patients can use the app to pay for telemedicine appointments, prescriptions, and medical reports.
The payment process is secure and encrypted. Thus, saves time and reduces the need for in-person visits to healthcare providers to make payments.
Ratings & Reviews Section
Many healthcare web apps include a ratings and reviews section where patients can rate their experience with healthcare providers and provide feedback. This helps other patients to make informed decisions about which providers to use.
With this section, users can easily choose the right provider for their needs.
Pharmacy Integration
Pharmacy integration is another distinctive feature of healthcare web apps. Patients can use the app to request prescription refills, and the app will send the request to the nearest pharmacy. The app will also notify the patient when the prescription is ready for pickup. Thus, reduces the need to visit pharmacies in person in order to perform any job.
Want to discover which features will work best for your healthcare You can connect with our expert health application development company.
Key Trends to Look for in Healthcare Web Apps in 2023
The following 5 emerging trends are transforming the healthcare industry in unimaginable ways.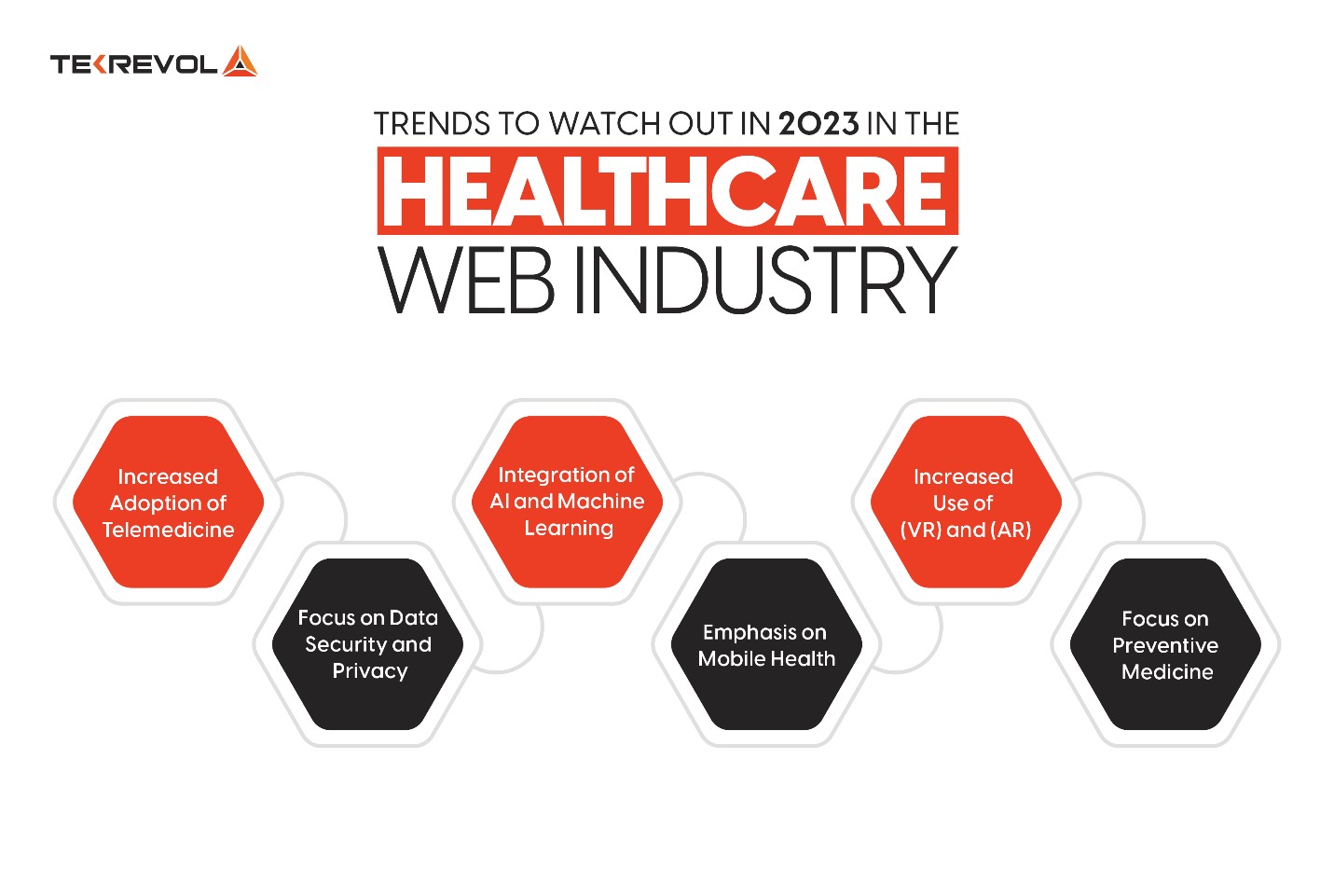 Increased Adoption of Telemedicine
In 2023, telemedicine is expected to become an even more popular solution for remote medical consultations, appointments, and health monitoring.
Nowadays, healthcare web development is more focused on creating seamless, user-friendly telemedicine platforms that provide patients with convenient and accessible medical care.
Focus on Data Security and Privacy
With the rise of electronic health records (EHRs) and online medical platforms, protecting patient data will be a major concern in 2023.
Healthcare web development will therefore focus on implementing robust security measures, such as encryption and secure data storage, to ensure that sensitive medical information is kept confidential.
Integration of AI and ML
AI and ML will play a key role in healthcare web development in 2023. The reason is that they offer a range of benefits such as improved diagnostic accuracy, personalized treatment plans, and more efficient patient care. Owing to that, currently, a wide range of healthcare organizations are investing in AI and ML technologies to enhance the patient experience and optimize medical outcomes.
Emphasis on Mobile Health
With the growing popularity of smartphones and other mobile devices, the demand for mobile health solutions will continue to increase in 2023.
Healthcare web developers will therefore focus on creating responsive, user-friendly mobile apps. This would enable patients to access medical information, track their health status, and communicate with their healthcare providers on-the-go.
Increased Use of VR and AR
The integration of VR and AR technologies has brought a significant shift in numerous industries, especially healthcare. Healthcare organizations will adopt these technologies to provide patients with immersive, interactive experiences that improve their understanding of medical conditions and treatment options.
A Step-by-Step Guide to Develop an Exceptional Healthcare Web App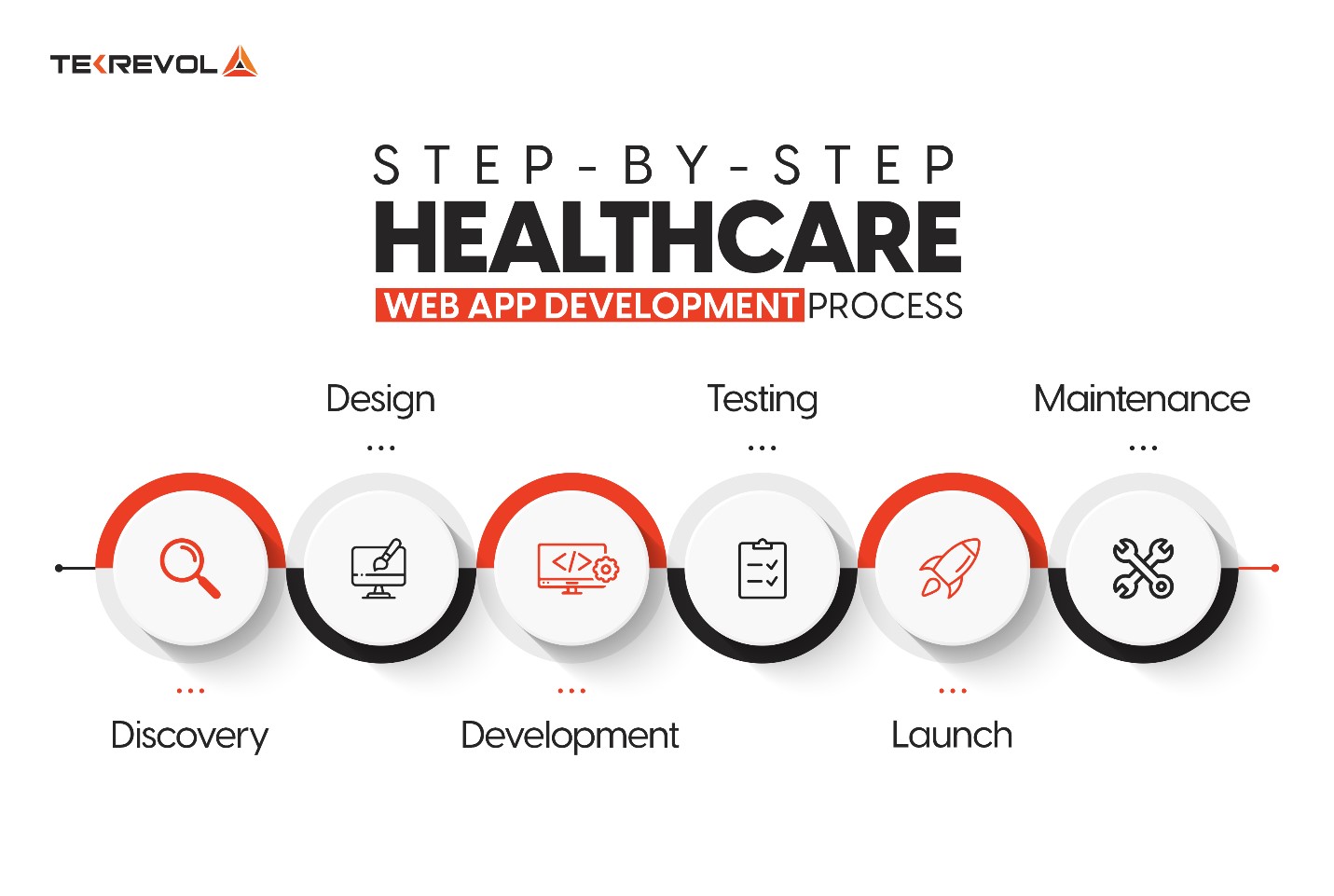 Building a healthcare app requires in-depth knowledge, expertise, and skillset. If you aren't aware of how a healthcare web app develops, might be you'll face challenging situations later. In that scenario, it's best to learn beforehand the healthcare web development process. In that way, you can easily hire the right healthcare app development company for your app needs.
The following factors are generally involved in the creation of a healthcare web application.
Discovery
In this stage, the information is accumulated based on the client's requirements. There are various elements involved in order to have a successful app. For instance, targeted audience, platforms, features and functions, technicalities and challenges occurred, and so on.
Also, in this stage, project specifics, such as budget and timeline have also been discussed. Things like interoperability and compliance also take into account.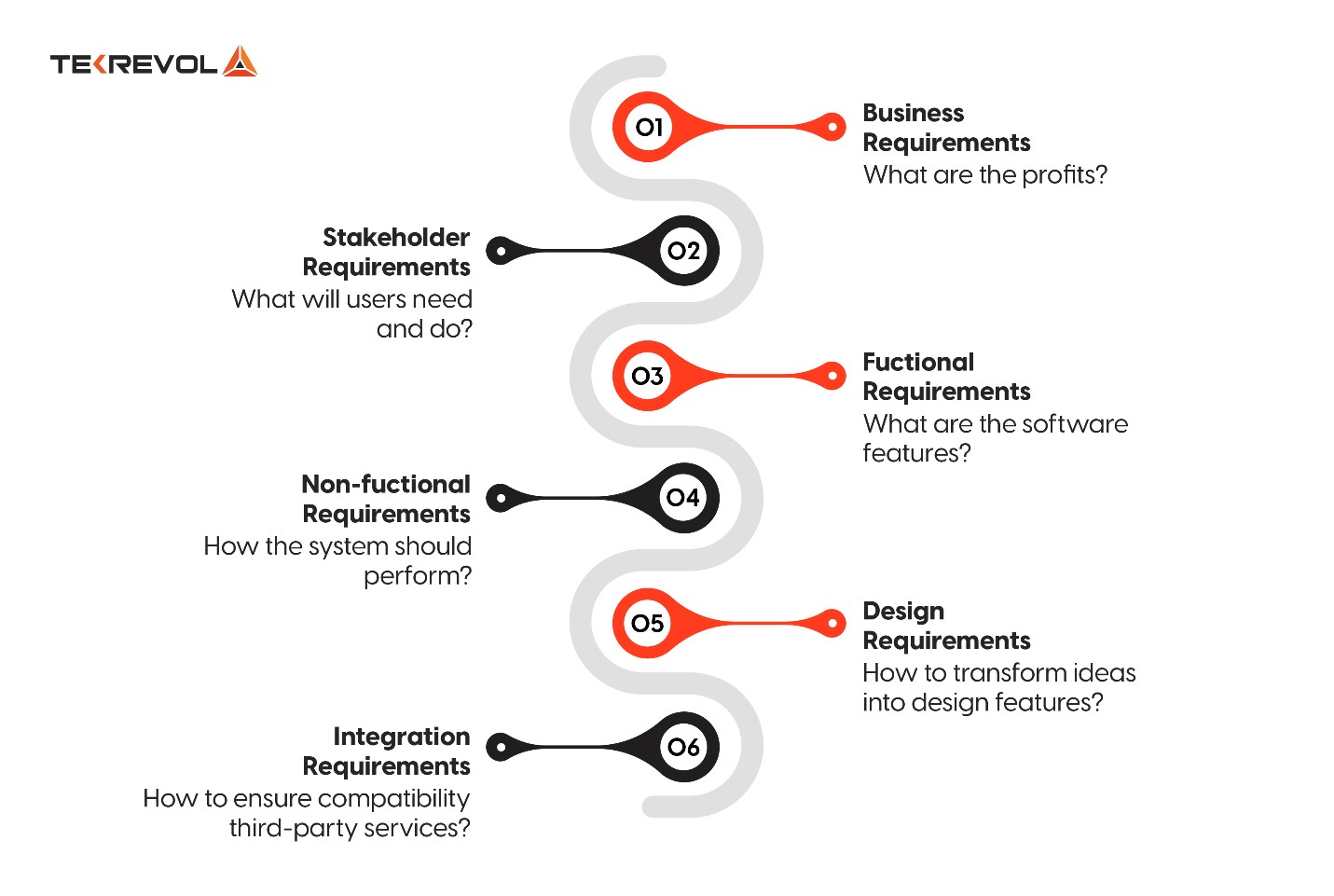 If you're a business owner or an aspiring entrepreneur, it's best to stay abreast with all the NDA agreements and HIPAA compliance rules and regulations. Stay updated with all these agreements could save you from any unfavorable circumstances later.
Design
The next stage is to work on the design phase of an app. App design is not only about choosing interactive colors schemes; instead, it's more about creating an impeccable UI/UX design.
The right app development company will assist you to create a state-of-the-art app interface where each element is placed rightfully in such a way that it caters to users' needs and demands. Other than that, wireframes, screens, and prototypes are also prepared for distinct gadgets in this phase.
Development
In this stage, all the requirements mentioned earlier are transformed into an actual digital product. For instance, coding is performed, front-end and back-end development take into consideration, alongside third-party services integration, and data migration is done (if required).
Testing
When it comes to developing a successful healthcare web app product, professional Quality Assurance plays a huge role. The reason is that performance standards and security elements are extremely challenging.
Typically, in this phase, QA engineers usually collaborate with the development team. Afterward, they carefully analyze the products' performance in real time. Then, they rigorously perform testing multiple times in order to ensure that the product is free from any serious threats, bugs, or any other viruses.
Launch
In this phase, the application is accessible to the general audience in order to determine how the app performs overall.
The right app development company ensures the app performs smoothly and efficiently across all the systems and gadgets. Plus, users' reviews and suggestions also take into account in this stage. Lastly, the app developers implement those changes (if needed), and the app goes live across all major platforms (Android, iOS, and Windows).
Support & Maintenance
Every digital application entails consistent support and maintenance in order to make sure the app's performance. Some of the few tasks in which app developers assist you are;
Error fixing and product enhancement
Third-party services integration
Adding new features and functions
Security checks and updates on a regular basis and so on.
Need assistance with your healthcare web app? Want to figure out the best strategy for your app?

Contact us today and let our experts assist you with the best possible solutions.
How much does it cost to build a Healthcare Web App?
The cost to build a healthcare web app can vary greatly based on the size and complexity of the project, the number of features and functionality required, the development team's experience and expertise, and the project's budget and resources.
On average, a basic healthcare web app can cost anywhere from $50,000 to $150,000, while a more complex app with a wider range of features and functionality can cost $250,000 or more. However, it's important to keep in mind that these are rough estimates and that the actual cost will depend on a variety of factors specific to each project.
Here is the rough estimate how a project's cost usually decide and finalize.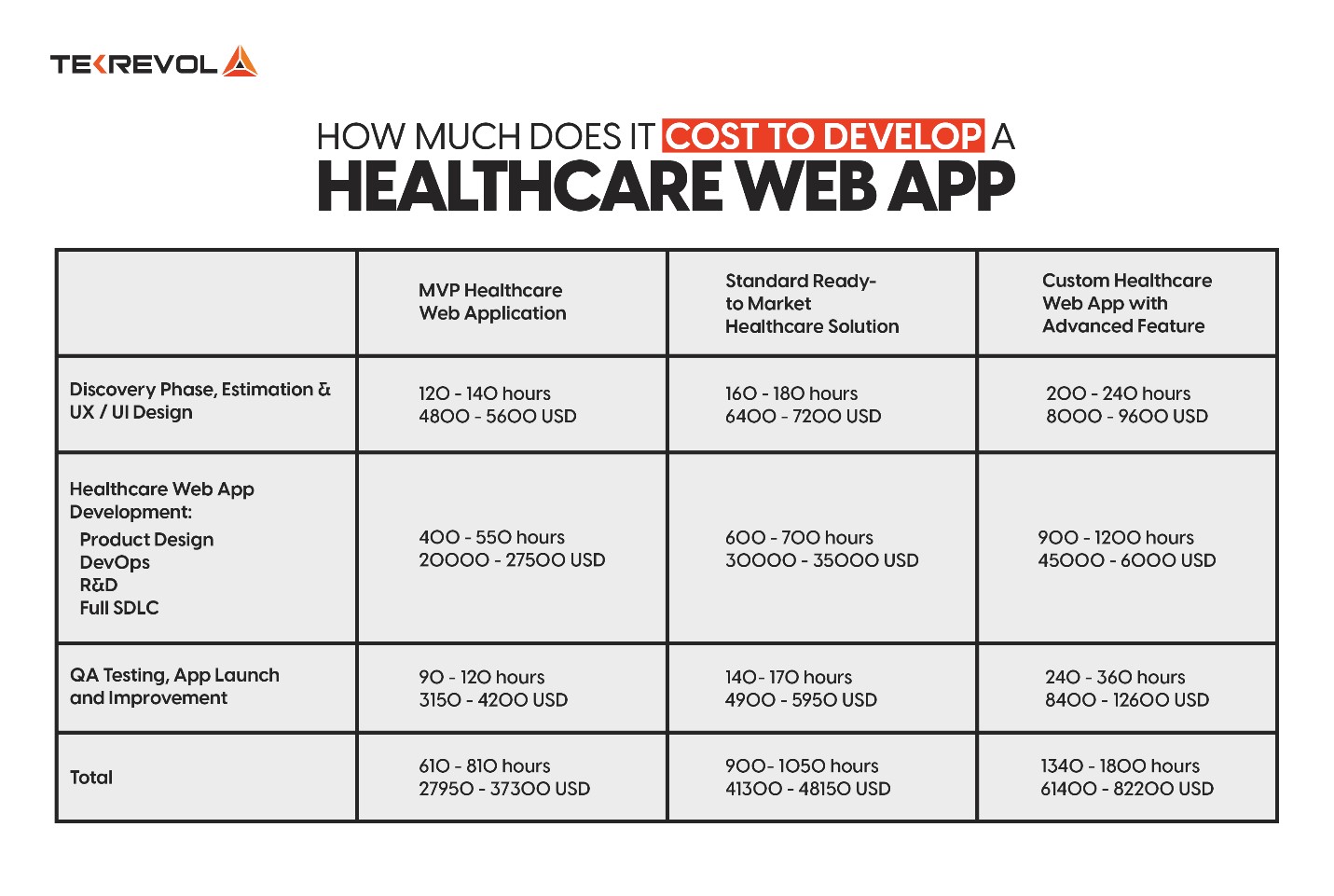 Our expert team at TekRevol delivers customized, secure, and user-friendly solutions to meet your specific needs. Partner with us today to streamline your healthcare operations by building exquisite mobile applications for your business.
Build a Game-Changing Healthcare Web App with TekRevol
Patient care is the top priority in healthcare. With the internet's help, healthcare providers can now offer better, more efficient care through innovative and user-friendly solutions. Healthcare web apps and websites are no longer just experiments, they're crucial tools for healthcare providers.
At TekRevol, we're here to help you create the perfect healthcare web app. Our team of experts will work with you to pick the best options for your specific needs and business goals. With years of experience in web development, we have the skills and knowledge to bring your healthcare web solution to life seamlessly. Choose TekRevol for your healthcare web app development because of our:
Strong focus on user experience and patient care
Expertise in creating secure and reliable healthcare web solutions
Proven track record of delivering successful projects for clients.
Trust us to bring your healthcare web solution to life.
Want to develop a feature-rich, data-driven, visually aesthetical mobile app for your business?

Reach us today and let us assist you in your app discovery
Frequently Asked Questions:
How long it takes to develop a healthcare web app?
The time to develop a healthcare web app can vary based on factors such as project size and complexity, number of features, development team's experience, and budget.
On average, a basic healthcare web app can take 4-6 months to develop, while a more complex app can take 9 months or longer. The actual time frame will depend on the specific requirements and resources involved.
Therefore, it's best to work with a professional healthcare web development team to determine a precise timeline for your project. This will help ensure that you have a realistic understanding of the project's timeline and budget.
What are the key benefits of investing in healthcare web development for a business?
Investing in healthcare web development can help a business to streamline its operations, improve patient engagement and satisfaction, increase brand visibility and online presence, and enhance data security and privacy. Additionally, it can also help to reduce costs, improve patient outcomes, and enhance the overall patient experience.
How can healthcare web development improve patient acquisition and retention for a business?
Healthcare web development can improve patient acquisition and retention by providing a user-friendly and accessible online platform for patients to access information about a business's services, book appointments, and communicate with care providers. It can also help to provide personalized and tailored patient experiences that help to build trust and loyalty.
How can a business measure the success and impact of its healthcare web development project?
The success and impact of a healthcare web development project can be measured by various metrics such as patient engagement and satisfaction, online traffic and user behavior, the number of appointments booked online, and the speed and efficiency of operational processes. It is important to regularly track and analyze these metrics to ensure that the project is meeting its goals and to identify areas for improvement.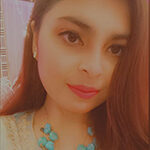 Author : Mariam Amin
Mariam Amin is an Electronics Engineering graduate. As a content marketer, with her insights on engineering and digital strategy, she showcases informative guides and content that is built on imparting knowledge. When away from marketing and the digital landscape, you can find her looking over the food industry, and fitness trends, and catching up on a documentary or a movie.
Recent Blogs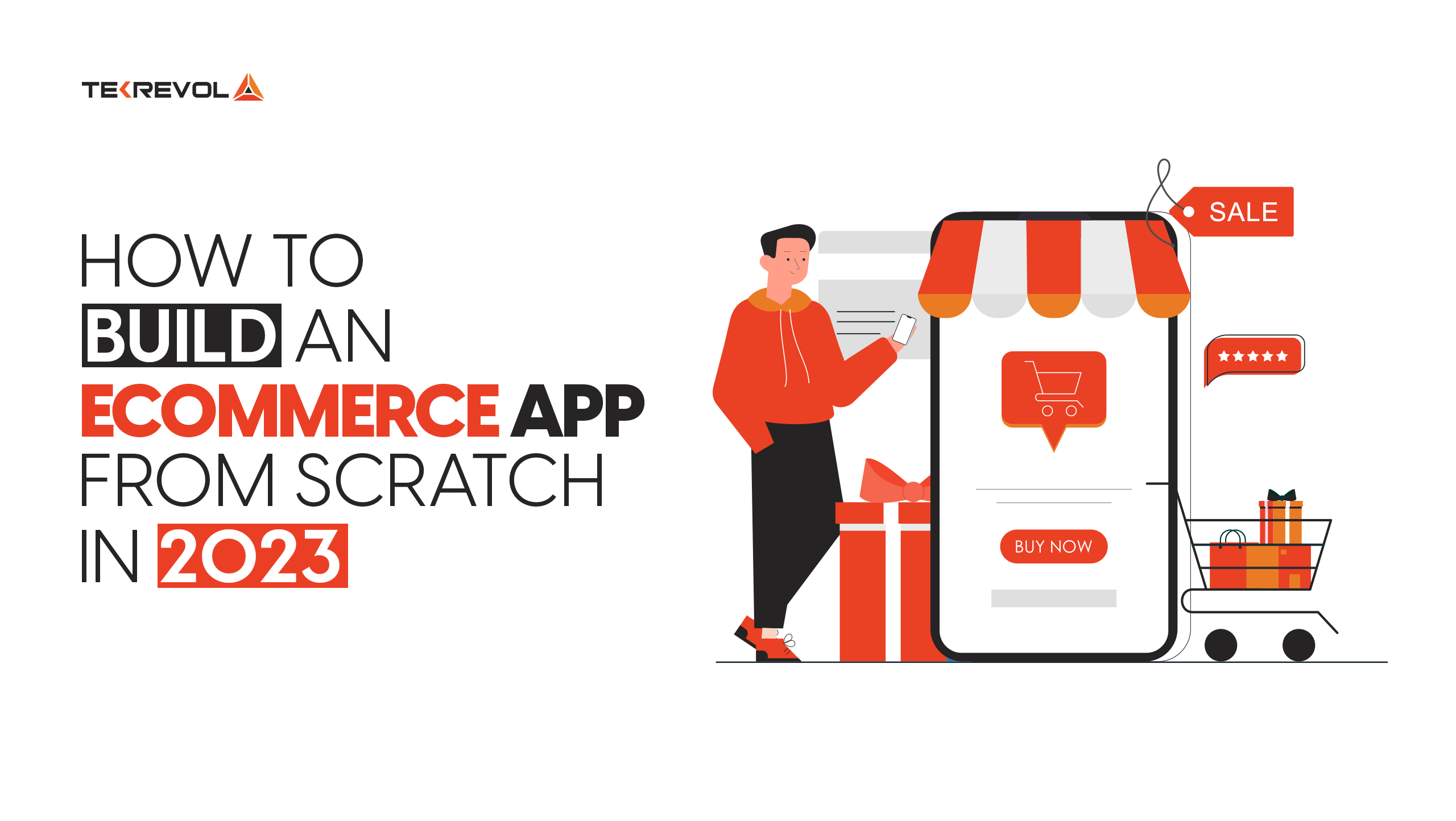 Tekrevol's Global Presence
Now expanding to multiple cities across USA, GCC region, Europe & Asia
Come meet us at a location near you!
USA
39899 Balentine Drive,
Newark, CA 94560
1301 Fannin St #2440,
Houston, TX 77002
501 E Las Olas Blvd Suite
230, Fort Lauderdale, FL
44 Tehama St, CA 94105, San Francisco
400 NW 26th St, FL 33127, Miami
740 15th St NW 8th Floor, DC 20005, Washington
CANADA
4915 54 St 3rd Floor
Red Deer, ABT T4N 2G7
UAE
Level 5, One JLT Tower 1 - Jumeirah Lakes Towers - Dubai, United Arab Emirates
Level 17, World Trade Center, Khalifa Bin Zayed the First Street, Abu Dhabi
Level 22 , West Tower, Bahrain Financial Harbour, Manama, Bahrain
Level 22, Tornado Tower, West Bay, Doha, Qatar
PAKISTAN
3/25, Block 5, Gulshan-e-Iqbal,
Karachi, Sindh 75650
USA
CANADA
PAKISTAN
UAE
talk to us
Got an idea?
Let's get in touch!
Let's discuss your project and find out what we can do to provide value.
I am interested in discussing my ideas with you for
COPYRIGHT 2023 TEKREVOL ALL RIGHTS RESERVED.