50 Game Development Ideas for Future Game Startups and Entrepreneurs
Author: Saba Sohail |
February 20, 2023 - TekRevol Team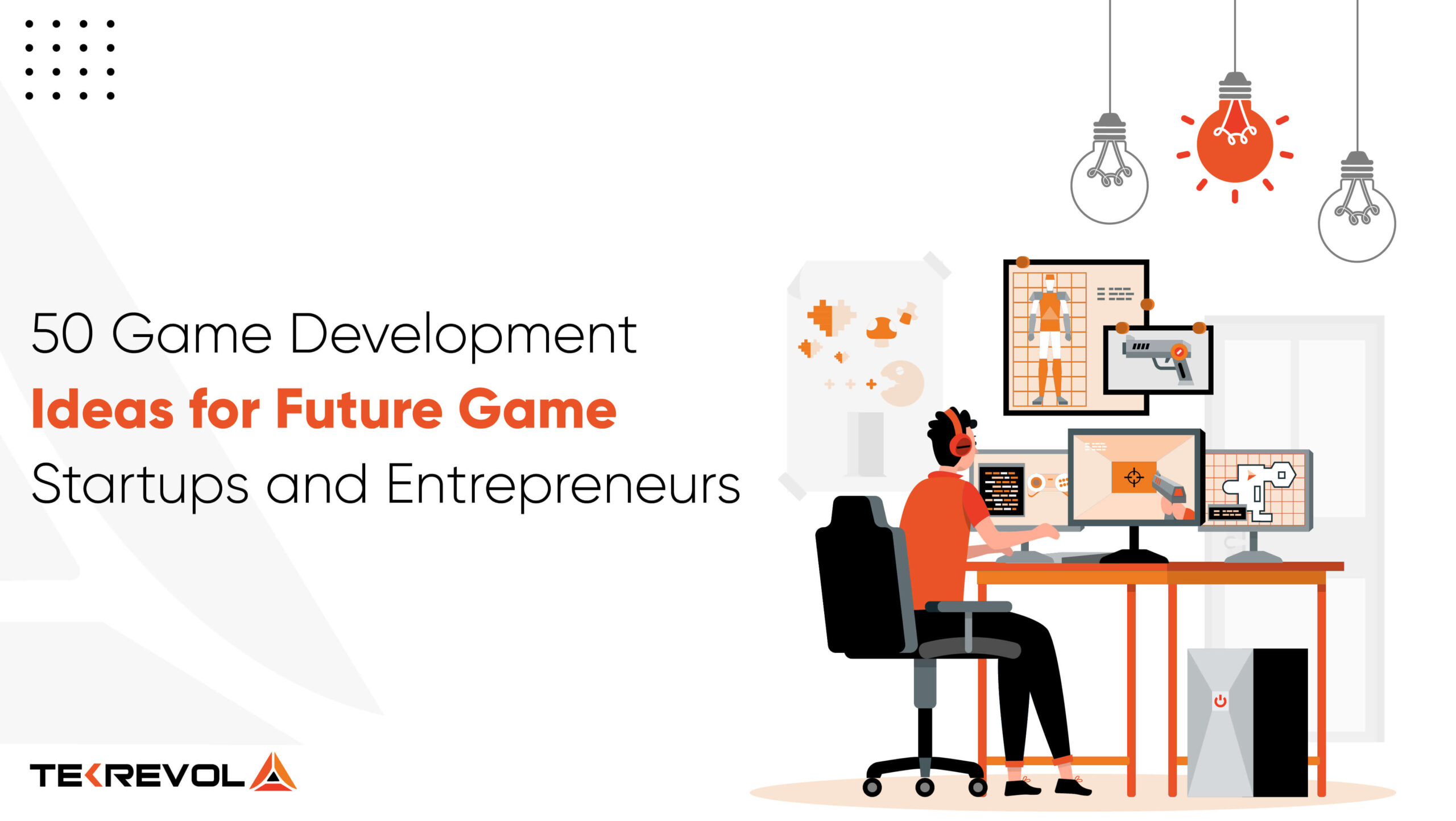 Game development is one of the most lucrative app domains for technopreneurs and developers alike. The number of game apps is significantly increasing, and so is the competition and hence the need for new game development ideas. But the revolution and scalability aren't dipping down anytime soon.
With newer concepts, game entrepreneurs are leveraging cloud gaming, cross-platform compatibility, high-resolution graphics, offline modes and integration with motion sensor. While these technological integrations are creating innovation in the existing gaming industry, 61% of global game developers still suggest that diversity in game content is the leading factor for achieving growth, profitability and competitive advantage (Statista).
So, without further ado, let's begin with our top 50 game development ideas:
AR and VR Games
Augmented Reality is an interactive environment with real experiences and objects enhanced by 3D. Virtual Reality is slightly different, or a higher version where users can experience virtual, artificial environments in real-time. Designers and developers all agree that AR and VR are both super-refined applications of graphic motions.
Considering the potential playing experience and the fact that anything can be created and experienced as a virtual environment, AR and VR have some of the best and most profitable applications in the gaming industry. Here are top AR and VR game development ideas:
1. Jungle-themed games like Jurassic World.
2. Halloween games like Five Nights at Freddy's.
3. Healthcare integrated games like Pokémon Go.
4. Zombie-themed games like the Walking Dead.
5. Teleporting games like Star Trek Online.
If you choose to develop an AR game, know that it will require appealing graphics and an experienced game development team to integrate AR frameworks and platforms like ARToolKit, Vuforia, Google ARCore, and Maxst.
Already have a game development idea?

Skip the hassle and start developing your dream game app to conquer the industry!
Play to Earn Games
Play to Earn games, also often called P2E games reward players with something that has monetary value either in the real world, or virtual world. These rewards may include anything from cash, discount vouchers, gift items, digital downloads and even cryptocurrencies and NFTs. And because most players would love to get REAL rewards for their playing time, these games are more than popular not only with professional gamers but hobbyists as well.
Here are top 5 play to earn game development ideas:
6. NFT games like Ether Legends
7. Crypto games like Axie Infinity
8. Cash-based play to earn game like Blackout Bingo
9. Lottery game app like Jackpocket Lottery
10. Gift card game app like Lucky Scratch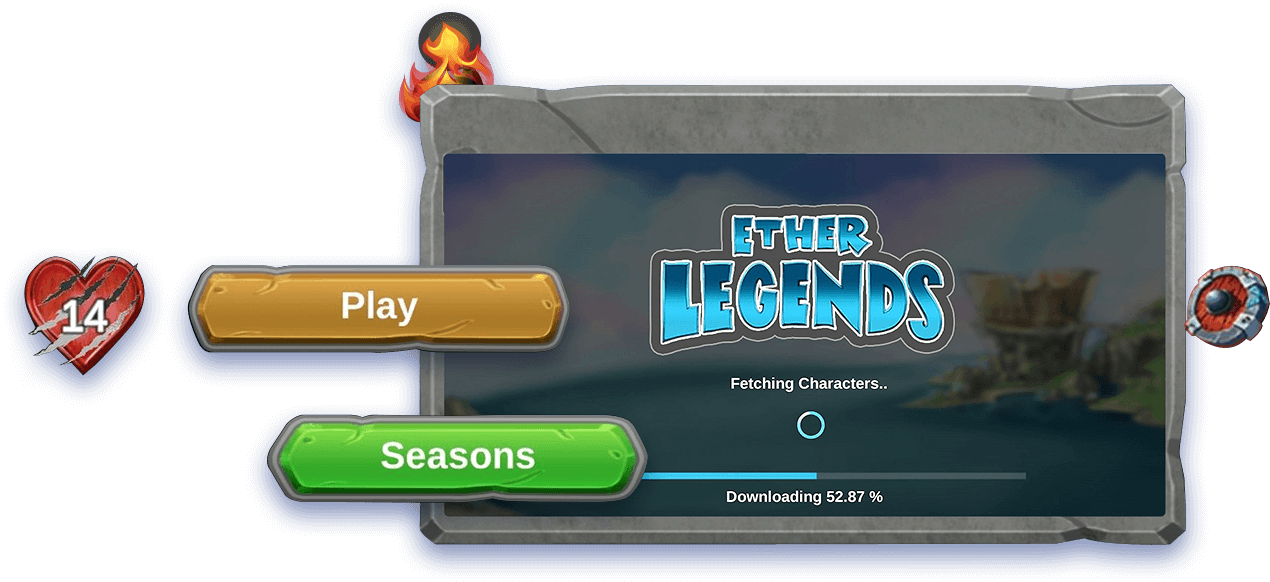 If you are up for developing a play to earn game, know that it's a financially rewarding and technically feasible idea. However, such a game app will require strong financial architecture, internal and external scrutiny, app security with encryption, and multiple digital payment gateways and APIs.
For development inspiration, read the case study and discover how Tekrevol developed Ether Legends.
Story Games
Story games are basically role-playing games where players are acquainted with specific characters in the beginning. Then on, they are provided with different choice actions for every situation. The characters personality development and fate significantly depend on the game choices of the players. In simple words, players create a story of their own preferences by making choices for their characters.
Also, story games bring a lot of choices to the table. You can choose genres, characters, qualities and setting. Most popular story game genres include adventure, interior décor, love and drama, business management, crime and detectives. Here are top story game development ideas:
11. Mystery story game like Harry Potter Hogwarts Mystery
12. Dramatic story game like Episode and Choice
13. Story game with arcade theme like Blaze
14. Real-world character games like Eko
Story games are popular with players because of their interactive nature. So, if you are sold on launching a story game, make sure your game developers design a visually appealing environment, and an interactive user experience that would hook your players and compel them to continue. Plus, you'll have to create the overall game concept in forms of episodes and seasons, with different choices at every step, and logical consequences for each choice.
Learn more about game design and creating a game design document in this article.
Sports Games
Sports games is inherently a huge app niche. Whether it's a real-world sports events attending app, or live streaming or a gameplay, there are mobile applications actually turning powerful profits. Here are top 4 sports game apps ideas:
15. Bowling games like bowling king
16. Cricket games like Nextwave Multimedia
17. Hockey and football games like Big Win Hockey
18. Archery games like Archery Club
Though sports enthusiasm is never-ending, the sports game market is still super saturated. This suggests that you launch a sports game app that offers a high-end user experience to its target audience. A fun user interface, with a smooth user experience will help your game gain competitive advantage and ultimately make it as profitable as you wish to.
Learn more about how to make a mobile game in our detailed article specially compiled for new game entrepreneurs.
Smartwatch Games
Mobile game apps have come a long way, and we now have some of them on wearable devices too. Though few in number, game developers have actually started realizing the potential in this niche, and smartwatches are actually at the forefront. If you want to be part of this dynamic yet quick change, here are 2 inspirational app ideas you can choose to invest in:
19. Logic and real-time strategy game like Infinity Loop
20. Healthcare integrated game like Zombies, Run!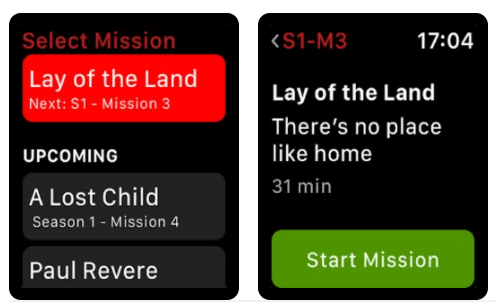 As you can see the image, smartwatch games need a minimal user interface, smooth high-res graphics and exceptional standards of player engagement to be successful. To launch an innovative product, you can consider integrating APIs for Bluetooth connectivity, add motion sensors and leverage biometric.
Mental Health Games
Mobile apps are at the forefront of bridging the gap between healthcare demand and services. One important branch of healthcare is mental health. Apps that can gamify the calming experience, make cure and treatments more fun and interactive are actually need of the time!
Here are top 3 mental health mobile game development ideas:
21. Calming game like My Oasis
22. Light-weight mediation game like Windosill
23. Relaxing game like Colorfy
Games for Professionals
These games are popular in general workplaces as well as specific careers. Professional development and education are two main reasons players choose these games. If you are inspired by the niche, here are unique game ideas you can start developing:
24. Team building games like Kahoot
25. Professional development games like Playmeo
26. Medical themed games like Autopsy Simulator
27. Medical game featuring the life of a new born cancer cell
28. Lawyer games like High Treason: The Trial of Louis Riel, Point of Law and Witch Trial
29. Corporate themed game with boss rivalry genre
30. Entrepreneurship learning game like Business Empire
Players of these games will always have that 'professional' tooth, and so, they'd have high expectations from a game they choose to download and spend their time on. You can choose to monetize such games with ads. In this case, you can launch a free game, not charge your players and still make money as your game gets popular.
The other monetization option is to launch a premium game, then charge your users a subscription. In this case, your app has to have a strong scope, exceptional features and an exciting game play so users would want to pay.
You can also choose to integrate AR and VR features to create artificial environments for better player engagement. It could be a court room for a legal game, or an operation theater for a medical game, or maybe a glass building with elevators for a corporate theme game.
Fantasy and Sci-fi Game Development Ideas
Sci-fi and fantasy games are another app niche that's widely popular among players of different ages. if you too love science fiction, these new game ideas will surely interest you:
31. A world where AI and robots take over
32. Country-level rivalry and army games
33. Galaxy and space war games like Pulsar: Lost Colony
34. A world where robots start catching feelings
35. A fun bowling game where a human is the ball
36. A kid-friendly avatar game with cuddly characters
Because of high-end design and animation, developing a sci-fi game with new characters can be costly, but it is an investment that would really pay off.
Want to learn how much game development can cost in 2023? Check our detailed guide on cost estimates for developing games.
Educational Games
Educators all around the world have endorse that gamifying a theoretical concept produces an ideal learning experience for diverse students, especially for ones with learning difficulties. And that's how educational games of today are attempting to fill the gap in the education and gaming industry.
37. Code learning and STEM games like Hopscotch
38. Quantum computing games like Hello Quantum and Quantum Cats
39. Science learning games like Starfall Catalyst
40. Vocabulary building games like Alpha Bear
You can choose from different revenue models after picking an education game development idea.
Firstly, you can launch a free game for students and educators. Then show them ads or offer in-app purchases. You can also practice affiliate marketing and sell real teaching and study material via the game interface.
The second revenue model will of course be a premium one. This method works for tailor-made game apps, targeted towards different schools, college and vocational education centers. In this case, you can sell game memberships and licenses to institutions rather than teachers or students.
Arcade Games
Arcade games are usually popular for their easy controls, simple game concepts, quick rewards and a player keeps progressing. Plus, they are appropriate for audiences of different age groups. These are the most popular arcade game examples to seek inspiration:
41. Car racing game like Asphalt 9: Legends
42. Balling and board games like Pinball
43. Fantasy games like Candy Crush
44. Running games like Subway Surfers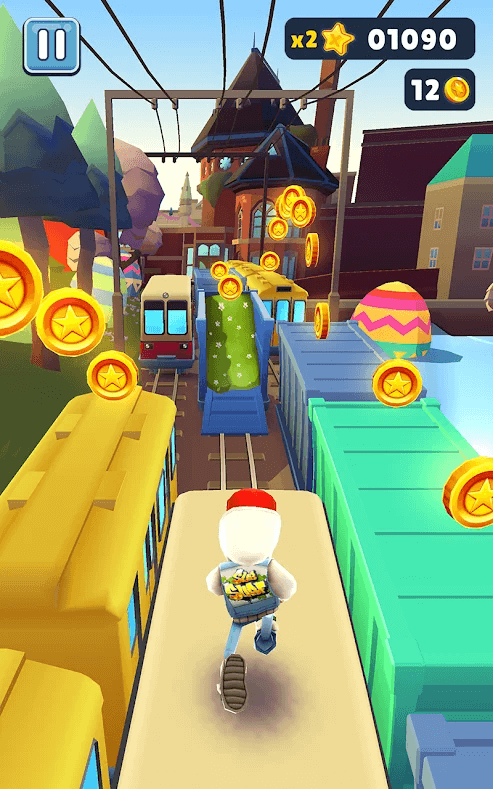 Animal Racing Games
This category includes everything from cute rabbits racing for carrots or digital animals racing to win bets. horses racing in an NFT game like ZedRun.
45. A digital horse racing game like Zed Run
46. An animal competition and strategy game like George Orwell's Animal Farm
47. An animal racing game where players pick animals based on their characteristics
If you choose to target kids as your ideal players, you'll have to choose an interface that has some popping colors, and lively environments, with a simple game play and a reward system.
If the target age group is above 18, it is ideal you launch a racing game, let other players participate in races or bet on animals. Such a game concept would be ideal for a play to earn protocol as well.
Investment Games
Like educational games, investment game applications also simplify complex trading and portfolio management concepts. The target audience for investment games is real users who some day wish to start investing in assets, either stock, crypto or property. If you too are an investment enthusiast and wish to create a platform that teaches beginners some basic to advanced trading practices in an interactive interface, here are top 3 game app ideas and recommended apps to check:
48. Crypto investment games like CryptoKitties
49. Stock exchange investment games like Wealthbase
50. Real estate investment games like Landlord Real Estate Tycoon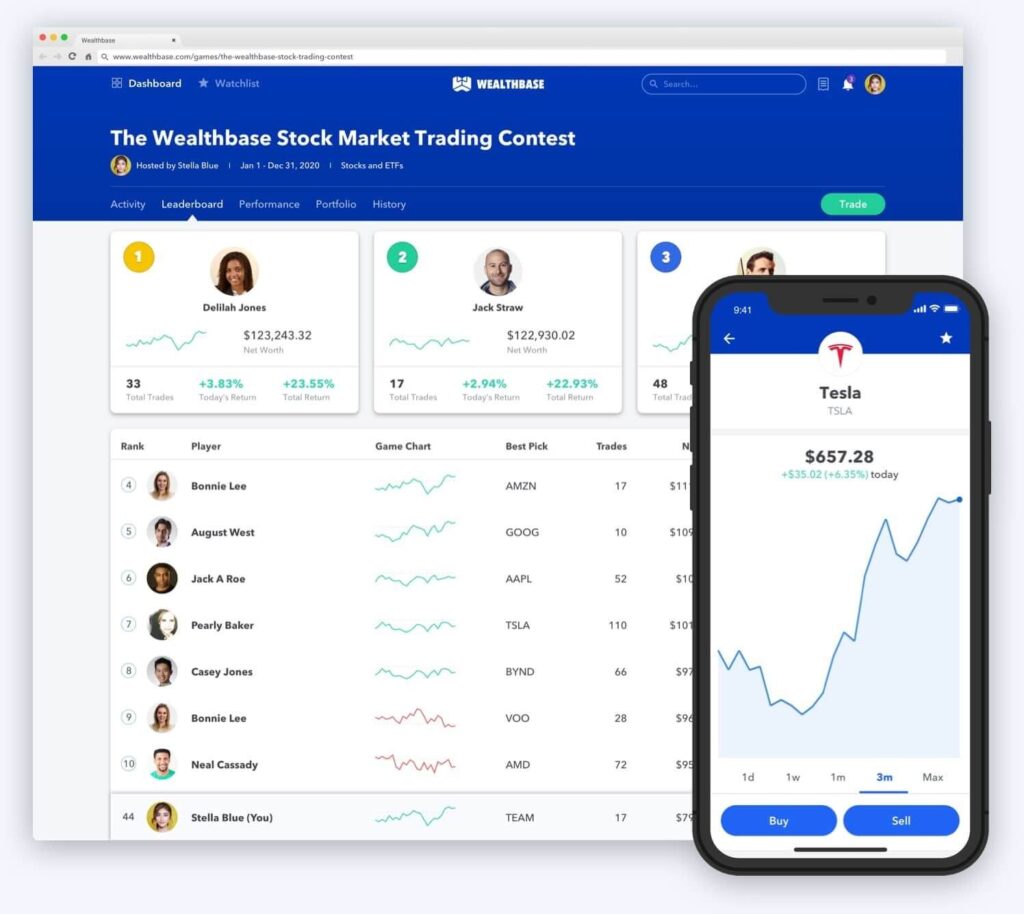 Again, investment games are a super profitable niche, but let's not ignore its sensitivity. Your game developers can follow a simple traditional game development approach if you plan to launch an investment game that only provides a gamified experience. However, it is ideal to partner up with a brokerage firm, or start an affiliate program if you also wish to provide a multi-feature online investment portal.
Wrapping Up – What's next after picking a game development idea?
So, this list of game development ideas finally concludes here. At Tekrevol, we believe that the success of a technical business venture depends on two factors: an epic idea and its right execution.
This means you have already taken your first step if one of these 50 ideas has even slightly piqued your interest. But not sure what to do next? Here comes the execution part. You actually need a team of creative designers and highly experienced game developers to turn your epic game idea into a profitable digital reality.
Brainstorming Game App ideas?

Mature your game development idea with a quick cost estimate. Discuss the tech stack and get a quick technical feasibility in a free consultancy session.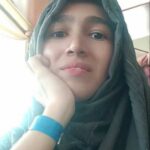 Author : Saba Sohail
Saba is all about strategic leadership and tech-led transformation. She comprehends, incubates, and iterates the idea of integrating tech-powered solutions and converts her knowledge into simple, valuable, and actionable blogs for tech leaders and businesses, much like TekRevol does with their products and solutions.
Tekrevol's Global Presence
Now expanding to multiple cities across USA, GCC region, Europe & Asia
Come meet us at a location near you!
USA
39899 Balentine Drive,
Newark, CA 94560
1301 Fannin St #2440,
Houston, TX 77002
501 E Las Olas Blvd Suite
230, Fort Lauderdale, FL
44 Tehama St, CA 94105, San Francisco
400 NW 26th St, FL 33127, Miami
740 15th St NW 8th Floor, DC 20005, Washington
CANADA
4915 54 St 3rd Floor
Red Deer, ABT T4N 2G7
UAE
Level 5, One JLT Tower 1 - Jumeirah Lakes Towers - Dubai, United Arab Emirates
Level 17, World Trade Center, Khalifa Bin Zayed the First Street, Abu Dhabi
Level 22 , West Tower, Bahrain Financial Harbour, Manama, Bahrain
Level 22, Tornado Tower, West Bay, Doha, Qatar
PAKISTAN
3/25, Block 5, Gulshan-e-Iqbal,
Karachi, Sindh 75650
USA
CANADA
PAKISTAN
UAE
talk to us
Got an idea?
Let's get in touch!
Let's discuss your project and find out what we can do to provide value.
I am interested in discussing my ideas with you for
COPYRIGHT 2023 TEKREVOL ALL RIGHTS RESERVED.