Top 10 Applications of Machine Learning in Healthcare
Author: Saba Sohail |
November 18, 2021 - TekRevol Team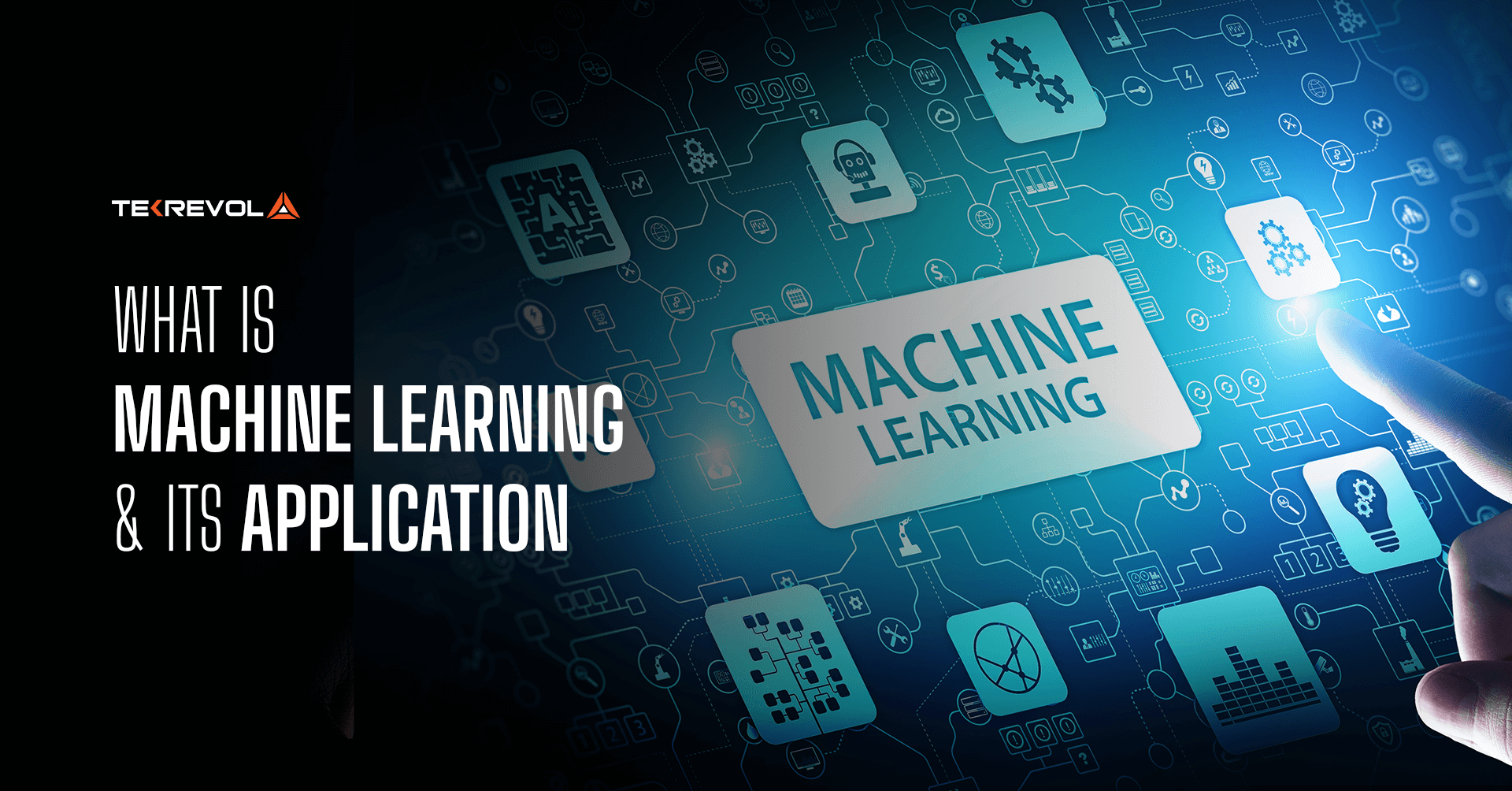 Healthcare is one of the many industries that have drastically grown with the evolution of artificial intelligence. 
Especially, machine learning in healthcare has revolutionized medical diagnosis, reduced idle time, and enhanced the quality of automated personalized health recommendations. 
For reference, machine learning is a branch of artificial intelligence that teaches computers to process the way human beings think – recognizing patterns, learning from activities, and making decisions based on historical experiences. 
Machine Learning in healthcare deploys algorithms that don't need continual programming but big data sets to extract meaningful information and learning points. 
As machine learning systems get more experienced, the treatment protocols and healthcare informatics get quicker and more accurate – making clinicians' jobs easier. 
Looking To Innovate The Healthcare Sector?
Real-Life Use Cases of Machine Learning in Healthcare
While healthcare is a vast field, pharmaceutics, biotechnology, medical research, and development are subset fields that are yielding results of advancements in machine learning. 
The fusion of advanced medicine and machine learning has resulted in impactful and exemplary recombinant innovation. 
Here are some models of machine learning in healthcare – and they are already in practice: 

1. Dermatology Assessments
Medical imaging is one of the most prominent applications of machine learning in healthcare.
From a technical standpoint, algorithms are served large biomedical datasets in the forms of facial images and electronic health records. 
As more datasets are fed into systems, bots learn to distinguish certain facial conditions and identify symptoms, rank the condition in terms of seriousness and often, can recommend medicines to improve the condition.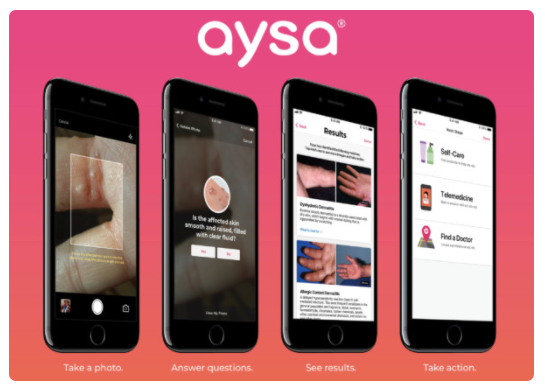 Aysa is one such app available for iPhone users. Currently, the app can scan images, identify symptoms, and help users prepare for their visit to a practitioner.
 2. Accuracy Of Treatment Protocols
Treatment protocols include analyzing the seriousness of illness and urgency of treatment, prescribing alternative treatment plans, and predicting response to alternate prescriptions.
These are the main job roles for clinicians and surgeons, and other practicing professionals, and if these tasks can be automated for accuracy, doctors can shift focus to improving healthcare and making it easily accessible rather than creating slots for service provision.
3. Effective Therapeutics
Machine Learning and neural networks can drastically help with therapeutics because of the mass data crunching and analytics that's required before individual patients can be provided with dedicated care.
A startup named ReviveMed is leveraging AI mega-networks to process information about major metabolites in the body, and their venture is dedicated to fighting diseases like fatty liver cancer.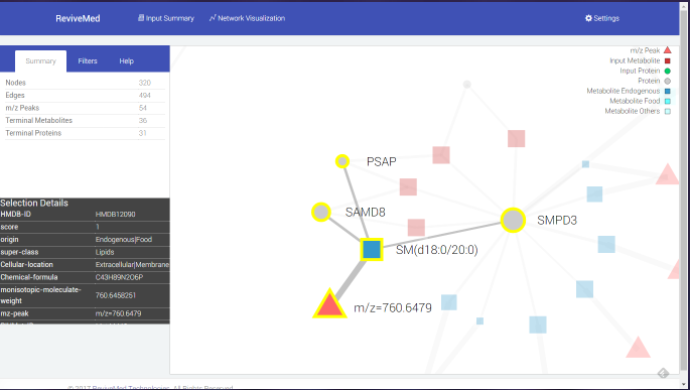 While they are currently feeding the mega-networks with these liver metabolite strings, they have plans to prepare effective therapeutics for other rare diseases too.
4. Robotic Surgery
A glimpse of robotic surgeries started in 1985 when surgeons started seeking help from automated tools and machines in the operating rooms.
From a bird's eye view, you'll only see a large machine sterilizing surgery equipment and handing them over to surgeons right when they signaled via hand gestures.
Raven is one popular example of an open-source project and a real-life recombinant innovation involving machine learning, healthcare, and neural networks.
It has a start-of-the-art architecture with software and hardware and is positioned to become a standalone robotic surgical system in the future.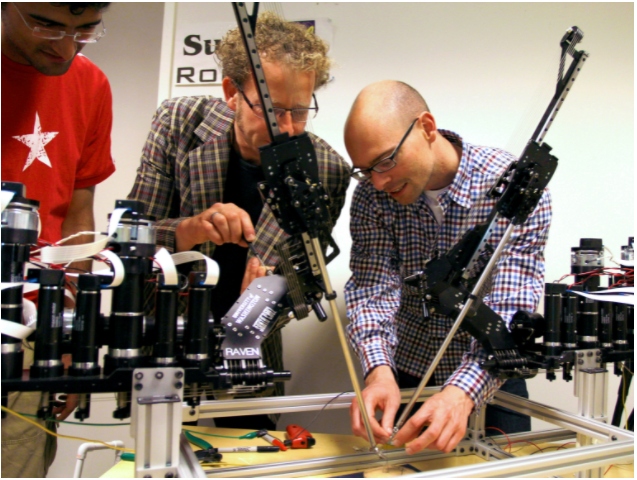 Source: UC Berkeley
With the fusion of big biomedical data, machine learning algorithms, and live imagery of medical operations, the healthcare industry now knows 'surgical robots.'
Assistance is common in procedures that require geometrical precision.
Some examples include knee replacement, retina treatments, lung biopsies, brain tumor removal, and uterine fibroids removal.
Statista suggests that the global market size for surgical robots will grow to 12.6 billion USD by 2025.
More and more deep learning engineers are collaborating with medical practitioners to improve their performance in the operation theaters.
5. Radiotherapy Planning
Project Inner Eye, launched in September 2020 by Microsoft, is dedicated to empowering developers and other professionals working in the healthcare sector inpatient management, diagnosis, medical imaging, and research (Microsoft).

Microsoft has developed an open-source programming toolkit called 'Inner Eye Deep Learning Toolkit' to help augment AI models in healthcare. The evaluation program concludes that machine learning can catalyze medical personnel's ability to perform radiotherapy planning 13 times faster.
Here are other recent developments powered by this program:
Addenbrookes Hospital in Cambridge has used InnerEye to accelerate Radiotherapy processes and reduce cancer treatment backlogs.
InnerEye is supporting two research projects with subjects related to Covid-19 infections and pandemic preparedness.
Microsoft and Novartis are collaborating to put medical image deep learning models into action for accelerating generative chemistry and automating the delivery of gene therapies.
6. Instant Emergency Response
Embrace 2 is another exemplary use case of machine learning in healthcare and treatment delivery.
It is a smartwatch developed by Empatica – a startup from MIT professor Rosalind Picard.
This smartwatch leverages sensors and ML algorithms and can detect seizures – a common symptom in epilepsy.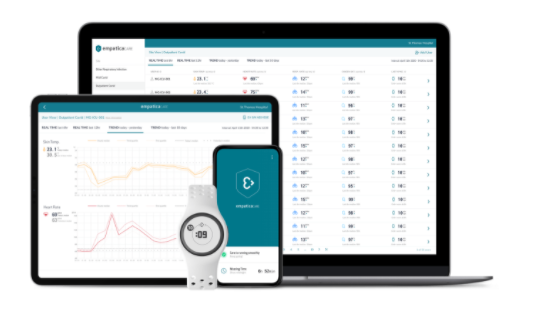 From a medical standpoint, an epilepsy patient may have high levels of stress right before a seizure. The wearable detects stress levels and compares them to large datasets in real-time.
When patterns match and signal, a notification is sent to associated caretakers, family, and emergency contacts so they can arrange dedicated care in stipulated time.
What started off as an AI sensor and experimented on an autistic child for pattern stress levels is now a fully-functional FDA-approved wearable that helps with patient management and care delivery.
7. Clinical Decision Making for Heart Failure
Applications of neural networks and machine learning in healthcare have revolutionized the prediction of disease and have, of course, affected prevention and care delivery.
Pfizer is using a Novel Prediction Model that shows effective performance in domains of symptom analysis – primarily for heart failure patients.
According to Pfizer's medical research team, the study showed 87% accuracy in the prediction of heart failure diseases and matched Electronic Health Records with existing patient literature.
The study was dedicated to discovering digitally intuitive ways and enabling healthcare providers in diagnostic procedures.
The predicted tool is already deployed with healthcare research models in the pharmaceutical company and will aid doctors in identifying at-risk heart patients faster and with more precision.
8. Urban-Rural Patient Support
Wearable medical gadgets like smartwatches, biosensors, ECG monitors, and fitness trackers utilizing machine learning networks and voice assistants have drastically improved the accessibility of remote healthcare and telemedicine.
The urban-rural healthcare gap exists, but the introduction of patient support tools can logistically and economically bridge the patient support gap.
9. Chatbots and Telemedicine
Like every other sector, conversational AI chatbots have relevant use cases in healthcare too.
These conversational chatbots have their technical foundations in machine learning, and when these were applied to the healthcare industry, a unique telemedicine domain was born, which took an online assessment of health conditions to a whole new level.
The bots have been fed with big medical data for years for resulting prescriptions and diagnoses to be accurate.
We now have several popular apps that have AI chatbots in their core functionality and are integrated with healthcare APIs and frameworks like IBM Watson and Microsoft Azure.
Mental health apps like Calm and Headspace use machine learning models to track moods and recommend meditation activities.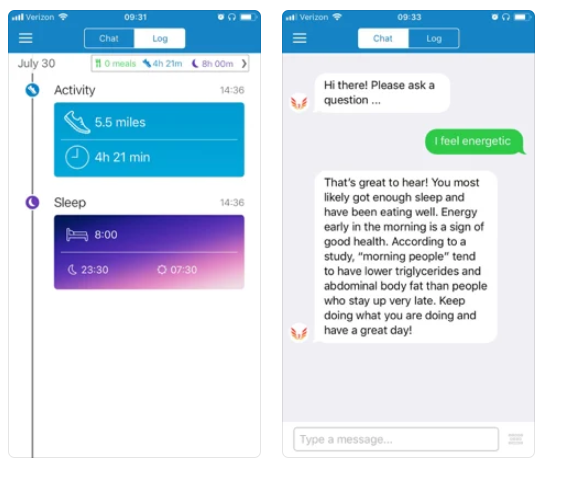 Similarly, there are apps like Healthily, Youper, OneRemission, and Florence that act as AI Nurses and caregivers, remind of pills and listen to medical history to recommend further actions.
10. Drug research and Identification
Image recognition is one major attribute that is fueling the role of machine learning in healthcare.
Key drug and pharmaceutical insights that take years of lengthy laboratory experiments can be established, concluded, and tested with lightning-fast speeds using machine learning algorithms.
Deep learning is an advanced version of machine learning which teaches computers to see exactly how an eye perceives visual cues.
Using DL, scientists are experimenting with the effects of certain drugs and chemicals on human cells.
Novartis, a pharmaceutical giant, is currently using image recognition with digital healthcare models to shrink the drug discovery timelines.
The core reason is to provide quick access to quality treatment and drug protocols, rather than waiting for experiments to show results on hundreds of control groups.
More importantly, the drug discovery applications of machine learning have unprecedented ability to test how the current drug and medicine models are working and answer questions about their efficiency in the future with higher carbon footprint and climate change.
Most importantly, now, many scientists don't have to use real human cells for their experiments.
Clear images of human cells are doing the work and according to Novartis, results in one of their researches where they tested compounds were nearly 100% accurate.
Machine Learning In Healthcare – A Quick Business Rundown
When applied to healthcare, Machine learning's neural networks and deep learning algorithms can help detect abnormalities in cell structures and patterns of symptoms.
This unparalleled ability will drastically aid the diagnosis, make the treatment protocol quicker and ensure convenient healthcare access in developing countries where there is a shortage of medical personnel.
While this technology is bringing the dawn of recombinant innovation in health and medicine, it has shed spotlight onto the many untapped opportunities that HealthPartners and technopreneurs can capitalize on.
While combinations of big biomedical data, deep learning developments, and automated surgeries are still a work in progress, there is no better time than now to introduce mobile healthcare apps and digital solutions that boost user experience and acceptance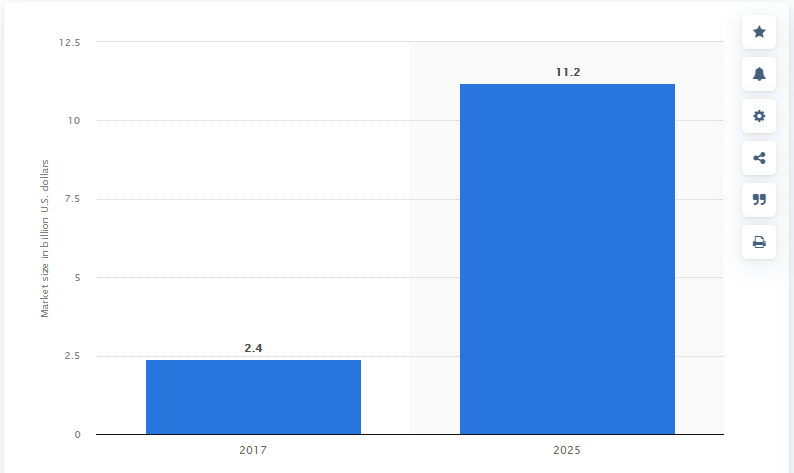 Statista forecasted that the medical mobile apps market will grow to around 11 billion USD by 2025.
Building onto this, aspiring appreneurs interested in the healthcare industry can choose to invest in countless options, including:
Introducing a single-purpose healthcare app that tracks the progress of recovery in a specific disease works as a pill reminder and symptom tracker.
Introducing a multi-purpose healthcare app that tracks mental health, overall mood, fitness metrics, and so on.
Developing a fitness app for wearables that monitors physical activity for the day, reminds users to drink water, have a healthy/specified diet, and so on.
Tweak IoT into the Internet of Medical Things and create an app for smart automation that controls room temperatures for patients. These apps can be utilized in smart homes, smart hospitals, and other smart caregiving and nursing sites.
Creating a corporate app for managing the physical and emotional health of employees.
Developing a medical app that shows low-effort medical aids in AR and VR.
Building an AI chatbot that suggests necessary medical actions in real-time.
Most of these applications and digital solutions can be conveniently monetized into successful revenue streams.
You can choose to monetize a free app via sponsored advertisements and sell a subscription for the ad-free version.
You can choose to sell a premium app and roll out monthly, quarterly, and annual pre-paid packages.
Wrapping Up…
This article outlines 10 applications of machine learning in healthcare – but there are endless possibilities to take this industry to new levels.
It has the potential to automate complicated surgeries, fuel research and development programs, and significantly reduce the time required for recommending prescriptions.
Tekrevol has developed success stories like AMJ Wellness. If you, too, have a revolutionary idea and plan to make it the next big hit, our business analysts, seasoned project managers, and healthcare app developers can turn your vision into reality.
Have An Healthcare App Idea?

We're all ears! Our tech team is always ideating and iterating new ways through which we can foster innovation in the technological landscape of the world. We thrive on moving the world forwards so, if you have a revolutionary healthcare app idea, we've got a chaotic system that'll help you develop it.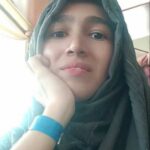 Author : Saba Sohail
Saba is all about strategic leadership and tech-led transformation. She comprehends, incubates, and iterates the idea of integrating tech-powered solutions and converts her knowledge into simple, valuable, and actionable blogs for tech leaders and businesses, much like TekRevol does with their products and solutions.
Recent Blogs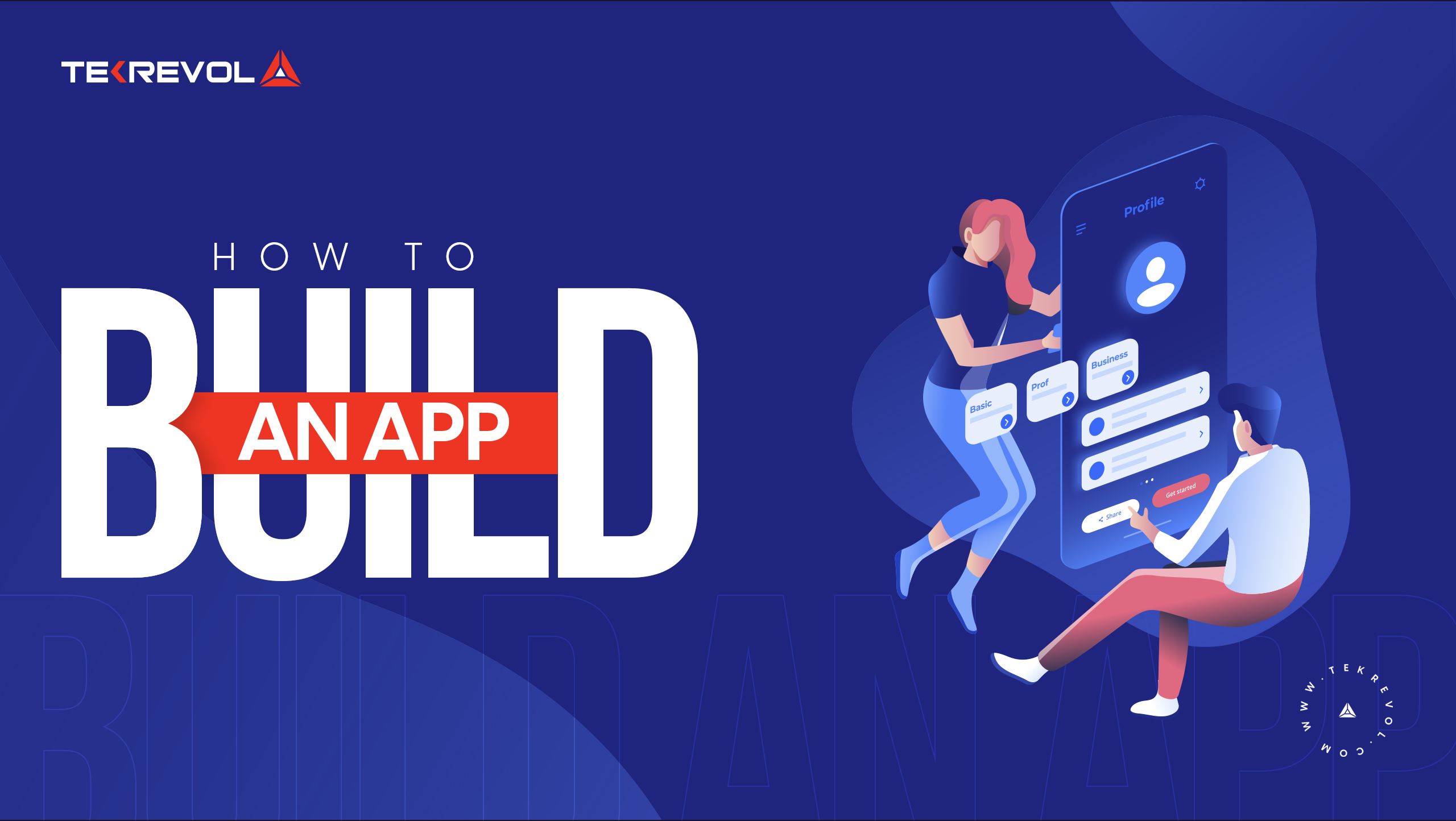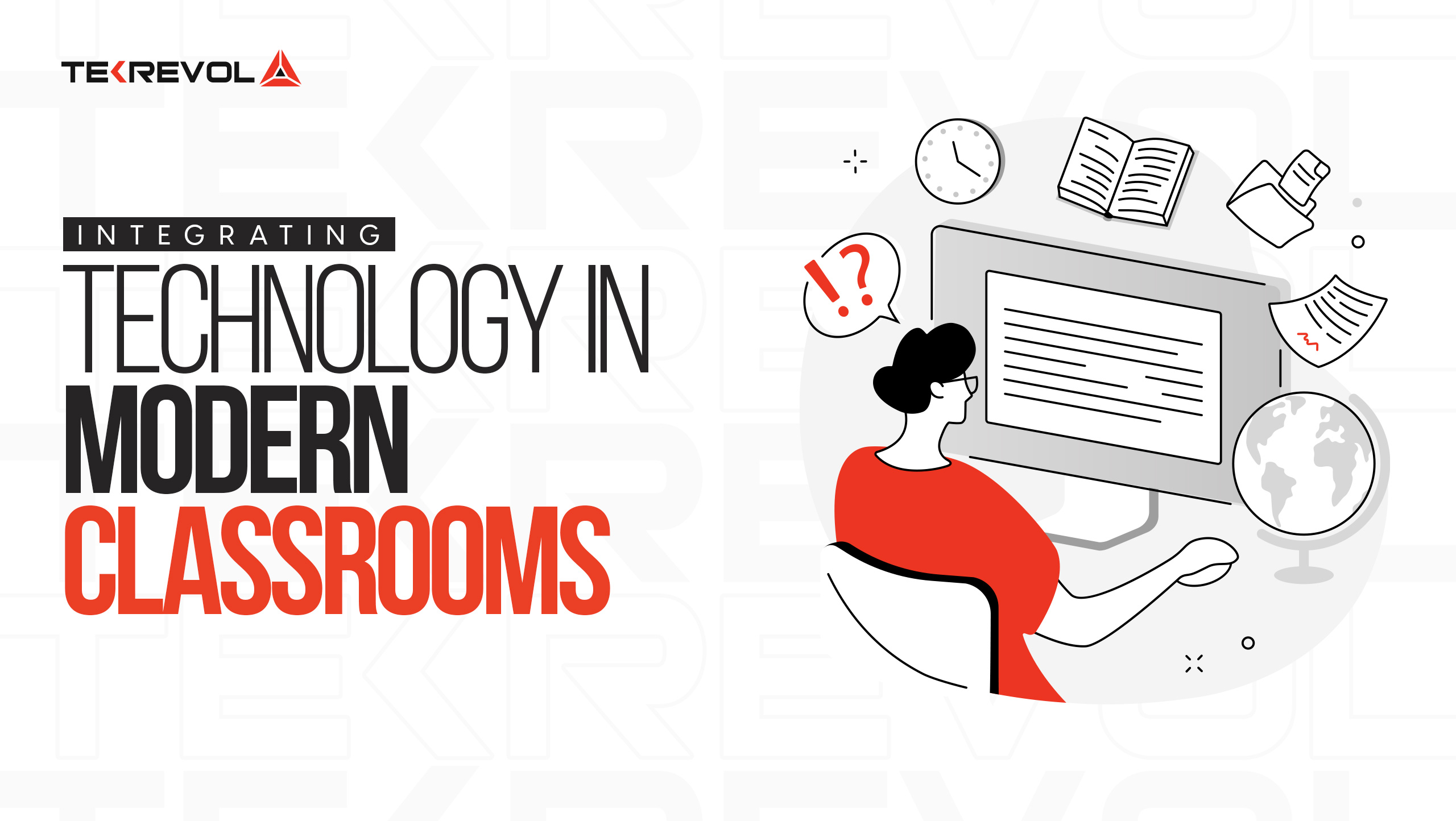 Tekrevol's Global Presence
Now expanding to multiple cities across USA, GCC region, Europe & Asia
Come meet us at a location near you!
USA
39899 Balentine Drive,
Newark, CA 94560
1301 Fannin St #2440,
Houston, TX 77002
501 E Las Olas Blvd Suite
230, Fort Lauderdale, FL
44 Tehama St, CA 94105, San Francisco
400 NW 26th St, FL 33127, Miami
740 15th St NW 8th Floor, DC 20005, Washington
CANADA
4915 54 St 3rd Floor
Red Deer, ABT T4N 2G7
UAE
Level 5, One JLT Tower 1 - Jumeirah Lakes Towers - Dubai, United Arab Emirates
Level 17, World Trade Center, Khalifa Bin Zayed the First Street, Abu Dhabi
Level 22 , West Tower, Bahrain Financial Harbour, Manama, Bahrain
Level 22, Tornado Tower, West Bay, Doha, Qatar
PAKISTAN
3/25, Block 5, Gulshan-e-Iqbal,
Karachi, Sindh 75650
USA
CANADA
PAKISTAN
UAE
talk to us
Got an idea?
Let's get in touch!
Let's discuss your project and find out what we can do to provide value.
I am interested in discussing my ideas with you for
COPYRIGHT 2023 TEKREVOL ALL RIGHTS RESERVED.