Top 10 Apple App Store Categories

Author : SUNAINA KAKREJA
Sunaina Kakreja is a creative content writer and digital marketer at TekRevol. She works closely with B2C and B2B businesses providing blog writing, video script writing, ghostwriting, copywriting and social media marketing services.
January 29, 2020 - TekRevol Team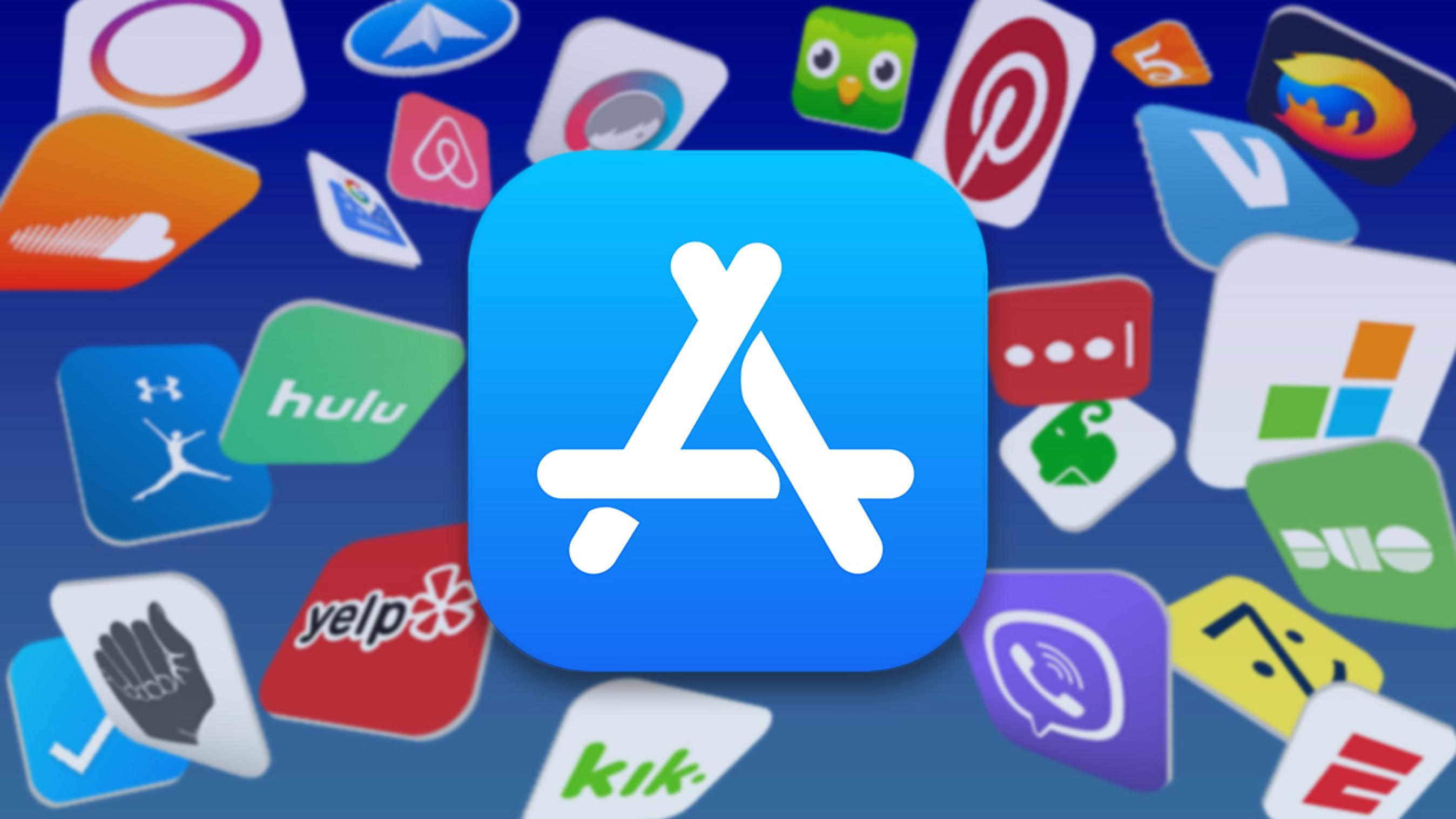 The process of choosing the right category to feature your app in on the iTunes store should be done before you initiate your app development process.
This is necessary because each category has its own specifics and strategies that should form the framework for your iPhone app. However, most businesses are not that well informed on the major categories prevalent on the app store, making it difficult for them to make the right choice.
Understanding app categories is also one of the most integral factors that will affect your App Store Optimization strategy. Your app's success depends on opting for the right one, as it will impact issues like app discoverability and engagement by towing the line for the right kind of audience.
This is a crucial step that you should certainly ponder over, especially when you are opting for custom iPhone app development, as this requires a high amount of resources to get through and they can end up wasted if every element in your strategy is not aligned.
This decision will impact the success of your app in terms of its discoverability for potential users.
The App Store iOS 11 segments apps between 24 categories in the App Tab, as presented in the table above, and the Games Tab is further divided into 19 subcategories, including action, adventure, puzzle, racing, board, card, family, strategy, sports, and more.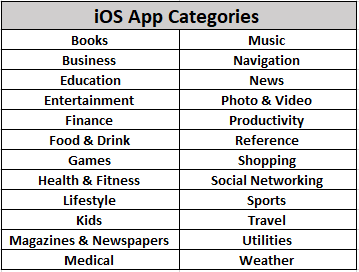 Most popular App Store categories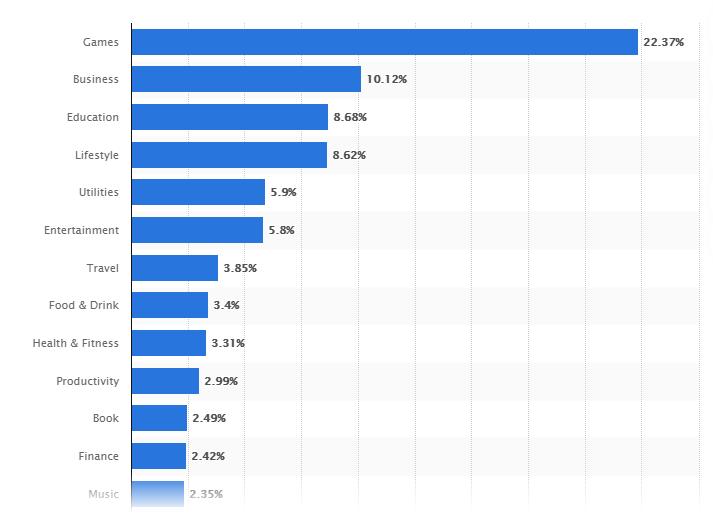 Source: Statista
These are the top ten Apple App Store Categories in November 2019, segmented by the share of available apps.
Mobile gaming continues to rule the roost in the app category as per the latest figures and the trends are highly encouraging even for the future.
A study says about 62% of people download a game on their smartphone within the first week of buying it.
Registering a strong 10% increase, mobile game revenue increased from $30.1 billion to $33.2 billion, as seen in the latest figures provided by Sensor Tower. This makes the gaming category a highly lucrative category to target for those looking to secure a high amount of ROI from their app development.
In addition, with a share of 10.12% active mobile apps, business apps were the second-most popular App Store category. However, this may vary with the primary goal of creating a particular app, but finding out the most popular app category in your choice of the operating system can also help you choose the right category for your app.
How to choose the right App Store category
An uninformed decision when choosing the category can spell trouble for you down the road. That's because, each category has it's own specifics and ROI figures that you must take into account in order to formulate a proper strategy for it.
Hence, your iPhone app development team must guide you to pick the correct category for your app, because an uninformed decision may make the app invisible for its intended users who are looking for similar apps via app stores.
Let's have a look at some tips that can be a big help in choosing the right App Store category for your iPhone app.
Understand your customer's needs
How your users perceive the app instead of what you think your app is the right approach to take when determining the right category to feature your app in. Once you understand how people use your app and what problems the app solves, the correct app category will become evident to you.
However, how people use your app may change over time. Hence, it is necessary to follow up with your app's progress and understand the changing perspective of your users.
For example, initially, Instagram was created to be a photograph sharing platform, but today it is switched to one of the most popular social media networking sites.
Look for relevance
Deciding your app category should be a more intuitive process because it will lead you to the most relevant category to your app. Nobody likes to be misled, so make sure your app lives up to what the category promises.
Users usually look for an app within a specific category using common keywords that represent their intent of use. Keywords are very crucial for the visibility of the app and if done correctly, it can profoundly impact your app downloads. Hence, make sure the functionality of your app and the keyword you use match the primary category you choose for your app.
Take account of the competition
If you have shortlisted between two choices of categories, then the best way to pick one is to predict your potential ranking in each category by comparing the competition in each category.
If you think competition is very high in one category and it will be a bit easier to become one of the top-performing apps in the other category, then you should pick the latter option.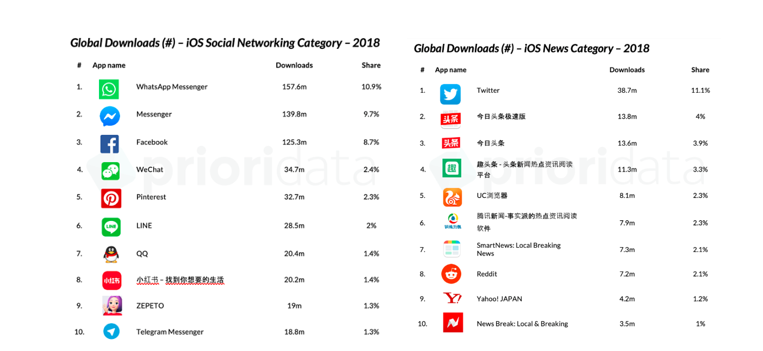 Source: Priori Data
In 2018, Twitter came under the News category. This enabled the company to make it first in the top ten list. If it had chosen the Social Networking category, it would have only been able to reach 4th or 5th in the top ten list. At times the competition in the category makes the decision for you.
Wrap up
The mobile app industry is constantly fluctuating, which sometimes means you may have to rethink and change your app category as a result of changing market dynamics. Whether your alternative app category is performing better than yours or if the people prefer a different use of your app than what you expected, it is always a good idea to revisit your strategy. Analyzing the competitors' and your app's performance will help you better understand how the market is changing and how it impacts your app's overall success to make the necessary adjustments.
Recent Blogs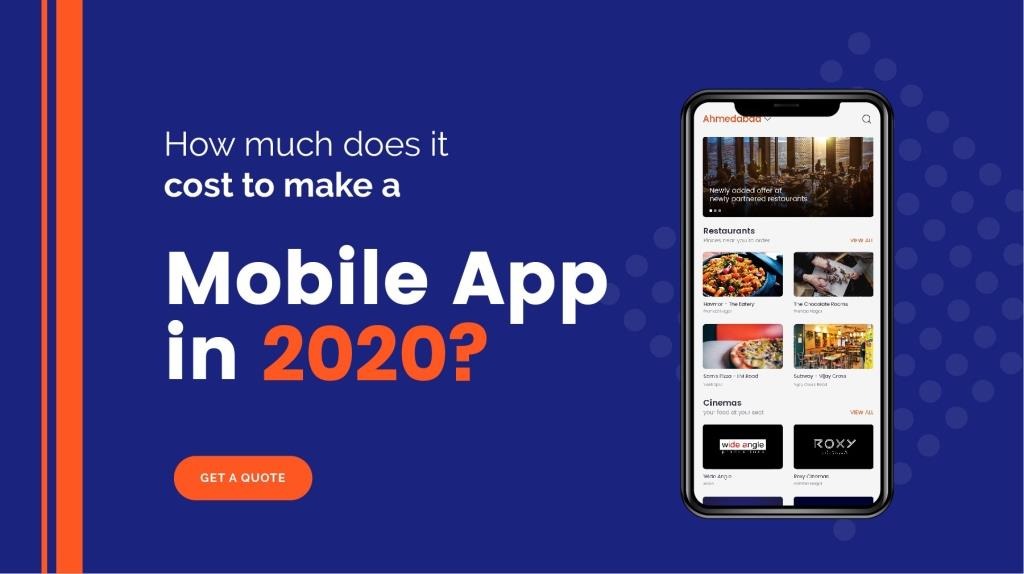 Tekrevol's Global Presence
Now expanding to multiple cities across USA, MENA region, Europe & Asia
Come meet us at a location near you!
USA
39899 Balentine Drive,
Newark, CA 94560
1301 Fannin St #2440,
Houston, TX 77002
501 E Las Olas Blvd Suite
230, Fort Lauderdale, FL
CANADA
4915 54 St 3rd Floor
Red Deer, ABT T4N 2G7
ESTONIA
Harju County, Tallinn, downtown, Tartu mnt 67 / 1-13B, 10115
PAKISTAN
3/25, Block 5, Gulshan-e-Iqbal,
Karachi, Sindh 75650
USA
CANADA
PAKISTAN
ESTONIA
talk to us
Got an idea?
Let's get in touch!
Let's discuss your project and find out what we can do to provide value.
I am interested in discussing my ideas with you for
COPYRIGHT 2019 TEKREVOL ALL RIGHTS RESERVED.