How to Create an Educational App: Features, Benefits, and Costs
Author: Mariam Amin |
December 9, 2022 -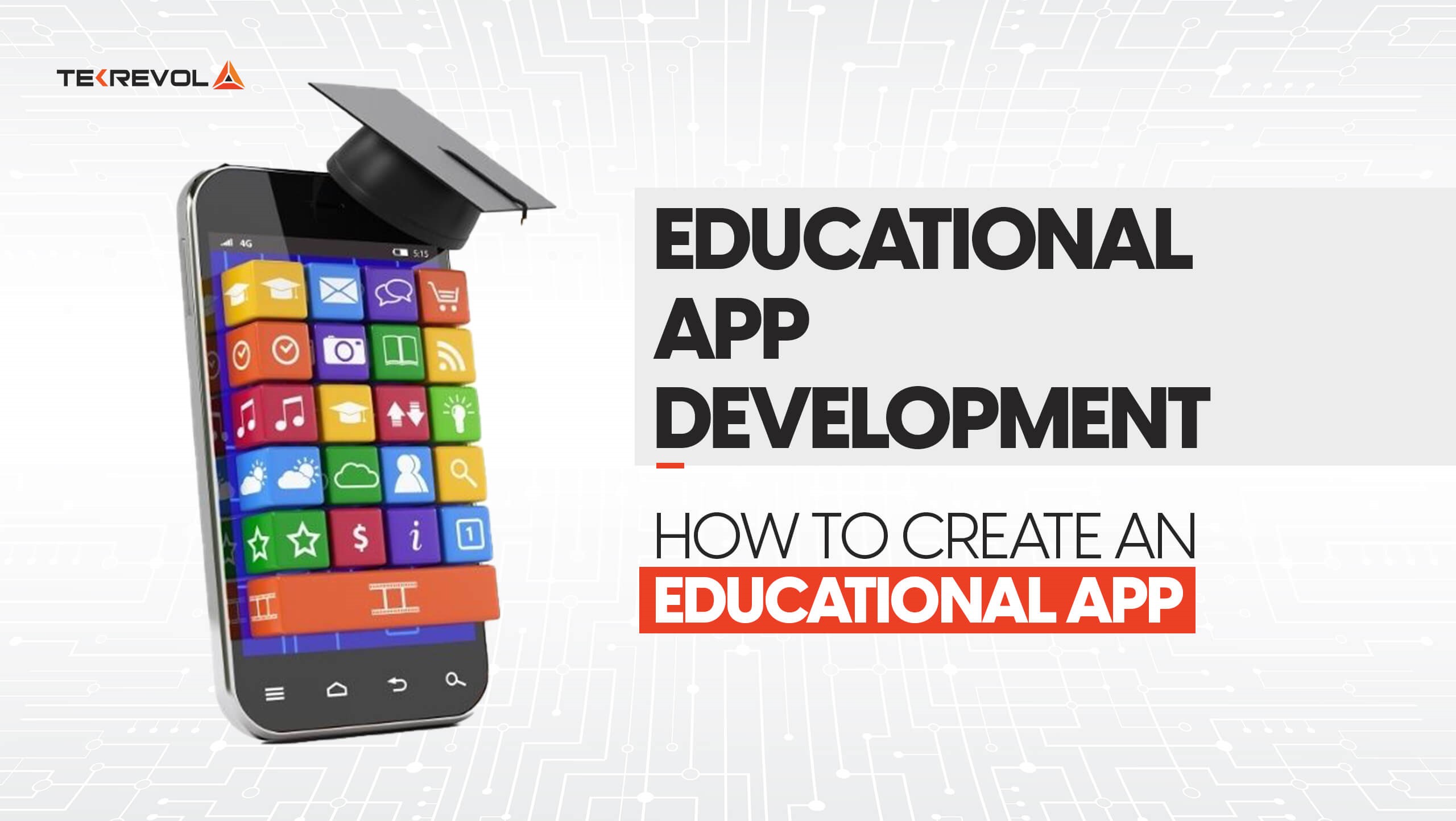 The education sector has transformed tremendously in the past few decades. Primarily, education was only about hand-written notes, tedious lectures, and assignments. Nowadays, education is more about connectivity, feasibility, creativity, and mobility.
According to Statista, the education sector has acquired the third position in the mobile app development category.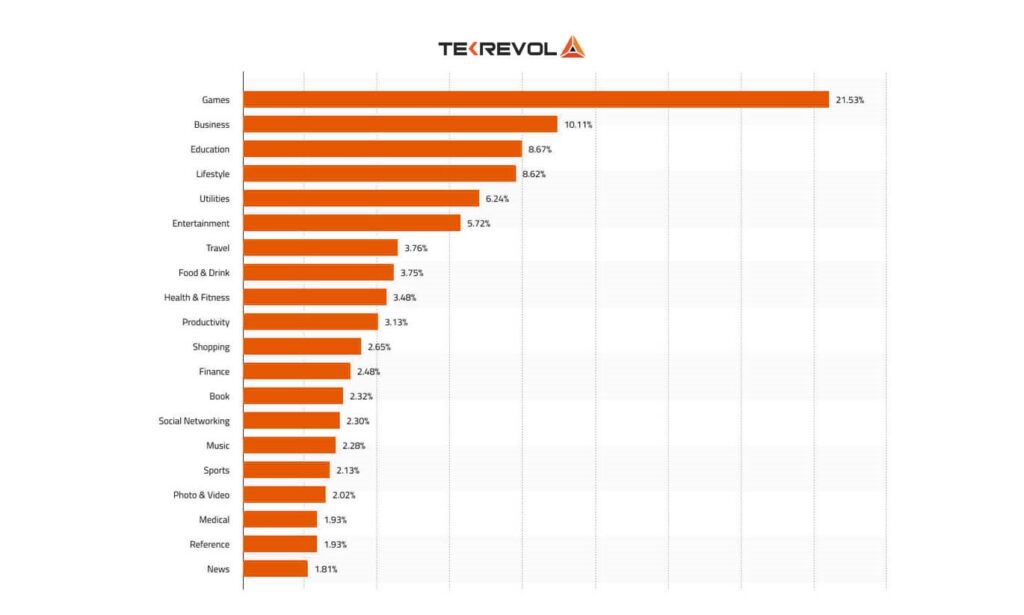 Due to the rapid progression in the education industry, users can now learn and discover any information at any time from any part of the world.
In fact, due to this sudden surge in the educational industry, nearly 40% of all Fortune 500 companies are utilizing online learning platforms these days for the training and mentorship of their employees.
Are you a business owner or an aspiring entrepreneur who wants to start his own Edtech app development business? Do you want to discover how to create an educational app? If so, this guide is exclusively written for you.
In this guide, you'll learn all about educational app development. For instance, what it is, recent key statistics related to the education sector, a step-by-step guide to creating an education app, key trends, benefits of e-learning apps, and factors that affect the cost parameters.
What is an Educational App?
An educational application, in general, is software that assists users in remote learning.
Primarily, there were limited resources available, and there was no such concept of learning online. But with the advent of technology, e-learning has become easier and hassle-free. Now users can easily self-learn anything, anywhere, at any time.
Educational app development technology has opened a myriad of opportunities for businesses. It provides enterprises an opportunity to scale their business to higher levels.
In a nutshell, the core function of an educational app is to provide countless, end-to-end meaningful learning solutions online that were quite impossible in the previous decades.
Some of the best examples of educational app development are; Google Classroom, Edmodo, Zoom, Photomath, edX, Duolingo, and Scratch. 
Educational App Development – Market Overview
Education has become one of the biggest yet most lucrative businesses nowadays. It has attained massive traction during the global epidemic. A lot of enterprises have started investing in building smart education apps and e-learning platforms, especially during pre and post-pandemic.
Some of the giant industries, such as Apple, Dell, Lenovo, Samsung, and Fujitsu, are currently making millions of dollars just by investing in educational app development technology.
According to Statista, it has expected that the educational app market will be worth $245 billion by the end of 2022. And it will further be projected to $300 billion by the end of 2024.
Another study has found which proclaims that the e-learning industry will further expand to $350 billion in the year 2025. In fact, more than 50% of the revenue comes from e-learning apps.
Overall, educational app development has a lot of potential in the future. Henceforth, if you're an entrepreneur or a business holder, you must invest in building educational mobile app development for your business.
Have an Education App Development Idea?

Want to validate or discuss your app idea? Connect with our experienced and professional team of app developers.
How to Create an Educational App?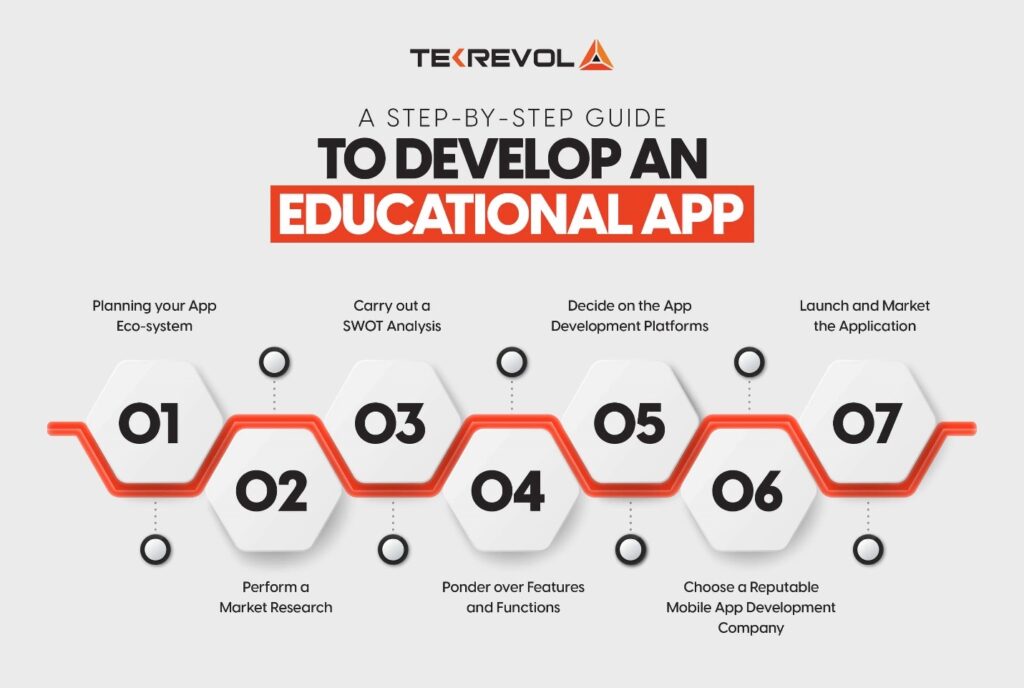 In order to create an educational app, first and foremost, you must require to have an in-depth understanding of the mobile application development process and e-learning processes. The following six steps will assist you in your journey while developing an educational app.
Let's discover the step-by-step processes that explain how to create an app for educational purposes.
Plan on Your App Eco-System
There are various parameters involved when we talk about educational app development. The reason is that there are multiple educational app development ideas available in the mainstream markets. Thus, it has become crucial to decide on the app idea.
Start your journey by listing down what sort of app you'll be going to launch. Apart from that, think about who will be your targeted audience. And how many features and functions you will integrate into your app.
Other than that, ponder over what sort of programming language your app will be based on and other app parameters.
Planning your app eco-system beforehand will help you analyze how your app will look, feel, and perform overall.
Conduct an Extensive Market Research
Being a business owner, you don't want to risk your business, right? Therefore, you must perform comprehensive market research before finalizing your educational application development idea.
No matter how interactive and appealing your application is, if it doesn't have potential ahead, ultimately, your time, money, and other resources will be wasted.
Why conducting research is essential before e-learning app development?
Firstly, you will comprehend your customers' needs for your product
Secondly, to determine what sort of challenges could arise during the development
Thirdly, you can easily discover your sole audience who will be interested in your app
Fourthly, you'll be able to understand different revenue models and monetization strategies
Lastly and most significantly, performing research in the first place will help you identify new market trends and technologies.
Carry Out a Swot Analysis for App Development
Perhaps, now, you've learned why it is imperative to conduct market research. However, the biggest question is how you will conduct it. Well, for that, SWOT Analysis would be the best option.
The following SWOT Analysis chart will help you finalize your app parameters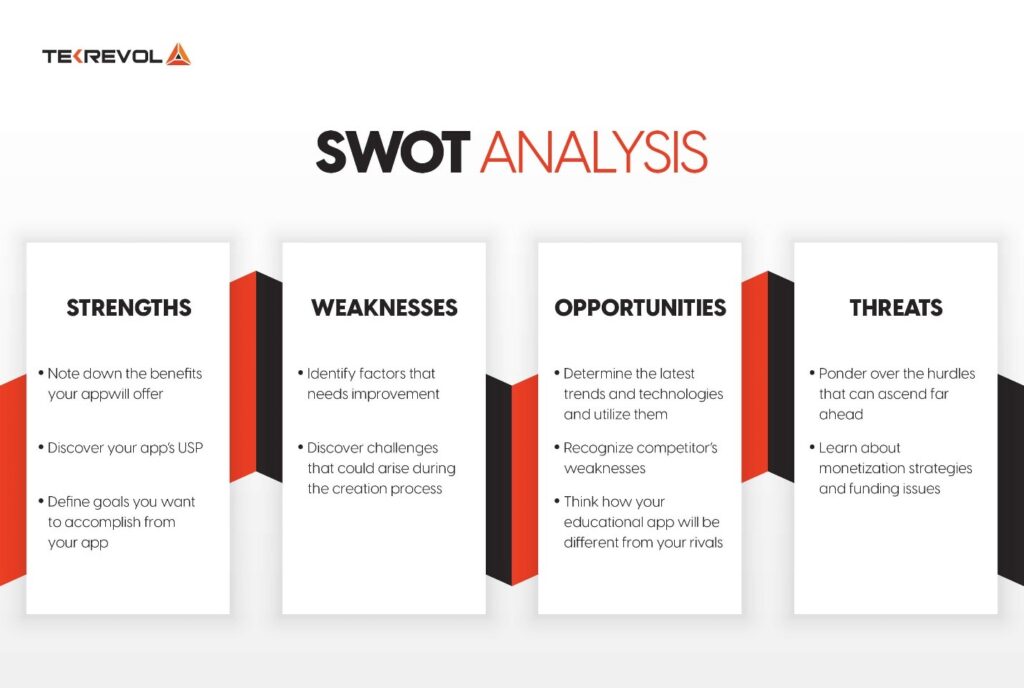 Think about Features and Functions to Include
After carrying out a SWOT examination, the next step is to think about the features and functions that will include in your educational mobile application. In this regard, you can check out your competitors' apps or websites. See what unique and compelling features they are offering.
Other than that, you can keep an eye on app stores and check out different educational mobile applications. Open some top-rated apps, and observe what sort of features and functions are included in those apps.
Plus, the easiest way to determine which functions you must add to your app is by carefully analyzing the comment section and seeing what customers are looking for.
Some of the top features that an educational mobile application usually comprises are:
Gamification and 2D/3D lectures
Screen recording
Push notifications
Offline resources access
In-app discussion and group chat facility
Live classes feature
Sharing media files options
Dashboard for users
Audio and video-based content
Tracking progress feature
Ponder over the App Development Platforms
The most vital factor after discovering the features and functions is to think about the platform you'll utilize. For instance, Android, iOS, or cross-platform.
If you're aiming for a successful educational mobile application, it's best that your app runs on multiple gadgets and platforms.
Some of the top factors you shouldn't overlook while deciding the app development platform are;
Stipulated time-frame
Geographic location
Challenges and complexity involved
Your budget and developers' expertise and skillset
It's always a best practice to onboard an expert mobile app development company. These tech professionals will help you decide the best platform for your app as per your budget.

You can connect with our App professionals, too, at TekRevol.
Select a Reliable Mobile App Development Company
After finalizing all the above stages, the next and most significant factor is to discover a trustable yet reliable educational app development company. For this purpose, you can check out our prestigious and award-winning company, TekRevol, too.
Other than that, you can discover top-tier app development companies on Clutch, Good Firms, LinkedIn, or any other social platform.
Being a business owner, surely, you don't want to compromise on your project needs. Well, our experts at TekRevol will handle all your project needs efficiently and deliver your project timely.
We have years of experience building educational mobile applications for both iOS and Android Platforms. Get in touch with us today to discuss your project needs.
Launch and Market your Educational Application
Once you've done shortlisting the educational mobile application development company, afterward, it's time to release your educational app.
Both Android and iOS have certain guidelines and codes of conduct. Thus, carefully read them in the first place.
Our tech professionals at TekRevol are aware of all the nitty-gritties that are involved in making a learning app.
Plus, our experts proficiently assist you in releasing the app successfully on app stores. Additionally, they help you in marketing your educational mobile application, too.
If you want to learn more about educational app development in detail, check out this guide.
How Much Does It Cost to Build an Educational App?
The most searched query found on Google is "how much does it cost to make a learning app?". Well, there is no definitive answer to this quest.
Estimating the cost of developing an educational app depends on various parameters. Some of them are;
App's concept, targeted audience, and no. of platforms
Features and functionalities
Challenges and technicalities involved
Your budget and time-frame
Developers' technical prowess and skillset
Global presence and years of experience developers possess
Other than that, the following factors also contribute to estimating the cost parameter.
Factors that Affect the Cost of Your Educational App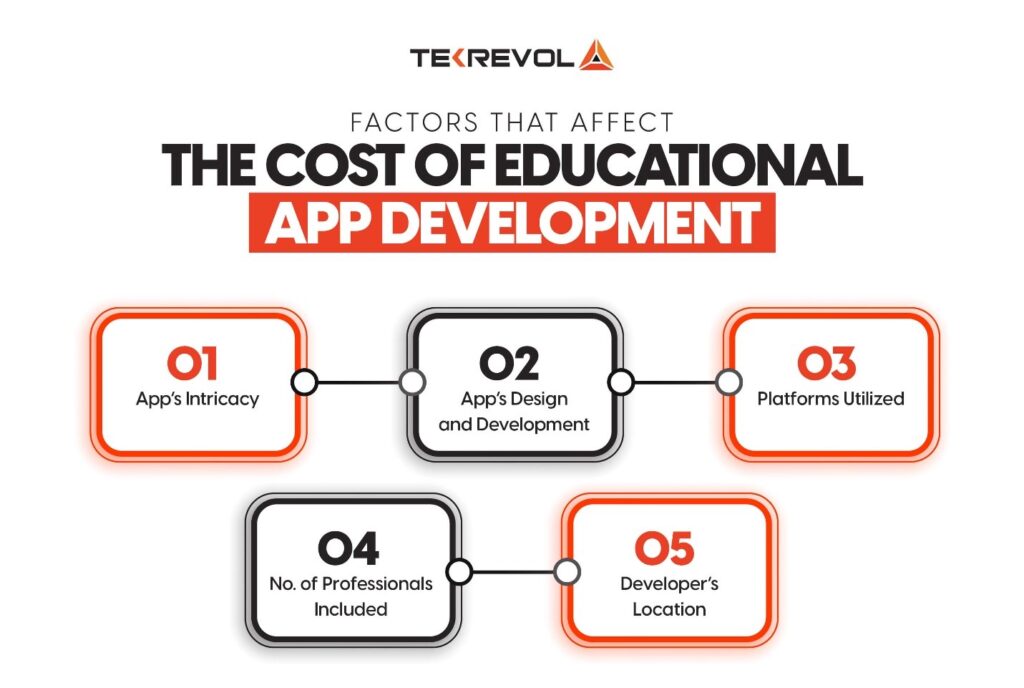 Here you'll discover all the factors that might affect the cost parameter. Plus these factors also help you assess the cost of your educational app development.
Idea's Intricacy
Estimating the cost factor is directly co-related with your app's idea complexity. In general, the idea's intricacy includes no. of features and functions that will be added to your educational application.
Apart from that, it relies on demographics, API integrations, and monetization strategies. Moreover, it also depends on UI/UX design, frameworks, and other challenging parameters.
App's Design and Development
The other factor that influences the cost parameter is how complex your app design is. Obviously, designing and developing an educational mobile application requires hefty amounts as well as time.
Though, if your educational app design is simple and straightforward, it will take less time to complete. Conversely, if your learning app entails a complicated design and diverse features and functionalities, it will acquire more time.
Platforms Utilized
Typically, three platforms are most commonly utilized in order to develop an educational mobile application. That is iOS, Android, and Web. Also, you can consider cross-platform or native applications.
We recommend you go for cross-platform technology. In that way, your time and money will both be saved.
Developer's Location
Another component that affects the price factor is the developer's location. Generally, in Eastern Europe, the cost varies from $80,000 to $110,000.
Conversely, in the USA, like New York, Houston, Chicago, Miami, Austin, San Francisco, the UK, and Canada, you'll find more pricey services, i.e., between $70,000 to $130,000.
In short, choose the development company based in your region. Or you can outsource your app needs to a reputable company like TekRevol.
No. of Professionals Included
The last and most prevalent factor that impact the expenditure is how many individuals are involved in your project. More or less, these individuals are involved in app development.
UI/UX designers and developers
Project managers
Coordinators and Project Analysts
Coders
Testers
Support and maintenance service providers
Quality Assurance individuals
Top 5 Education App Development Trends
Let's quickly discover the top 5 learning trends that are transforming the education sector.
Artificial Intelligence (AI)
Artificial Intelligence (AI) has transformed almost every sector, especially education. Nowadays, AI technology has brought a significant shift in mobile app development.
This tremendous technology has altered the education experience in splendid ways.
Some of the prominent benefits of using AI in education apps are personalization, task automation, smart content creation, and so on.
Augmented Reality (AR)
In the same way that virtual reality (VR) creates new virtual worlds, augmented reality (AR) simulates effects in the real world.
Google Translate is an eccentric example of a program that can translate text that is being recorded by your camera in real-time.
With the aid of augmented reality learning activities, you can play interactive educational games with your students. This increases learning retention and creates new opportunities.
Virtual Reality (VR)
In the past few years, virtual reality (VR) has made tremendous progress in the e-learning and m-learning industries.
With the help of VR technology, users can view and learn content with the use of virtual environments.
Some of the greatest examples of VR apps are 2D/3D dimensional apps, problem-solving applications, and Anatomy VR.
Chatbots
Virtual assistants, such as Siri and Alexa, play an important role in our everyday lives. They have made our lives simpler and easier. In fact, they have streamlined education sector operations as well.
Currently, there are 3.5 billion users associated with chatbot technology. And it has been predicted that nearly 8.4 billion users will be utilizing chatbots by the end of 2024.
All in all, this ever-changing technology allows users to convert their lectures into chats or text messages. Plus, chatbots provide users with a new learning experience.
Gamification
If learning and entertainment are blended together, students might be more interested in learning any subject. Gamification has the power to make learning more interesting, which increases student engagement. Gamification is crucial for increasing students' levels of concentration.
Overall, the explosion of gamification will provide online learning with a new edge.
Top 5 Benefits of E-Learning Apps
The education sector has seen tremendous growth in recent years. This has become possible due to the rapid escalation in the technological world.
Nowadays, individuals can easily access any learning material on their smartphones without any hassle.
Let's explore the top 6 benefits of utilizing e-learning apps.
Portability and Flexibility
One of the greatest reasons for having education apps is maneuverability and transportability. Yes, due to these exceptional reasons, users can easily learn anything or access any learning material online. And that too at any time and any part of the day.
Engaging and User-Focused
Other tremendous reasons for using e-learning apps are they are more user-focused and engaging.
Undeniably, individuals are drawn more toward attractive images and colorful content rather than simple plain text. Currently, there are various e-learning apps that fulfill all these demands.
In everyday routine life, it has become difficult for students to remember every sort of content. There are countless reasons for that. However, during that time, e-learning apps are a blessing in disguise for students. They can help students learn and memorize everything effortlessly.
Overall, learning apps are user-friendly and easy to use, which draws students' attention easily towards learning.
Time-Saving
Education apps offer immense advantages. One of them is they are time-saving. By utilizing e-learning apps, learners can save time. This will ultimately reduce travel time, too.
Over the past few decades, hand-written notes have been utilized in order to learn any material. But as soon as time passed, they were greatly replaced due to the advent of extraordinary learning applications.
Nowadays, a wide range of educational mobile applications is available. For instance, flashcard games, dictionary apps, language learning apps, or math-problem-solving apps.
Overall, learning apps save time, offer portability, and endless opportunities.
Affordable
In this inflation era, educational apps are a great investment. Even paid learning apps cost you a little lesser than hiring a tutor.
Currently, there are numerous private tuition and student task apps available on app stores that offer exceptional features and functionalities.
Simply put, learning apps are the least affluent way to learn anything just by simply tapping the app icon.
24/7 Availability
Long gone are the days when time-bound learning was accessible. And users need to visit schools or colleges in order to attend everyday lectures and educational programs.
Due to the introduction of e-learning apps, users can acquire any information or access any learning material at any time. In addition to that, learning apps resolve users' queries instantly whenever and wherever they require.
Top 3 Monetization Strategies for Educational App Development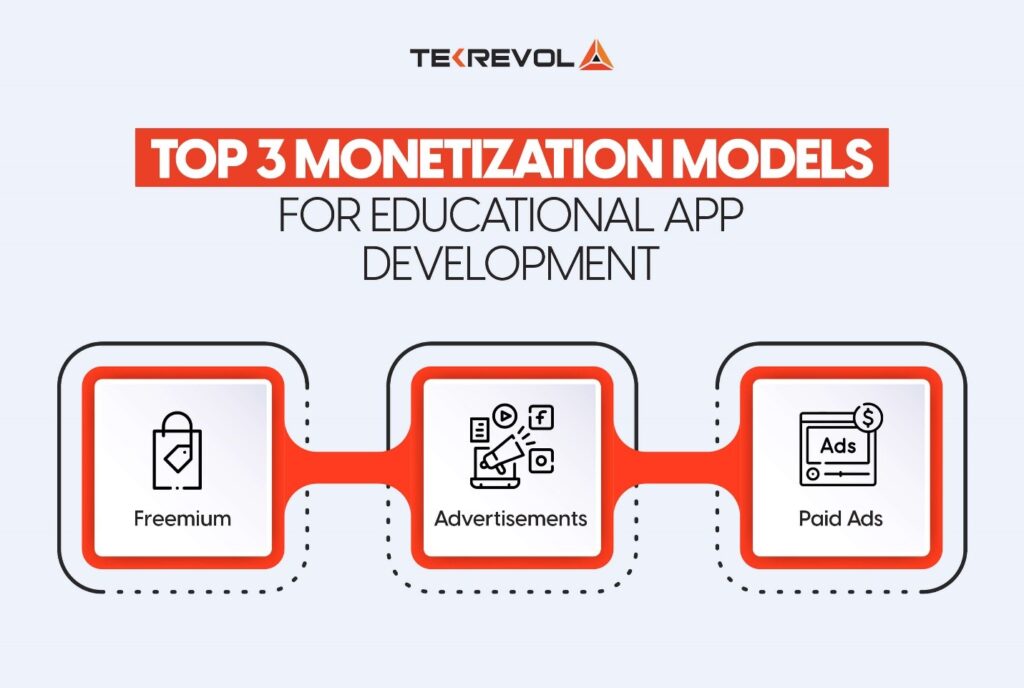 Fundamentally, three monetization strategies are commonly used for marketing any mobile application, particularly educational app development.
Freemium
The freemium business model allows users to download your app for free and then choose whether or not to make in-app purchases for premium features, additional content, or digital goods.
In-App Advertisements
App developers can earn money by displaying ads inside of their mobile apps thanks to mobile app advertising. These advertisements are provided by a mobile ad network, a platform that links advertisers and developers.
Paid apps
Paid advertising is a form of online advertising in which marketers compete to show their adverts during slots on a particular network or platform by bidding in real-time auctions.
Are you planning to make an educational app?

Searching for a reputable mobile app development company to create an educational app for your business needs?
How long does it take to build an Educational App Development project?
If your educational mobile application requires a minimal interface and simple design and functionalities, it will take around 2-3 months. On the other hand, if the e-learning app you intend to launch comprises of complex interface and challenging functionalities, it will take at least 4-6 months or more.
Overall, the time taken to complete any mobile application depends on your app's specifications.
Bottom Line
Let's sum up all the content we have covered in the above write-up.
Firstly, we have discussed what is educational app alongside with e-learning market overview.
Secondly, we have listed down a step-by-step guide that will assist you in creating your own educational mobile application.
Thirdly, we have mentioned how much it cost to make a learning app alongside the factors that affect the cost parameters. After that, we have covered the features, trends, and benefits that you must include in your e-learning mobile application.
Lastly, we have jotted down the top 3 monetization models for educational apps as well as the estimated time that goes into the development of an educational mobile application.
Need supervision with your educational app development project?

Fret not. We're here to serve you with the best-of-the-best services. We are one of the leading mobile app development companies offering top-tier mobile and web development services and solutions.
Frequently Asked Questions:
How much does it cost to make an educational app?
The average cost that is usually involved in order to create an educational app lies between $60,000 to $120,000, depending on your app requirements. However, every mobile app development company has a certain price list based on their expertise and experience. So, don't forget to determine the project cost beforehand while finalizing the one for your educational app development project.
Where to find reliable mobile app developers for an educational app development project?
TekRevol
Upwork
Toptal
Clutch
Good Firms
LinkedIn
What are the must-have features in educational app development?
Panel/dashboard for user login
Search functionality
Push notifications
Social sharing feature
Live audio/video facility
Payment Functionality
Cloud integration and syncing
Which are the top education app ideas?
AR/VR-based education apps
Cloud or AI-based educational mobile application
Games and quizzes apps
Mental math or other language learning educational mobile app
Apps for handicapped users
What are the things to consider while selecting an educational app development company?
Here is a quick rundown of the top things you must consider while hiring an educational application development company;
Technical abilities and skillset
Study portfolio and examine case studies
Developer's years of experience
Location and time-zone differences
Previous projects and reviews, and ratings
Transparent communication
Must have prior experience working on the educational app development projects
NDA agreements and Costs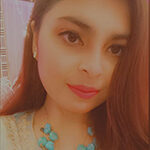 Author : Mariam Amin
Mariam Amin is an Electronics Engineering graduate. As a content marketer, with her insights on engineering and digital strategy, she showcases informative guides and content that is built on imparting knowledge. When away from marketing and the digital landscape, you can find her looking over the food industry, and fitness trends, and catching up on a documentary or a movie.
Recent Blogs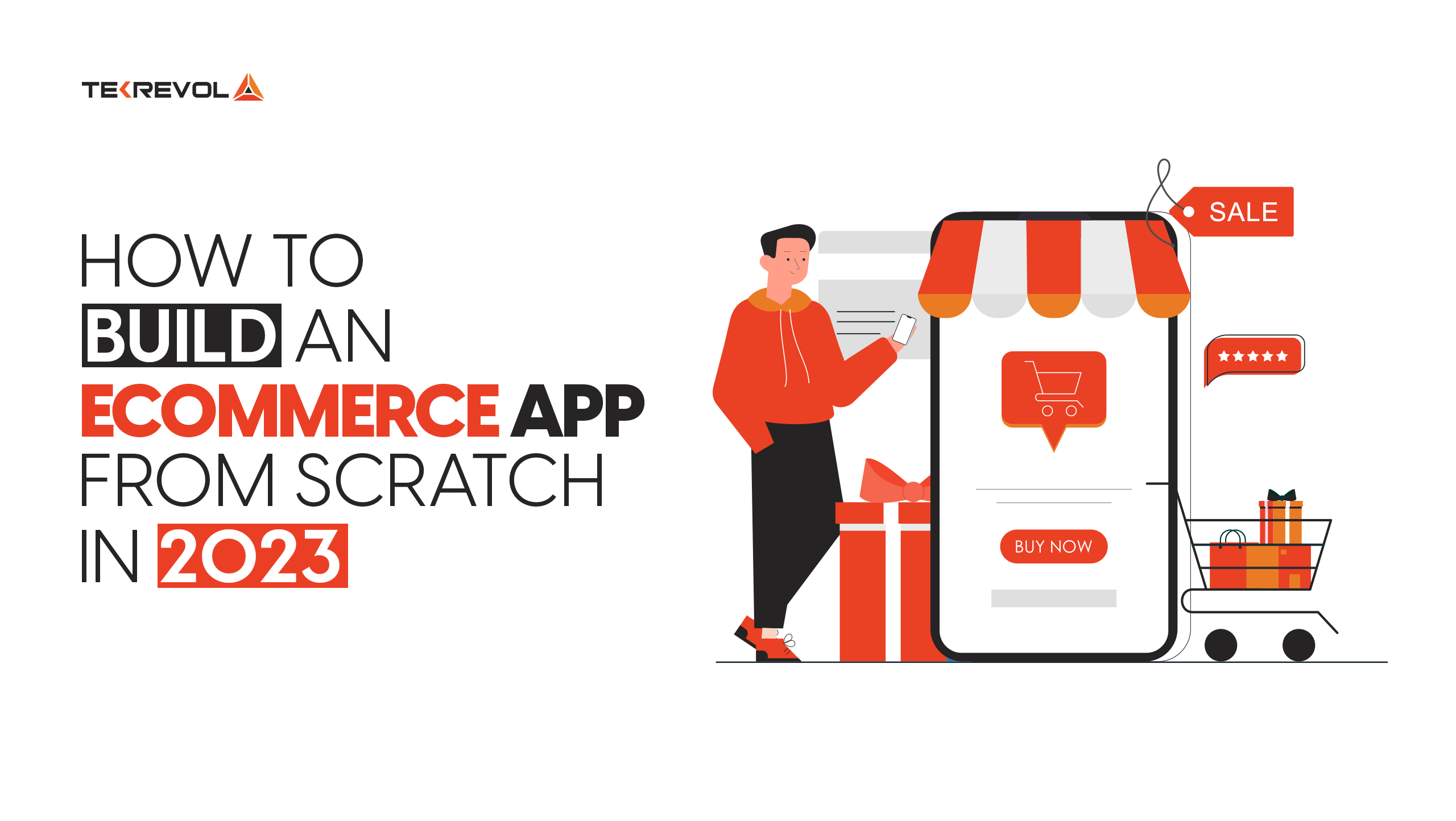 Tekrevol's Global Presence
Now expanding to multiple cities across USA, GCC region, Europe & Asia
Come meet us at a location near you!
USA
39899 Balentine Drive,
Newark, CA 94560
1301 Fannin St #2440,
Houston, TX 77002
501 E Las Olas Blvd Suite
230, Fort Lauderdale, FL
44 Tehama St, CA 94105, San Francisco
400 NW 26th St, FL 33127, Miami
740 15th St NW 8th Floor, DC 20005, Washington
CANADA
4915 54 St 3rd Floor
Red Deer, ABT T4N 2G7
UAE
Level 5, One JLT Tower 1 - Jumeirah Lakes Towers - Dubai, United Arab Emirates
Level 17, World Trade Center, Khalifa Bin Zayed the First Street, Abu Dhabi
Level 22 , West Tower, Bahrain Financial Harbour, Manama, Bahrain
Level 22, Tornado Tower, West Bay, Doha, Qatar
PAKISTAN
3/25, Block 5, Gulshan-e-Iqbal,
Karachi, Sindh 75650
USA
CANADA
PAKISTAN
UAE
talk to us
Got an idea?
Let's get in touch!
Let's discuss your project and find out what we can do to provide value.
I am interested in discussing my ideas with you for
COPYRIGHT 2023 TEKREVOL ALL RIGHTS RESERVED.