Building a Successful Taxi App in Dubai – A Comprehensive Guide
Author: Kamran |
November 10, 2022 - TekRevol Team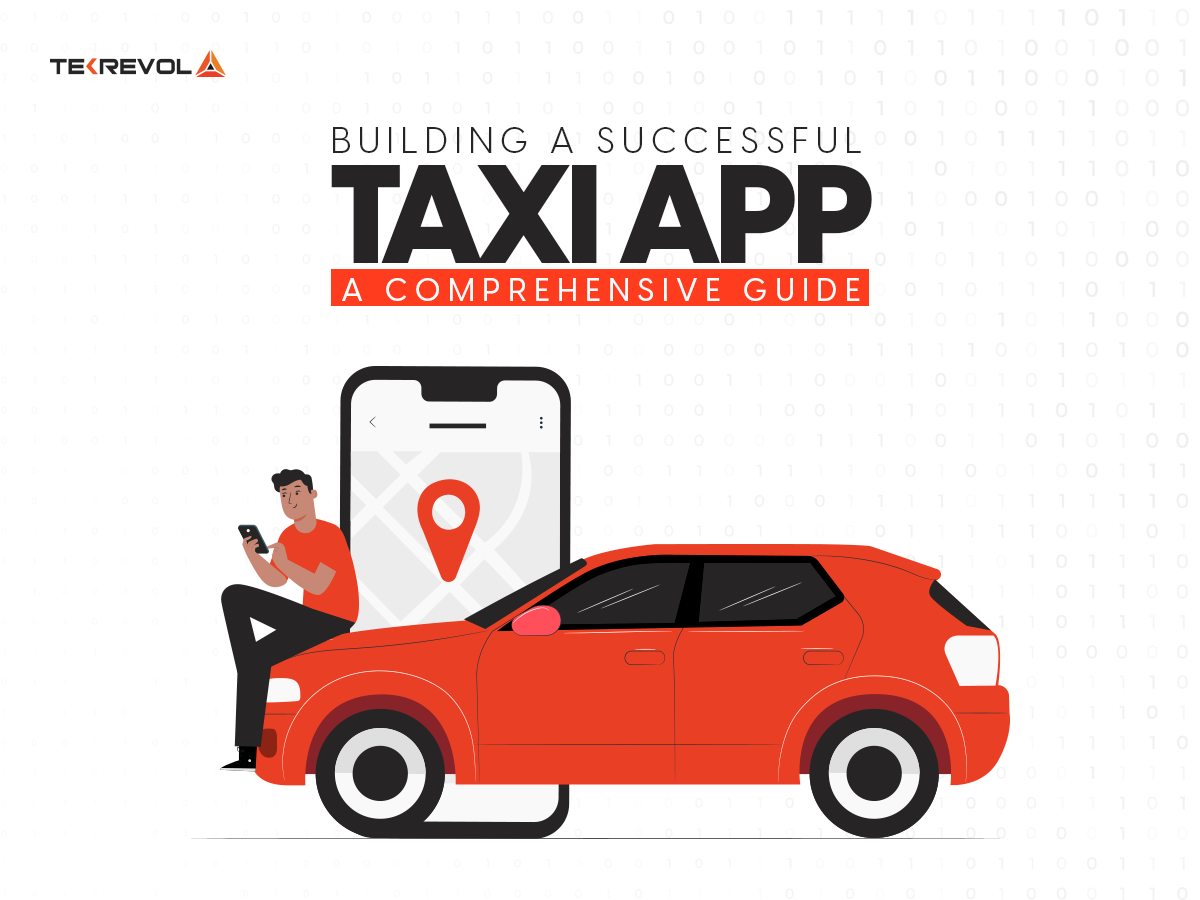 With the dramatic escalation in tourism following the pandemic, on-demand ride-booking taxi apps in Dubai are becoming the go-to choice for roaming around and exploring the wonders of this magnificent city.
Dubai had over 8 million visitors in the first eight months of 2022. Although the transportation facilities in Dubai are a class in itself, catering to 8 – 10 million international tourists is no joke, even for a futuristic city like Dubai. Thus, the rise in on-demand ride-booking and taxi apps in Dubai.
As of today, there are six reputable ride-booking taxi apps available in Dubai, both private and government-subsidized. If you are looking to tap into this billion-dollar market and build your own ride-booking taxi app in Dubai, read on!
This blog is a detailed guide on how to build a scalable and sustainable taxi app business in Dubai. It will give you an overview of the top taxi apps in Dubai, along with their USPs, and highlight the eight crucial steps to consider before building a taxi app in Dubai.
But first, let's have a look at the most popular taxi apps in Dubai that could be your possible competitor in the future.
Top Taxi Apps in Dubai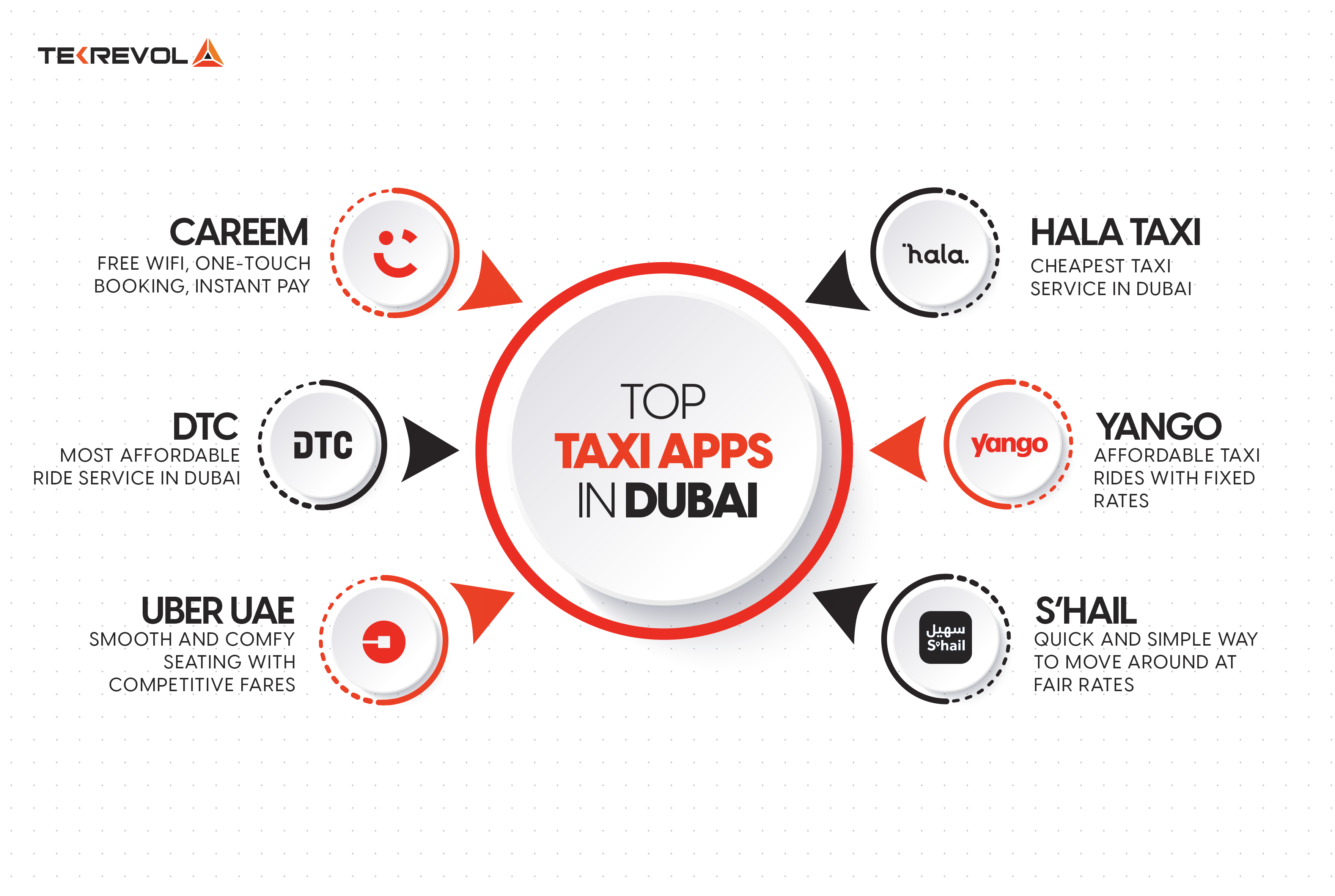 Here's a list of the six most popular ride-booking taxi apps in Dubai:
Careem
DTC
Uber UAE
Hala Taxi
Yango
S'hail
Thousands, if not millions, use the above-mentioned ride-booking services for daily commuting in Dubai. While Careem, Uber, and Yango have a strong global presence, both DTC and S'hail are subsidiaries of RTS Dubai (Roads and Transport Dubai.)
The Need for Ride Booking Taxi Apps
With the tourism count surging each passing day, the demands for high-quality ride booking and ride-sharing on-demand apps are increasing drastically. Thus, there's still room for entrepreneurs to leverage the business-friendly policies here and start an online ride-booking taxi app service in Dubai.
Although you will not have the first-mover advantage in this industry, the market is still unsaturated and has plenty of opportunities for passionate entrepreneurs to capitalize on and build a profitable ride-booking app in Dubai.
How to Build a Taxi App in Dubai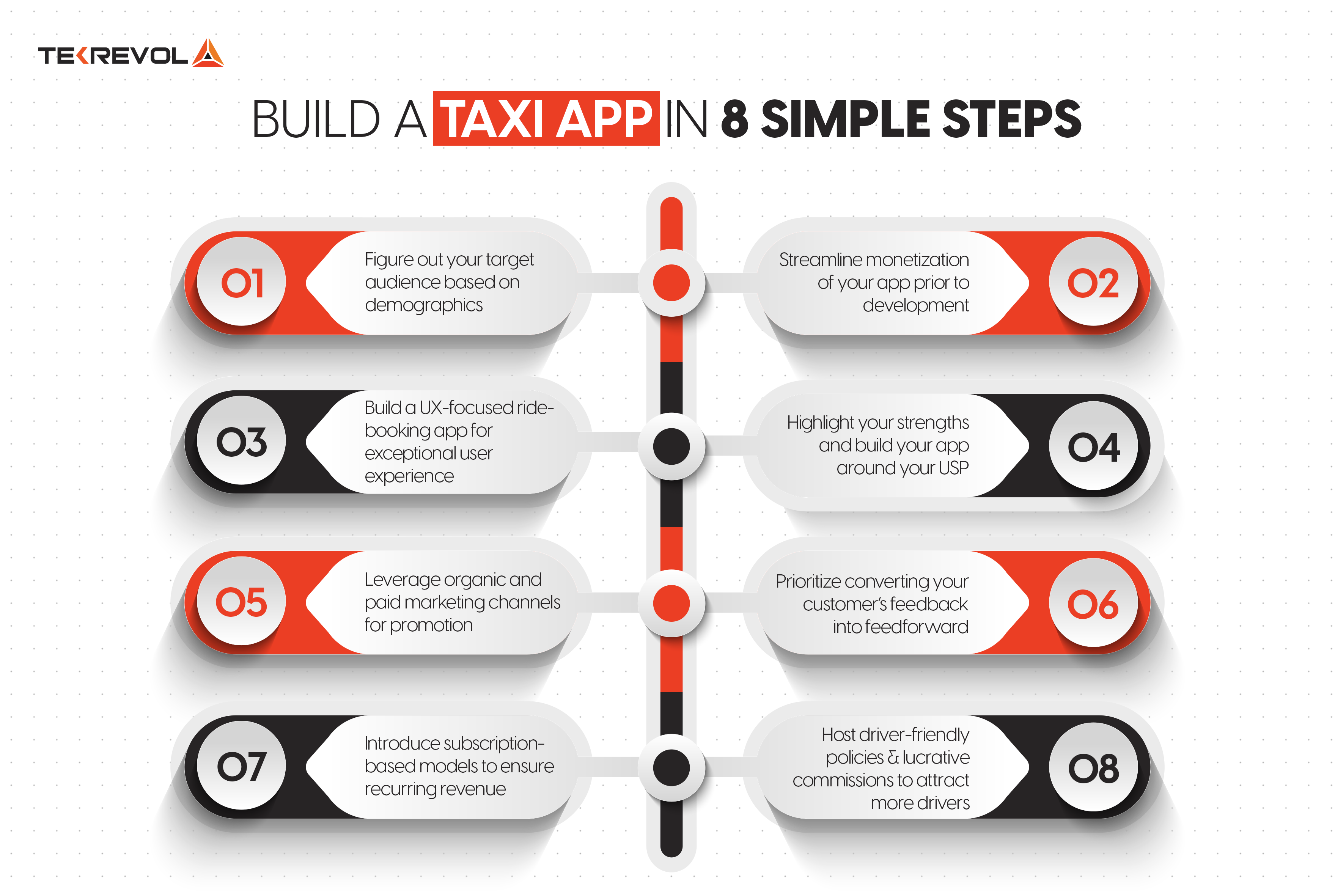 Here is a step-by-step guide to building a ride-booking taxi app that top mobile app development Dubai companies use to create the right tool for businesses.
1. Figure out Your Target Audience
With competition at its peak, building and marketing your ride-booking taxi app to everyone involves too much risk. You must figure out your target audience and build your app around their interests and preferences.
Let's say your target audience is working-class men aged 25 – 45 years looking for ride-sharing services to commute to their offices. In that case, you must create an entirely different business model than a basic taxi or ride-booking app.
Investing in building a ride booking app without your target audience is like shooting an arrow in the air, hoping it will hit the target. Talk to people who often use taxi apps in Dubai and conduct quick surveys online to learn the problems people face in their daily transport.
Already Know Your Target Audience?
2. Plan Monetization Ahead
Now, once you know who your target audience is, you can plan the monetization of your taxi app business accordingly. Building a monetization strategy prior to development and marketing is crucial, as continuous cash flow is important to fuel your business.
To monetize your online taxi service in Dubai, you can take inspiration from the industry leaders like DTC and Careem or create a better one after conducting marketing surveys and talking to the subject experts.
For instance, you can charge a straight commission fee to captains per kilometer or ride or rely on the revenues generated from in-app ads. However, in-app ads spoil the user experience and don't work in most cases (unless you are offering the lowest rates in the industry.)
3. Build a UX-Focused Ride Booking App
Once you have taken care of monetization and your target audience, the next step is to build a UX-focused ride-booking mobile app. And by UX-focused, we mean a smooth, easy-to-use mobile app with an intuitive design and functionality.
Since Dubai is home to people from every corner of the world, you can add the "choose language" option at the start and integrate 3 – 4 popular languages in Dubai to make your users feel valued.
For a ride-booking taxi app in Dubai, the best development practice is to build the following three separate versions of the app:
An app for the general public
An app for drivers and captains
An app (admin panel) for administration
Now, the first development approach is to clone a famous taxi app in Dubai and customize it accordingly. While this approach might be somewhat less expensive, it doesn't give you the freedom to go above and beyond and unleash your creative instincts.
4. Build Your Taxi App Around a USP
Since Careem and other popular taxi apps have been operating globally for years, you will not have the first-mover advantage here. However, to compete against the likes of Careem and Uber, you need to have a unique selling proposition (USP) to attract your target audience and build a loyal customer base for your taxi app.
Let's take the example of RTA. Roads & Transport Authority (RTA) is a mobile app facilitating daily commuters with competitive fairs and seamless services. What makes RTA so special is the very fact that the government endorses it
Similarly, Uber and Careem have the advantage of offering the most exceptional user experience with clean and comfy seating, free wifi, and AC systems. At the same time, DTC has the competitive advantage of offering the lowest fares out of all.
It's totally up to you whether you want to compete with DTC in terms of pricing, give tough time to Uber and Careem with a remarkable user experience, or go above and beyond to make your taxi app an overnight success via word-of-mouth marketing.
5. Invest in Marketing & Advertisement
Once you are done with building a user-focused mobile app for your taxi business, it's now time to market it across multiple channels. For social media marketing, you can take inspiration from Zomato and Netflix and leverage viral meme marketing to stay in the headlines while keeping your audience engaged simultaneously.
And while social media marketing has proven successful in recent years, billboard marketing and advertisement are still relevant. In fact, outdoor marketing strategies for a taxi app in Dubai, such as moving billboards, petrol pump toppers, etc., can strengthen brand identity and enhance recall value by considerable margins.
You can also target mega events and competitions like the Football world cup 2022 and introduce cash backs for your customers to predict the right results. This marketing strategy is becoming increasingly popular, as it not only helps bring in more customers but also makes your brand go viral on both the internet and TV.
6. Listen to Your Audience
While sticking to your business model and marketing strategy for at least 4 – 8 months is essential, taking timely feedback from users and converting it into feedforward is equally important and should be your utmost priority – even if it goes against your business model.
To make your customers feel valued, you sometimes have to make bold decisions like firing a captain who violates pre-defined terms and policies.
You can add rating and review systems for captains and give your customers redeemable bonuses for rating each ride with honesty. This feature will help you improve the overall efficiency of your online taxi service and build a loyal customer base.
7. Introduce Subscription Models
Subscription-based businesses are becoming mainstream internationally, regardless of the industry. Once people become familiar with your app, you can introduce subscription models to build a recurring revenue model and tempt thousands of new customers to subscribe to your taxi services for lucrative discounts and freebies.
This approach is pretty standard in ride-booking taxi services globally. Companies like Uber, Careem, etc., use this in collaboration with popular food and clothing brands to offer discounts and coupons in exchange for subscribing to their services or for simply keeping a fixed amount deposited in their cab wallets.
8. Think of Captains as Your Partners
Now, the last and probably the most overlooked step is to treat your captains as your partners. While most companies prioritize user experience and satisfaction, they often overlook to favor their captains and entangle them in the rat race to complete more rides for commissions.
You can introduce lucrative commission programs for captains in your ride-booking taxi app service and set lower commission rates than the industry standard.
These rewards and driver-friendly policies will tempt thousands of drivers to register themselves on your app. Thus, by slightly increasing the profit margins, you will gather a fleet of thousands of registered vehicles and captains for your taxi app in Dubai.
Wrapping Up…
Despite the big names in the ride-hailing service industry, there's enough room for passionate entrepreneurs to tap into this billion-dollar market and build an autonomous, profitable, and scalable ride-hailing business in Dubai that could give direct competition to the likes of Careem and DTC.
If you have experience building and scaling businesses and have a solid financial background to fuel your taxi app business in Dubai, now's the right time to dive into this emerging market.
You can use our state-of-the-art mobile app cost calculator tool to estimate the capital investment for building your taxi app for free.
Interested in Building a Taxi App in Dubai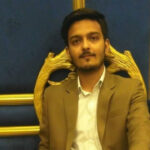 Author : Kamran
Kamran Arshad is a computer science graduate with a knack for marketing and copywriting. He helps businesses define their brand voice and convert prospects into customers by creating scroll-stopper writing pieces. His favorite writing niches include technology, entrepreneurship, marketing, and organizational leadership. He enjoys watching movies and TV shows in crime, mystery, and thriller genres and playing chess online in his spare time.
Recent Blogs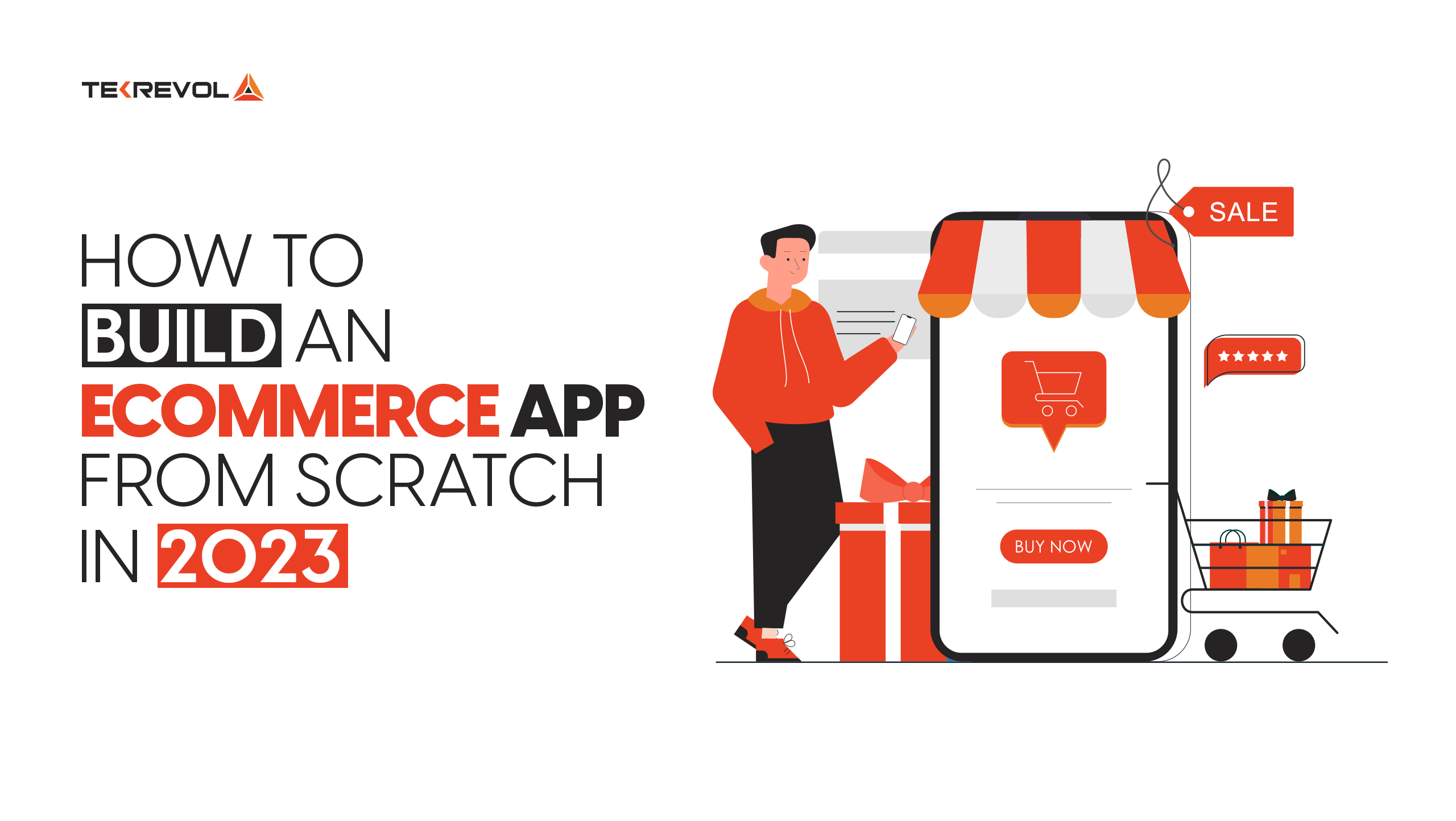 Tekrevol's Global Presence
Now expanding to multiple cities across USA, GCC region, Europe & Asia
Come meet us at a location near you!
USA
39899 Balentine Drive,
Newark, CA 94560
1301 Fannin St #2440,
Houston, TX 77002
501 E Las Olas Blvd Suite
230, Fort Lauderdale, FL
44 Tehama St, CA 94105, San Francisco
400 NW 26th St, FL 33127, Miami
740 15th St NW 8th Floor, DC 20005, Washington
CANADA
4915 54 St 3rd Floor
Red Deer, ABT T4N 2G7
UAE
Level 5, One JLT Tower 1 - Jumeirah Lakes Towers - Dubai, United Arab Emirates
Level 17, World Trade Center, Khalifa Bin Zayed the First Street, Abu Dhabi
Level 22 , West Tower, Bahrain Financial Harbour, Manama, Bahrain
Level 22, Tornado Tower, West Bay, Doha, Qatar
PAKISTAN
3/25, Block 5, Gulshan-e-Iqbal,
Karachi, Sindh 75650
USA
CANADA
PAKISTAN
UAE
talk to us
Got an idea?
Let's get in touch!
Let's discuss your project and find out what we can do to provide value.
I am interested in discussing my ideas with you for
COPYRIGHT 2023 TEKREVOL ALL RIGHTS RESERVED.