6 Ways to Start Using NFTs in Your Businesses
Author: Mehreen Saleem |
February 1, 2022 - Tekrevol_Team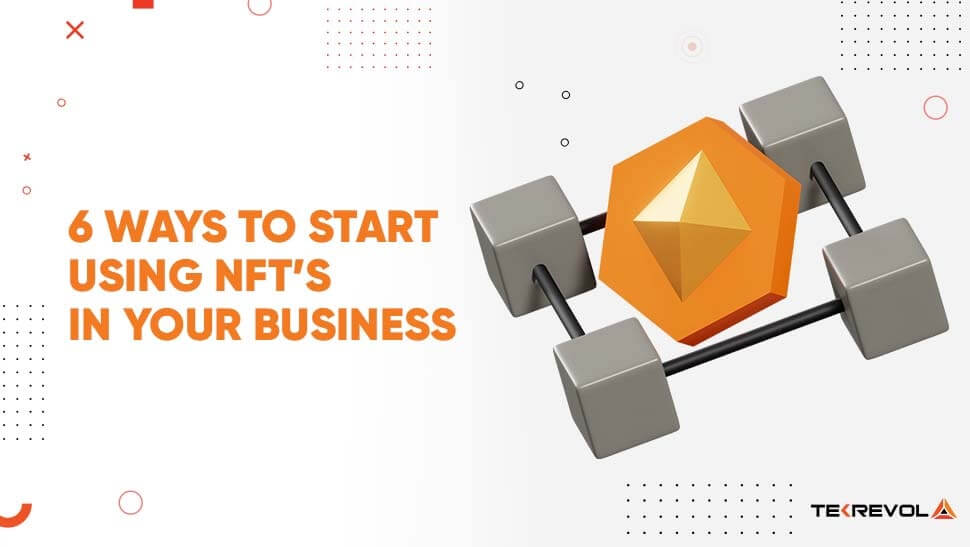 What started as a representation for real-world items in a virtual world soon became a business sensation in 2021, after a work of art was sold for $69 million as an NFT.
Soon the world experienced hundreds of millions of NFTs being sold in the market and generating revenue.
While big brands like Nike are joining the bandwagon and making the best of this technology, small businesses are also in search of the right opportunity to hit the nail in the right place.
Subsequently, this article brings you six convenient NFT business ideas to grow in the market.
Also, the article highlights what is NFT and why do NFTs have value for your business.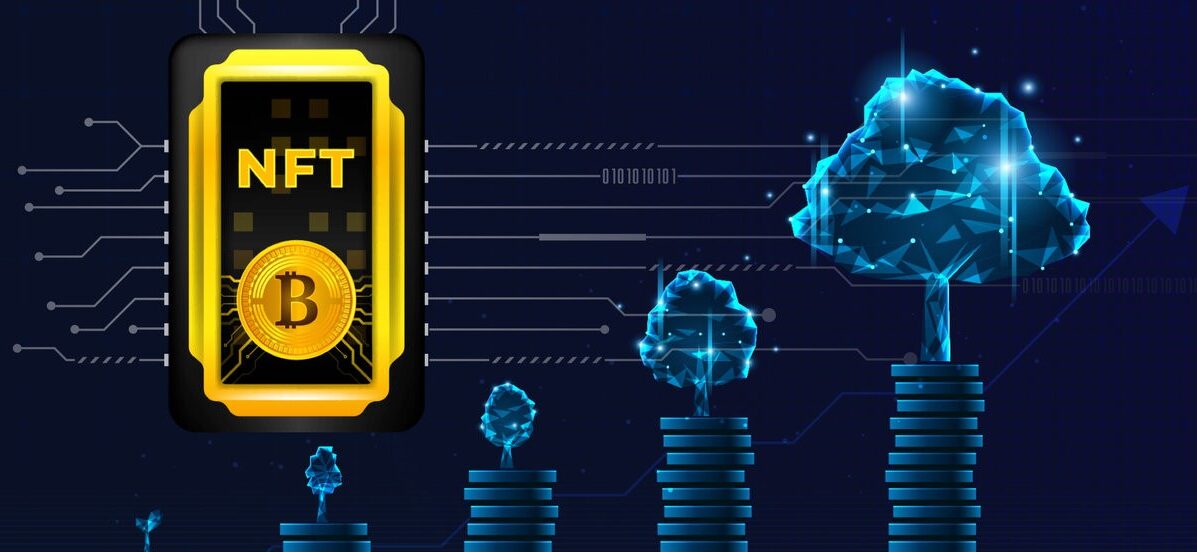 Generally, NFTs or Non-Fungible Tokens are often referred to as; digital content; a non-interchangeable unit of data; or a digital asset representing physical or virtual things.
In reality, NFTs are non-exchangeable digital assets created and stored on a blockchain that represents a set of virtual or physical things.
However, unlike cryptocurrencies, NFTs are non-fungible – which means they cannot be exchanged with an equivalent item.
Among different types of NFTs, audio, video, photos, or even NFT articles are among the popular ones.
Whereas the most coveted NFTs, to date, are unique individual cartoons being sold at several hundred ethers, such as Bored Ape NFT, Mutant Ape NFT, Axie Infinity NFT, Meebits NFT, and more.
On the flip side, with millions of dollars being invested in buying and selling NFTs through the public NFT marketplace, some people are still left wondering, "Why are NFTs valuable for businesses?"
What Makes an NFT Valuable?
For starters, NFTs are a unique digital asset that offers the authenticity of the owner – which was not possible historically.
Apart from this, what makes NFTs valuable is that, since these are developed and stored on the blockchain, they ensure traceability and immutability to the users.
Initially being used by artists to channel the sharing and distribution of that artwork, NFTs for businesses are now a preferred trend.
Here are some important reasons how NFTs can provide value to businesses and brands;
The immutable nature of NFTs lends businesses a sense of uniqueness and credibility.
Since NFTs are rarely mass-produced, a significant rise in an NFT's value can make for sensible business equity.
NFT development is a business investment. The sale proceeds recover the entire cost of making an NFT.
With the concept of metaverse continuing to make a wake, digital investments and virtual assets like NFTs would become a norm.
Buying branded and limited-edition NFTs from businesses would not only boost brand recognition; it would be the greatest stamp of approval from customers.
Apart from the reasons mentioned above, the application of NFTs in businesses would grow with blockchain development becoming a norm.
However, while analysts are emphasizing future predictions of NFTs and bitcoins, businesses are more focused on how do NFTs work in favor of businesses.
Let's have a look at ways through which businesses can start using NFTs.
Want more insight on why do NFTs have value from a business perspective?
Our strategic business advisors can offer you detailed insights and in-depth analysis of how NFTs can bring value to your business.
Hear More from Our Growth Consultants

Our strategic business advisors can offer you detailed insights and in-depth analysis of how NFTs can bring value to your business.

Strategy

Design

Development
How to Start Using NFTs for Businesses
With blockchain technology and NFT development growing consistently, several big brands have already started using NFTs for business expansion.
However, smaller businesses are rather more cautious about it.
So, if you are also wondering how NFT could work for your business, here are six simple yet lucrative ways to incorporate NFTs into your business.
1.  Sell NFTS to Virtual Audience
Businesses can always create and sell NFTs to their audience in the virtual worlds powered by metaverse.
Here you may either design your own NFTs just like Nike and Coca-Cola that launched their virtual sneakers and bubble jacket respectively.
Another popular example of NFT in virtual worlds is the NBA shots which are snippets of some of the best basketball shots by NBA players being sold in the virtual world.
Or you can commission existing branded NFT items and sell them in the virtual worlds like Decentraland, OpenSea, Rarible, and more.
2. Integrate NFTs with Physical Products
Apart from designing and minting NFTs virtually, businesses can integrate NFTs with their physical products.
Especially if you are an eCommerce business; this can be a great money-making opportunity.
A relative example of this approach can be Nike, which offer CryptoKicks, that customer receives as a similar pair of NFT kicks after buying the real thing.
Also, with the smart-contract mechanism creating NFTs would bring monetary benefits from future item sales to both NFT business and NFT creators.
So, to say that creating NFTs for physical products can be a lucrative NFT business approach.
If you wish to read more about how to create an NFT, we have a complete guide that covers all the essential NFT creation aspects. Read here.
3. Enhance Brand Loyalty with Limited-Edition NFT Products
Earlier, known brands have improvised their brand recognition by rewarding their loyal customer with limited-edition NFT products.
Subsequently, businesses new in the market can follow the lead.
Some known examples include Coca-Cola's loot box, including its new logo and a virtual jacket. At the same time, another example is the Taco Bell restaurant that recently released its taco-inspired GIFs that became a sensation within minutes.
4. Improve Supply Chain Management
One of the best use cases for businesses to integrate NFT is to enhance their supply chain management.
Since NFTs are enabled and created (minted) on blockchain and are completely immutable, stamping NFT-integrated tags on physical products can help improve product tracking and management.
These NFTs can be optimally updated at different stages of the production process, traced out to access data, and ensure product security and traceability.
Also, it can help in identifying defective products and rule them out in a time-efficient manner.
5. Reduce Product Counterfeiting
NFTs can play a special role in minimizing product counterfeiting with their immutable and security-enabled nature.
Since developed on permissionless, secure, and decentralized blockchain ledgers, product validity and ownership have become natural.
Similarly, apart from virtual tracking, NFTs tied to physical products can also help limit product counterfeiting with NFTs barcode scanners.
Also, this technology can be used for items like certificates, tickets, discount coupons, licenses, and more.
6.  Use NFTs to Raise Funds
Many businesses are involved in several social causes and fundraising activities as their corporate social responsibilities (CSR).
While many do it generously; several often look for some return for their charitable donations.
NFTs, in this case, can be a great idea as done by companies like Taco Bell and Coca-Cola.
Not only can this help in effective brand recognition, using NFTs for fundraising can also be a prospective approach to improve public reputation.
Note:
On the contrary, if you wish to look for an even simpler solution than creating an NFT, you can always look for some NFT apps to invest in.
How to Make Money with NFTs – The Way Forward
With popular NFT games like CryptoKitties making their wake in the gaming industry in 2017, NFTs became a sensation overnight, as digital trading cards.
And then, there was no looking back for the NFT industry.
With a massive year-on-year increase in the market value, from $40 million in 2018 to $338 million in 2020, the NFT market experienced skyrocketing growth.
And while the NFT market continued to be an investment sensation for businesses in 2021 as well, with more than $700 million revenue in Q2, 2022 would expectedly witness a similar pattern.
So, it's fair to say that integrating NFTs in your business can only bring you profit and exponential progress.
On the other hand, to evaluate what makes NFTs such a lucrative opportunity includes the following features;
Digital Permanence
Scarcity
Provable ownership
It cannot be counterfeited
All these stats and reports explicitly signify a great opportunity for businesses to take advantage of the growing NFT mania.
However, it's always important to make a wise choice when it comes to choosing how you wish to integrate NFTs into your business.
Our strategic advisors can help you make the right decision to ensure credibility and growth.
Hear More from Our Growth Consultants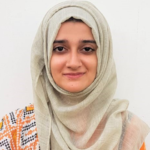 Author : Mehreen Saleem
Mehreen is an avid tech-researcher and thrives on accelerating business value by sharing her research that spans the intersection of technology to business resilience and sustainability-related topics. She's also an advocate for ensuring that every content created at TekRevol is epic.
Recent Blogs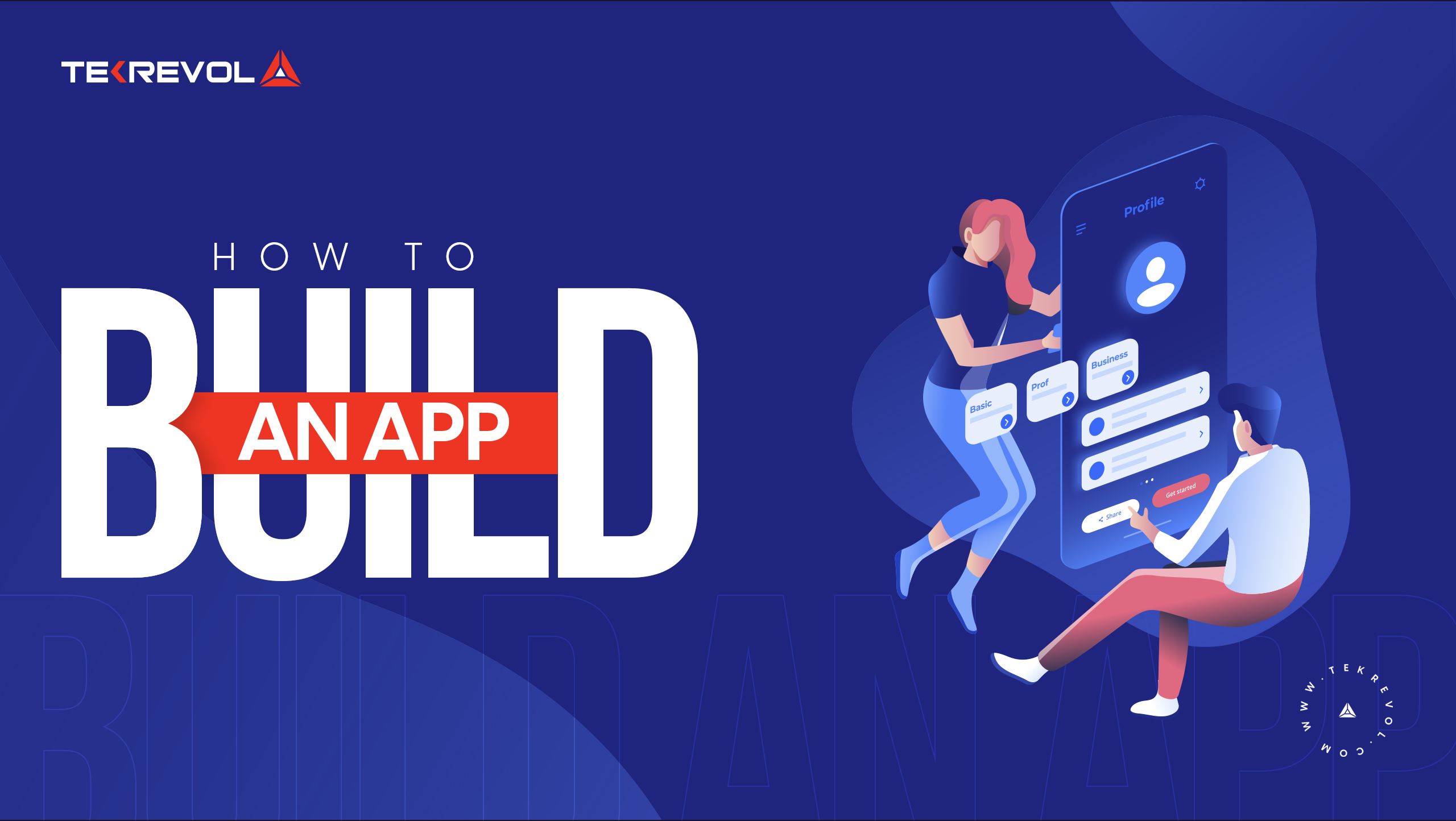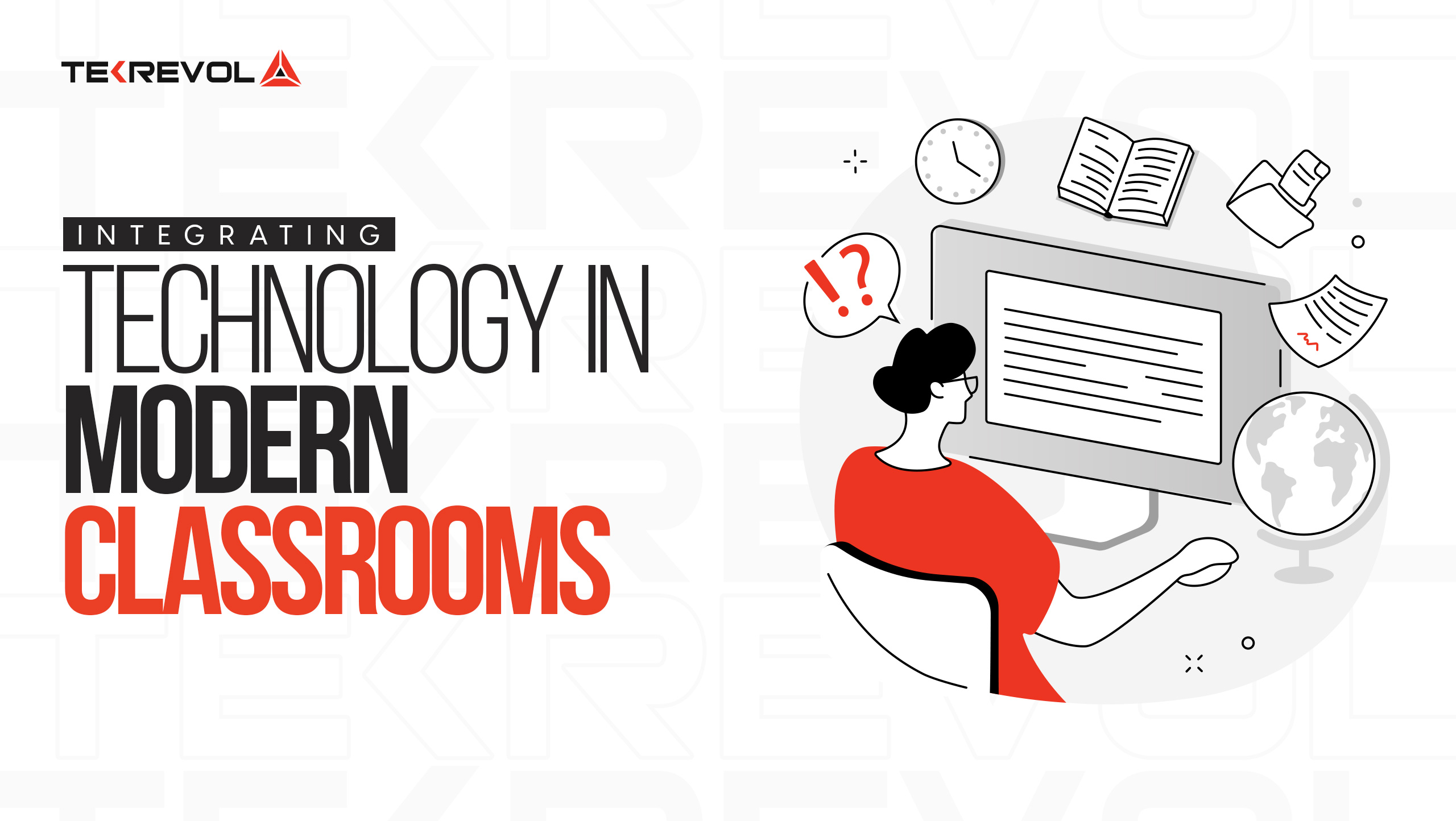 Tekrevol's Global Presence
Now expanding to multiple cities across USA, GCC region, Europe & Asia
Come meet us at a location near you!
USA
39899 Balentine Drive,
Newark, CA 94560
1301 Fannin St #2440,
Houston, TX 77002
501 E Las Olas Blvd Suite
230, Fort Lauderdale, FL
44 Tehama St, CA 94105, San Francisco
400 NW 26th St, FL 33127, Miami
740 15th St NW 8th Floor, DC 20005, Washington
CANADA
4915 54 St 3rd Floor
Red Deer, ABT T4N 2G7
UAE
Level 5, One JLT Tower 1 - Jumeirah Lakes Towers - Dubai, United Arab Emirates
Level 17, World Trade Center, Khalifa Bin Zayed the First Street, Abu Dhabi
Level 22 , West Tower, Bahrain Financial Harbour, Manama, Bahrain
Level 22, Tornado Tower, West Bay, Doha, Qatar
PAKISTAN
3/25, Block 5, Gulshan-e-Iqbal,
Karachi, Sindh 75650
USA
CANADA
PAKISTAN
UAE
talk to us
Got an idea?
Let's get in touch!
Let's discuss your project and find out what we can do to provide value.
I am interested in discussing my ideas with you for
COPYRIGHT 2023 TEKREVOL ALL RIGHTS RESERVED.