Staff Augmentation – Benefits, Use Cases & Limitations
Author: Kamran |
November 25, 2022 - TekRevol Team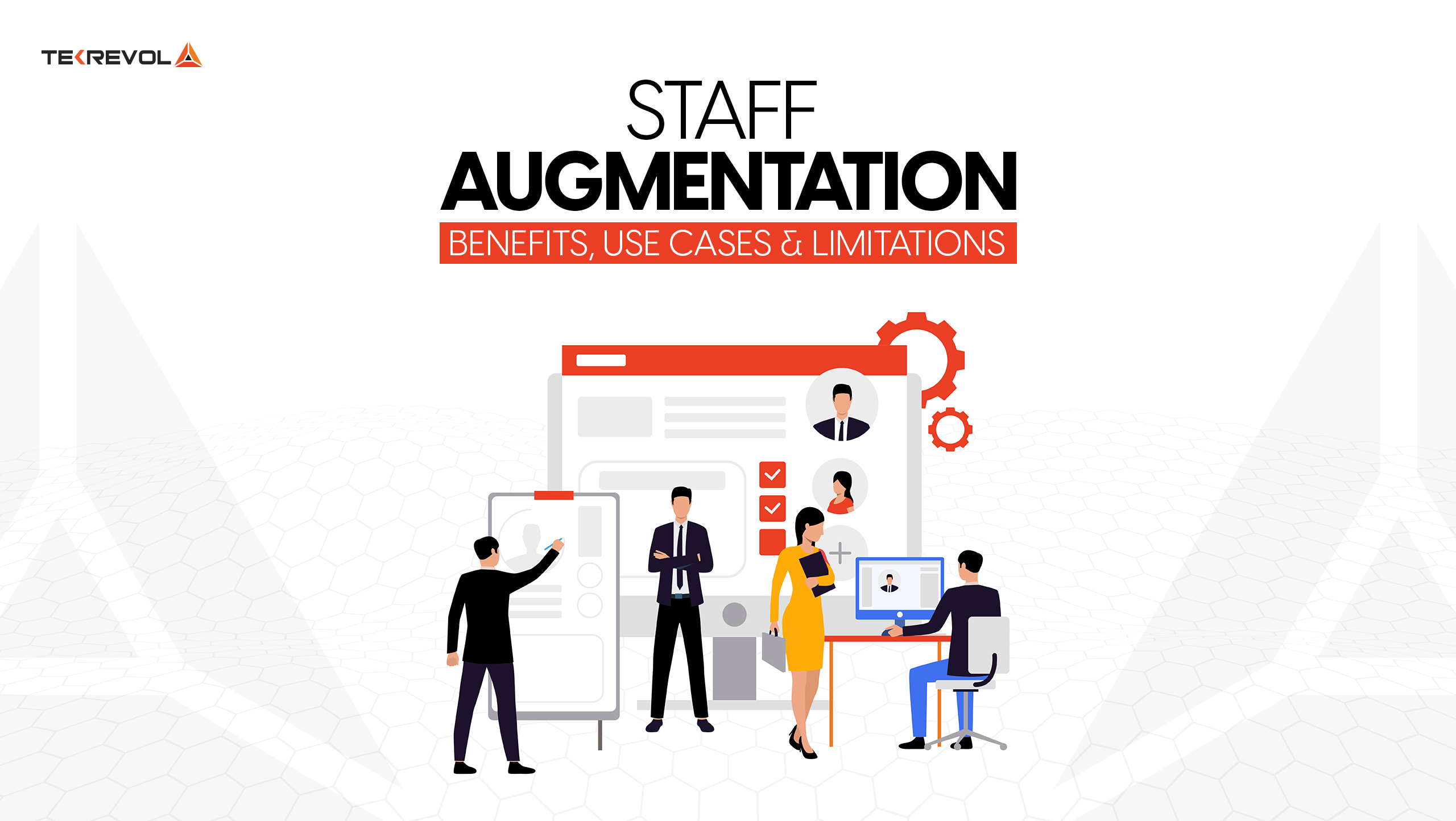 Despite online interviews becoming mainstream, recruiting skilled professionals still remains one of the biggest challenges. A study from the Society of Human Resource Management (SHRM) shows that hiring an employee costs around $4,700 and takes up to 53 days for onboarding – neither cheap nor swift.
Thus, future-oriented businesses are shifting toward staff augmentation services to cut off this upfront recruitment cost and promptly fill the talent gaps as per their requirements – But there's more to that!
Staff augmentation services can help entrepreneurs and business owners scale without worrying about long-term commitments that come with hiring permanent employees, such as legal, healthcare, insurance, retirement plans, etc., to fill roles for short-term projects.
This blog will explain staff augmentation, its types, and the industries where it's used excessively. It will further highlight the pros and cons of staff augmentation and its primary differences from outsourcing.
By the time you're done reading this guide, you will be able to determine whether resource and staff augmentation are right for your business or not.
So without further ado, let's get started!
What is Staff Augmentation?
Staff augmentation is the practice of filling talent gaps and optimizing the competencies of a team to meet and achieve goals and deadlines faster.
To better understand this concept, let's consider that you're an entrepreneur building a mobile app for your business. The app launch is expected within months, with deadlines roaming up your head. Suddenly, one of your employees, let's say a front-end developer, has to take time off due to unforeseen reasons. Instead of hiring another front-end developer (which will nevertheless take months) to fill the gap on your team, you can contact staff augmentation companies to quickly onboard their replacement for the project.
This approach has the following benefits:
You will save considerable time and expenses required for recruiting a new employee
The workflow and pace will remain steady, and deadlines will not exceed
You won't have to make long-term commitments for insurance, healthcare, and 401K plan
However, that's just one side of the coin. Staff augmentation is not just about optimizing costs or adhering to deadlines. Staff augmentation also allows entrepreneurs to experiment with further growth and marketing strategies without worrying about the consequences of recruiting permanent employees and firing them if the model fails.
Want to Know Which Type is Right For Your Business?
Types of Staff Augmentation
Staff augmentation can be divided into the following three types:
Commodity Staff Augmentation
Commodity augmentation is the practice of recruiting basic factory workers or laborers with no specific skillset.
Skilled Staff Augmentation
Skilled augmentation is the practice of recruiting clerks, data entry operators, machine operators, etc., which have a certain skill set.
Highly-Skilled Staff Augmentation
Highly-skilled augmentation is the practice of recruiting custom software engineers, digital marketers, designers, etc., that require advanced skill sets and experience. This practice is also referred to as IT staff augmentation and is becoming mainstream in the modern world.
Benefits of Staff Augmentation
The advantages of resource augmentation go way beyond the obvious ones, like cost saving on rent, taxes, etc. Below are the five benefits of staff augmentation.
Flexibility to Scale
Staff augmentation enables entrepreneurs to take bold risks and try new ideas to secure a dominant position in their respective industries. As a startup, it can be challenging to onboard talented professionals not just because of capital but also due to a lack of proven track record and sustainability, especially in times of recession.
Thus, entrepreneurs either compromise on the quality of the workforce or pay market-above salaries and perks to onboard industry leaders. But with augmented staffing, it's totally different!
Entrepreneurs and business owners can contact staff augmentation companies to recruit individuals or even dedicated teams for industry-standard hourly pricing models without worrying about taxes, recruitment fees, insurance, government contracts, etc.
Fast Recruitment
With the deadlines hovering above head and stakeholders waiting to see the progress, the last thing any entrepreneur wants is to spend weeks recruiting.
With staff augmentation services, entrepreneurs and business owners can promptly fill the talent gaps by contracting with IT staffing agencies. Unlike the traditional recruitment process, recruiters can access the talent pool, shortlist their preferred candidates, and ask the staffing company to schedule interviews with them.
This approach saves the time of recruiters and managers that would otherwise be wasted on prospecting, interviewing, evaluating the results, legal documentation, etc.
Affordability
Besides the time and recruitment cost, staff augmentation services can also help save other expenses like insurance, healthcare, PTO, legal documentation, taxes, and maternity/paternity leaves.
When an entrepreneur recruits external teams or individuals temporarily via staff augmentation services, the staffing agency or vendor bears the costs and expenses mentioned above.
Thus, it's a win-win situation for everyone as the business saves considerable costs on recruitment and gets the job done without any long-term commitments that could impact the stability of the business. At the same time, the internal employees don't feel threatened regarding their job security, as they usually do at the time of aggressive hiring.
Quick Turnarounds
Opting for staff augmentation services is the right approach when you have deadlines roaming above your head.
In situations like these, businesses can't afford to outsource the project as it involves quality-related risks. They can't wait weeks either to recruit and onboard employees and fill the talent gap. Thus, staffing or resource augmentation is the only option that doesn't negatively impact the project and gets the job done within the deadlines.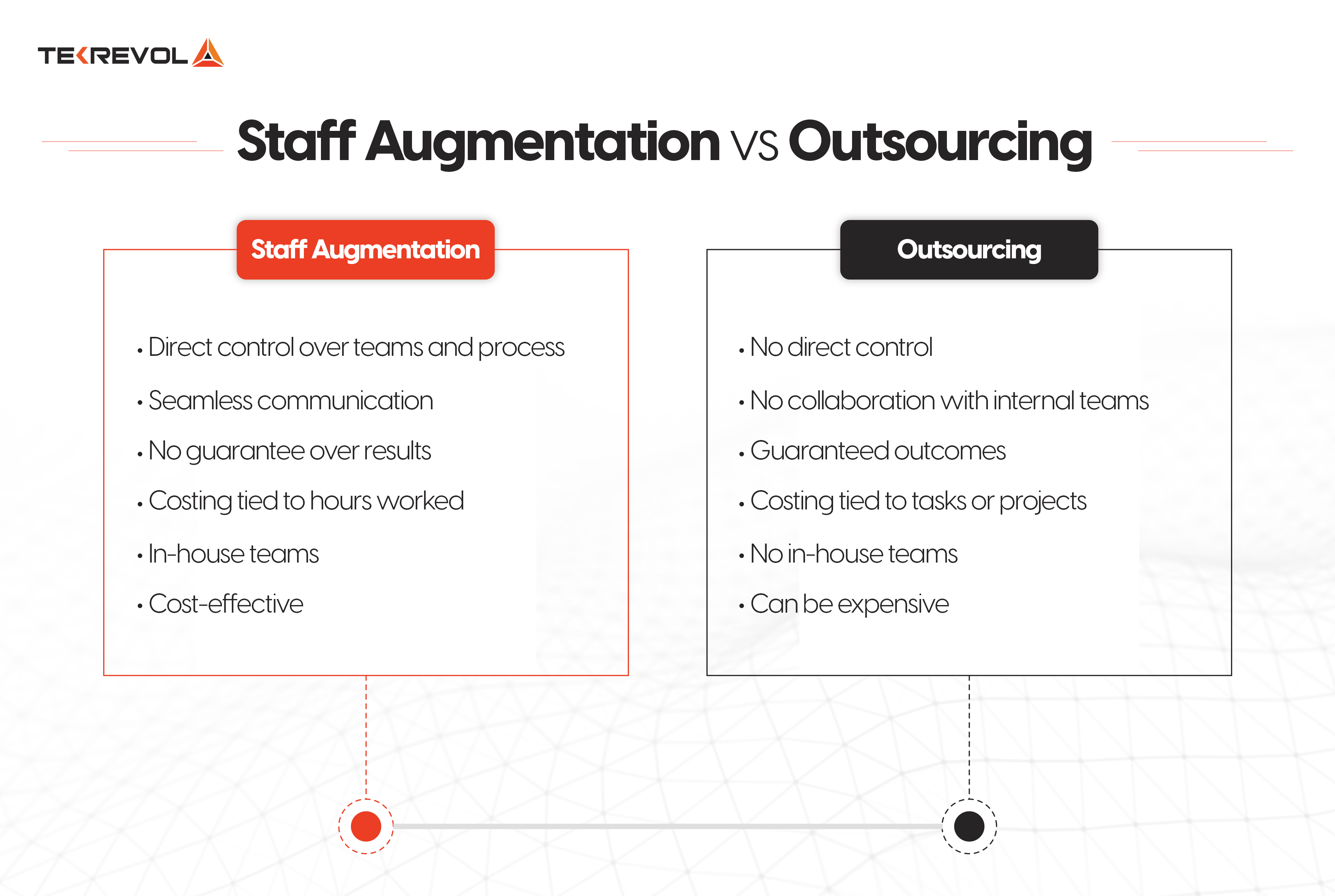 Industries Where Staff Augmentation is Used Extensively
Staff augmentation has become a mainstream practice in the global corporate sector. Businesses spend over $500 billion to augment their in-house teams and fill talent gaps through staffing services.
Here are the industries where staff aug has become mainstream in recent years.
Information Technology
Marketing
Human Resources
Construction
Customer Service
Operations
Healthcare
Challenges in Staff Augmentation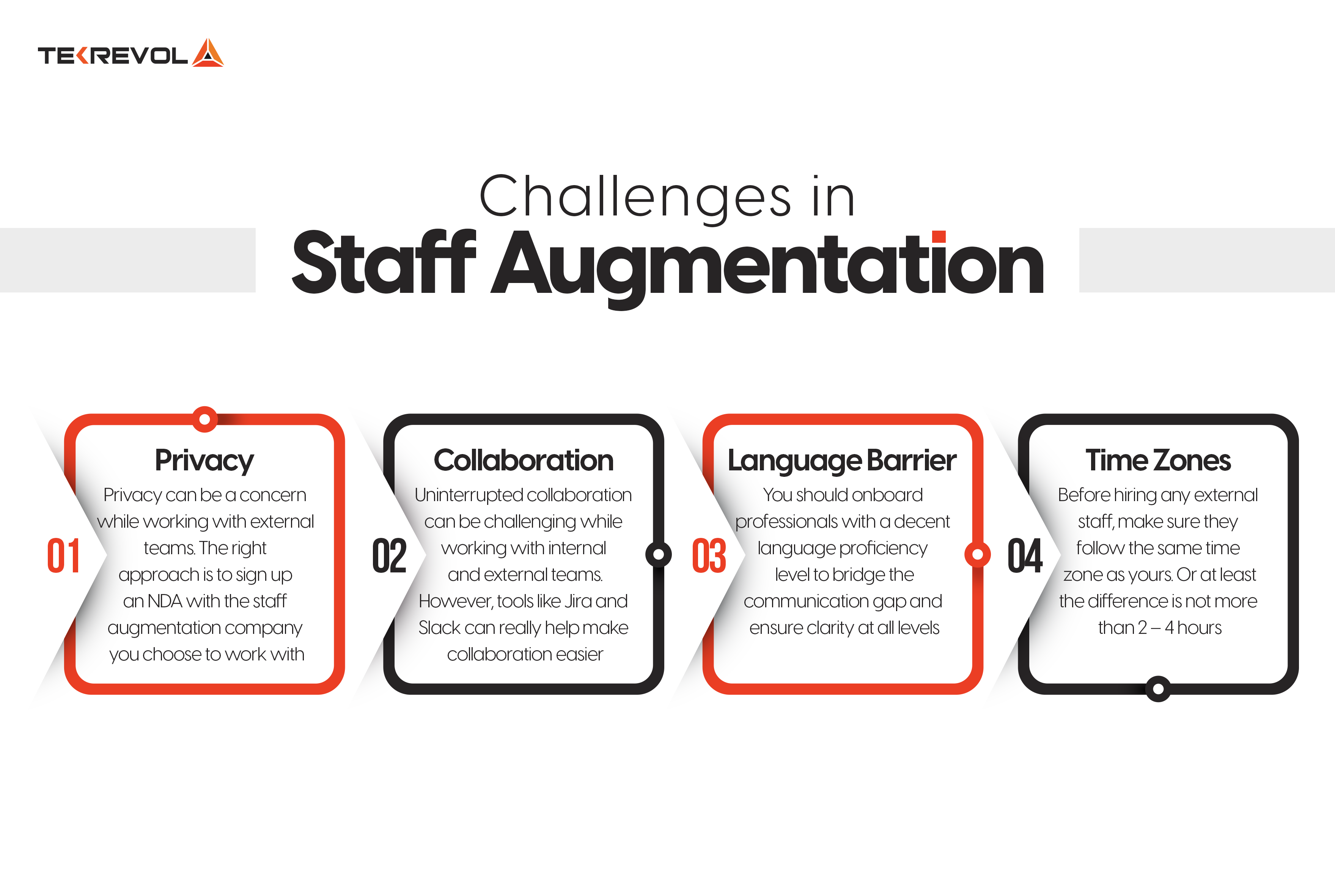 Staff augmentation can help businesses maximize productivity, optimize operational efficiency, and fill in talent gaps for the timely completion of projects. However, there are certain challenges associated with augmented staffing that needs to be dealt with accordingly.
Let's discuss them one by one.
Privacy
Working with external teams can be a concern, especially when working on a product launch or having confidential data that could hurt your credibility if it gets out. Before choosing staff augmentation services, make sure you do research about the staffing vendor and ask every external resource to sign an NDA.
Collaboration
Seamless collaboration can be an issue if your augmented and internal teams operate from different locations or settings. You can set up certain protocols and use project management and collaboration tools like Slack, Jira, Asana, etc., to ensure seamless, uninterrupted collaboration with the possibility of tracking and monitoring everything.
Language Barrier
The language barrier can make work a lot more complicated than any other factor. With both internal and external teams working on the same project, a lack of clarity while speaking and explaining tasks can turn out to be a disaster for the employer.
Make sure you onboard only those individuals who speak the same first language as your team does or at least have a decent proficiency level in it.
Time Zones
If you choose staff augmentation services from an offshore vendor, the difference in the time zones can be hard to deal with. If the job of your external teams requires attending regular meetings with the internal teams and stakeholders, the time difference between both teams shouldn't be above 2 – 4 hours.
When Staff Augmentation is the Right Approach in Business?
The practice of staff augmentation or resource augmentation has been around for centuries. However, it has gained immense popularity recently for various reasons, including cost-cutting, workforce optimization, etc.
The staff augmentation model can be a good fit for your business if you:
Already Have an Internal Team for the Work
Resource or staff augmentation is different from outsourcing because you need to have an already existing in-house team of professionals in staff augmentation.
Let's say your long-term client has requested services that lie within your domain, but you're not currently working on them. In such cases, sending your client to your competitor is as foolish as setting up a new team just to cater to that project. The right approach is to contact a staffing agency and recruit a temporary external team of professionals suited for the job.
Want to Optimize Operations & Meet Deadlines
Staff augmentation can help fill talent gaps and speed up operations to ensure the projects get completed before the deadline.
Let's say you have given the wrong ETA to your client, and with your existing resources, it seems impossible to complete the project before the deadline. In such cases, augmenting resources with external teams and individuals is cost-effective and the right approach instead of recruiting a permanent employee to fill the much-needed talent gap.
Have IT Managers with Strong Communication Skills
Staff augmentation services can only help if you have tech-savvy managers to work as a bridge between the in-house and external teams.
Let's say you recruit a team of Android developers through augmented staffing services to work on the Android version of your mobile app development. You will need IT managers with proven leadership and management capabilities to delegate tasks and monitor the overall progress of the development.
Wrapping Up…
Unlike the outsourcing model, the staff augmentation model can help businesses get the job done without compromising quality and retaining complete control over them.
If you want to optimize the productivity of your internal teams,  promptly fill the talent gaps, and accelerate workflow to meet deadlines, visit here to learn how TekRevol's staff augmentation services can help.
Is Staff Augmentation the Right Approach for Your Business?

Book your free discovery call with the staffing and recruiting experts to learn if staff augmentation services can help your business succeed or not.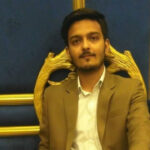 Author : Kamran
Kamran Arshad is a computer science graduate with a knack for marketing and copywriting. He helps businesses define their brand voice and convert prospects into customers by creating scroll-stopper writing pieces. His favorite writing niches include technology, entrepreneurship, marketing, and organizational leadership. He enjoys watching movies and TV shows in crime, mystery, and thriller genres and playing chess online in his spare time.
Recent Blogs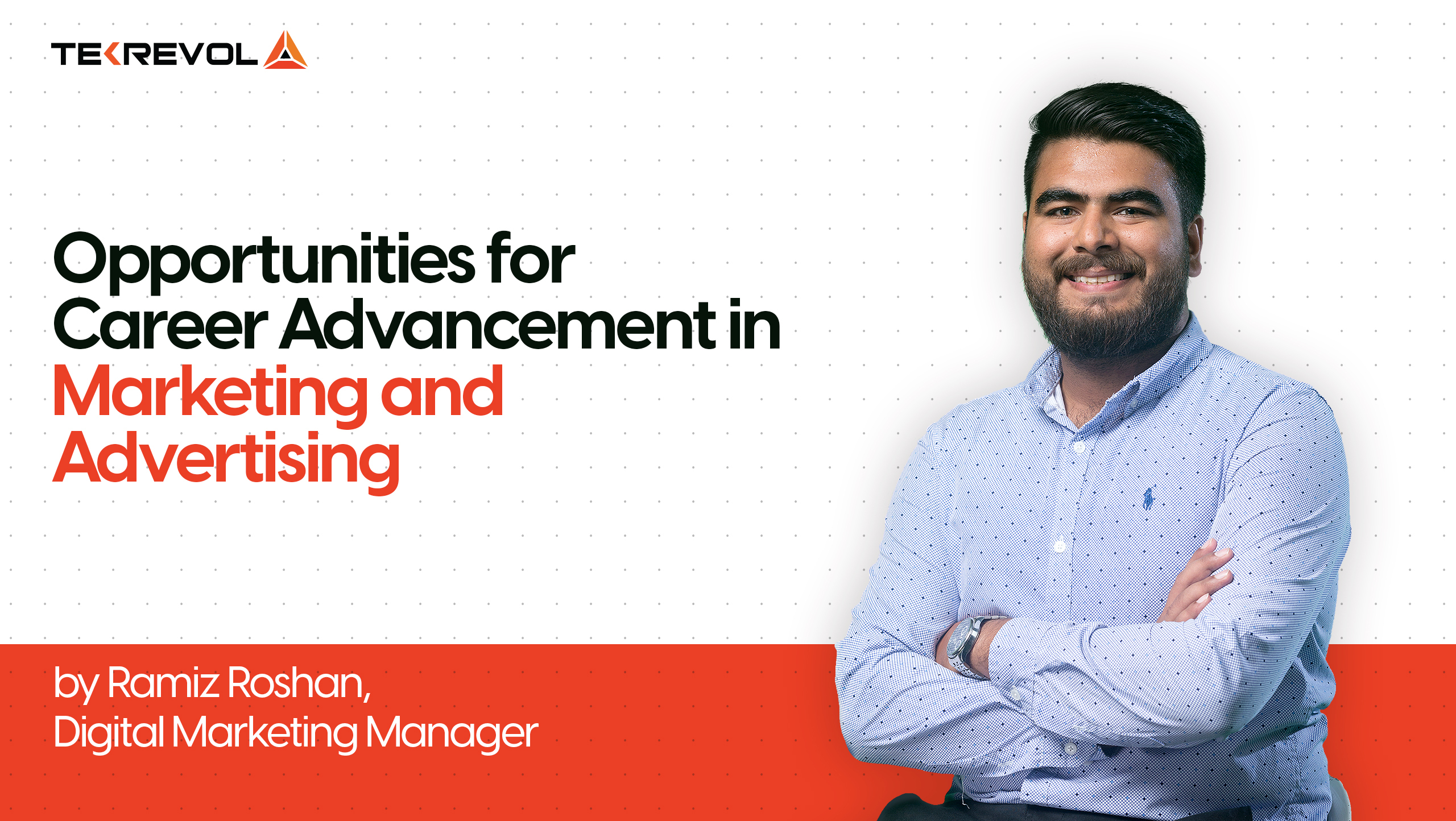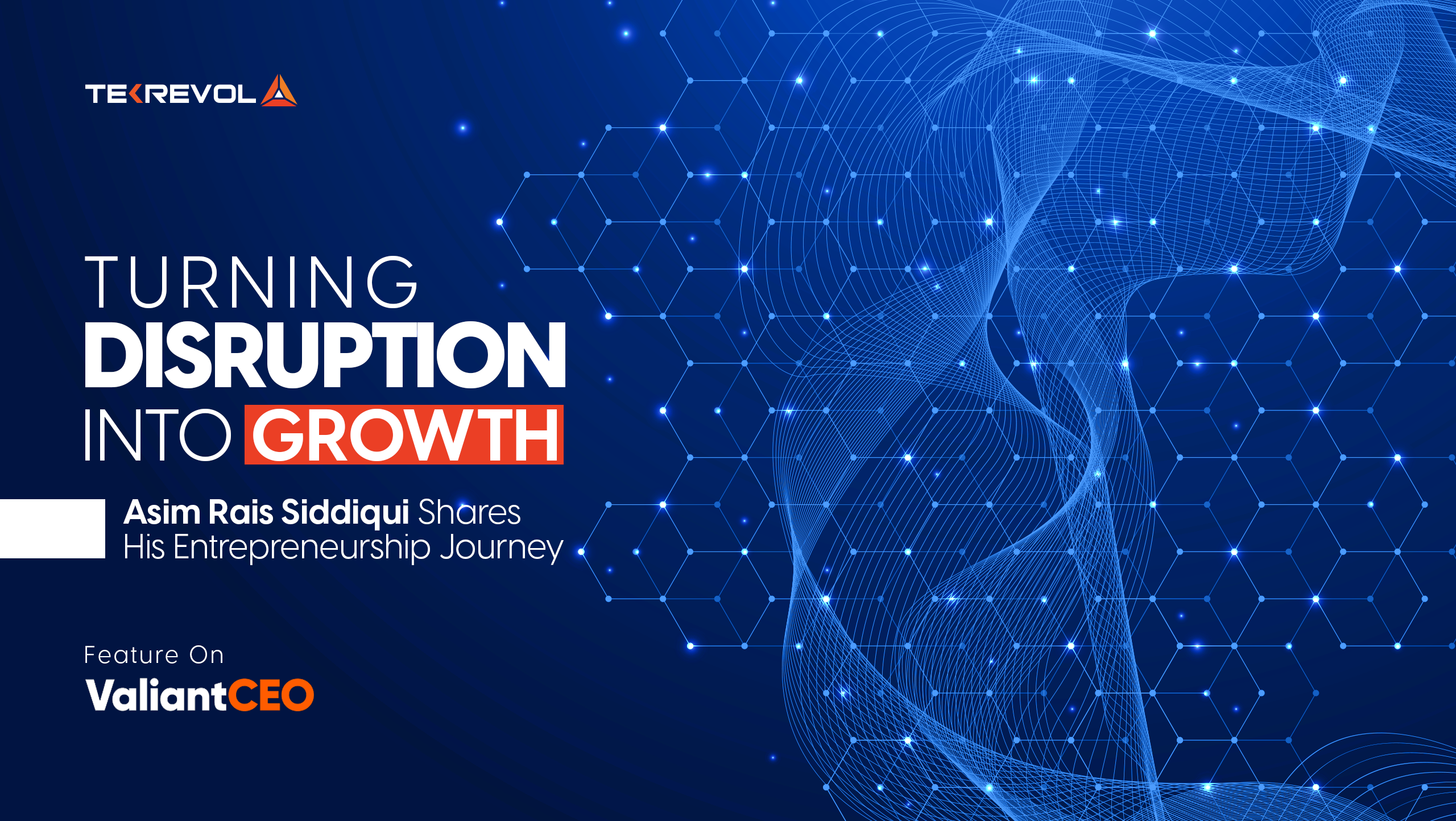 Tekrevol's Global Presence
Now expanding to multiple cities across USA, GCC region, Europe & Asia
Come meet us at a location near you!
USA
39899 Balentine Drive,
Newark, CA 94560
1301 Fannin St #2440,
Houston, TX 77002
501 E Las Olas Blvd Suite
230, Fort Lauderdale, FL
44 Tehama St, CA 94105, San Francisco
400 NW 26th St, FL 33127, Miami
740 15th St NW 8th Floor, DC 20005, Washington
CANADA
4915 54 St 3rd Floor
Red Deer, ABT T4N 2G7
UAE
Level 5, One JLT Tower 1 - Jumeirah Lakes Towers - Dubai, United Arab Emirates
Level 17, World Trade Center, Khalifa Bin Zayed the First Street, Abu Dhabi
Level 22 , West Tower, Bahrain Financial Harbour, Manama, Bahrain
Level 22, Tornado Tower, West Bay, Doha, Qatar
PAKISTAN
3/25, Block 5, Gulshan-e-Iqbal,
Karachi, Sindh 75650
USA
CANADA
PAKISTAN
UAE
talk to us
Got an idea?
Let's get in touch!
Let's discuss your project and find out what we can do to provide value.
I am interested in discussing my ideas with you for
COPYRIGHT 2023 TEKREVOL ALL RIGHTS RESERVED.