How to Make an App Like Discord – Features, Cost, and Monetization
Author: Mariam Amin |
September 14, 2022 -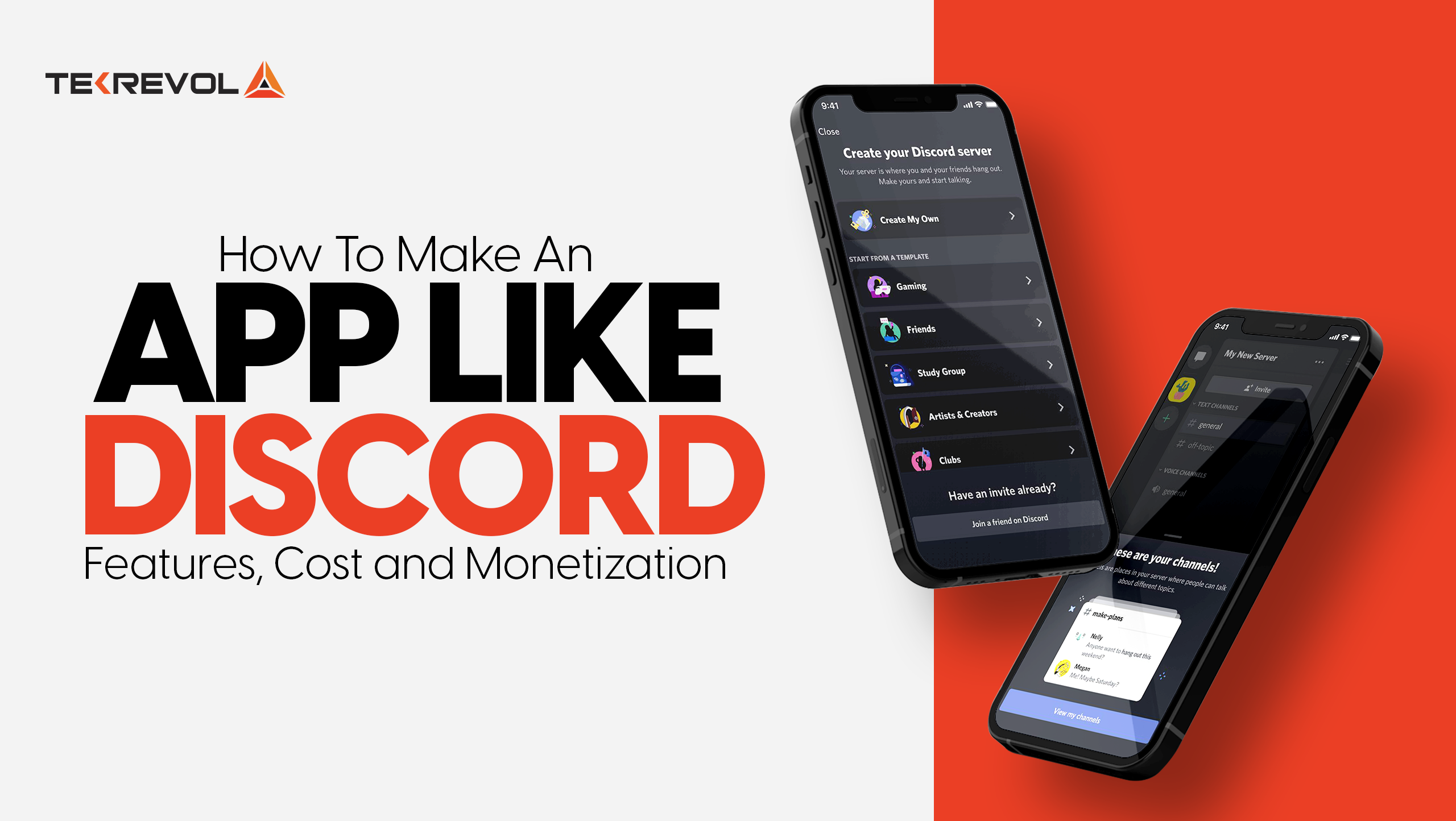 Voice and text-chat apps are extensively popular and are widely used globally by almost every individual, especially by gaming professionals. Similarly, Discord is also one of the exceptional VoIP applications.
It enables users to interact, share information, and streamline workflows. Plus, you can easily share multimedia and other confidential documents effortlessly.
It was primarily developed to help gaming enthusiasts connect with other gamers online. Nowadays, Discord is accessible to everyone, including business owners, amateur gamers, and tech-savvy individuals.
Overall, Discord is similar to other communication apps, such as Zoom, Slack, Teams, and Skype.
In this article, we have covered everything associated with the Discord application. For instance, it is a step-by-step guide to creating an app like Discord, must-have features, cost, and monetization strategies.
Key Highlights for a Chat App Like Discord
Discord app has faced massive success in the mobile applications business, especially during the global pandemic.
Initially, the company was equipped with 350 million registered users. Out of which 150 million users were their regular customers.
The most outstanding growth occurred at the time of the pandemic—the figure increased from 50 million to 100 million active individuals.
Currently, the platform has more than 450 million registered users every month, as per Statista.
Other than that, Discord offers "Discord Nitro Classic" and "Server Boosts programs," through which the app has raised $130 million by July 2020. Currently, the company's overall worth has reached $3.5 billion.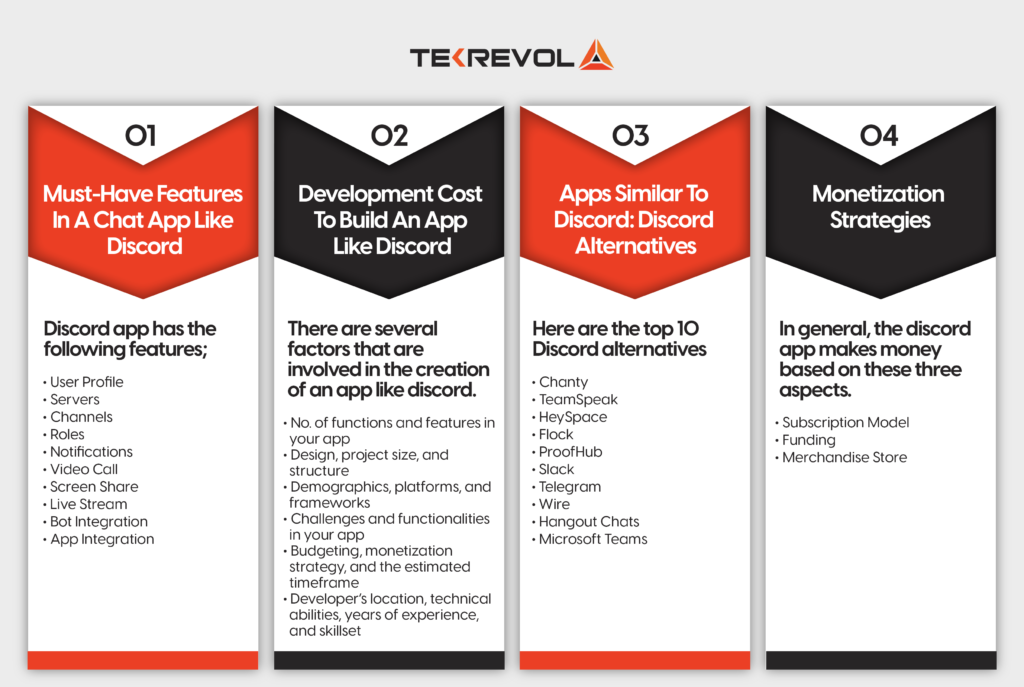 What is Discord?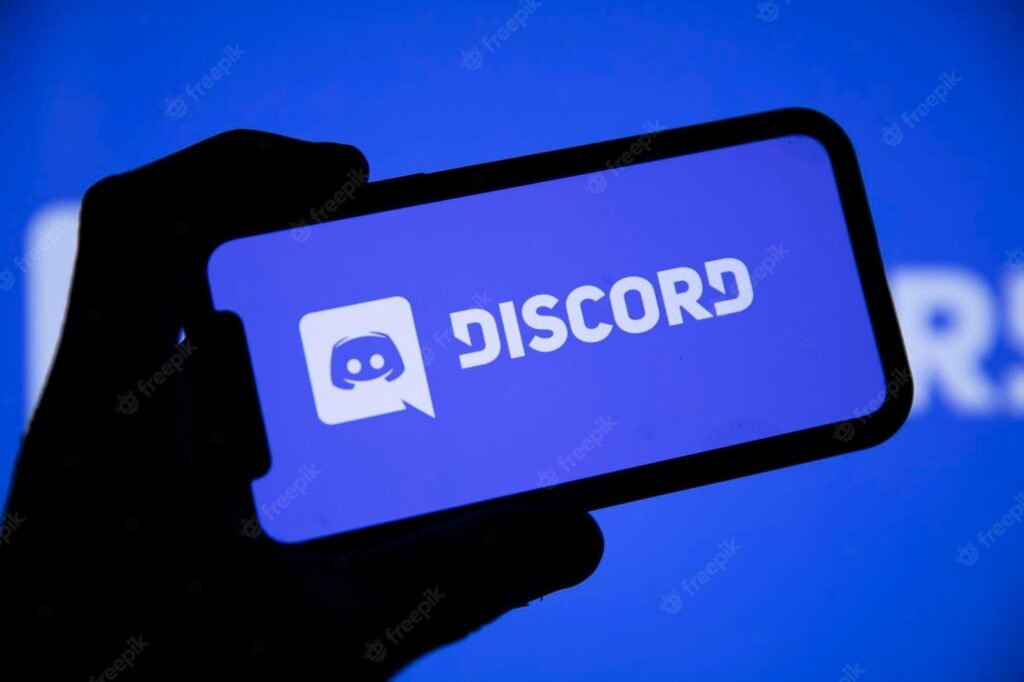 Discord is an intuitive, high-performance messaging app that initially considered gamers the core target audience. However, in March 2022, Discord changed its marketing program.
Now, the Discord app is not limited to gamers; it has also expanded to the non-gaming users' community.
This app allows you to redirect your friends, family members, and employees. You can connect with your loved ones via text messages or audio/video calls.
Discord app is highly likable by game enthusiasts because it allows gamers to interact easily with their friends and community acquaintances while playing multiplayer games. For instance, PUBG, League of Legends, Valiant, and Fortnite.
The most distinctive part of Discord is that it is free to use for the first 30 days. Though, you need to pay the price for utilizing their premium features.
This brings us to the discussion of how to make a Discord-like chat app with a minimal interface and incredible features.
A Step-by-Step Guide to Develop an App Like Discord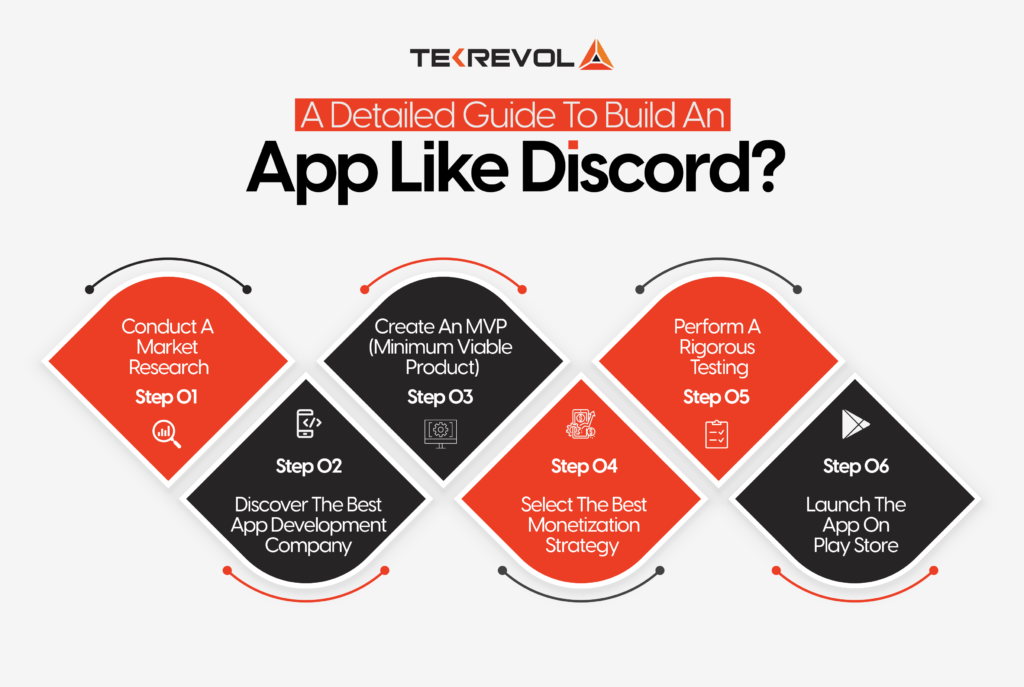 Planning about developing an app like Discord? By the time you reach the end of this blog, you'll be able to discover the working running behind the making of a chat app like Discord.
1.  Conduct a Comprehensive Market Research 
To build a chat app like Discord, first and foremost, you must perform comprehensive market research to understand the ins and outs of the target audience.
Categorize your research into two main sections.
Demographics: This section gives you the highlights of the target market. For instance, you can discover users' age, location, geography, and the electronic gadgets they mostly use to browse.
Behavioral trends: Fundamentally, behavioral trends give you insights regarding app development, for example, which steps will be crucial for an app and which factors are easily skippable.
Once done with the research, the next step is to list all your VoIP (Voice over Internet Protocols) competitors.
After that, determine what your rivals are offering and what sort of audiences they are catering to. Lastly, discover their Unique Value Proposition (UVP).
You can also conduct a SWOT analysis to find out all these aspects. In general, SWOT analysis assist in identifying the strengths and weaknesses associated with your competitors.
When you're done with the findings, the next step is to map all those parameters in your app to distinguish your brand from the rest.
2.  Find The Right Development Team  
The next step after market research is to find out a competent custom software development company. 
Different technical personnel is required for different tasks. Hence, you must select the right mobile app development company with a versatile development team capable of handling various projects and tech stacks.
You need the following professionals in your team to develop a Discord-like app:
Quality Assurance Experts

UI/UX Designer 

Project Managers 

Support and Maintenance Professionals 

Expert App Developers for both Android and iOS platforms 
Once you shortlist the company, the next step is to start the development process.
Discuss your thoughts and opinions with the chosen company. Besides, deliberate all the features and functions you want in your app.
In a nutshell, an efficient app development company suggests you in choosing the right parameters for developing a voice chat app like Discord. 
3.  Create A Minimum Viable Product (MVP)
After finalizing the company, the next step is to develop a minimum viable product (MVP). With MVP, you can test the app's technical functionality and performance.
Creating an MVP product primarily provides a rough final product version with the minimum essential features involved.
The MVP also acts as a feedback collector and recognizes gaps for improvement. For instance, whether your target audience would be interested in purchasing your product or not.
Also, by launching an MVP product, you can collect users' feedback on your product. That way, you can make amendments or introduce new features in your app based on your users' preferences.
All in all, MVP is an excellent kickstart to making a successful chat app like Discord.
4.  Select The Best Monetization Strategy 
Deciding the best monetization strategy for your app is a challenging prospect.
To select the best monetization strategy, discover your users' choices first. That way, you'll eventually discover which monetization strategy would be valuable for your chat app like Discord.
Some of the most common monetization strategies are:
In the freemium strategy, the basic version of the app is free to use. However, some apps require a small fee to access the premium features.
Running ads is one of the best ways to attract customers and make money through your app. However, you can run free and paid ads. However, it would be best if you made considerable investments in the advertising strategy to get the right amount of traction.
Using the subscription model strategy, you can engage your customers with your app by offering access to premium features for a certain number of days. Ultimately, they will also be interested in subscribing to your services by paying a fee.
5.  Perform Rigorous Testing 
Testing plays a prominent role in determining your app's success rate. Hence, you should run your app on multiple parameters. Generally, testing takes place in the following areas:
Usability and Viability testing 

Functionality, performance, and automated testing 

Stress and load testing 

Configuration, compatibility, and integration testing 
6.  Launch The Application In The App Stores  
After the MVP is developed and has undergone rigorous testing for performance, usability, and functionality, the application is ready to go live.
After the launch, the chat development team will acquire user feedback, engagement metrics, and other valuable insights to make relevant adjustments for future updates.
7.  Promote The App
Once you are done with the launch of a voice chat app like Discord, now it's time to market the application on different social media platforms.
Some of the top ways that will be useful in the successful promotion of your app are:
Launching innovative marketing campaigns
Offering premium-features access to the first ten customers for a few days
Scheduling marketing events
Using social channels to spread your app's word-of-mouth
Hosting an event to introduce your app in the mainstream markets
Must-Have Features in Chat Apps Like Discord
Discord's innovative and cutting-edge features make it a standout tool compared to other communication apps.
Here is a quick rundown of the top 10 features accessible in the Discord app.
Each user can create a customizable profile. Once the sign-up process is complete, the user can easily join/create servers. Besides, the user can add multiple friends and family members simultaneously.
Servers are private and public chat rooms based on specific categories. The largest category of servers revolves around video games. Though, a vast range of other servers covers other niches as well.
Channels are like tiny threads that create a server. At a time, each server could hold up to 500 channels. Overall, channels help to organize the structure of the server.
Three roles assist in running the servers: Leader, Timekeeper, and Facilitator.
Most communication apps don't display notifications instantly when a user sends any text. However, you can easily customize the notifications settings in Discord. For example, you can mute the chats or block unknown users.
Users can easily make video calls to 10 to 40 users simultaneously.
With the screen share feature, Discord works similarly to a Zoom application. Screen sharing is a valuable feature for companies and corporations, allowing them to share slides and documents with their employees without difficulty.
Discord offers a live streaming feature that is highly likable by gamers. With this feature, gamers can quickly go live and expand their gameplay experience with 50 users at a time.
Bots are computer programs that help to run automated tasks. The Discord app has a "Medal Bot" feature that allows game enthusiasts to record live games.
Discord allows the app integration feature through which users can easily integrate other social media channels into the Discord app. For instance, Twitch, Twitter, YouTube, Slack, and SoundCloud.
Apps Similar to Discord: Best 10 Discord Alternatives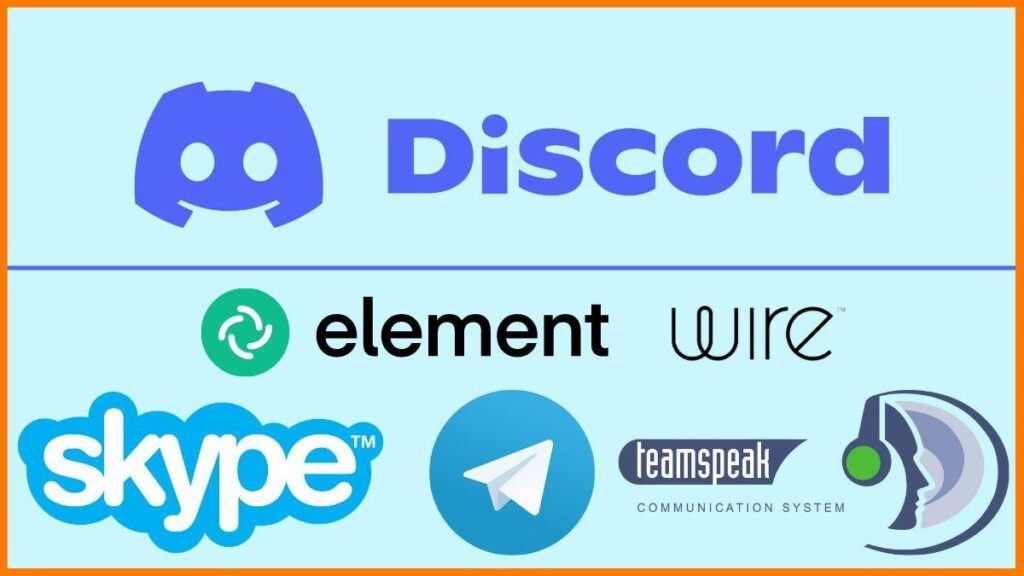 Discord is one of the exceptional communications platforms that initially began as a chat service for gamers.
However, with the rapid advancement in technology, now, it is not restricted to gamers only. Instead, it is highly approachable by big businesses and enterprises for official purposes as well.
Below, we have mentioned the best 10 Discord alternatives. In case you want to develop any other chat app similar to Discord.
Chanty
TeamSpeak
Hey Space
Flock
ProofHub
Slack
Telegram
Wire
Hangout Chats
Microsoft Teams
How Much Does It Cost to Develop an App Like Discord?
The cost of making an app like Discord depends on multiple factors, including:
Number of functions and features in your app
Design, project size, and structure
Platforms and frameworks
Challenges and functionalities in your app
Budgeting, monetization strategy, and the estimated timeframe
Developer's location, technical abilities, number of years of experience, and skillset
Creating a chat app like Discord with state-of-the-art features requires significant investments as its development is notoriously complicated.
Typically, the cost is between $70,000 to $90,000 or more, based on the abovementioned aspects.
Overall, chat apps like Discord are in demand and have a vast segment of the audience worldwide.
So, to expand your business and stand out among your rivals, you should create a VoIP app like Discord.
Monetization Strategies: How to Make Money from an App Like Discord?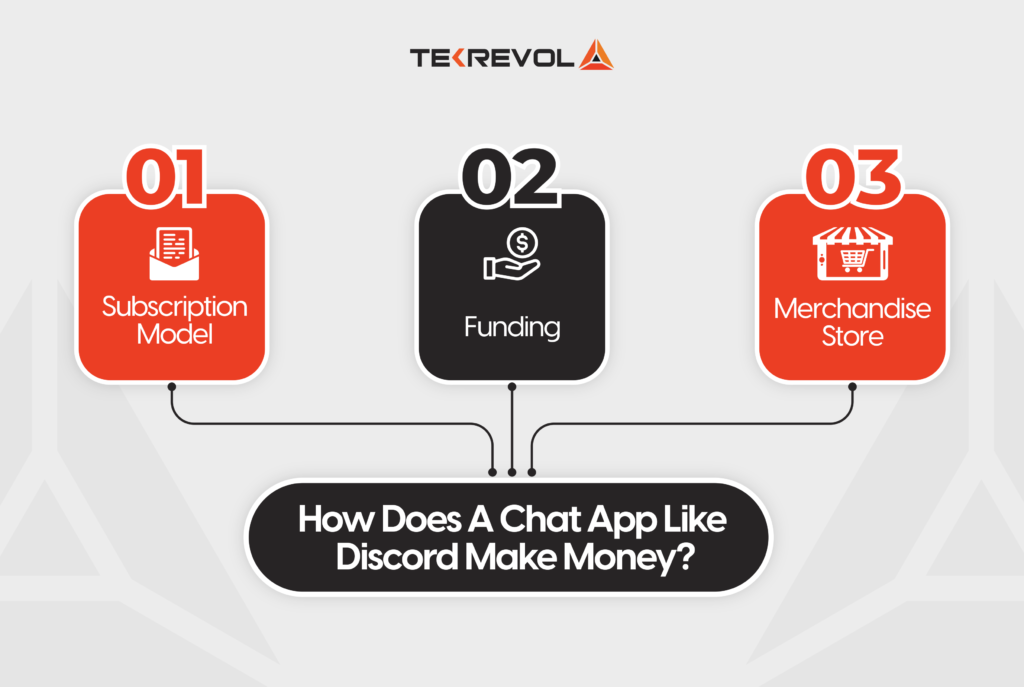 Generally, the Discord app uses the three most common and popular approaches to make money.
Discord earns money from their premium subscription package – Discord Nitro. Typically, this package costs $9.99 per month and $99.99 per year. This package is free to use for the first 30 days.
The Discord subscription strategy works similarly to the Netflix subscription model and is highly useful in attracting more business influencers and tech-savvy users.
Another popular model that helps in generating massive revenues is the funding policy. In fact, Discord was estimated to be at $7 billion worth from a fund-raising program by December 2020.
Discord features a clothing store that allows customers to purchase t-shirts, socks, sweatshirts, and other items.
Wrapping Up
In our blog, we have covered everything associated with the Discord application.
For instance, we have jotted down a detailed guide on how to create a chat app like Discord, the must-have features accessible in the app, the cost and monetization strategies used to make money, and the top 10 apps similar to Discord.
We hope our article will be helpful for you to make an app like Discord.
Planning to develop a chat app like Discord?

Book a free one-to-one consultation today with our expert mobile app development company to estimate costs and discuss other app parameters.
Frequently Asked Questions:
Why is Discord so much popular?
There are several reasons that indicate the importance of a discord app. Basically, the discord app is a free messaging communication platform. Discord has an exceptional list of features and functions. 
In general, discord provides a free VOIP. Besides, it offers exquisite video and chats services. Other than that, it makes the interaction easy. 
Moreover, it gives an edge to gamers to communicate with other players while playing multi-player games. 
Most importantly, it offers exclusive communication services not only for gamers but also for larger businesses and enterprises. 
Ironically, discord platform has some serious risks, especially for teenagers. Though, discord offers privacy control features by which you can easily regulate connection requests. 
As discord is an open platform and is accessible by everyone, therefore, you must make sure to incorporate the right privacy controls after downloading the app.
How long would it take to build a messaging app like Discord?
Normally, chat apps like discord take 6 to 8 weeks on average. However, the duration can further increase if your app involves multiple complex features and functions.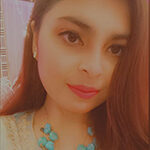 Author : Mariam Amin
Mariam Amin is an Electronics Engineering graduate. As a content marketer, with her insights on engineering and digital strategy, she showcases informative guides and content that is built on imparting knowledge. When away from marketing and the digital landscape, you can find her looking over the food industry, and fitness trends, and catching up on a documentary or a movie.
Recent Blogs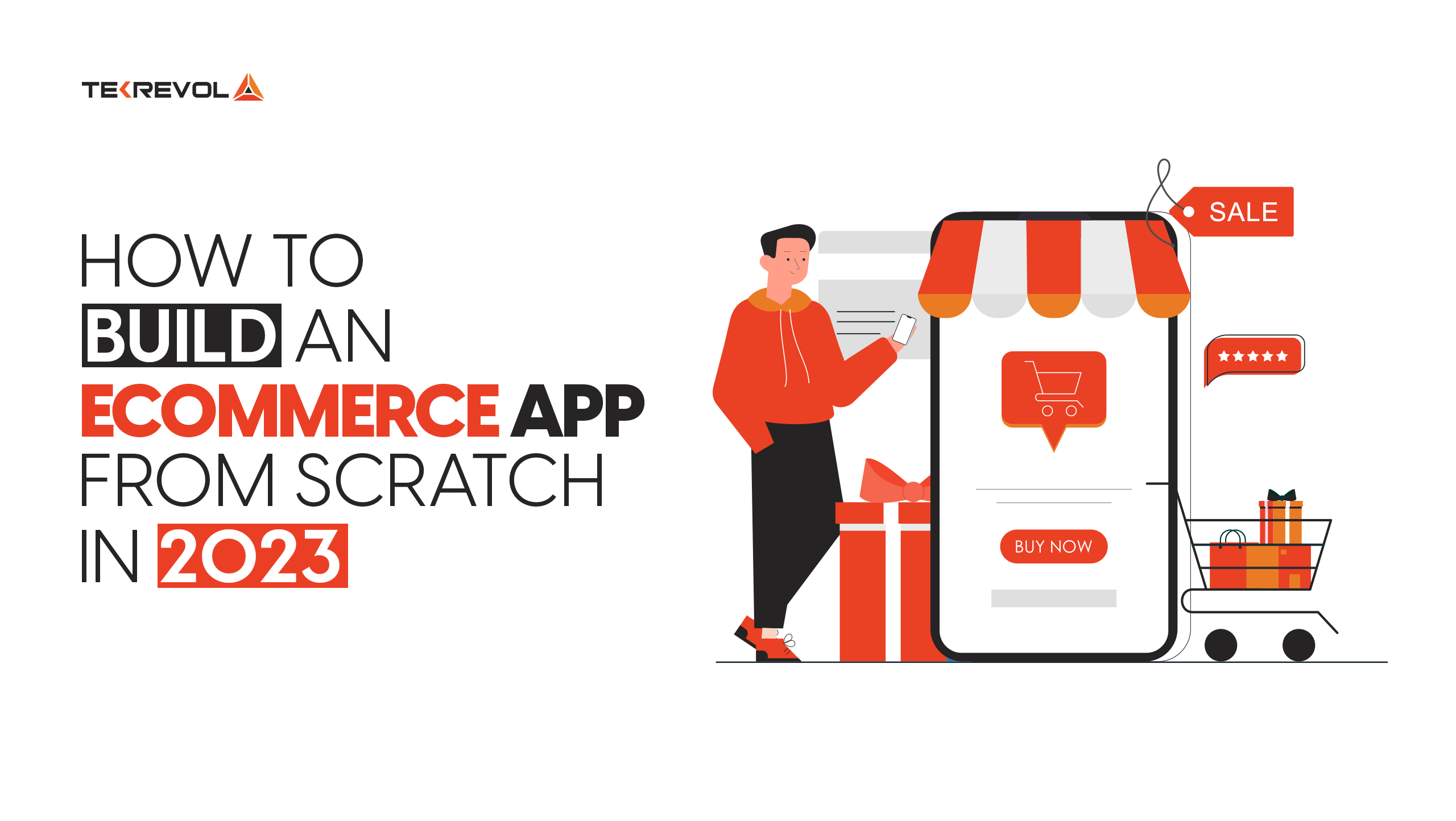 Tekrevol's Global Presence
Now expanding to multiple cities across USA, GCC region, Europe & Asia
Come meet us at a location near you!
USA
39899 Balentine Drive,
Newark, CA 94560
1301 Fannin St #2440,
Houston, TX 77002
501 E Las Olas Blvd Suite
230, Fort Lauderdale, FL
44 Tehama St, CA 94105, San Francisco
400 NW 26th St, FL 33127, Miami
740 15th St NW 8th Floor, DC 20005, Washington
CANADA
4915 54 St 3rd Floor
Red Deer, ABT T4N 2G7
UAE
Level 5, One JLT Tower 1 - Jumeirah Lakes Towers - Dubai, United Arab Emirates
Level 17, World Trade Center, Khalifa Bin Zayed the First Street, Abu Dhabi
Level 22 , West Tower, Bahrain Financial Harbour, Manama, Bahrain
Level 22, Tornado Tower, West Bay, Doha, Qatar
PAKISTAN
3/25, Block 5, Gulshan-e-Iqbal,
Karachi, Sindh 75650
USA
CANADA
PAKISTAN
UAE
talk to us
Got an idea?
Let's get in touch!
Let's discuss your project and find out what we can do to provide value.
I am interested in discussing my ideas with you for
COPYRIGHT 2023 TEKREVOL ALL RIGHTS RESERVED.