How to Choose a Reliable Healthcare App Development Partner in Dubai to Build Innovative Health Apps
Author: Mariam Amin |
May 16, 2023 - TekRevol Team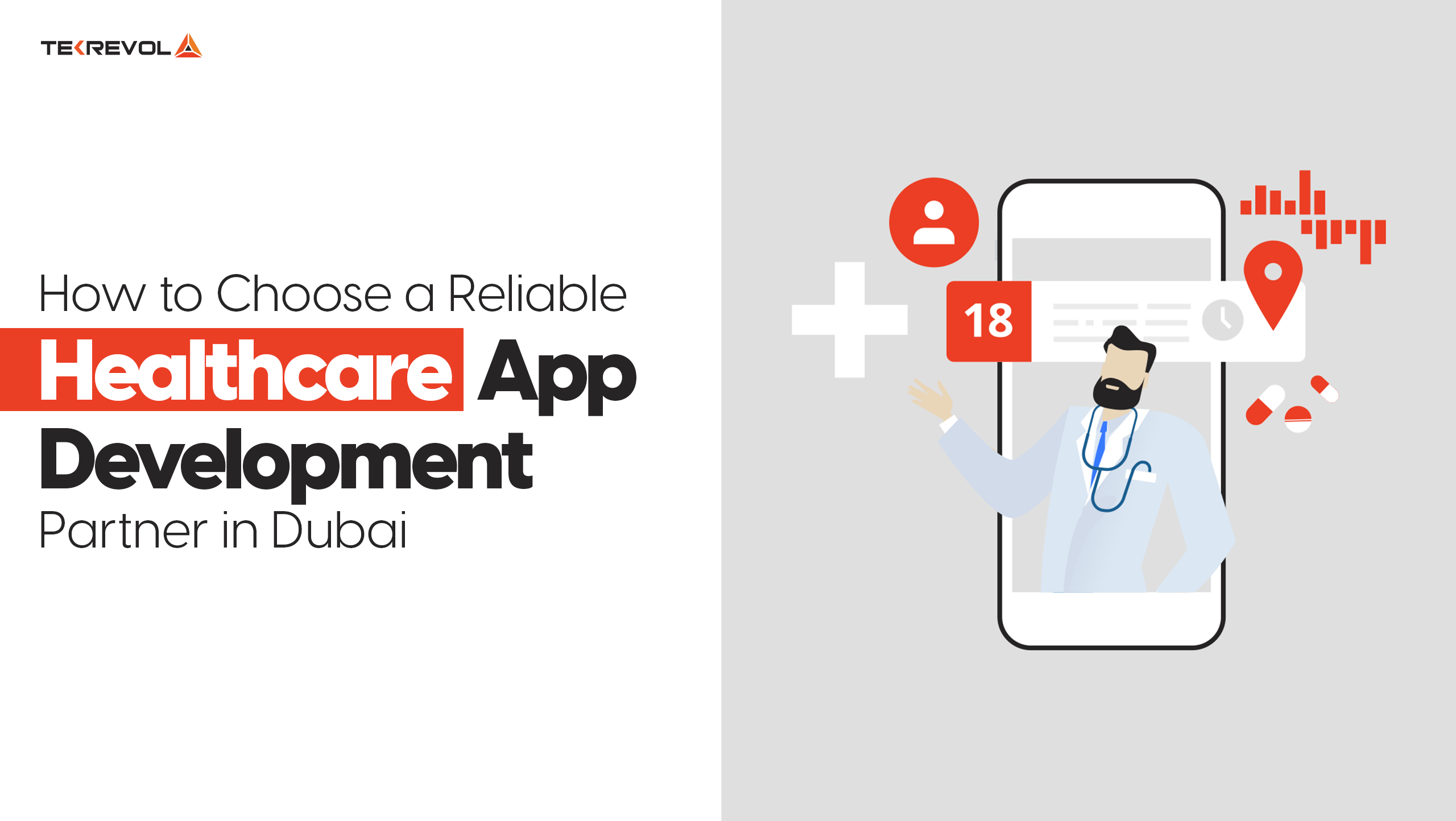 The healthcare industry is experiencing a digital revolution owing to the rapid advancement in mobile technology.
In the present time, healthcare app development has emerged as a key player in this digital transformation era.
The sudden surge in this technology has transformed almost every individual life, including doctors, patients, and other medical staff members, in incredible ways.
Nowadays, there is a wide range of innovative healthcare solutions available in the mainstream markets.
The global medical app market is projected to reach $11 billion by 2025, which further highlights the growing importance of digital healthcare solutions.
In reality, the reliance on healthcare apps has skyrocketed further after the COVID-19 pandemic. These days, patients prefer the convenience of healthcare apps over traditional doctor visits due to various reasons. Some of the greatest reasons for using healthcare apps are;
Streamlined processes
Improved patient engagement
Enhanced access to critical health data. And the list goes on.
The success of healthcare apps relies on choosing the right development partner, as healthcare app development demands a unique skill set and specialized focus.
Below, we have covered the all the essential details that would help you out in choosing the right healthcare app development partner in Dubai.
Best 5 Reasons Why Businesses Should Invest in Healthcare App Development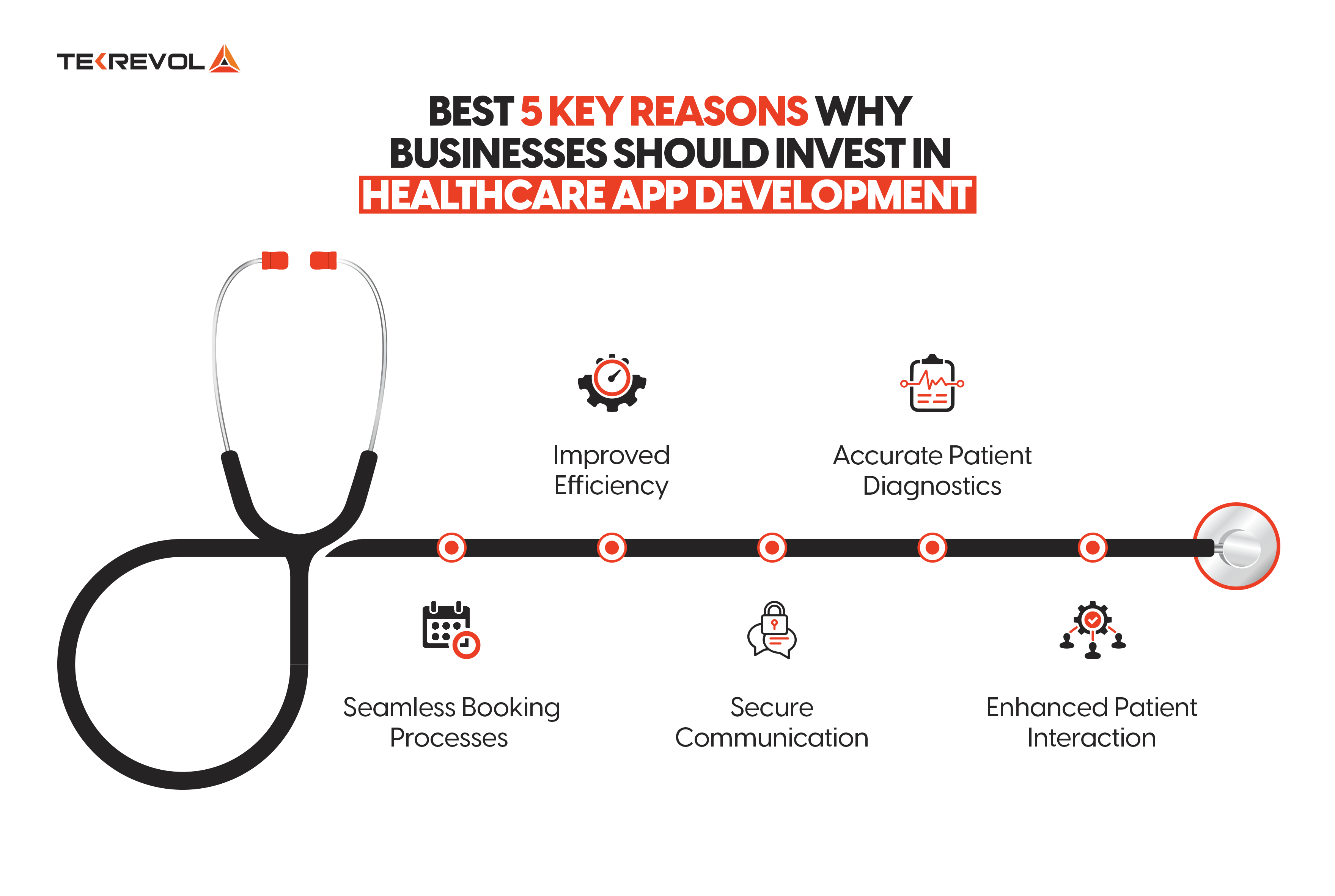 Using a mobile app can greatly enhance the efficiency of a hospital's operations while also drawing in more users.
This dynamic tool revolutionizes the way tasks are accomplished, ensuring maximum efficiency and effectiveness.
With its wide range of capabilities, from patient registration to discharge, it simplifies various tasks and helps streamline everyday routine operations.
One of the studies indicates that the global healthcare app market is projected to experience a remarkable CAGR of 17.7% between 2021 and 2028.
These statistics clearly demonstrate the surging popularity and widespread acceptance of healthcare apps on a global scale.
If you're hesitant about the idea of investing in healthcare apps, consider the following compelling reasons:
Seamless Booking Processes
Gone are the days when endless phone calls have been made to the receptionist to inquire about the doctor's availability and struggling to secure an appointment.
The introduction of healthcare apps has brought a tremendous paradigm shift. Thus, making the entire booking process a hassle-free experience for both patients and receptionists alike.
Thanks to these applications, individuals can now effortlessly book a doctor's appointment and even set a convenient reminder. All that too from the comfort of their own home.
Other than that, these apps also alleviate the load on receptionists, liberating them from the task of making reminder calls to patients the day before their appointments.
Also, it assists receptionists in redirecting their efforts towards more productive endeavors, ensuring a smooth flow of operations within the hospital.
Secure Communication
A well-developed healthcare app offers patients a highly confidential channel to communicate with their doctors.
Now, patients can effortlessly share their medical reports and discuss their ailments with doctors hassle-free. This helps doctors provide tailored medication to their patients.
Overall, having a dedicated healthcare app offer secure and convenient ways for both doctors and patients alike to discuss their problems and get instant responses.
Enhanced Efficiency
Healthcare apps empower doctors to access patients' comprehensive medical histories, enabling them to provide optimal treatments.
Besides, these efficient apps allow doctors to attend to multiple patients simultaneously. Henceforth resulting in improved user experience.
Furthermore, these applications assist other staff members by offering meaningful communication channels. Thus, ensuring seamless workflow and user experience.
Accurate Patient Diagnostics
With healthcare apps, doctors can closely monitor patients' diagnoses and other medical checkups. This meticulous oversight significantly reduces the chances of potentially fatal errors.
Apart from that, these apps accurately track various health parameters, as they are equipped with cutting-edge sensors and tools. Thereby elevating the quality of healthcare services and overall efficiency.
Moreover, these apps offer real-time access to patients, which further enhances the patient experience, making healthcare app development an exciting opportunity.
Enhanced Patient Interaction
Healthcare apps create an avenue for frequent patient-doctor interaction. This heightened level of engagement plays a pivotal role in improving patient health, as doctors can keep a constant check on their well-being.
As the demand for such apps grows, mobile app developers in Dubai are rising to the occasion, crafting exceptional applications to meet these needs.
How To Choose the Right Healthcare App Development Partner
When it comes to healthcare app development, choosing the right app development company in quite tedious. The reason is that a good or a bad company can make all the difference in the success and effectiveness of your application.
Therefore, it's essential to familiarize yourself with the valuable tips and tricks to ensure you onboard the incredible team for your healthcare app development.
So, if you're on the lookout for a reliable healthcare app development partner in Dubai, here are some helpful pointers to keep in mind.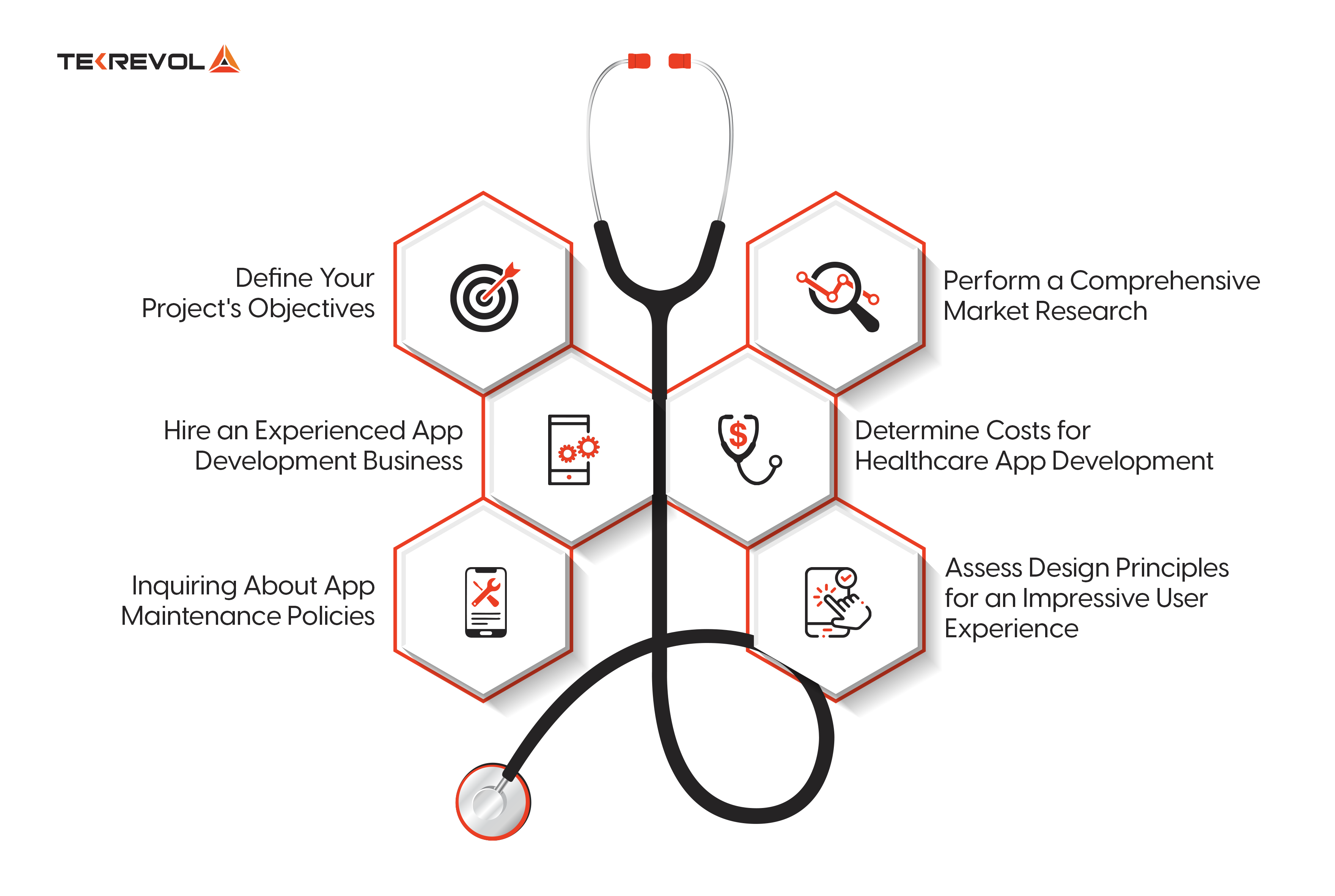 Define Your Project's Objectives
When you're planning to recruit a healthcare app development company, firstly, it's imperative to have a clear understanding of your project's requirements, goals, and expectations. In that way, you'll be able to identify what you will exactly want from the app developers you plan to hire.
Without having clarity on your project needs, collaborating with an app development partner in Dubai might result in an ineffective solution for your healthcare business.
To ensure a successful partnership with a mobile development team for your healthcare project, consider the following questions.
What are the specific goals and objectives of your project?
Who will be your targeted audience for the healthcare app?
What is your budget for the development process?
Who are your competitors in the industry, and what strategies do they follow?
How will you establish effective collaboration with the app development team?
Defining these parameters in the first place will assist you exquisitely in your app development journey.
Perform a Comprehensive Market Research
Before selecting developers for your healthcare app, it's crucial to conduct thorough market research.
Familiarizing yourself with the intricacies of the industry is essential before entrusting your project to anyone.
If you're new to mobile healthcare app development, consulting with app development specialists can provide valuable insights and basic knowledge.
To make informed decisions and narrow down your options, focus on the following aspects during your market research.
Gain an understanding of the programming languages commonly used by software development partners, as well as the average hourly rates and experience of developers.
Analyze the healthcare app market, identifying successful trends, user expectations, and potential gaps to differentiate your app.
Explore existing healthcare apps and their features to gather inspiration and understand user preferences.
Seek recommendations or referrals from trusted sources in the industry to identify reputable app development companies.
Consider the scalability and future-proofing of the technology stack and solutions offered by potential development partners.
By conducting comprehensive market research, you'll be well-equipped to shortlist top app development companies that align with your project's requirements and vision.
Choosing an Experienced App Development Team
Selecting an app development team with ample experience can provide significant advantages for your healthcare project.
Prior experience in developing similar apps demonstrates their practical knowledge and expertise, leading to higher-quality outcomes.
By entrusting your project to an experienced app development team, you'll be able to identify their work abilities and how they handle the complexities of healthcare app development projects.
Furthermore, determine their familiarity with latest tools and technologies in the healthcare domain.
To assess the suitability of an app development company, it's advisable to review their portfolio, examining the type of projects they have worked on in the past.
This analysis will help you determine whether they are the right fit for your specific healthcare project.
Determine Costs Parameters Upfront
When you're on the journey to employ a development partner for your healthcare application, it's crucial to consider the costs involved in the development process.
To make an informed decision, it is recommended to review and compare several proposals that provide a detailed breakdown of the work involved.
By comparing project plans, time estimates, and resource allocation from different app development companies, you can gain a clearer understanding of their respective costs.
Ensuring alignment between payment milestones and project delivery milestones is also essential. This approach ensures that your app development partner is committed to delivering the project on time and within the agreed budget.
By making payments in line with these milestones, you can maintain transparency and accountability throughout the development process.
Also, don't just get enticed by the low-priced tags offered by app development agencies. Instead, go for the companies in Dubai that offer premium-quality services.
Want to determine the approximate costs for building interactive healthcare mobile applications?
Inquire About App Maintenance Policies
Another vital factor while selecting an app development partner is to inquire about the app maintenance policy.
Engage in a discussion regarding the fees associated with ongoing support, future assistance, costs for new updates, and their bug-fixing policy.
By determining the maintenance policy and updates costs, it will help you discover the estimated costs regarding your healthcare application.
Pay Attention to UI/UX for an Impressive User Experience
When developing a healthcare app, prioritizing user experience is paramount.
The design plays a central role in delivering an impressive and intuitive user experience.
Take the time to review the app development team's previous work, paying particular attention to their design principles and how user-friendly their creations are.
This will provide insight into their design expertise and their ability to create user-centric interfaces.
Now that we have explored the process of finding the right app development team for your healthcare project let's delve into common mistakes to avoid when selecting app developers.
6 Mistakes to Avoid While Hiring a Healthcare Application Development Business
Below, we have jotted down the 6 mistakes you shouldn't overlook while hiring a healthcare app development partner in Dubai.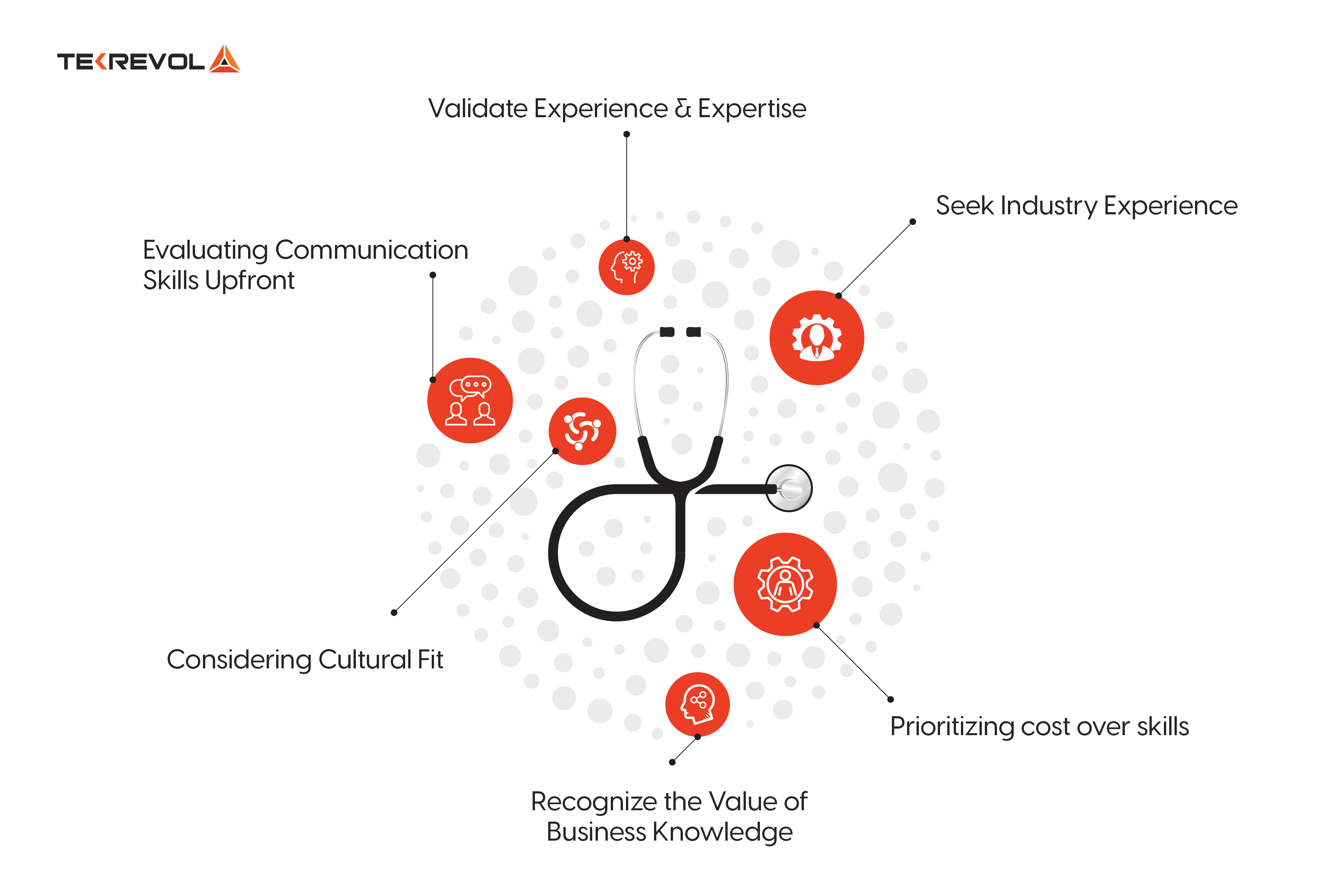 Determine Technical Expertise & Skillset
Before hiring a developer, it is highly important to ensure that the development company possesses the necessary skills to develop an app with the desired functionality and design.
Take the time to review the development company's portfolio and examine some of the apps they have created previously.
Other than that, pay attention to specific skill sets that your app may require, such as database design and programming languages.
Moreover, it is important to scrutinize whether the prospective developers have deep expertise in the areas relevant to your project or not.
In short, conducting thorough research in advance will help prevent future complications if the chosen company proves to be inadequate for the task.
Prioritize Cost over Skills
While cost is an important factor, it should not be the sole basis for your decision.
We can comprehend it is quite challenging to invest in app development at the start, especially for startups and small businesses with limited budgets. However, in many cases, you will highly likely have low-quality services at low prices.
Nonetheless, experience and expertise often come at a higher price, and opting for a lower initial cost may result in higher expenses in the long run. For that purpose, you can connect with any leading mobile app development company in Dubai.
Seeking Industry Experience
When hiring app developers, it is beneficial to choose individuals or teams with industry-specific experience, particularly in your niche.
Developers who have previously created apps for similar businesses can assist you better and provide you with valuable insights and a solid foundation for developing a high-quality app.
While extensive industry experience may not be necessary, it is quite complicated to find developers who possess the relevant knowledge and expertise you require for your app.
In order to address important considerations that you may encounter during your app creation, you'll be in need of a company that best comprehends your app needs.
Recognizing the Value of Business Knowledge
Business acumen is a valuable asset for developers. It enables them to make informed decisions during the coding process, considering the business implications of their choices.
Developers with business knowledge can provide valuable recommendations for your app based on their understanding of concepts and technical abilities, such as monetization strategy and usability.
Ultimately, having the right app development partner that understands your business needs will benefit the success of your app far ahead.
Considering Cultural Fit
While it may seem less important when hiring an external company, cultural fit plays a crucial role in establishing a productive and collaborative relationship.
Since you will be working with the developers for an extended period, it is important to ensure that the working dynamic will be harmonious.
Look for a development company in Dubai that allows your involvement in decision-making throughout the app development process.
Conduct interviews and consider cultural fit as a key factor in your decision-making process.
Evaluate Communication Skills for Complex Ideas
While you're recruiting an app development agency, make sure to look for a transparent communication.  This will give you an insight whether they have the ability to understand complex ideas or not.
Also,  you'll be analyze whether they can effectively communicate them to non-technical individuals or not.
During your interactions with potential developers, ask them to explain their plans for developing the app and the mechanics behind their decisions.
While you may not grasp all the technical details, the developer should be able to communicate why they choose specific tools and techniques.
Clear and effective communication is crucial for a successful partnership and ensures that everyone involved is on the same page.
Looking for a healthcare app development company?

We have a lot of experience in delivering healthcare apps for companies around the world.
Bottom Line
By following the tips and best practices mentioned earlier, you can find a reliable healthcare app development service provider that meets your long-term needs.
When it comes to choosing a reliable healthcare app development business, TekRevol is undoubtedly an incredible option.
With a proven track record, they have developed innovative and versatile healthcare mobile apps for multiple platforms.
Besides, they understand the intricacies involved in the creation of an app. And, then they come up with high-end, intuitive mobile solutions that best cater to the unique needs of their clients.
With TekRevol as your healthcare app development partner, you can acquire a team of professionals dedicated to delivering top-notch apps that customers love and embrace.
Their commitment to quality, functionality, and user experience ensures that your healthcare app will stand out from the rest and make a positive impact in the market.
We hope you may find our article useful and informative.
Frequently Asked Questions:
How much does it cost to build healthcare mobile apps?
The cost of building mobile healthcare apps can vary based on numerous factors. However, as a general estimate, the cost can range from $50,000 to $500,000 or more.
Here are some key factors that can influence the cost.
App complexity and functionality requirements
Design complexity and user interface
Platform compatibility (iOS, Android, or both)
Integration with third-party systems or APIs
Backend development and infrastructure requirements
Security and compliance measures
Ongoing maintenance and support costs
How do I choose a reliable mobile app development company for healthcare apps?
Choosing a reliable mobile app development company for healthcare apps requires careful consideration and evaluation.
Here are some steps to guide your selection process.
Research and evaluate the company's portfolio
Assess expertise and experience
Check client reviews and testimonials
Evaluate communication and collaboration
Consider industry compliance and security
Determine cost and stipulated time frame
How much does it cost to hire mobile app developers?
The cost of hiring mobile app developers can vary depending on factors. For instance,
Their experience
Location
Project complexity
Engagement model (hourly rates or fixed price).
On average, the cost per hour for mobile app developers can range from $50 to $250. However, it's important to note that the overall cost will depend on the project scope, required expertise, and duration.
Hiring developers from countries like Dubai, or UAE, can often result in more cost-effective options, and you'll acquire premium-quality services.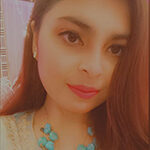 Author : Mariam Amin
Mariam Amin is an Electronics Engineering graduate. As a content marketer, with her insights on engineering and digital strategy, she showcases informative guides and content that is built on imparting knowledge. When away from marketing and the digital landscape, you can find her looking over the food industry, and fitness trends, and catching up on a documentary or a movie.
Tekrevol's Global Presence
Now expanding to multiple cities across USA, GCC region, Europe & Asia
Come meet us at a location near you!
USA
39899 Balentine Drive,
Newark, CA 94560
1301 Fannin St #2440,
Houston, TX 77002
501 E Las Olas Blvd Suite
230, Fort Lauderdale, FL
44 Tehama St, CA 94105, San Francisco
400 NW 26th St, FL 33127, Miami
740 15th St NW 8th Floor, DC 20005, Washington
CANADA
4915 54 St 3rd Floor
Red Deer, ABT T4N 2G7
UAE
Level 5, One JLT Tower 1 - Jumeirah Lakes Towers - Dubai, United Arab Emirates
Level 17, World Trade Center, Khalifa Bin Zayed the First Street, Abu Dhabi
Level 22 , West Tower, Bahrain Financial Harbour, Manama, Bahrain
Level 22, Tornado Tower, West Bay, Doha, Qatar
PAKISTAN
3/25, Block 5, Gulshan-e-Iqbal,
Karachi, Sindh 75650
USA
CANADA
PAKISTAN
UAE
talk to us
Got an idea?
Let's get in touch!
Let's discuss your project and find out what we can do to provide value.
I am interested in discussing my ideas with you for
COPYRIGHT 2023 TEKREVOL ALL RIGHTS RESERVED.