10 Best Halloween Apps to Download In 2022
Author: Saba Sohail |
October 28, 2021 - TekRevol Team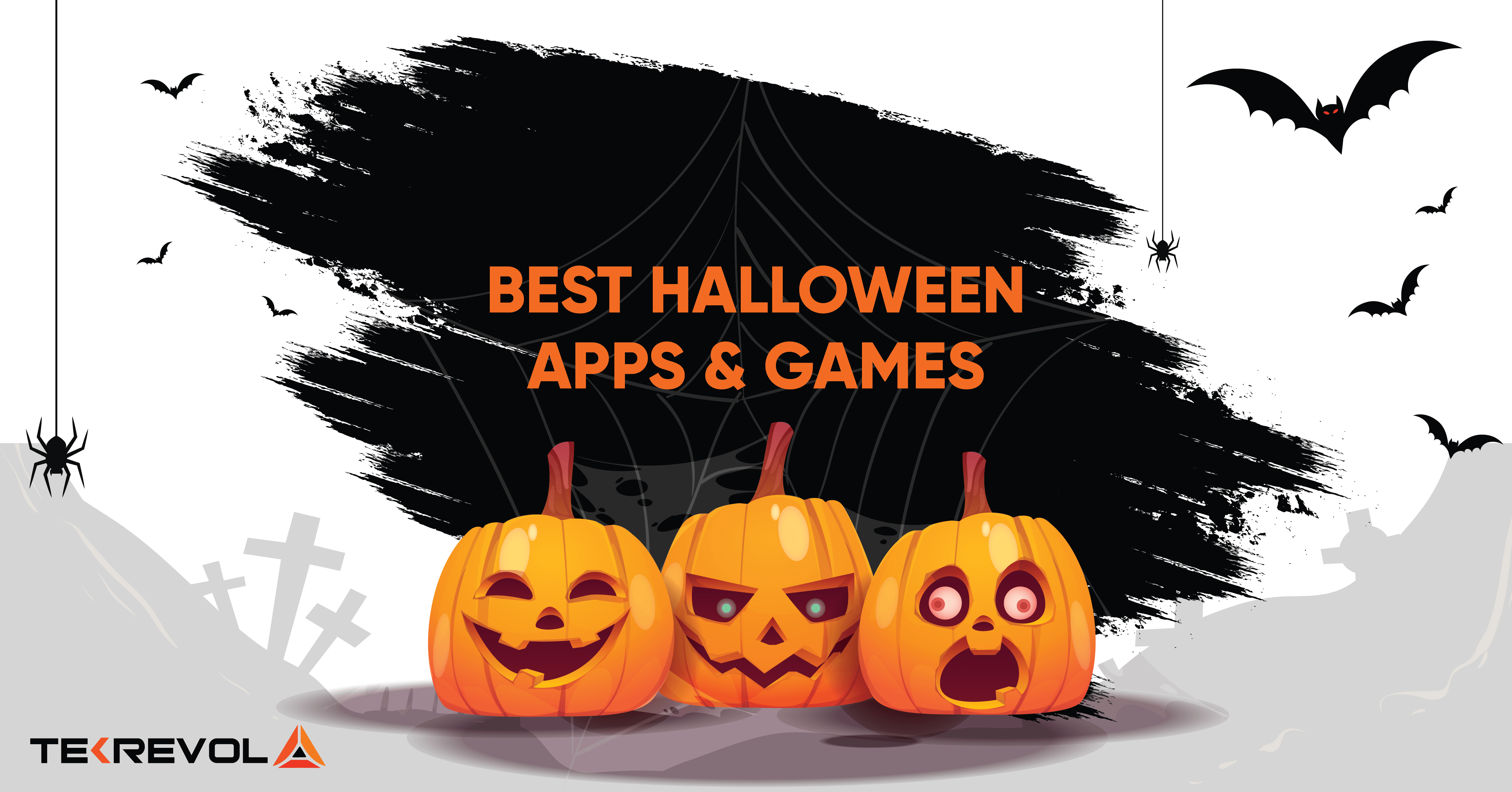 Halloween is just around the corner, and it's not too late to try out the spooktacular Halloween apps on this list.
For a side note, most of the Halloween apps reviewed in this write-up are rather interesting because of their intuitive user interfaces, thrilling user experiences, and their revenue potentials (for appreneurs of course).
What's even more impressive about these Halloween apps is that while some are basic and are rightly positioned for a defined target audience, others are more advanced and follow modern mobile app development trends e.g. GPS, AI-based image recognition, and Augmented Reality.
So, without any further ado, let's start skimming through the list of the best Halloween apps developed to let your creativity and spirits flowing this October!
Interested in creating a Halloween App?

Learn everything you need to know about the Halloween apps, current market trends, technical aspects, and much more in our articles.
Zombies, Run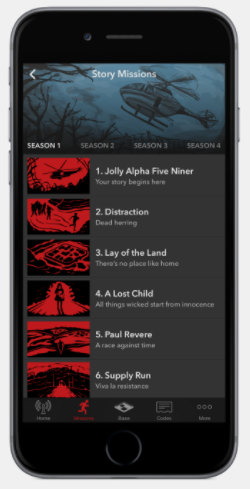 Zombies, Run is an exclusively spooky game that gets all the traction during the Halloween season.
The game is built on Immersive Reality architecture, uses GPS in the background, and progresses depending on the running intervals a player has completed.
Zombies, Run! has been featured on Wired, Lifehacker, BBC NEWS, and CNN. The game story was created by an English novelist and game writer Naomi Alderman.
The core functionality of the game is basically a fusion of mobile technologies blended with a drama role play where players have to complete the running missions to save their lives.
In addition to Android and iOS smartphones, Zombies, Run! is also compatible with the wearable OS.
Zombies, Run! is free to download and use, and earns through sponsored advertisements and in-app purchases.
iOS users who would like to link their app and running score to Health app can choose from subscriptions starting from $5.99/month.
Five Nights at Freddy's AR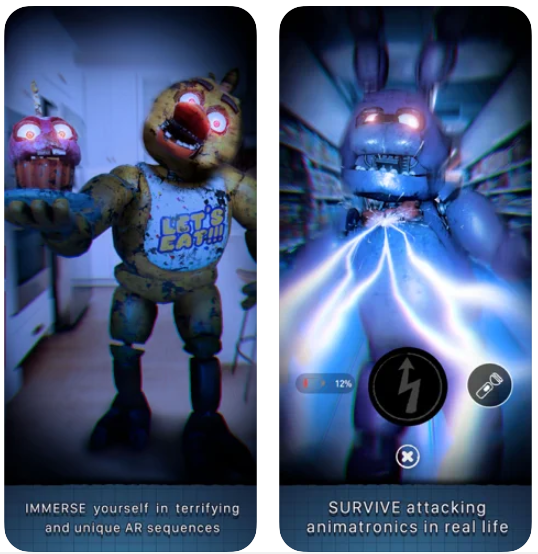 Five Nights at Freddy's AR is an extension of the popular FNAF series with an add-on which is the Augmented Reality feature that provides users with heart-pounding jump-scares wherever they are through A.R.
Furthermore, to make FNAF game fit for Halloween, the story artists have tweaked the story a bit. Instead of working at Fazbear's pizza or watching the CCTV cameras, the players are meant to subscribe to an entertainment package and choose animatronics of their preference.
These animatronics are delivered to the user's home and they start malfunctioning. Where they were created to entertain the subscribers, these animatronics have gone hungry for blood. So, now it's up to the users to use whatever powers they have to save themselves from these animatronics.
The video game works with a range of devices including smartphones, game consoles, and big screens and it's the compatibility of this Halloween app that makes it one hell of an addition to the upcoming Halloween.
Scary Prank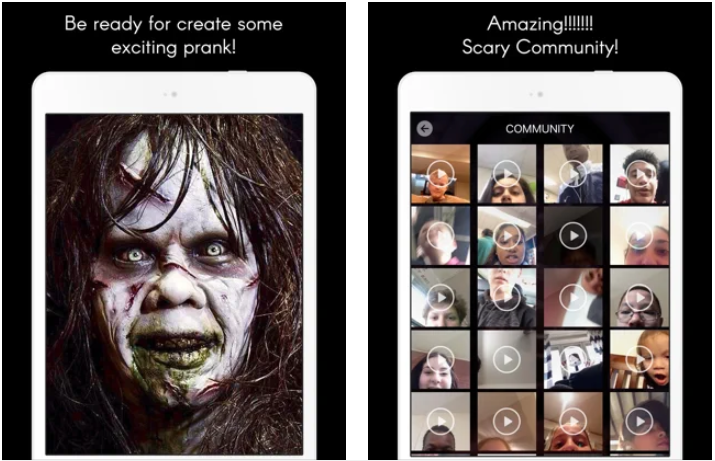 Pranks are one of the most common spooky activities during the Halloween season. Scary Prank is one such pranking app that starts with a quiz game, and ends up displaying dark and twisted images with audios that'll send chills down your spine.
The app gives you options for of choosing who you want to prank, asking your family for 'help' during the quiz, or sharing the app link with your friends to spook them online.
However, the app is only available for iPhone users. It has a community where you can share videos of your social network being pranked.
Scary Prank: iOS
Ghost Detector Radar Camera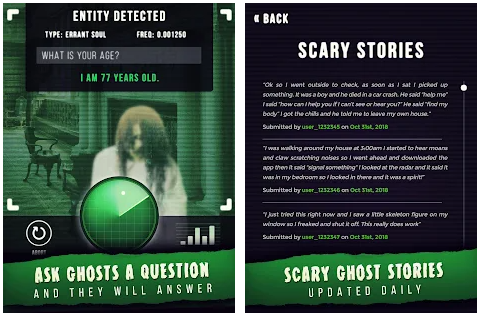 While ghost hunting apps are always a hoax, stuff like this usually becomes trendy during Halloween. Having a portable Ghost Detector in your pocket can be fun this season.
Moreover, for horror enthusiasts, this Halloween app releases a new horror story every day.
And here's a teaser of the UI of the app.
Spooky, right?
What's more interesting is that the radar camera of this app allows users to detect paranormal activities and communicate with spirits which are of course fake!
Also, the app uses EMF and PKE detectors to locate the presence of supernatural beings. The app is free to download and use and earns through sponsored advertisements.
Zombie Booth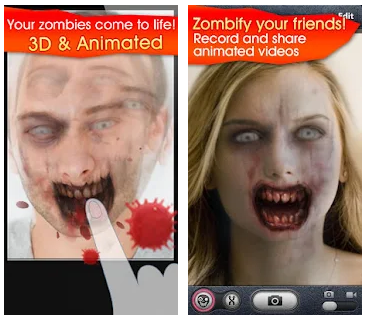 Zombie Booth is a Halloween photo editing app that allows users to convert their 2D portraits and selfies into 3D undead doppelgangers.
The app leverages image recognition technology and other photo manipulative techniques to make the new zombified 3D images speak, scream, and scowl.
Plus, this app is free to download and use on both digital channels and earns via advertisements. In addition to a free version, the users can buy the Pro version of the app for $2.99.
Corpse Cam
Corpse Cam is another face filter Halloween app that takes users beyond the conventional zombifying experience.
Using image recognition technology, this Halloween photo editing app morphs an image into a monstrosity and works with several filters simultaneously to generate truly horrifying results.
The app is integrated with social media and lets users share their new 'zombified' images with their online community.
While the app stays popular throughout the year, the developers keep adding new masks and spooky photo filters right before Halloween to generate more hype around the app.
Download: iOS
Halloween Girls Photo Editor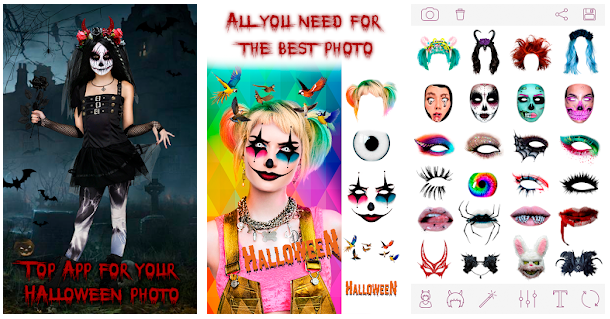 Another popular activity during Halloween is getting ready in weird costumes, and this Halloween app does just that.
This Halloween picture editor is especially for girls who want to transform their pictures into popular Halloween characters like corpses, witches, or Zombies.
There are hundreds of makeup features, backgrounds, filters, and masks to choose from, plus spooky fonts to add creepy texts to your images.
The app is currently available for Android users only and is free to download and use.
Furthermore, the monetization model of the app is sponsored advertisements.
Download: Android
Halloween Photo Editor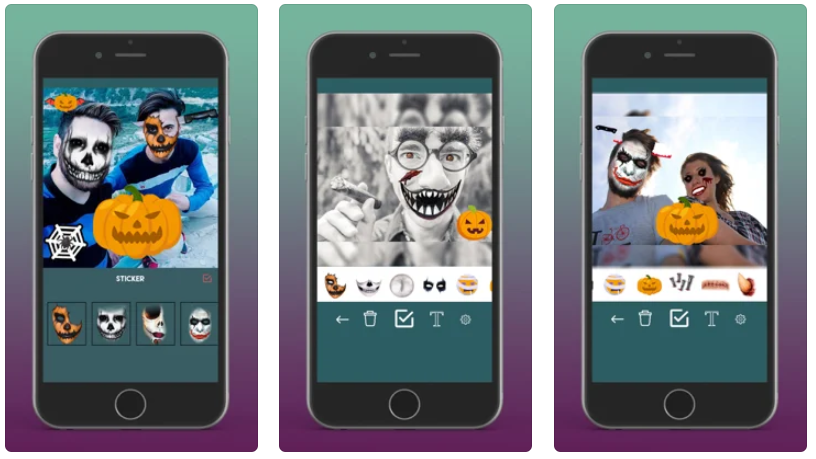 An iOS substitute for the last photo editor is Halloween Photo Editor – Scary, exclusively available for iPhone users.
This app uses image recognition technology too and allows users to edit their images with stickers, texts, backgrounds, and makeup.
The app is free to download and use and earns via advertisements.
Download: iOS
Trick Or Treat Map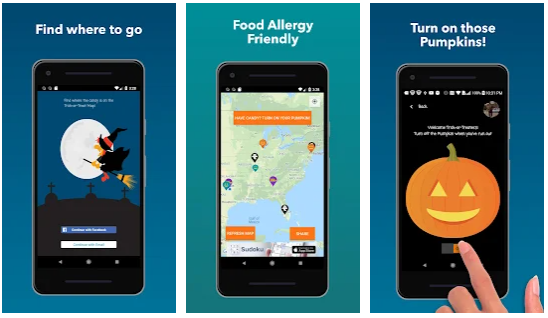 This is a Halloween app all horror enthusiasts were desperately waiting for.
The Trick or Treat Map is for people who are seriously into candies and haunted houses.
The app allows users to share their location pins and mark if they are giving out candies.
Other users can find candy stations in their neighborhoods. People who want to stay on the healthier side can filter locations with badges like allergy-friendly options.
The app is free to download and use and utilizes the smartphone's live location to notify you about more candies!
Halloween Word Search Games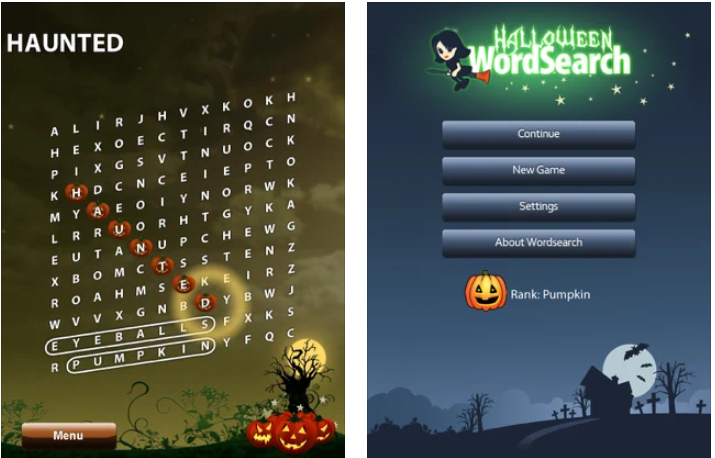 And now something for introverts who are not into candies and welcome Halloween nights only for the cozy beds, silence, and light games: Halloween Word Search.
From children to adults, these word search games don't let anybody get bored on the spooky night where you can't really close your eyes to sleep.
Over To You
The cost of developing these Halloween and other seasonal apps is relatively low than advanced applications. Still, they yield material amounts of profit during seasonal ups.
What makes these apps all the more trending and thrilling is the use of emerging technologies like AI-based image recognition and AR & VR simulations.
While these technologies are already primed for the future and attracting exponential growth in almost every industrial domain, their fusion with the entertainment industry can be the next big hit!
For most users, these Halloween apps mean gruesome ghouls and undead pictures.
On the other hand, the appreneurs who invested in these Halloween apps are actually enjoying candies (pun intended) in terms of app revenue that shoots up during the Halloween season.
As most users turn to these photo editing and scary game apps, the visitor count dramatically increases and allows these appreneurs to capitalize on the frightening fantasies.
For appreneurs, this is probably the best time to get into mobile app development and witness their Halloween app in the trending list in the coming year.
And why only Halloween when we have Christmas, New Year, and Easter around the corner too?
Got an Epic App Idea?

Let's get in touch and turn it into a successful digital reality!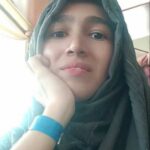 Author : Saba Sohail
Saba is all about strategic leadership and tech-led transformation. She comprehends, incubates, and iterates the idea of integrating tech-powered solutions and converts her knowledge into simple, valuable, and actionable blogs for tech leaders and businesses, much like TekRevol does with their products and solutions.
Recent Blogs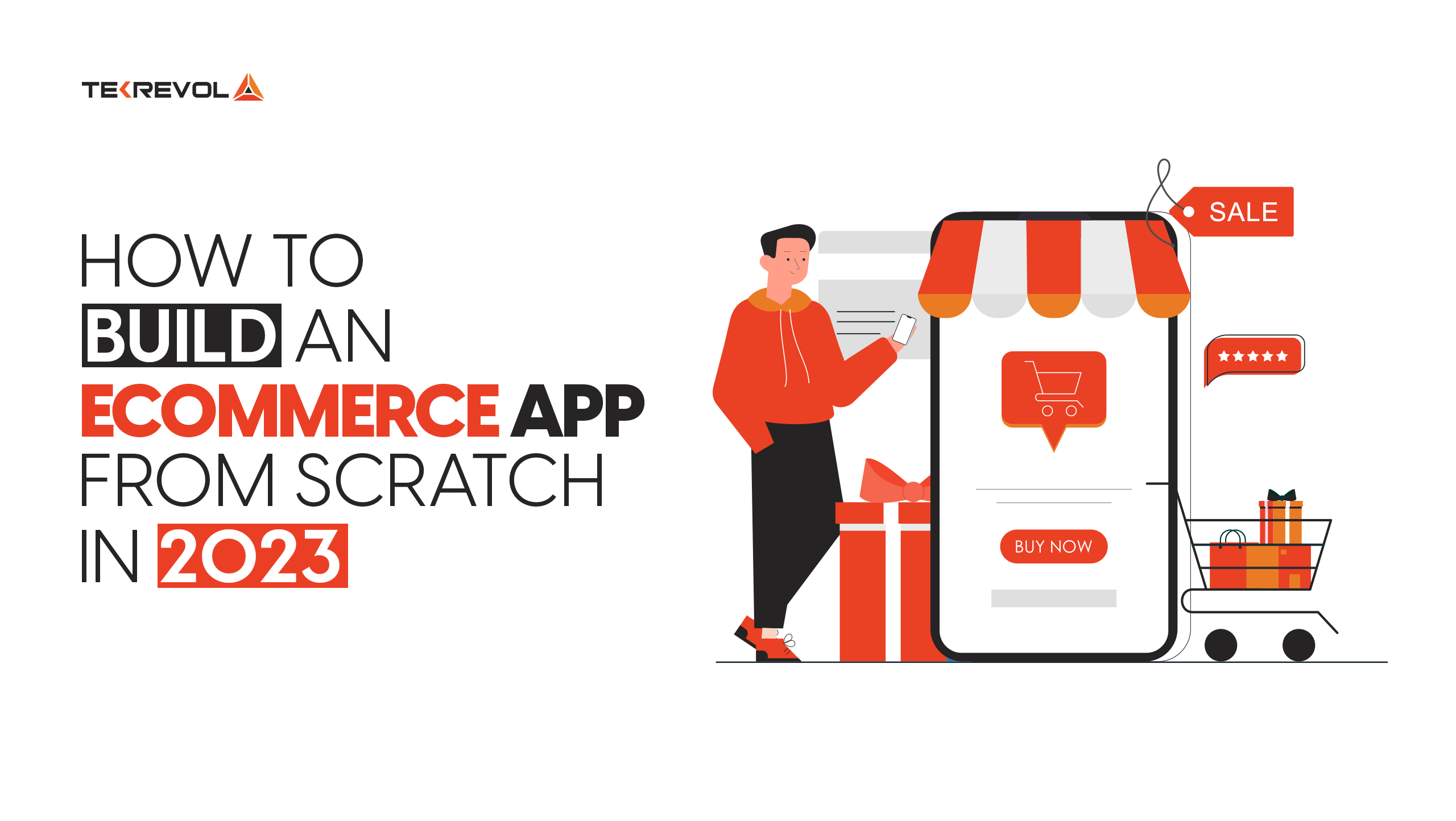 Tekrevol's Global Presence
Now expanding to multiple cities across USA, GCC region, Europe & Asia
Come meet us at a location near you!
USA
39899 Balentine Drive,
Newark, CA 94560
1301 Fannin St #2440,
Houston, TX 77002
501 E Las Olas Blvd Suite
230, Fort Lauderdale, FL
44 Tehama St, CA 94105, San Francisco
400 NW 26th St, FL 33127, Miami
740 15th St NW 8th Floor, DC 20005, Washington
CANADA
4915 54 St 3rd Floor
Red Deer, ABT T4N 2G7
UAE
Level 5, One JLT Tower 1 - Jumeirah Lakes Towers - Dubai, United Arab Emirates
Level 17, World Trade Center, Khalifa Bin Zayed the First Street, Abu Dhabi
Level 22 , West Tower, Bahrain Financial Harbour, Manama, Bahrain
Level 22, Tornado Tower, West Bay, Doha, Qatar
PAKISTAN
3/25, Block 5, Gulshan-e-Iqbal,
Karachi, Sindh 75650
USA
CANADA
PAKISTAN
UAE
talk to us
Got an idea?
Let's get in touch!
Let's discuss your project and find out what we can do to provide value.
I am interested in discussing my ideas with you for
COPYRIGHT 2023 TEKREVOL ALL RIGHTS RESERVED.