8 Experts Share How to Maintain Positive Company Culture
Author: Tekrevol |
March 30, 2023 -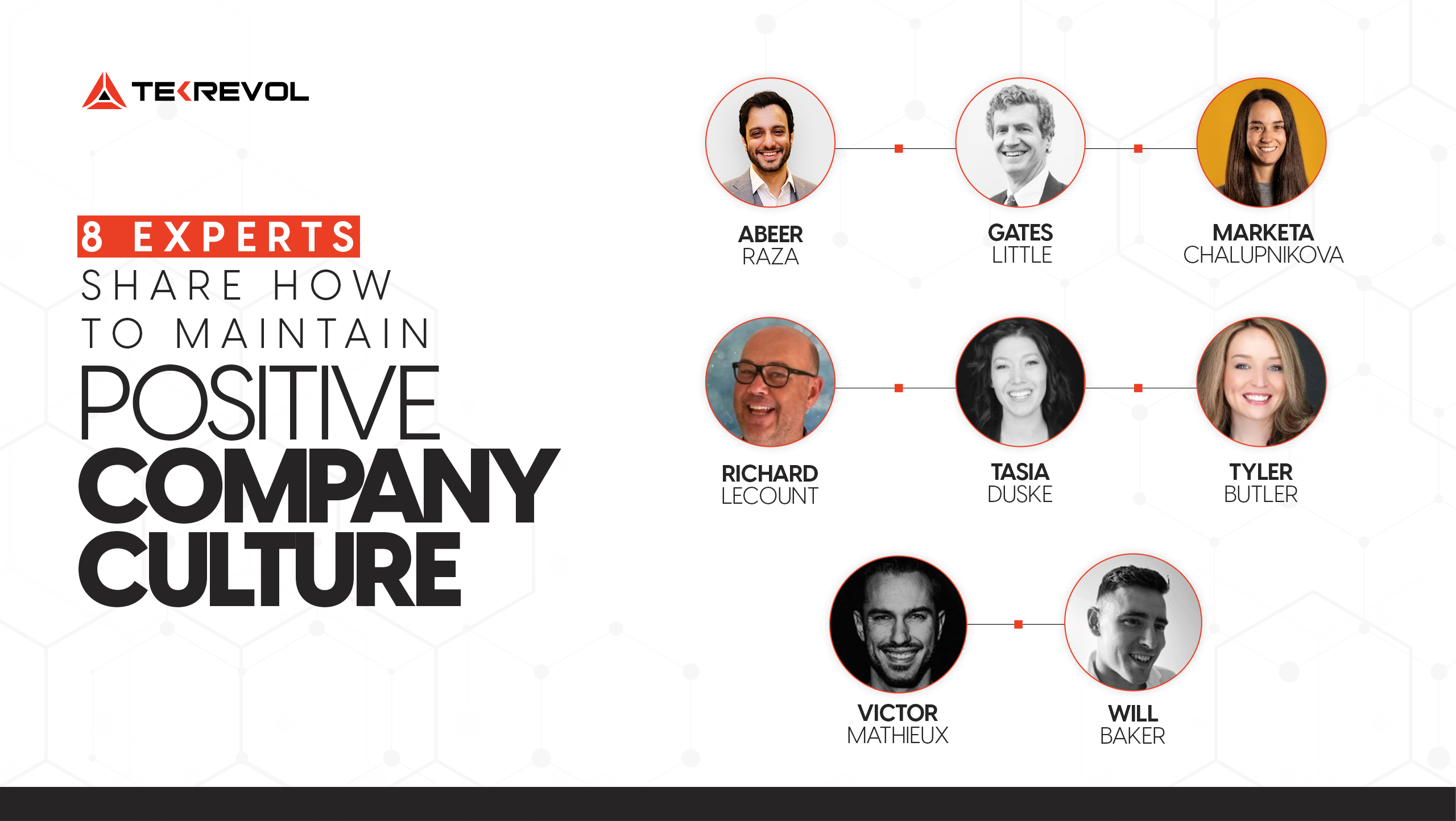 To succeed in the competitive business landscape of today, it is crucial to cultivate a positive company culture that can attract and retain top talent, foster employee engagement, and ultimately drive business success. However, establishing and sustaining a positive culture goes beyond merely providing perks and benefits; it requires a deliberate and intentional effort to foster an environment where employees feel valued, respected, and supported"
From prioritizing work-life balance to sticking to celebrating company milestones together, here are 8 expert answers to the question, "Can you share your most effective tips for how to maintain a positive culture in your company?"
Create a Diverse and Inclusive Workplace
Empower Work-Life Balance
Focus on Community
Be Proactive, Not Reactive
Foster Open Communication
Be the Example
Balance Autonomy and Support
Celebrate Company Milestones Together 
Create a Diverse and Inclusive Workplace
Diversity and inclusion are essential components of a positive company culture, and they go beyond just meeting diversity quotas. A diverse and inclusive workplace is one where employees feel valued and respected, regardless of their race, ethnicity, gender, sexual orientation, age, or any other personal characteristic
Such a culture can be fostered by hiring diverse talent and providing diversity and inclusion training to employees to educate them on how to reduce unconscious bias, and promote a culture of respect and equity. Establishing employee resources groups is also a great idea to encourage employees to connect with others that share similar backgrounds or experiences. Establishing a workplace that welcomes diversity and fosters inclusive communication can help build a positive company culture to attract new talent and retain existing ones.
Abeer Raza, Co-founder and CMO, TekRevol
Empower Work-life Balance
It is important to prioritize contentment with a personal life balance. For example, offering a flexible work schedule encourages employees to take the time necessary for self-care, renewal, and family support; all of which can fuel employee productivity rather than detract from it.
With these strategies implemented throughout the organization, leaders will see an improvement in overall positivity among their staff and environment, as well as increased productivity because of higher morale among everyone involved.
Tasia Duske, CEO, Museum Hack
Focus on Community
A company that works together reaps many benefits together. A company can uplift its own culture through a shared mission that aligns with programs and benefits to create an ecosystem of reciprocity.
Businesses should activate programs that don't narrow their focus on sales alone, such as employee resource groups and volunteer-based offerings which can create grassroots synergy and positivity at your company.
A study by the Society for Human Resource Management showed that 50% of employees thought these practices were critical for employee morale, showing a strong link between community engagement and positive company culture.
Through employee resource groups, a company can provide employees with inclusive opportunities to connect and give back. With paid time off for volunteerism, donation drives, or service campaigns, employees can outreach and impact the community in powerful and meaningful ways on behalf of the company. One of the most powerful methods for a positive company culture is by focusing on its people.
Tyler Butler, Chief Social Impact Officer, 11Eleven Consulting
Be Proactive, Not Reactive
A positive culture isn't just about celebrating successes and promoting work-life balance. To keep morale high during challenging times, it is important to work actively on solutions. Address potential challenges at the first sign of trouble and seek input for solutions.
Doing this not only prevents a panicked, negative response when a setback occurs. Instead, this creates a positive environment of collaborative, solution-based thinking. It is a great example to set as an executive, and reinforcing this strategy with management will help it become part of your culture, not just an SOP.
Gates Little, President and CEO, altLINE
Foster Open Communication
Encourage your employees to speak up and give feedback, listen to their ideas and criticisms, and take their suggestions seriously.
Show that you respect and value their opinion, and recognize their contributions. Communicate clearly, honestly, and regularly with your team, and create an environment of trust, respect, and inclusion.
Victor Mathieux, Co-Founder and CEO, Miracle Brand
Be the Example
As the leader of your business, you're the focal point that everyone looks to for guidance. Therefore, your actions, attitudes, and enthusiasm will be the driving force behind the way the business operates and how your team interacts with each other and your customers, too.
If you want to create a positive attitude around the organization, then you must be the example that everyone looks to. It means you should push yourself to live up to the standards that you've set for the team, and above all else, show up every day with a smile, enthusiasm, and the willingness to lead the way.
There is nothing more effective for team morale, motivation, and positivity than a leader who will hold themselves to the standards they set for everyone else and then some.
Richard LeCount, Managing Director, USB Makers
Balance Autonomy and Support
A proven strategy for creating and preserving a positive work culture is by treating employees with respect and empowering them to be autonomous and accountable.
To do this, it is essential to define the goals and objectives of each role clearly. When employees understand what they need to achieve, they are more likely to feel empowered to take ownership of their work and achieve successful results.
However, it is also important to provide a safe and supportive environment to ensure that employees have the resources they need to succeed. You can achieve this through regular check-ins, forums, meetings, or mentorship programs. Striking the right balance between autonomy and support can increase motivation, and engagement, and contribute to a positive workplace culture.
Will Baker, Founder, Skirtings R Us
Celebrate Company Milestones Together
To maintain a positive culture in my company, one strategy we use is to celebrate our company's successes or milestones together with activities that bring employees together and foster a sense of community.
Celebrating such events helps to create a positive company culture by making employees feel valued and appreciated for their contributions. This helps to build a sense of unity and pride among employees, strengthening their connection to the company and its mission.
And also to have fun together! For example, in our company, when we get a new foreign business, we celebrate it together by having lunch in a restaurant of that nationality or by preparing a traditional homemade meal from that country. This is a fun way to celebrate our success together and also gives us a chance to explore new international cuisines!
Marketa Chalupnikova, Co-Founder and COO, Tolgee
By implementing the experts-approved strategies discussed above you can create a positive workplace culture that promotes growth, creativity, and collaboration. Investing in your company culture can create a happier, more productive workforce and build a stronger, more successful business.
Tekrevol's Global Presence
Now expanding to multiple cities across USA, GCC region, Europe & Asia
Come meet us at a location near you!
USA
39899 Balentine Drive,
Newark, CA 94560
1301 Fannin St #2440,
Houston, TX 77002
501 E Las Olas Blvd Suite
230, Fort Lauderdale, FL
44 Tehama St, CA 94105, San Francisco
400 NW 26th St, FL 33127, Miami
740 15th St NW 8th Floor, DC 20005, Washington
CANADA
4915 54 St 3rd Floor
Red Deer, ABT T4N 2G7
UAE
Level 5, One JLT Tower 1 - Jumeirah Lakes Towers - Dubai, United Arab Emirates
Level 17, World Trade Center, Khalifa Bin Zayed the First Street, Abu Dhabi
Level 22 , West Tower, Bahrain Financial Harbour, Manama, Bahrain
Level 22, Tornado Tower, West Bay, Doha, Qatar
PAKISTAN
3/25, Block 5, Gulshan-e-Iqbal,
Karachi, Sindh 75650
USA
CANADA
PAKISTAN
UAE
talk to us
Got an idea?
Let's get in touch!
Let's discuss your project and find out what we can do to provide value.
I am interested in discussing my ideas with you for
COPYRIGHT 2023 TEKREVOL ALL RIGHTS RESERVED.