10 Best Book Writing Apps for People Who Love to Write
Author: Mehreen Saleem |
June 21, 2021 - Tekrevol Team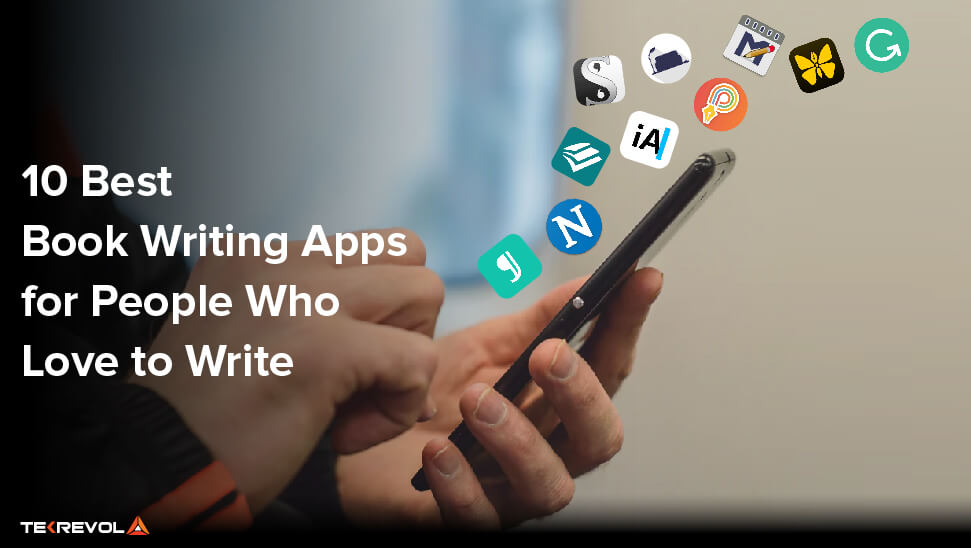 Are you looking for the best book writing apps to put your imagination into words or create professional content that is rightly toned and hits the target audience, right?
If you an avid writer like me, you would agree writing comes more like therapy than a hobby. Having the power to give meaning to your words while curating stories and communicating with others is simply a superpower not everyone has.
So, how does a writing app fit in here?
A writing app, in literal terms, is a helpful tool for writers that enables them to articulate write-ups that are concrete and error-free in an uninterrupted environment. The software includes advanced features that transform writing into a creative process.
In this article, I will walk you through some apps for writers that I believe are the best. The writing apps in this list does not follow any order and are added as most recommended apps.
So, if you are a writer who is looking for a creative writing app to create quality content and stories, here's the answer for you.
Are you inspired by the idea of developing a book writing app for android and iOS users? Tekrevol would be more than excited to help you with that.
1.     Grammarly

Saying this from my personal experience, Grammarly is hands-down one of the must-haves and the best app for writing content, blog posts, articles, and even emails. This writing app employs artificial intelligence in combination with machine learning and NLP to help writers optimize their content.
As a content editing app, it helps writers to highlight grammatical and sentencing errors as well as improve and re-optimize the weak phrases.
Also, Grammarly enables writers to adjust the tonality (formal, engaging, happy, etc.) and optimize clarity and delivery of the content by modifying sentence structures and words.
The writing app is available in both web and desktop app for free initially. However, the premium version includes monthly or annual subscription charges.
Rating: 4.2
Price: $25/member/month (monthly subscription charges) – $12.5/member/month (annual subscription charges)
2.     ProWritingAid
Functionally similar to Grammarly, Pro Writing Aid is another online editing tool that lets users rule out the weak points in the content and make it robust, interactive, and highly readable.
To list down some of the best features of the writing app, self-editing features and content optimization are few primary features of the app.
Also, with proofreading, grammar checking, and content rephrasing, Pro Writing Aid is a budget-friendly book writing software than Grammarly, making it highly productive and responsive.
With that being said, the app might not be suitable for creative writing. But it can definitely be an optimal option for professionals who communicate vigorously with others over emails, develop blog posts and reports, and focus on technical documentation.
Rating: 4.7
Pricing: $50/annual subscription
Download: Windows
3.     JotterPad
This app here is specifically for people who are curating stories and narratives out of thoughtfully imaginative and intuitive ideas. What makes JotterPad a must-have writing app for storytellers and novel writers includes the number of features it offers.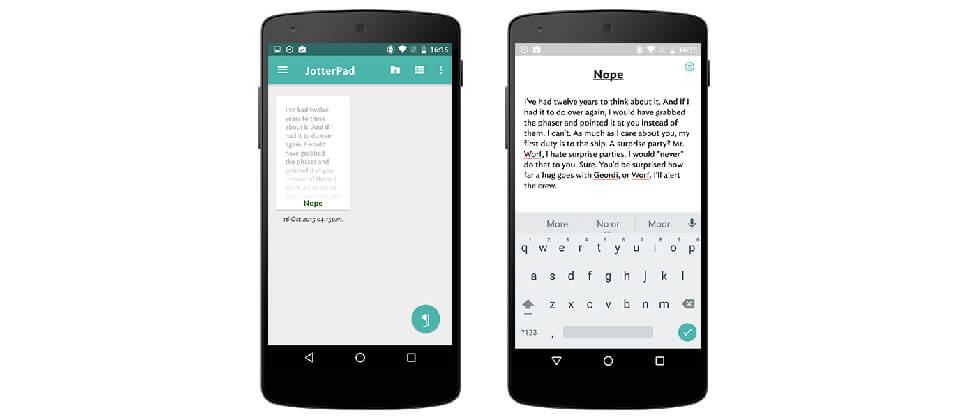 Among all of its features, what compelled me to include it in this writing app list is the dark mode feature. As one of the trendiest app features that come along with several benefits, dark mode in JotterPad makes writing very convenient.
Another one of the noteworthy features of JotterPad that I find best is that it offers a distraction mode. Being a writer myself, I always prefer working in an environment that is comfortable and quiet to stimulate my creative side out.
In this regard, with all these amazing features, JotterPad does the job for me as a distraction-free writing app.
Moving on, as they say, no good things are free. JotterPad also includes subscription charges to make the best of all its features. Available as a writing app for both Android and iOS users, it is initially free. However, it includes $5.9 – $14.9 charges as a premium plan.
The app also includes monthly subscription charges of $0.99 if users wish to deploy cloud storage functionalities as well.
Sensor Score/ Rating: 5
Price: Subjective to features used (pricing mentioned above)
4. Markor
Markor is another app on the list that for android app that employs a simple editor and has a very minimalistic interface. What makes this app a noteworthy and must-have is the reason that it uses Markdown to format write-ups.
Along with storytelling and writing blog posts, the app also lets users make individual notes, create to-do lists, and jot down everything that's important to them.
Apart from this, the app also lets writers enjoy the offline version to help them put their thoughts into words at any point in time. Markor also provides the convert-to-PDF reader feature making it a highly productive and serviceable writing app.
The best part of this writing app – it doesn't cost you a penny.
Rating: 4.7
Price: Free
Download: Android
5.     Scrivener
Next in the line is another one of the widely used mobile writing apps, Scrivener. A streamlined, hassle-free, and immensely sophisticated interface is what brings Scrivener to our list of story writing book apps.
Unlike other popular apps for writing, this writing app enables users to choose a template of their choice for the type of content they are producing, including blog posts, stories, screenplay, etc.
Among some of the salient features of this book-writing app, the personalized setting and arrangement of different book elements via the sidebars sections and virtual notecards are noteworthy.
Moreover, it also enables writers to keep track of their research, create customized font styles and back matters, and run analyses on the quality of their content.
With all these advanced and result-oriented features, Scrivener is much more than your normal word processor. So, if you are wondering "What is the good app for writing stories" Scrivener is the right answer.
Rating: 4.4
Price: $19.9
Download: iOS
6.     Plottr
Dear storytellers and non-fiction writers, this writing app is definitely the ONE for you. Plottr, as a well-known book writing app providing extensive fluidity and flexibility to smartly manage and articulate their write-ups.
Unlike Scrivener and other similar writing apps that are considered to be all-purpose, Plottr specifically aims to assist writers inadequately planning their story plot.
Plottr acknowledges that creating interesting and captivating plots requires imagination and ideas to be lived and observed visually. Therefore, this app for book writers enables scene and concept building using the intuitive interface by modifying and re-arranging it until everything falls into place.
Plottr ultimately turns story writing to be more fun and engaging, which lets your creative side out with the innumerable features it provides.
Rating: 3.3
Price: $25 flat
7.     Ulysses
Appearing similar to Scrivener at first glance, the app has wide application and functionality differences than the latter. It is developed for users to have more precise and advanced content curating functionalities, and it provides users with an entirely different experience.

One of the peculiar features that sets the app apart from Scrivener and other book or creative writing apps is that it employs Markdown instead of the Manual Formatting method. As a result, the writer may use a </> to create a blockquote or a # to define a header.
This enables writers to maintain the sequential flow of data with maximum organization and optimization. Also, it makes the entire writing process relatively easier than any other writing app.
Apart from what makes Ulysses a helpful writing tool, there are factors that make it a difficult and not-so-friendly app to opt for. This majorly includes the lack of an outline-friendly interface of the app that might initially get up on the nerves of the users.
Rating: 4.5
Price: $4.99/ month or $39.9/year subscription model
Download: iOS
8. iA Writer
For those who have used the app before, this might seem similar to Ulysses because of the Markdown functionality, but the app has some key features that help it stand out.
Firstly, a writer has a very simple and minimalistic user interface compared to the majority of creative writing apps. This enables the app to integrate into the screen space naturally and keeps the user stay entirely focused on its core purpose – writing.
Secondly, the app also includes the dark mode feature – apparently is my favorite one. It helps in keeping the lightning and visual effects minimal and avoids extra strain on the eyes.
Third, since the entire idea is to have a de-cluttered design to keep the writer focused, the app includes a toolbar on the upper-hand side that gives access to all the essential features of the app.
Rating: 4.0
Price: $29.9 for Mac – $19.9 for Windows
9. Novelist
Next in the line is Novelist. A free app for creative book and story writers that comes along with all the powerful features. From story plotting, writing, and optimization to finalizing and exporting the stories, Novelist handles everything.
Well, there is more. The writing app comes along with multiple features such as formatting options, a book preview option, and a smart text editor. It also provides access to Google Drive for extended memory support.
Being one of the feature-packed, highly productive apps for android users, Novelist is the answer to your which app is the best free app for writing a book, query.
Rating: 4.2
Price: Free
Download: Android
10. Pure Writer
A minimalistic app with simple interface, Pure Writer is one of the best writing app that lets you curate stories while invoking your imaginative side.
The app lets writers optimize their documents with the help of paragraphing and in-line tools to keep them organized. But one feature that I love the most about it is the auto-saving option. Pure writer saves your work side-by-side so you don't have to worry about losing the content.
Pure writer, just like few other writing apps, has the dark theme feature and also allows a writer to review their write-ups with editing functionalities.
Although the app is available free on Google Play Store, it earns quite a significant sum of Revenue via in-app purchases – a widely used method for free apps to make money.
Rating: 4.6
Price: Free – $3.9
Download: Android
Do you wish to make money with a writing app too? Tekrevol has some great ideas you would love to hear
Frequently Asked Questions
What is the best app for writing a book?
The powerful and preferred writing apps for writing any writing project include a list of some widely used apps.
Scrivener
Ulysses
Plottr
iA Writer
What apps do writers use to write books?
A few of the best book writing apps and software for writers include apps that allow an easy organization, editing, and content optimization.
Grammarly
Scrivener
JotterPad
Plottr
Ulysses
What do professional writers use to write?
Here are a few of the best writing apps and software that professional writers use for creative writing.
Microsoft Word
Grammarly
Scrivener
Google Docs'
Freedom
Evernote
What apps do writers use?
The best writing apps for writers are the following
iA Writer
Scrivener
Grammarly
Google Docs
MS Word
Wrapping Up,
Writing content and curating stories is a creative task that requires a lot of factors to be in place to create concrete and qualitative content. Among several essential features, having a feature-packed, highly usable, and productive app at hand is highly essential. As a writer, having one of the best writing apps to work on can make the entire writing process far more easy, interesting, and quality-oriented.
This article brings you some of the result-oriented and functionally optimized writing apps that can help you improve your writing experience multifold.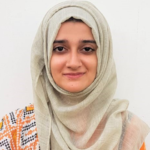 Author : Mehreen Saleem
Mehreen is an avid tech-researcher and thrives on accelerating business value by sharing her research that spans the intersection of technology to business resilience and sustainability-related topics. She's also an advocate for ensuring that every content created at TekRevol is epic.
Recent Blogs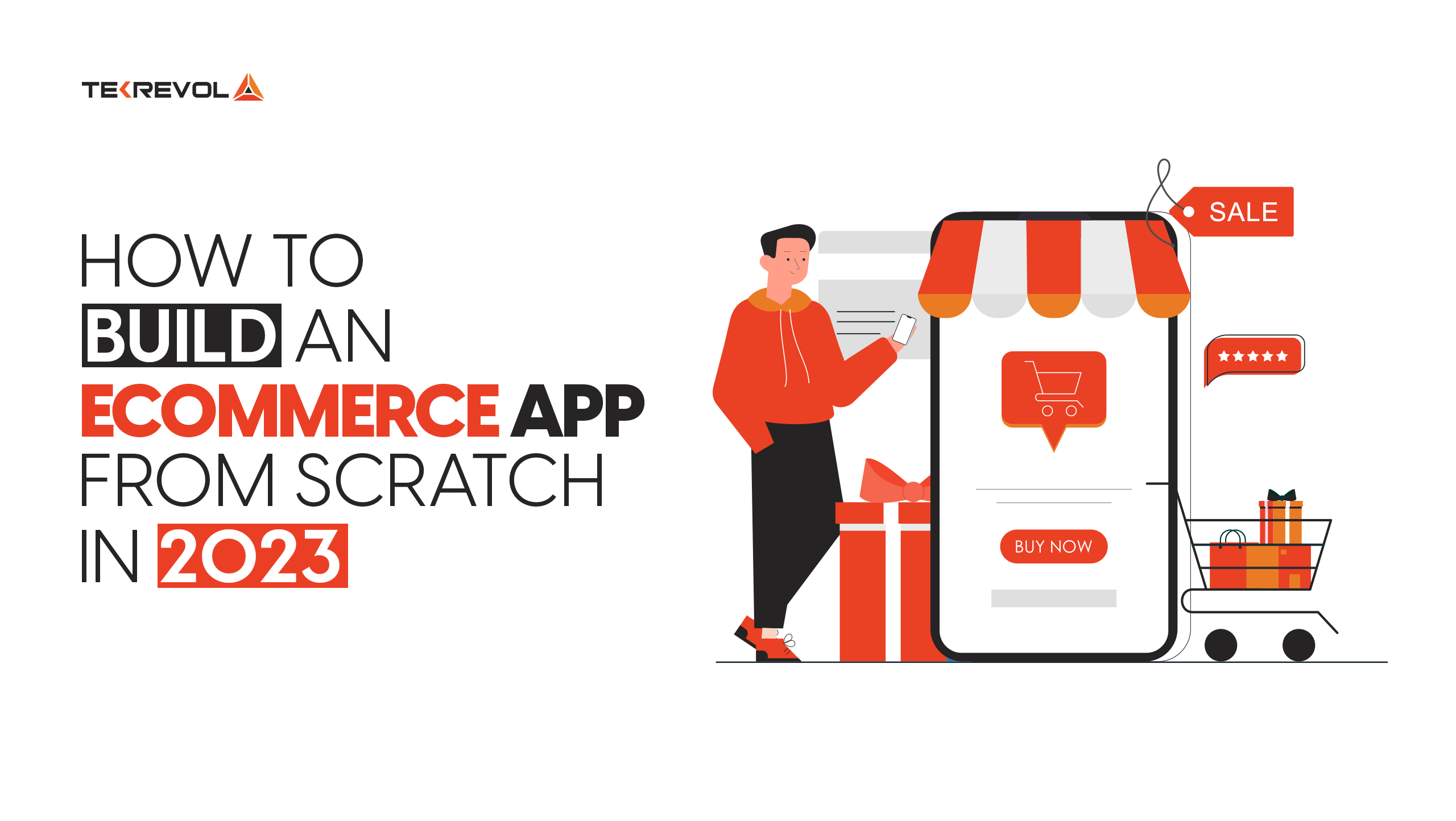 Tekrevol's Global Presence
Now expanding to multiple cities across USA, GCC region, Europe & Asia
Come meet us at a location near you!
USA
39899 Balentine Drive,
Newark, CA 94560
1301 Fannin St #2440,
Houston, TX 77002
501 E Las Olas Blvd Suite
230, Fort Lauderdale, FL
44 Tehama St, CA 94105, San Francisco
400 NW 26th St, FL 33127, Miami
740 15th St NW 8th Floor, DC 20005, Washington
CANADA
4915 54 St 3rd Floor
Red Deer, ABT T4N 2G7
UAE
Level 5, One JLT Tower 1 - Jumeirah Lakes Towers - Dubai, United Arab Emirates
Level 17, World Trade Center, Khalifa Bin Zayed the First Street, Abu Dhabi
Level 22 , West Tower, Bahrain Financial Harbour, Manama, Bahrain
Level 22, Tornado Tower, West Bay, Doha, Qatar
PAKISTAN
3/25, Block 5, Gulshan-e-Iqbal,
Karachi, Sindh 75650
USA
CANADA
PAKISTAN
UAE
talk to us
Got an idea?
Let's get in touch!
Let's discuss your project and find out what we can do to provide value.
I am interested in discussing my ideas with you for
COPYRIGHT 2023 TEKREVOL ALL RIGHTS RESERVED.