The Real Estate App Development Cost in the UAE
Author: Mariam Amin |
May 16, 2023 -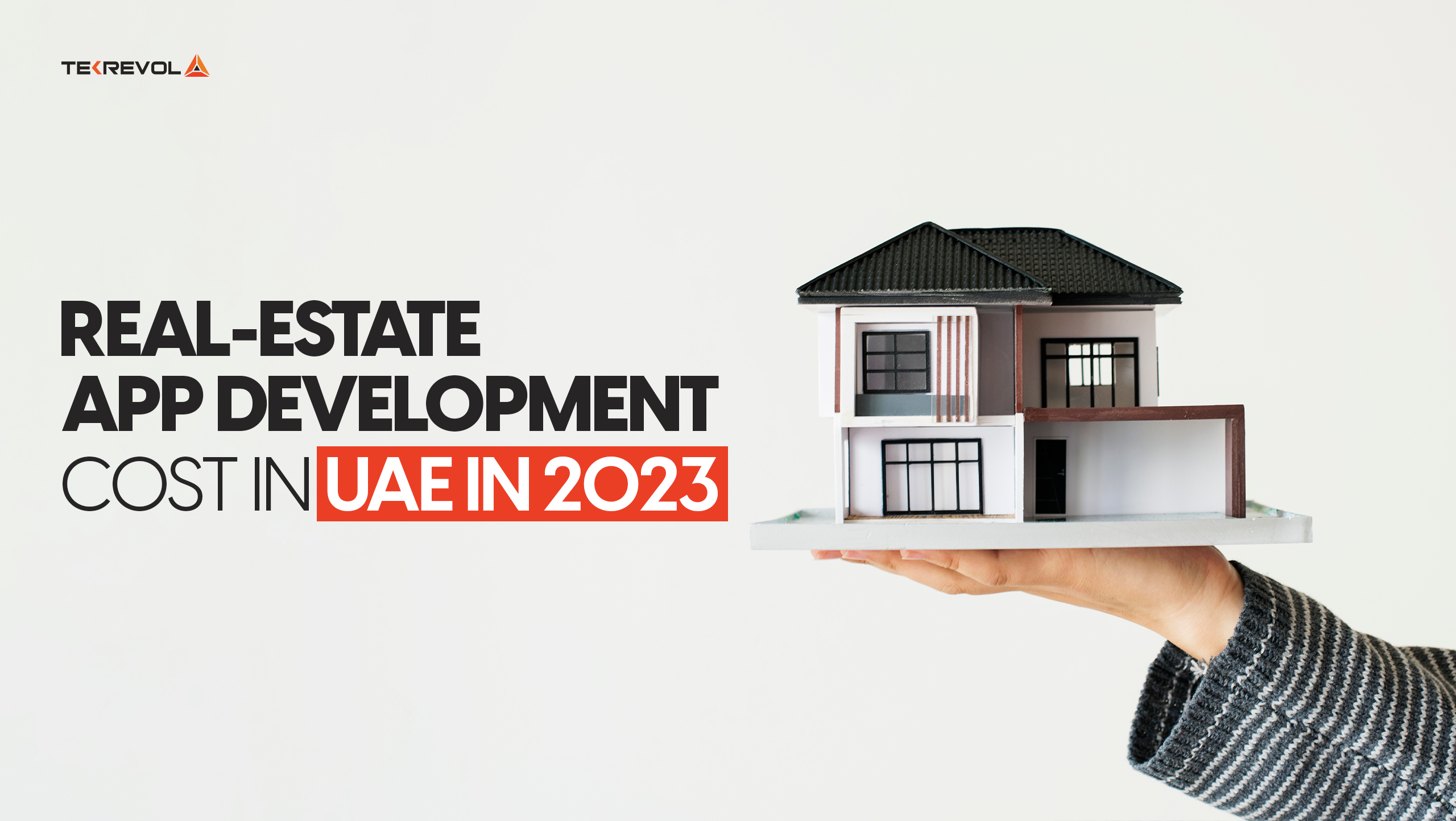 Mobile applications have become the most prevalent channel of digital communication these days. Almost every brick-and-mortar business has started investing in developing mobile applications for channeling their business operations.
Nowadays, the real estate market is constantly evolving, opening numerous doors of opportunities for businesses. In fact, real estate apps have become a game-changer in the industry these days, especially in UAE.
Are you also wondering about investing in real estate app development? Meanwhile, you're perplexed about how much does it cost to build a real estate mobile app in UAE? If that's the case, this article is all what you need.
In this comprehensive blog post, we will discuss everything you need to know about real estate app development in UAE in 2023. The following factors are covered in the guide below.
Types of real estate apps
Why businesses should invest in building real estate apps
Factors that affect the cost of building real estate apps
Tips to reduce real estate app development costs
Challenges & risks associated with building real estate apps
Recent Statistics on Real Estate Mobile App Development in the UAE
Needless to say, unlike other states, real estate mobile apps have gained immense popularity in the UAE region, too.
In recent times, the UAE has emerged as a global economic powerhouse. And it is considered as one of the biggest technological hubs where innovations are always at the lead. Thus, making it an attractive investment destination for entrepreneurs and businesses alike.
As per Statista, the real estate mobile app revenue market is projected to reach a whopping 221.5 million by 2027.
Due to the massive upsurge in real estate apps, business owners should capitalize on this trend and invest in this golden opportunity.
Another study has also found that which proclaimed that the gross number of mobile app downloads in 2022 is further increased by 23%. And it is expected to escalate further in 2023 and beyond.
Furthermore, you can predict the demand for real-estate apps in 2023 with the help of the preceding graph.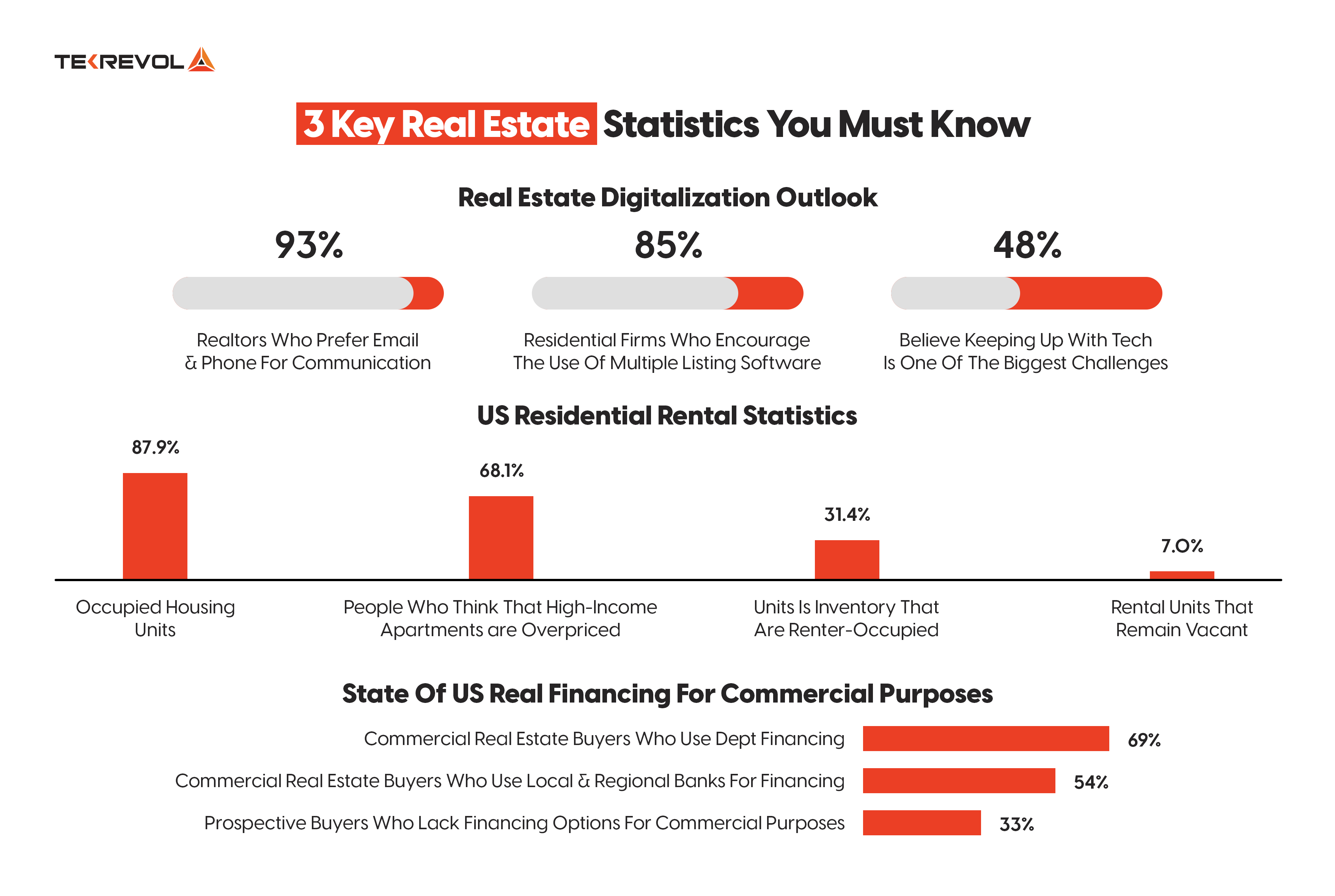 What is a Real Estate App?
With the advancement in technology, the real estate industry has transformed splendidly. And after the introduction of real estate apps, businesses have seen tremendous growth in sales.
In general, a real estate app is just like a software application that helps buyers and sellers rent, sell, and purchase properties anywhere, anytime.
Moreover, these apps are accessible for both desktop and mobile devices.
Also, these apps provide you with features such as an address lookup feature, 3D virtuality functions, floor plans, and all the necessary information associated with the property.
Some of the most popular examples of these apps include Zillow, Trulia, Realtor.com, and Redfin. These apps are packed with intricating features and user-friendly interfaces that make the user experience seamless.
In short, a real estate mobile app helps to navigate the real estate market effortlessly.
Best 8 Types of Real Estate Apps You Need to Know About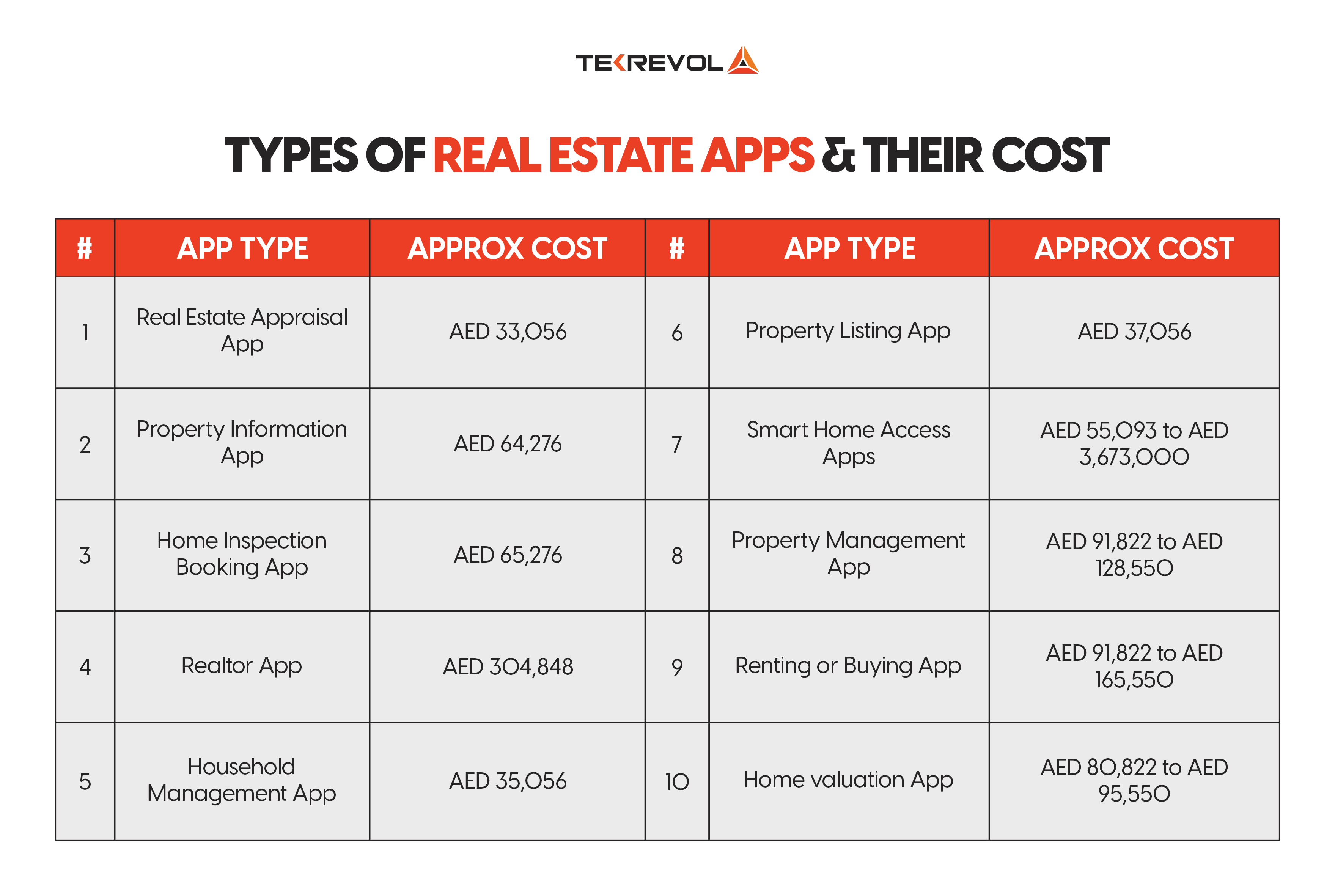 The contemporary market for real estate apps is abundant with various applications, and certain types have established themselves as highly sought-after.
The following eight types of real estate apps are deemed to be in high demand and are readily available in mainstream markets.
1. Real Estate Appraisal App
With this app, users can easily add new recruitment opportunities by browsing through a map and clicking on an address.
The app is cost-effective and can be built for around AED 33,056.
2. Property Information App
This app is designed for the property and hunting market, with a layout similar to popular hunting apps.
The cost of building a property information app is approximately AED 64,276.
3. Home Inspection Booking App
Via this app, one can easily analyze and inspect properties in real time.
This app is similar to other property inspection apps, and the approximate price of building these types of apps is around AED 65,276.
4. Realtor App
This app is ideal for realtors, homebuyers, and tenants. Also, this app makes communication more efficient and hassle-free.
The approximate cost of building a realtor app is AED 304,848.
5. Household Management App
For tenants, homebuyers, and real estate agencies, this app allows easy monitoring of property states. It can be developed for approximately AED 35,056.
6. Renting or Buying App
This app is specifically designed for homeowners, renters, landlords, property agents, and sellers.
Also, this app makes it easy to search for property to buy or rent. It can be developed for approximately AED 91,822 to AED 165,550.
Home Valuation App: This app is useful for landlords, sellers, investors, and property agents, providing insights into market worth and future forecasts of properties.
The approximate evaluation to develop this type of app ranges from AED 80,822 to AED 95,550.
7. Property Listing App
This app is specifically designed for real estate agents, homebuyers, and tenants.
Also, these types of apps offer seamless access to property listings and crucial details about each listing.
Overall, the estimated value of building a property listing app is AED 37,056.
8. Property Management App
This app offers instant maneuvering of property management. Thereby helping to manage work orders and assist in determining rent due dates.
In short, the cost of building a property management app lies between AED 91,822 to AED 128,550.
Why One Should Invest in Building a Real Estate App in 2023?
The real estate market is highly competitive in the present time, where a little misapprehension can result in significant financial loss.
In order to stay ahead in the competition, as a real estate business owner, you must ensure to provide your customers with an immersive experience.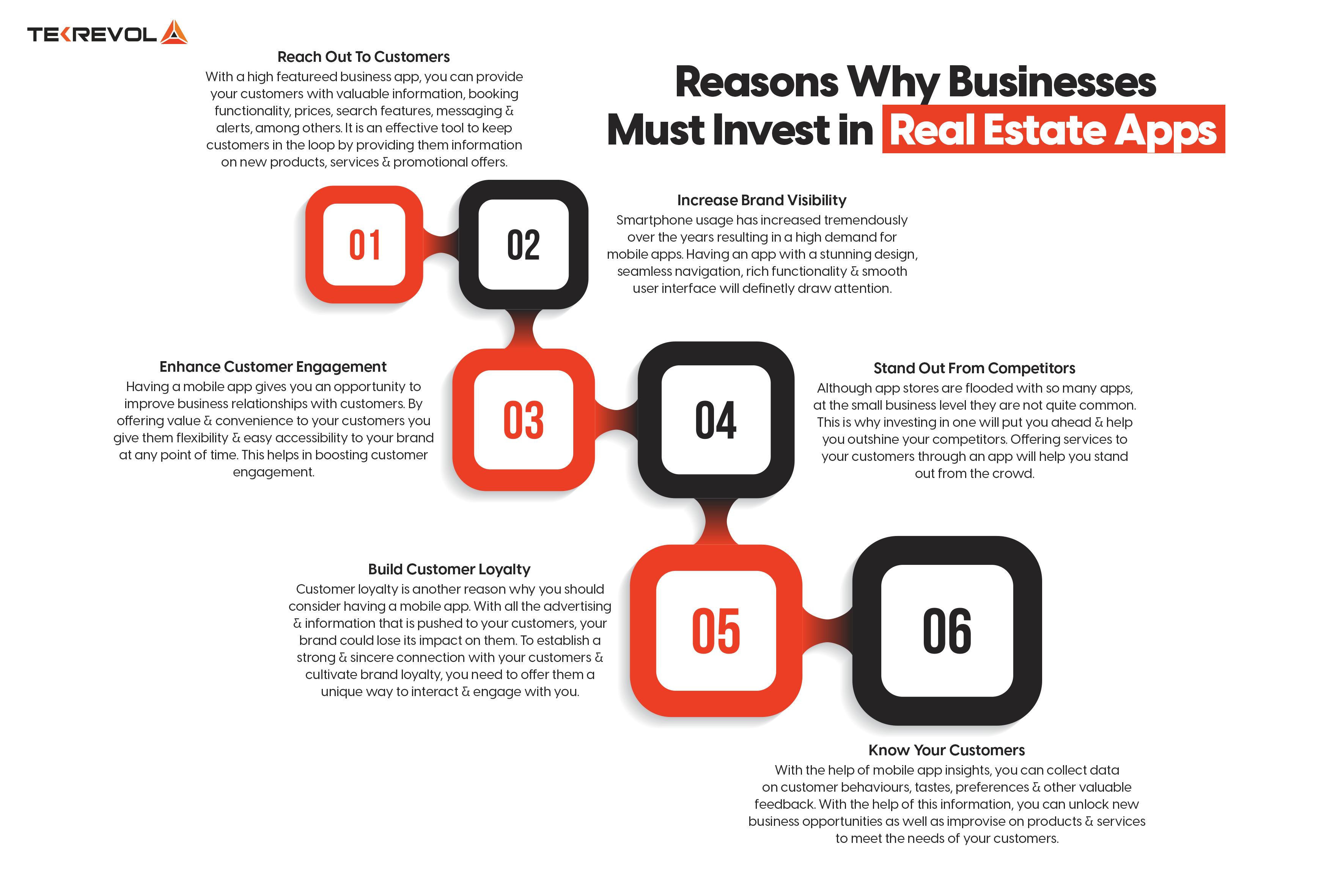 Below, we have jotted down the top 4 reasons which cover why real estate businesses should consider creating an app for their users.
1. Boosts Sales Immensely
With a dedicated real estate mobile app, you can achieve massive sales rapidly.
At the present time, most of the apps are equipped with the latest technologies and functionalities that help users see properties in real time.
You can also utilize new functionalities in your app and can offer virtual tours to your customers. This improves your brand's credibility further in the long run.
Besides, you can integrate an advanced property search feature in your app that allows buyers to easily check out all the listings anywhere, anytime.
Other than that, you can connect with your potential buyer at any time for selling/purchasing properties.
This makes it easier for buyers to search for properties that best fulfill their needs and for agents to showcase properties to potential buyers.
2. 24/7 Availability All the Time
Having a robust, data-driven real estate mobile app allows real estate agents to connect with their customers throughout the day.
Also, via an app, customers can quickly connect with their agents/sellers, ask their queries, and get immediate responses.
Overall, by providing round-the-clock accessibility to buyers and sellers alike, the convenience factor is significantly enhanced.
As a result, this facilitates an optimal customer experience and strengthens the likelihood of customer retention, too.
3. Enhanced Consumer Experience
Having exclusive real estate mobile apps results in improved consumer experience in the long run.
With the help of these apps, you can allow customers to hoard their searches and purchase their preferred properties.
Also, you can integrate 3D tours and mortgage calculator functionality. This further helps them make informed decisions and compare properties in real time. Ultimately, it assists them before making an important financial decision.
4. Task Automation
Mobile apps can automate repetitive tasks and streamline the process of entering real estate data. Besides, it helps exchange documents between buyers and sellers and assists in responding to immediate inquiries.
This saves time and resources for both buyers and real estate companies.
In a nutshell, having a customized mobile application helps to attain new customers and retain the old ones.
Factors that Affect the Cost of Building Real Estate Apps in UAE
Developing an app requires substantial investments and extensive research. And, if you're planning to develop a mobile app specifically for a real estate business, it's essential to consider factors that affect its cost.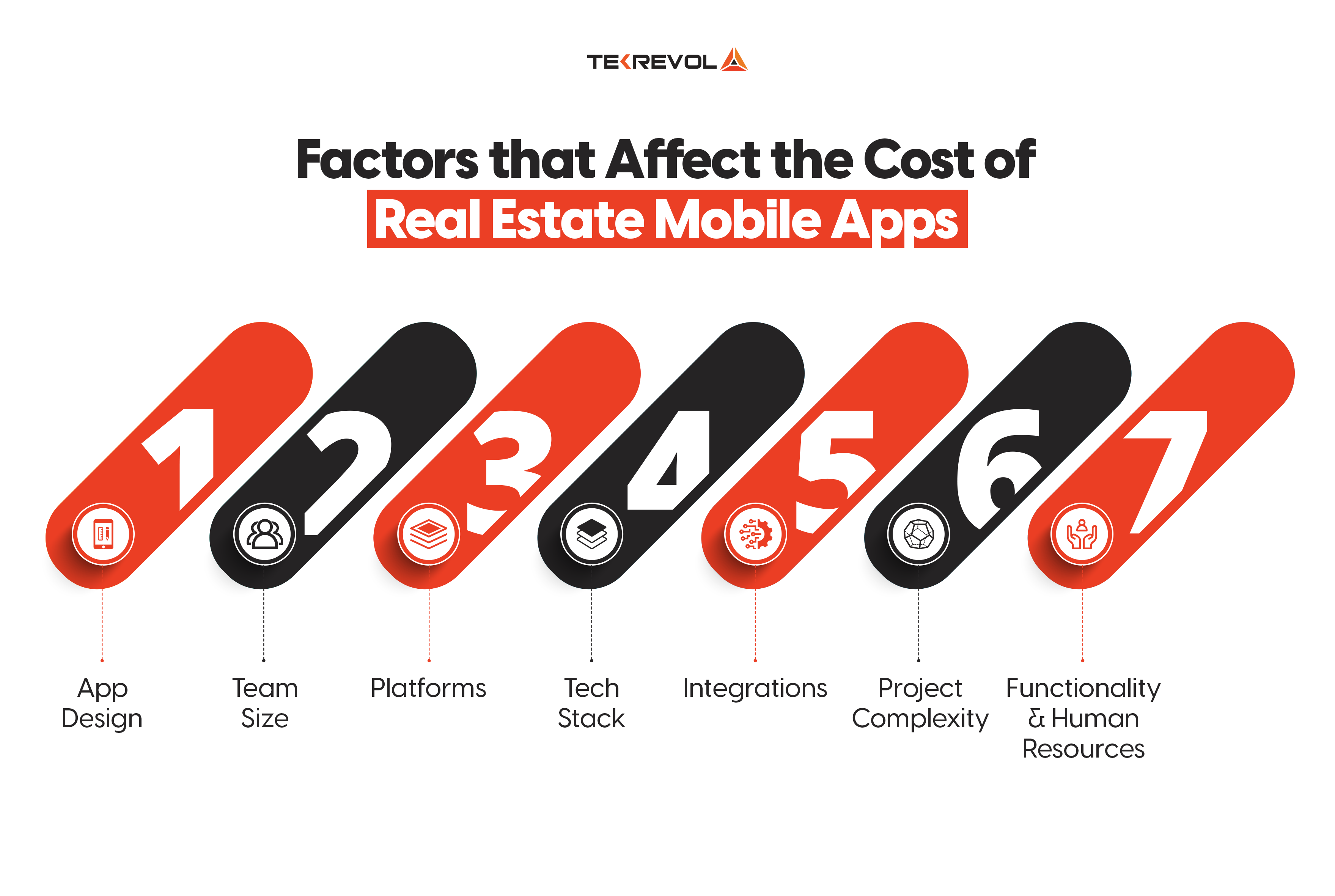 The following factors are usually involved in determining the cost of real estate mobile apps.
1. Hiring Models
The first and foremost parameter that influences the cost of an app is the type of hiring model you opt for.
Typically, three distinct variants are accessible worldwide.
In-house development team
Freelancers
Outsourcing
Your chosen hiring model plays a significant role in approximating the price of your app.
Developing an app in-house means you'll have to hire developers, designers, and other technical professionals. Outsourcing, on the other hand, involves hiring a third-party development team.
While both methods have their pros & cons, outsourcing may save you money on operational expenses and overhead costs.
2. The Complexity of the App
The complexity of your app is another vital factor in determining the pricing of a software application.
For an illustration, if your app involves limited features & functionality, it will cost affluent. Though on the flip side, the more complex features and functionalities your app entails, the more expensive it will be.
Thus, you need to finalize the features and functionalities of your app beforehand. For that purpose, you can connect with our mobile app developers in UAE, too.
3. UI/UX Design
The UI/UX design of your app is critical to its success.
In that scenario, you need to ensure the company you recruit must be proficient enough. So that they can create responsive and engaging interfaces & designs for your mobile apps that appeal to your target customers.
To summarize, the cost of UI/UX design depends on the complexity of your app and the experience level of the mobile app development company your recruit.
4. Quality Assurance and Testing
After the successful completion of the app, the next critical parameter that influences the price of an app is the time required for QA & testing.
For a vigorous app, you need to test your app multiple times and ensure that it runs smoothly.
An experienced mobile app development company can assist you in your app journey.
5. Integration with Third-Party Services
Integrating third-party services such as payment gateways, social media platforms, and location-based services are the most common features mostly found in real estate apps.
These features will further upscale the expenditure required for building an app.
Moreover, the cost factor also relies on the features & functions you want to integrate with third-party services.
6. Data Security and Privacy
Your real estate app must be equipped with robust security features that protects user data from cyber threats.
Integrating security measures such as encryption, two-factor authentication, and secure storage also adds to the expenditure of your app.
7. Platform Compatibility
Developing an app that works successfully on multiple platforms, including Android and iOS, could also impact the price of creating an app.
However, for that purpose, you need to go for a hybrid/cross-platform app that works magnificently on both platforms.
This further adds to the cost of your mobile application.
8. Post-Launch Maintenance and Support
Once your app is launched, you need to provide regular maintenance and support to ensure it remains up-to-date and bug-free.
The cost of maintenance and support depends on the complexity of your app and its user base.
To summarize, there is no exact cost of building real estate mobile apps. It depends on various factors. Some of them are listed above.
Generally, the app cost usually lies between 100,000 AED to 180,000 AED or more, based on your requirements.
Planning to invest in building real estate apps? Want to connect with a reliable mobile app development company in UAE in this regard?
Connect with our experienced app developers now.
5 Tips to Reduce the Real Estate Mobile Apps Development Costs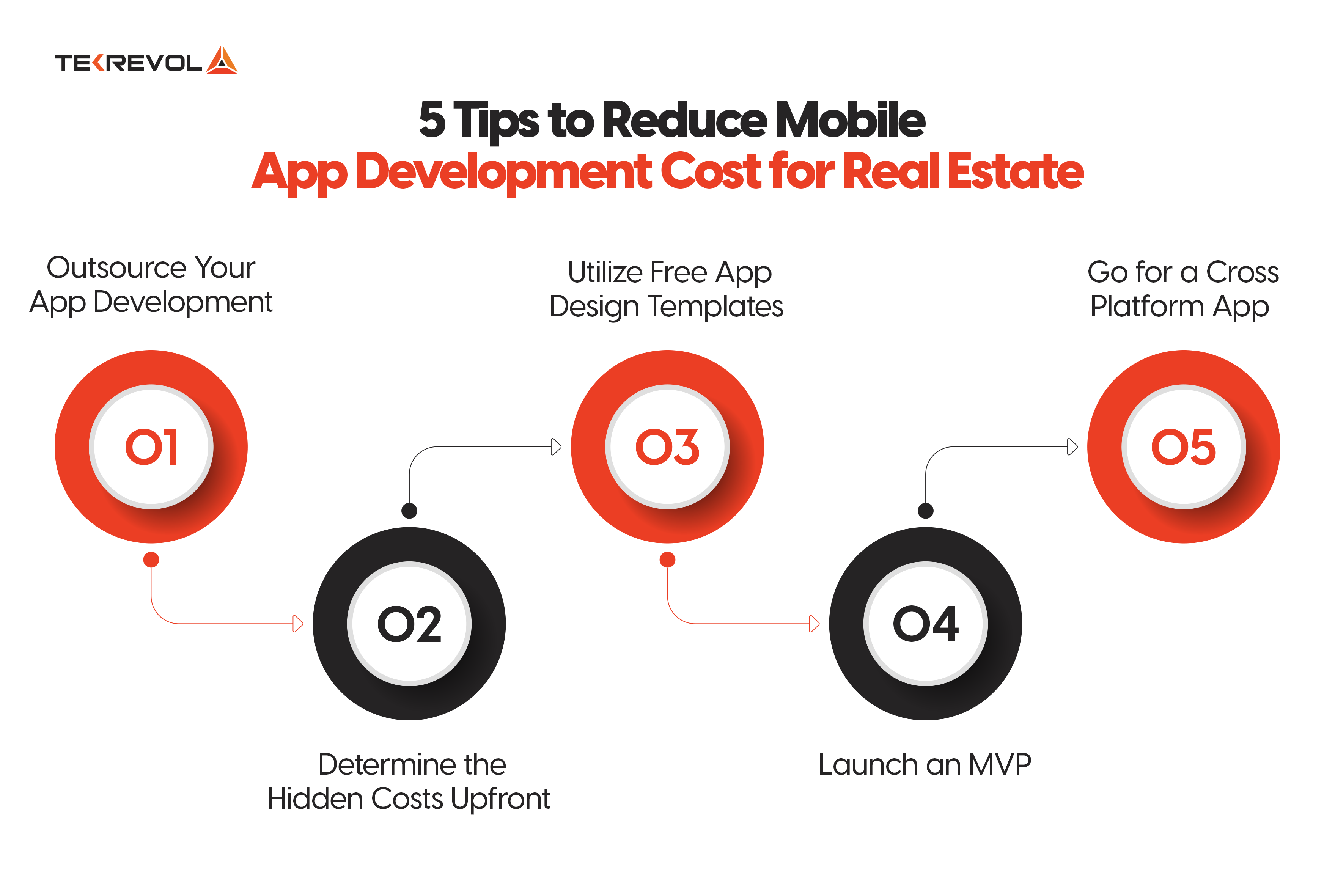 The preceding five factors help you reduce the expenditure of developing real estate mobile apps.
1. Outsource your App Development
Outsourcing can be an effective way to reduce your expenses and access a global talent pool.
An outsourcing partner can offer the necessary expertise, experience, and resources you require to make your app successful.
Also, with an onshore/offshore company, you can cut down on the expenses of recruiting and other operational costs.
2. Determine the Hidden Costs Upfront
Hidden costs can put your app development budget off track. That's why it is essential to identify them beforehand.
Functional services, administrative services, infrastructure services, and IT support services are some of the factors that can add up to your app development cost.
Other factors like data storage, access control, CDN, and API can increase your budget exponentially.
Talk to your outsourced partner, and get an accurate estimate of all the costs to avoid challenges in the long run.
3. Utilize Available App Design Templates
The UI and UX design process is time-consuming and requires considerable effort to create an appealing design.
Thereby, instead of developing an app design from scratch, use the free UI kits and templates available online.
There is a wide range of customizable templates available that you can utilize to create an efficient and immersive app.
Some of the popular examples are;
Free eCommerce UI kits
Flat Mobile App UI
Android Material Design
These templates can save you time and money.
4. Start Small with a Minimal Viable Product
Instead of going for a full-fledged mobile application, you can save bucks by investing in developing an MVP in the first place.
No doubt, MVP can be an excellent way to start small and test how your app will perform before investing a significant amount of money in your app.
Also, an MVP allows you to build an app with basic functionalities and launch it in the market to understand the audience's needs and desires.
Moreover, you can also collect feedback for your app. It will further assist you in modifying the final solution accordingly.
Some of the successful apps which were MVPs before include Uber, Facebook, and Instagram.
5. Reduce Development Costs with a Cross-Platform App
Building separate apps for Android and iOS can be expensive. Instead, go for a cross-platform app that can run smoothly on both operating systems. Thus, helps in saving costs, too.
Cross-platform apps are built using a combination of web and mobile technologies like React Native, Flutter, and Xamarin.
They have the same features and functionalities similar to native apps. Though, developers don't need to build separate codes for different operating systems. This saves both time and money.
Challenges & Risks Associated with Real Estate Mobile Apps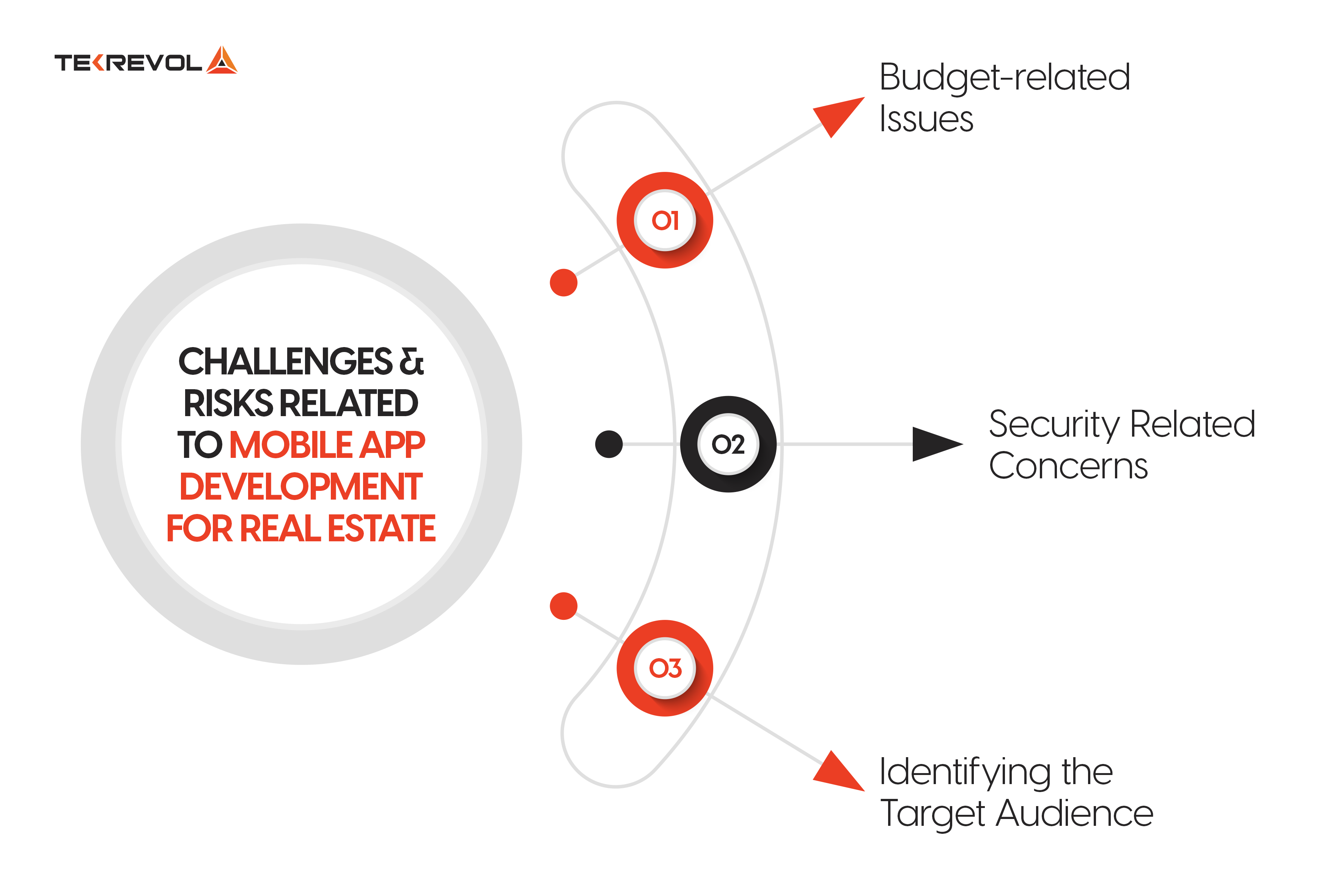 The real estate industry has gone through a huge paradigm shift in recent years. And, with the introduction of real estate apps, it is expected to escalate further in the upcoming years.
In reality, these sorts of apps provide an opportunity for buyers, sellers, and realtors to connect more efficiently.
Nonetheless, there are several benefits of having these apps. However, certain challenges are also involved in developing real estate mobile apps.
Henceforth, the challenges and risks must be carefully navigated in order to ensure the app's success.
Here are the four main challenges and risks associated with real estate apps.
1. Legality Risks
The real estate industry is profoundly regulated by the government. Thus, making it crucial to maintain credibility and ensure the app is in compliance with all legal requirements.
A breach of zoning limitations, legal responsibility for user-generated documents, or the usage of external information streams can all lead to legal and reputational damage in the long run.
To avoid any mishaps later, it's important to consult an expert mobile app development company in UAE.
2. Budgetary Constraints
Developing a customized real estate app can be expensive, especially if you've a startup with a limited budget.
Whether it's building an app for Android or iOS, a significant investment is required to make an advanced and user-friendly app.
This can make it difficult for small realtors to develop a customized app and stay competitive in the market. Hence, hire an app development company that best fits your budget.
3. Security and Privacy Concerns
Real estate companies handle sensitive data, including banking and financial information of tenants, vendors, and employees. Thereby, ensuring the security and privacy of the data is essential.
Overall, privacy concerns are particularly challenging for real estate companies. Thus, partner with an expert app development company that is acquainted with all the necessary security and privacy policies.
4. Identifying Target Audience
The last and the most difficult challenge in building real estate apps is to identify its target audience beforehand.
Since real estate apps serve multiple stakeholders, such as buyers, sellers, agents, and brokers, identifying the target audience is crucial.
Failing to identify the target audience preliminary can result in an app that fails to meet the expectations of your targeted customers.
Don't get intimidated by the challenges and risks related to app development. Our experienced app developers will handle all your app needs efficiently and timely.
Final Thoughts
Developing a real estate app in the UAE in 2023 requires a significant investment, resources, time, and money. However, the benefits of having a customized real estate app cannot be neglected.
With more people turning to mobile apps to search for properties, a well-designed real estate app can help businesses gain a competitive edge, increase brand recognition, and drive sales.
When it comes to choosing a reliable app development partner for real estate app development in UAE, you can connect with our business.
At TekRevol, we offer exquisite end-to-end app development services, from ideation to launch and so on.
Our team of experienced developers and designers can create customized real estate apps that meet your unique business needs.
In addition to that, we offer a transparent pricing model specifically catered to different audiences.
Furthermore, our customer support is accessible 24/7.
Other than that, we have a proven track record of delivering high-quality apps on time and within budget.
In short, partnering with us can ensure a seamless app development process.
Frequently Asked Questions:
What is the minimum cost of building an app?
The minimum price of creating an app varies significantly based on various factors. For instance,
The complexity of the app
The features and functions you want to add
The platform you want to utilize
The geographic location of the development team
However, a simple app with minimal features may cost around $5,000 to $10,000. On the contrary, an advanced application with complex features and functions would cost between $50,000 to $120,000 or more.
In the end, building a high-quality app that meets all your requirements may require a higher investment. Thus, hire an app development company in UAE that best fits under your budget.
How can you determine the cost of building an app?
Here are some crucial factors involve to consider in order to determine the cost of building an app.
Purpose and functionality of the app
Location and type of vendor chosen for development
Overall cost of the development process
Size and experience level of the development team
Complexity and number of app features to be implemented
The backend infrastructure, APIs, and other integrations required for the app to function
Where to find reliable real estate app, developers?
If you're planning to invest in real estate, UAE is the greatest location to consider.
With its stable economy, promising tax environment, and high rental yields, it opens incredible investment opportunities for businesses.
When it comes to finding reliable real estate app developers in UAE, there are several options available.
Conduct a search online on distinct social media platforms
Attend reputable tech events and conferences
Ask for referrals from your friends, colleagues, and other real estate professionals.
To avert any challenging situation later, it's essential to work with experienced developers.
These tech professionals help you understand the local market and can create a customized app that best fulfills your specific needs.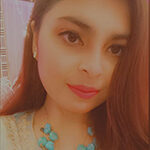 Author : Mariam Amin
Mariam Amin is an Electronics Engineering graduate. As a content marketer, with her insights on engineering and digital strategy, she showcases informative guides and content that is built on imparting knowledge. When away from marketing and the digital landscape, you can find her looking over the food industry, and fitness trends, and catching up on a documentary or a movie.
Tekrevol's Global Presence
Now expanding to multiple cities across USA, GCC region, Europe & Asia
Come meet us at a location near you!
USA
39899 Balentine Drive,
Newark, CA 94560
1301 Fannin St #2440,
Houston, TX 77002
501 E Las Olas Blvd Suite
230, Fort Lauderdale, FL
44 Tehama St, CA 94105, San Francisco
400 NW 26th St, FL 33127, Miami
740 15th St NW 8th Floor, DC 20005, Washington
CANADA
4915 54 St 3rd Floor
Red Deer, ABT T4N 2G7
UAE
Level 5, One JLT Tower 1 - Jumeirah Lakes Towers - Dubai, United Arab Emirates
Level 17, World Trade Center, Khalifa Bin Zayed the First Street, Abu Dhabi
Level 22 , West Tower, Bahrain Financial Harbour, Manama, Bahrain
Level 22, Tornado Tower, West Bay, Doha, Qatar
PAKISTAN
3/25, Block 5, Gulshan-e-Iqbal,
Karachi, Sindh 75650
USA
CANADA
PAKISTAN
UAE
talk to us
Got an idea?
Let's get in touch!
Let's discuss your project and find out what we can do to provide value.
I am interested in discussing my ideas with you for
COPYRIGHT 2023 TEKREVOL ALL RIGHTS RESERVED.