How to Create a Fitness App: A Detailed Guide for Appreneurs
Author: Mehreen Saleem |
August 20, 2021 - Tekrevol Team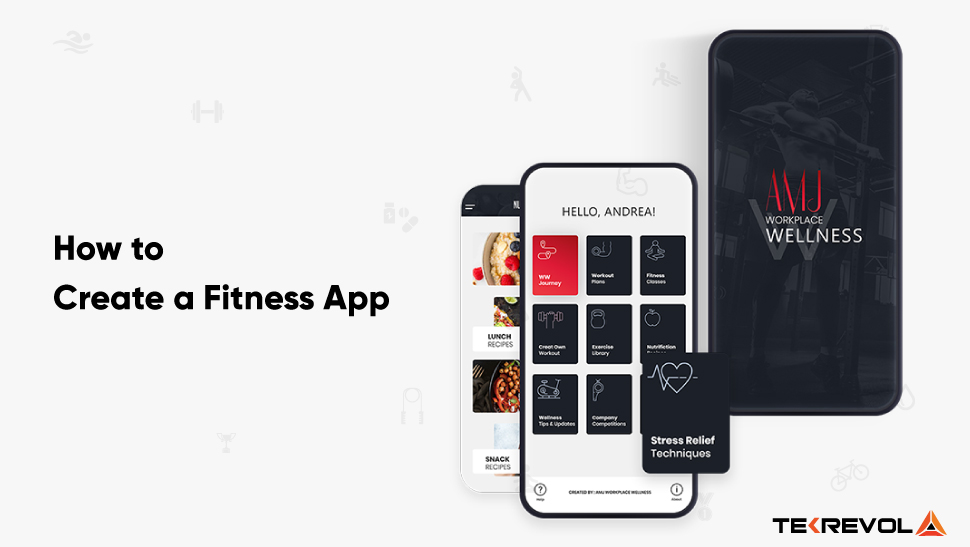 Health and fitness are becoming a growing concern for people of all ages.
Besides medical reasons, being physically fit has become an integral need of people regardless of whether they have a sedentary lifestyle. Moreover, the pandemic has just added fuel to the fire.
As a result, we have a staggering number of smartphone fitness app users ranging up to 87.4 million in 2020.
This is the right time for entrepreneurs to join the bandwagon and create their own fitness app as this would be a strategic move considering that the world is going digital, especially after this pandemic.
So, if you are looking for answers on how to make a fitness app, we're about to explore all the ins and outs of developing a fitness app.
This article is created to act as a fitness app development guide for appreneurs who want to tap into the world of health and fitness, healthcare entrepreneurs planning to scale their businesses, and social entrepreneurs looking for a modern health-tech solution.
The guide will enable you to create a modern solution for health and fitness enthusiasts while keeping all the essential aspects of developing an app in check.
Here's a glimpse of the valuable information that you'll learn in this fitness app development guide:
The global market value of fitness apps and what to expect in future?
Step-by-step process of developing the best fitness app.
What are the different types of fitness apps that are making it big in the market?
The essential features that must be incorporated in a fitness and health app.
How much does it cost to create a fitness app?
What are the monetization strategies for workout apps?
So, without any further ado, let's move to the market insights of fitness apps.
Looking for fitness app development Service?
The Market Value: How Well Fitness Apps are Doing?
Starting with how well well-blended fitness apps are among the users, the graph below shows the quarterly download rates of several health and fitness apps for 2019 and 2020.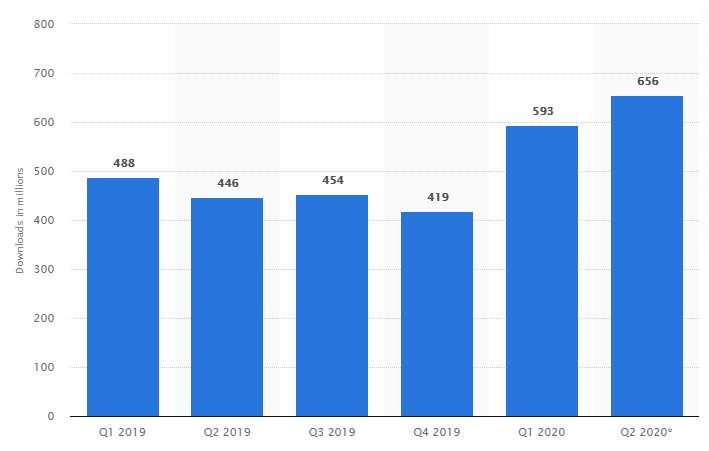 Image Source:
Statista
So, if you're thinking about why you should invest in fitness apps, the graph above answers your question quite clearly.
As the coronavirus lockdown has restricted people to stay at home, fitness apps are a productive way for people to keep track of their health and fitness in isolation.
Subsequently, the number of app downloads grows to an unprecedented number which is expected to go beyond.
Moving on, the survey highlights that fitness and health apps have seen approximately a 40% surge in the usability and number of downloads as of March 22, 2020.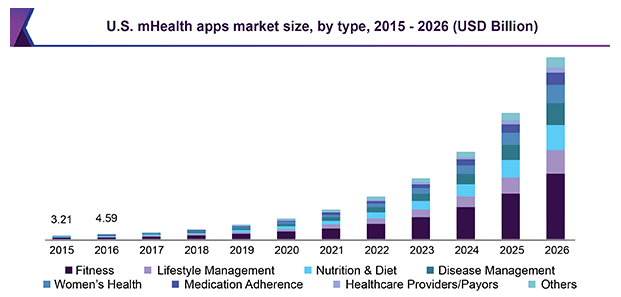 Image Source: Grand View Research
The survey also highlighted that the average weekly hours spent on workout apps went beyond $113 million globally for the same week.
Furthermore, the global market share of fitness apps in North America was 38% in 2020, the highest consumption rate compared to other world regions. That being said, the trend has grown consistently over time.
Image Source: Market Research Future
This already tells why fitness apps are expected to be one of the top android app categories in the time to come.
Plus, with several tech industry giants also hopping on to invest in workout app development, creating your app can be the right move to your business.
Are you still looking for the right direction to mature your fitness app idea?

Tekrevol can give you significant insights and consultation about what can be your next action plan for successful fitness app development
How to Make a Fitness App?
Developing a fitness evolution app requires that you conduct market and competitive research, analyze your target audience, specify development strategy, create your unique selling points, and so on.
Let's have a detailed look at all of these steps in developing a good workout app.
However, you always have the option of choosing a standardized app development company to get a fitness app developed.
And of course, there are advantages to choosing an app development company. For example, the app development market is highly competitive, and companies face fierce competition today.
Therefore, app development companies hire the best talent to surpass their competition. They improve their services, advance their processes and adapt agility to effectively build digital products.
These services, advanced and agile processes, and the talent hired by app development companies work on your app project.
These aspects guarantee the creation of a high-performing app powered by value-driven features, seamless experience, predictable navigation, and robust functionality.
1. Conduct Market Research and Define Your Target Audience
Market research is hands down the crucial and essential stages in the fitness app development process. It not only lets you get insights into what's happening in your niche market but also assists in maturing your app idea.
From the existing fitness apps such as LA fitness app and Yoo fitness app, leading the market with a maximum number of downloads and revenues to the ambiguities that still require robust solutions, market research does it all.
Moreover, you get to analyze your target audience and what they expect from your health and fitness app.
Also, how your competitors are targeting them with their solutions at the moment.
For a greater understanding of your target audience and strengthen your strategy, this is what you can do;
Go through the existing Google Play Store and App Store apps to know more about existing fitness apps and their features, reviews, and usage.
Interact with your target audience via social media engagement and marketing.
Redefine and modify your app idea as per the received feedback
Specify on people who showed the most interest in your app idea
Enhance interaction with them and know more about their requirements.
2. Specify Your Unique Selling Proposition
In most cases, the end of the research phase results in a thoroughly detailed business plan that entails significant findings of the previous stage that can be the building blocks in developing a fitness app.
The first thing you can do with this document is to finalize your USP. By highlighting the unique features of your app, you can transform your entire workout app development approach by further narrowing down your targeted group
For instance, have a look at the USPs of LA Fitness App.
Exercise your options and maximize your fitness opportunities no matter where you are.
This clearly defines that this app provides users with a variety of exercise and workout options and is a 24-hour fitness app since it keeps you connected irrespective of your location and time.
Another example that we can have is Sworkit, whose USP is described as;
The best personal trainer app to help you get (and stay) in the best shape of your life.
Here, the USP clarifies what it is, who may use it, and what it does.
You may define a well-sought USP using a business canvas model that lets you cater to all the essential aspects of app development sequentially. This is what a business canvas model may look like while finalizing your app specifications;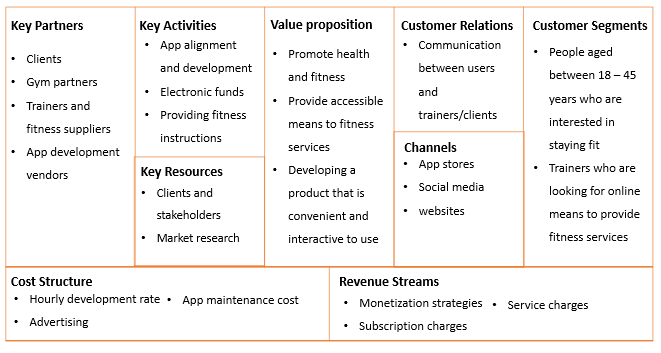 3. Prototype Your Fitness App
Once you have catered to all the essential app development requirements, the next step is to develop a functional prototype that can help you analyze the sustainability and performance of your app.
This is where an experienced development team put their technical skills at work to develop a UI/UX-friendly app. The prototype development process starts with lower reliability – testing your app to fully-fledged app development with essential feedback and improvement metrics.
The process is about learning and iterating until the best version is achieved.
If you wish to read more about the prototype development process and why it is essential for mobile apps, we have an article that has it all. Read here.
4. Specify Your Tech Stack
The next step is to choose your tech specifications to finalize your app development.
The tech stack you may use for your app depends on your app's features and target audience.
Specifying the app development technicalities is essential to develop a clear idea of how much it would cost to develop a fitness app. Also, it aligns your app development with initial app requirements.
SO, you may specify whether you plan to develop a native or cross-platform application, the suitable language for app development, libraries, APIs, databases, etc. This may include all this and more.
5. Design and Develop the Best Workout App
With the first version developed and tested and all the essential app development technicalities listed down – it's time to finally design and develop the best workout app for your business.
Subsequently, this step is one of the most actionable steps in the development life cycle of a fitness app. While designing and developing your app, it is essential to check the following aspects;
UI/UX features must resonate with your app idea and your target audiences' preferences.
The layouts and page flow are smooth and do not clutter the user experience.
The front-end and back-end of the app are appropriately integrated.
The final version is a practical version of the USP.
It caters to all the issues highlighted in the prototype.
The app is adequately tested as per the set standards for its performance and functionalities.
Also, it may require you to hire an in-house app development team to work on your fitness app dedicatedly. Or, you can outsource it to an external unit. While both options come with specified pros and cons, there are essential aspects to consider: technical experience, cost, time duration, geographical location, etc.
Tekrevol, in this case, is an experienced app development company that offers more than expertise and agility; it focuses on enhancing the client journey and experience to be smooth and content.
Recently developing a fitness and health app for our clients; AMJ Workplace Wellness, we developed a technologically disruptive solution with much more to offer than attaining a healthy lifestyle for professionals; it showed functionalities that sustained work-life balance.
If you wish to read more about our project, head straight to the case study.
6. Plan and Implement an Effective Marketing Strategy
Your app is only good as long as it is being downloaded and used by your prospects. It is essential to plan and implement relevant marketing strategies so that your app reaches your target audience.
on the flip side, most potential users are usually anxiously waiting to use your app and give productive feedback; marketing your app well can help bridge the gap between your prospects and your app.
Suitable marketing strategies that Tekrevol opts for and offer to their clients may include;
App Store optimization
Landing pages about the app
Social media marketing
Customized content curation
The process to develop a fitness app may differ in terms of internal technicalities and specifications; however, a general app development process includes these as essential stages.
Was it useful? If you want to read more details about the stages of the app development process and what aspects to consider in each, we have got it covered in our article The ultimate guide on how to make a successful app.
Hoping that you would have developed an idea of the important stages of developing a fitness app, let's now get into further details of the types of fitness app you can choose from.
What are the Types of Fitness Apps You Can Choose From?
The inception of the Apple Watch in 2015 resulted in people to significantly focus on being aware of their health and bodily functions.
Subsequently, you have several categories of health and fitness apps.
The image below shows the commonly used types of fitness apps by the users and how well they did in previous years.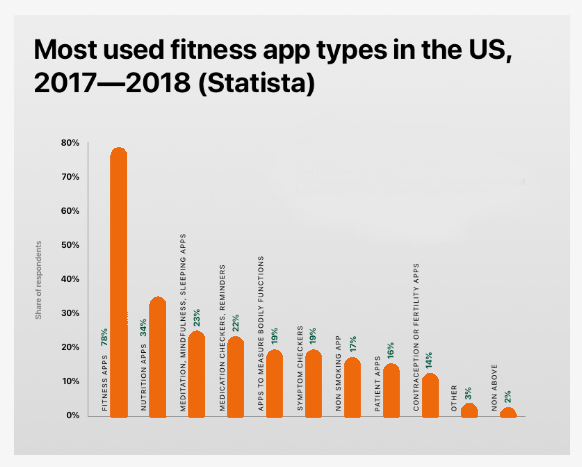 1. Activity and Fitness Tracker Apps
Among the most used health and fitness apps, activity tracking apps take up a significant chunk.
From the number of steps you walked to the number of glasses of water you had in a day, these apps record everything.
Several of these apps come along with sleep cycles and productivity tracking as well.
These apps have an accessible and interactive user interface that entails every recorded detail in the form of figures and graphs for users to have a clearer idea of how well they have been doing.
So, what is the best fitness app massively preferred by users globally?
For us, it has to be HealthKit, since it is an all-in-one app that keeps track of everything. From weight history, step-counting, workout cycles, water intake, etc., it lists down everything.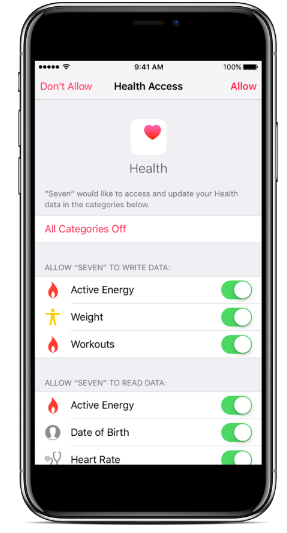 2. Workout Apps
A workout and exercise app allows users to connect with exercises and personal fitness trainers for custom workouts plans. The primary reason for these apps' success is that they enable users to manage workout routines while staying at home.
Since the pandemic has forced people to stay at home, the workout apps work wonders to connect users to personal trainers and stay fit.
For us, FitOn is one of the best workout apps for android and iOS users who focus on staying fit irrespective of busy schedules and complex workout plans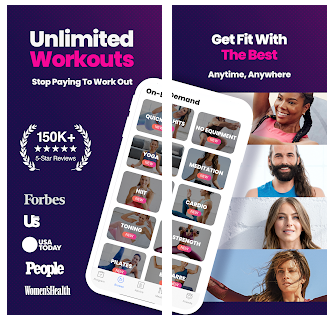 Image Source: Google Images
The app comes in with various exercises and meditation plans for its users, ensures excellent connectivity with registered physical trainers, and is accessible.
3. Diet and Nutrition Apps
The nutrition apps are for the diet-conscious people always proportionating their food and water supplements. These apps allow users to track their eating habits, water intake, calorie burnout, body weight, etc.
For instance, A  great example of such an app can be the widely used nutrition app 'MyNetDiary.'
The app enables the users to get significant insights and details about their health and the best practices that they can leverage to improve health.
Counting calories, meals, weight, and Food count, this app does it all for you.
This is how the layout of this app looks like after sign in to the app.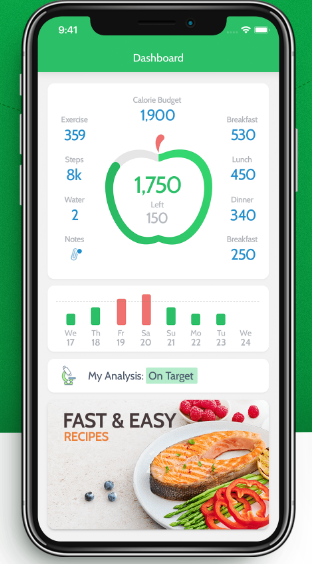 Looking for trending fitness app categories to invest in?

We have a team of professional developers and consultants to help you future-proof your app idea.
What Are the Core Features of a Fitness App?
Since you are developing a fitness app to fulfill a targeted purpose, emphasizing its features becomes crucial to ensure your audience finds what they are looking for. Otherwise, your app might just go the drain.
Scared? Don't be. We have got you covered!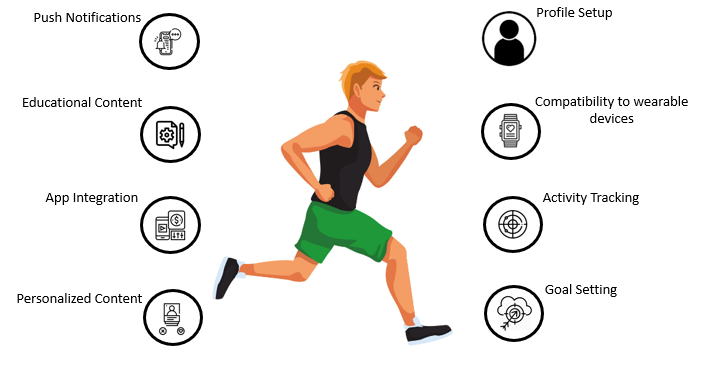 Here are some of the core features that must be a part of your health and fitness app as the building blocks.
Although some specific features may differ as per the type of fitness app, these are some of the generic yet essential features every fitness app must have:
Profile Setup and Login Credentials: You create an app to help your users have a personalized fitness maintenance experience. This experience is impossible without having a personal profile setup feature for any fitness app.
Wearable Compatible: Talking about trends, people are looking for compatible apps and work well with wearable devices.
Activity Tracking: Staying fit and healthy requires people to do certain activities. If your app helps them to keep track of those activities and your progress, it can be a perfect fitness partner for your prospects.
Goal Setting: Setting weekly or monthly goals for the set activities can help you become more productive – health-wise. And, your app providing this feature can make your userbase stronger – customer retention wise.
Push Notifications: I don't think I need to emphasize the importance of this feature. If you wish to enhance the user experience and connectivity, you should know the drill.
Educational Content: This feature can help you stand apart from your competitors. An app that offers more than record-keeping and notifying by educating prospects about several workouts and their benefits – people would love it.
App Integration: Offering connectivity to several other apps, such as calendar, social media apps, etc., can help improve your users' productivity and your app's usability.
Personalized content: Creating a user-specific workout or diet plan that suits their needs help in better fitness management and keeps your audience attracted to your app.
You may wish to add more or fewer features as per your target audience and app's nature, but always remember to plan your entire app development journey around your app's end-users as a priority.
Suitable Monetization Strategies for a Fitness App
How can fitness app development be beneficial for you?
Simple, by implementing a monetization strategy.
You may choose from several monetization strategies to make it revenue-generating and fruitful for you. Here, we have mentioned some strategies that we think are suitable for fitness apps
1. Freemium Apps
The first in our list is one of the most used monetization strategies.
The primary business model behind this monetization strategy is initially to provide a basic app version for free. However, at the same time, advanced features such as fitness coaching, personalized fitness plans, etc., may require payments.
2. Paid Apps
Users must pay for your app while downloading from app stores before they start using it. The cost here may vary as per the features, complexity, application type, etc.
3. In-App Purchases
If you are planning to publish a free fitness app, you can still generate revenue streams by encouraging your users to unlock the advanced features of your app for a specific cost.
These features may include premium content such as video tutorials, healthy recipes, etc.
4. Advertisements
Partnering with several fitness businesses and running advertisement campaigns can help you bring your business. In addition, it can help you charge cost-per-click or cost-per-mile commissions.
Apart from these, there is a list of monetization strategies that you can choose from, enabling your app to generate revenues. However, your choice may depend on your app's type and audience.
Moving on, let's jump to another essential app development aspect; the cost.
How Much Does It Cost to Make a Fitness App?
The cost of developing an app plays a vital role in the entire process. So, how much does it cost to create a fitness app?
The answer is, it depends.
To give an estimated cost-breakdown of a fitness app development, it won't be wrong to say that your investments majorly depend on your fitness app idea, features, resources utilized, etc.
Since every step of the overall development process is to strengthen your approach and make it worth the investment, it takes up a lot of your time and efforts, which adds to the overall cost.
The app development approach also makes a difference in the cost. For example, our app development process at Tekrevol looks somewhat like this, as shown in the table below.
So, to give an average estimate of the cost of developing a fitness app, it can be safe to say it costs somewhere between $60,000 – $150,000 depending on the features, technology stack, UI aspects, etc.
It must be noted that this cost is based on the average rate of healthcare app development services at Tekrevol, which is $45 per hour.
If you wish to calculate the cost of your custom fitness app development, head straight to our app cost calculator
Or, for greater insight into the essential aspects that impact the cost of developing an app, we have an article that tells it all. Click here to read.
It's a Wrap
Developing a mobile app can be strenuous at times.
However, keeping all the essential things aligned and in sync with your app idea can make things easier.
To put all the crucial aspects of fitness app development on a list, this is what you should always focus on;
Researching and analyzing your competitive market to study user's preferences and requirements.
Aligning your app development process with your app idea to ensure maximum productivity and results.
Incorporating all the essential features such as goal setting, activity tracking, integration with different apps, etc.
To promote user engagement, you may consider adding additional fitness app features like gamification, premium education content, and app personalization.
Choose relevant monetization strategies
Plan ahead on the cost of developing a fitness app.
Keeping track of all these critical factors can be a daunting task in itself. However, suppose you have relevant experience in app development. In that case, you can always manage to develop a feature-packed result-oriented fitness app.
Otherwise, a better option can be hiring a developing team or outsourcing your project to an experienced app development company.
With hands-on experience in developing various applications, including fitness and healthcare apps, Tekrevol promises fast-paced, high-performance, result-oriented solutions.
Looking for a mobile app development company?

Tekrevol is a leading app development company that knows what it takes to develop impactful and performance-oriented applications. From app research and prototyping to post-app development support, we got it all covered for you.
Frequently Asked Questions:
What is the best workout app?
Map My Run.
Fitness Buddy.
JEFIT Workout Planner.
Runkeeper.
MyFitnessPal.
10K Runner.
How to set up a fitness app on apple watch?
If you wish to set up a workout app on your fitness app, this is what you can do;
Open the Activity app on your Apple Watch
Swipe left to include exercise, move, and other descriptions.
Now tap, Get Started
On your Apple Watch, tap the Digital Crown and enter information about your gender, age, height, weight, etc.
Choose the activity you wish to do, and start exercising
According to a report, 29% of people aged 18 – 29 years use a fitness and exercise app regularly. Whereas those aged between 30 to 39 have the highest rate of using a fitness app, ranging up to 41% in 2016.
what is the best fitness app for free?
FitOn
Runtastic
Daily Yoga
HealthKit
Anytime Fitness App
GNC Fitness
Are fitness apps worth it?
Comprehensive, cheap, and convenient – these are the major aspects why fitness apps are more preferred than gyms. Fitness apps also offer convenient solutions like shorter classes while not cutting down on results, which makes them a better solution.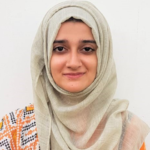 Author : Mehreen Saleem
Mehreen is an avid tech-researcher and thrives on accelerating business value by sharing her research that spans the intersection of technology to business resilience and sustainability-related topics. She's also an advocate for ensuring that every content created at TekRevol is epic.
Recent Blogs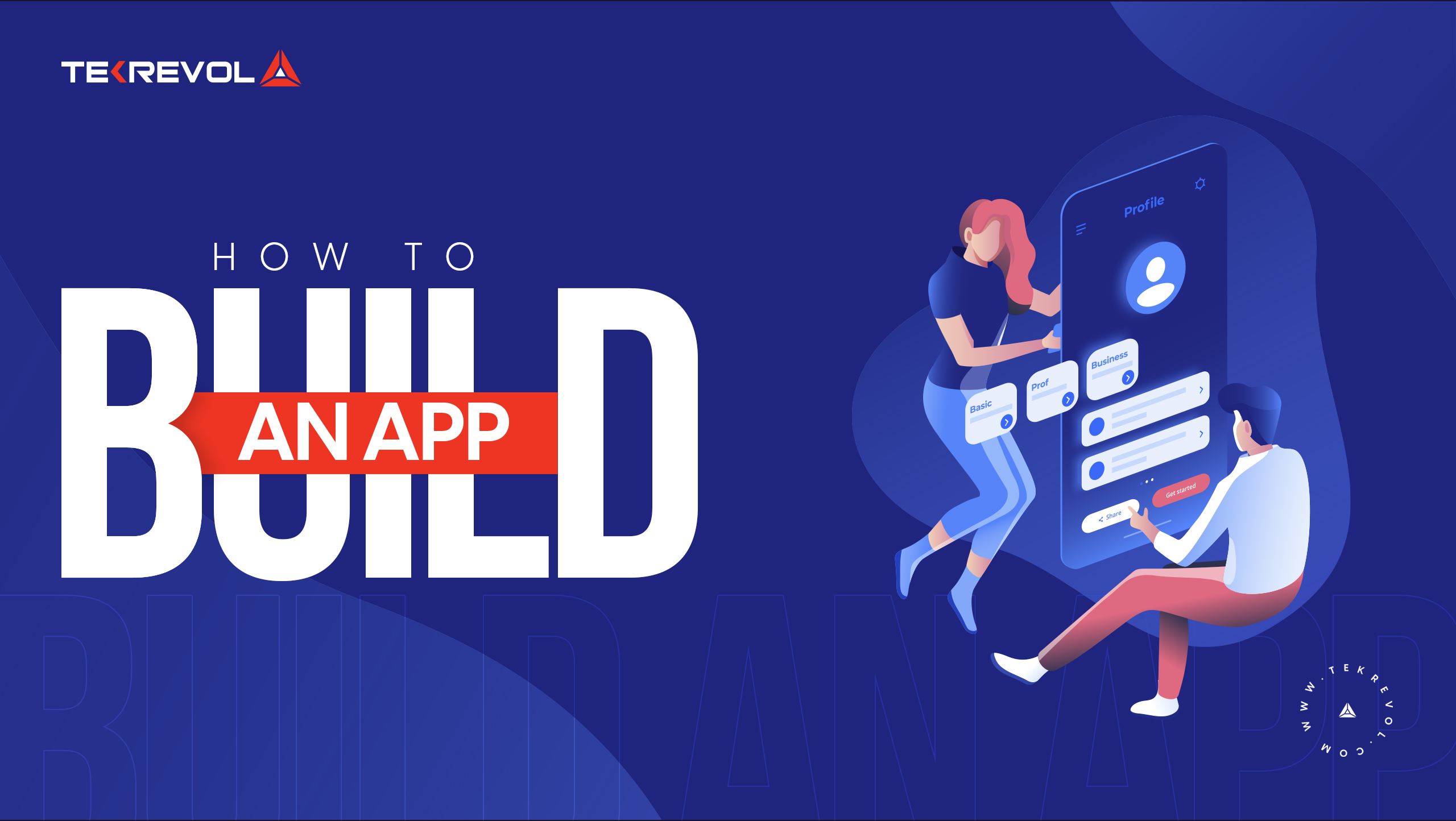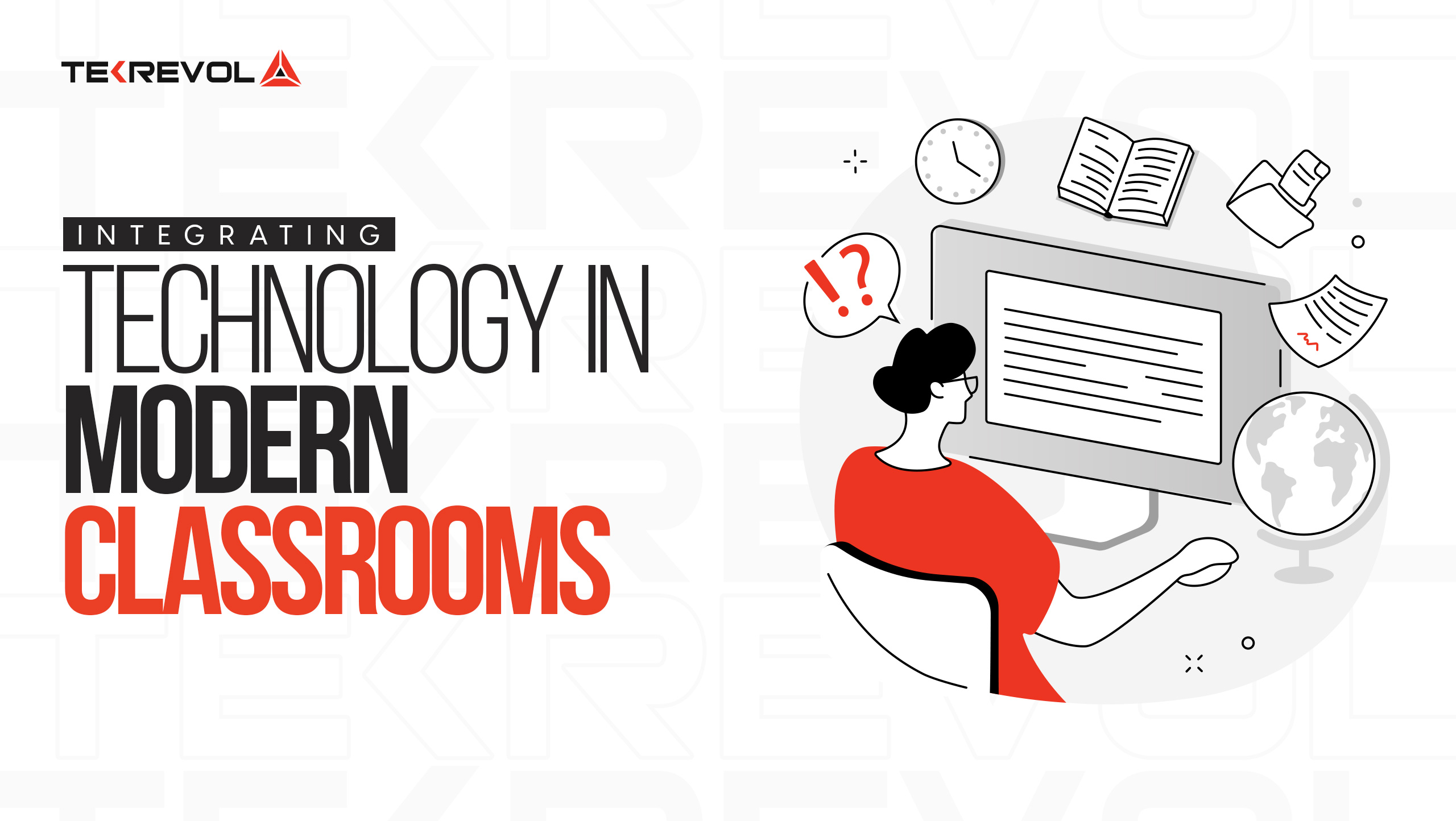 Tekrevol's Global Presence
Now expanding to multiple cities across USA, GCC region, Europe & Asia
Come meet us at a location near you!
USA
39899 Balentine Drive,
Newark, CA 94560
1301 Fannin St #2440,
Houston, TX 77002
501 E Las Olas Blvd Suite
230, Fort Lauderdale, FL
44 Tehama St, CA 94105, San Francisco
400 NW 26th St, FL 33127, Miami
740 15th St NW 8th Floor, DC 20005, Washington
CANADA
4915 54 St 3rd Floor
Red Deer, ABT T4N 2G7
UAE
Level 5, One JLT Tower 1 - Jumeirah Lakes Towers - Dubai, United Arab Emirates
Level 17, World Trade Center, Khalifa Bin Zayed the First Street, Abu Dhabi
Level 22 , West Tower, Bahrain Financial Harbour, Manama, Bahrain
Level 22, Tornado Tower, West Bay, Doha, Qatar
PAKISTAN
3/25, Block 5, Gulshan-e-Iqbal,
Karachi, Sindh 75650
USA
CANADA
PAKISTAN
UAE
talk to us
Got an idea?
Let's get in touch!
Let's discuss your project and find out what we can do to provide value.
I am interested in discussing my ideas with you for
COPYRIGHT 2023 TEKREVOL ALL RIGHTS RESERVED.