8 Experts Share Their Top Digital Marketing Trends and Strategies for 2023
Author: Tekrevol |
May 2, 2023 -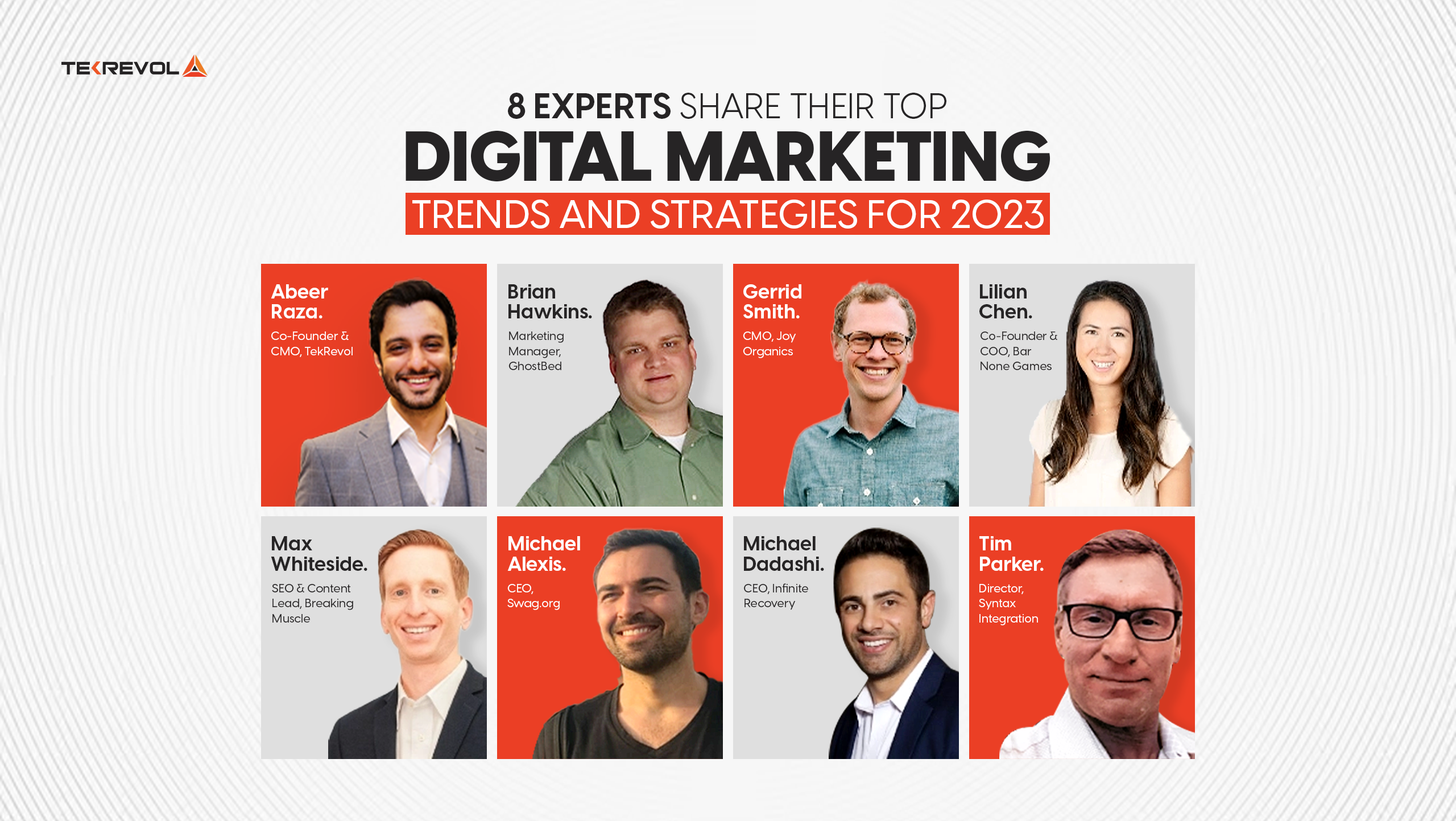 Trends come and go with how quickly the digital marketing landscape is evolving, but there are certain developments that are expected to shape what the future of the industry will look like. Trends like influencer marketing or video marketing have been around for years now and are not expected to be outdated anytime soon. At the same time, innovations in AI tech have led to a flood of new trends that are having a massive impact on the world of digital marketing.
From AI-driven content to chatbot marketing, here are 10 answers to the question, "According to you, what will be the top digital marketing trend and/or strategy for 2023?"
Multi-Channel Networks
Influencer Marketing
Chatbot Marketing
Performance-Based Affiliate Marketing
Voice Search With Augmented Reality
Metaverse
AI-Driven Content
Social Impact Strategy 
Multi-Channel Networks
Multi-Channel Network (MCN) platforms enable brands to target multiple channels simultaneously, ‌increasing their reach among potential customers.
As an uncommon example of this approach, companies may issue virtual assets as rewards for user interaction to help promote their brand identities, e.g., by creating digital tokens to reward content reviews or social media campaigns.
This would not only enhance customer engagement but also encourage loyalty from consumers who receive reward services within an interconnected network that spans multiple channels.
Michael Alexis, CEO, swag.org
Influencer Marketing
Influencer marketing is the practice of promoting businesses or services by collaborating with influential individuals on social media platforms. Using this type of digital marketing has grown in popularity over the past few years, and this trend should continue into 2023.
To promote their own brand or products, marketers can benefit from the influencers' already established authority and trustworthiness in the eyes of their audience.
Influencer marketing has the potential to expand your customer base, build your brand's reputation, and boost your revenue. Selecting the proper influencers, forming genuine partnerships, and tracking results are all crucial for the success of any marketing campaign.
Gerrid Smith, Chief Marketing Officer, Joy Organics
Chatbot Marketing
A chatbot is a type of computer program that attempts to mimic human interaction. Their help can lead customers through the sales process and answer their questions.
I expect that in 2023, chatbot marketing will be one of the fastest-growing areas in digital marketing. By offering quick and personalized service, decreasing response times, and raising engagement rates, chatbots can boost customer satisfaction.
Marketers need to make sure their chatbots are easy to use, intuitive, and consistent with the tone and ethos of their brands.
Max Whiteside, SEO and Content Lead, Breaking Muscle
Performance-Based Affiliate Marketing
Affiliate marketing is a powerful digital marketing trend that can help businesses see strong ROI and results in a tough market. It is an effective way to reach potential customers, build relationships with them, and drive sales.
With affiliate marketing, businesses can leverage the power of influencers to promote their products and services to a larger audience. Affiliate marketers also have access to a wide range of tools and data that allow them to track performance, optimize campaigns, and measure success.
With the right strategy in place, affiliate marketing can be an effective tool for driving leads and sales for businesses in any industry. As someone who has worked in the industry for over a decade, I see 2023 going back hard on this channel as VC money to spend crazily on ads is drying up.
Brian Hawkins, Marketing Manager, GhostBed
Voice Search With Augmented Reality
The top trend will probably be voice search optimization, complemented by augmented reality (AR) marketing. Voice search optimization will become increasingly important as more people opt to use voice assistants instead of typing queries into search engines.
Augmented reality (AR) marketing will enable customers to engage with brands in a more immersive way, while predictive analytics will enable companies to expect consumer behavior and tailor their marketing strategies accordingly.
Lilian Chen, Co-Founder and Chief Operating Officer, Bar None Games
Metaverse
The term "virtual world within a world" is frequently used to describe the Metaverse, which is currently owned by Meta (Facebook). It is an uncharted digital cosmos where augmented or virtual realities interact to form a shared, participatory space.
In a future world where you can do whatever you want, having a digital version of yourself seems to have a lot in common with video games. Because of a network of realities and virtual universes where space is present almost everywhere, social trading is now possible.
Because of this, modern digital marketers have found a method to use video to bridge the gap and establish a completely new category of digital marketing.
Tim Parker, Director, Syntax Integration
AI-Driven Content
AI technology is becoming increasingly powerful, and it's being used for a variety of marketing activities. In 2023, AI-driven content strategies will become more popular as marketers look to gain insight from data in order to create more effective content.
AI can help marketers analyze customer behavior and preferences, optimize their targeting efforts, and develop more personalized content for customers.
AI-driven content strategies can also help marketers create more targeted campaign messages, respond quickly to customer queries, and measure the impact of their campaigns.
Michael Dadashi, CEO, Infinite Recovery
Social Impact Strategy
With the primary target audience for brands now being Gen Z, brands have to take their beliefs and morals into consideration while marketing. Gen Z touts themselves as being more "woke" and "ethically conscious," which is why the social impact strategy will take front and center stage in digital marketing in 2023.
The social impact strategy emphasizes creating positive social and environmental change through digital channels. It involves using digital marketing techniques to raise awareness of social and environmental issues, promote sustainable practices, and drive social impact.
The goal of this strategy is to not only promote a brand or product, but also to make a positive difference in the world. By aligning a brand with a social or environmental cause, brands can demonstrate their commitment to making a positive impact, which helps build trust and loyalty among consumers, particularly Gen Z.
Abeer Raza, Co-founder and CMO, TekRevol
Incorporating these digital marketing trends into your business can help it grow and give you an edge over your competitors. By doing thorough research and leveraging these trends into your digital marketing strategy, your business can stay agile and adaptable to whatever new changes might come in the future.
Tekrevol's Global Presence
Now expanding to multiple cities across USA, GCC region, Europe & Asia
Come meet us at a location near you!
USA
39899 Balentine Drive,
Newark, CA 94560
1301 Fannin St #2440,
Houston, TX 77002
501 E Las Olas Blvd Suite
230, Fort Lauderdale, FL
44 Tehama St, CA 94105, San Francisco
400 NW 26th St, FL 33127, Miami
740 15th St NW 8th Floor, DC 20005, Washington
CANADA
4915 54 St 3rd Floor
Red Deer, ABT T4N 2G7
UAE
Level 5, One JLT Tower 1 - Jumeirah Lakes Towers - Dubai, United Arab Emirates
Level 17, World Trade Center, Khalifa Bin Zayed the First Street, Abu Dhabi
Level 22 , West Tower, Bahrain Financial Harbour, Manama, Bahrain
Level 22, Tornado Tower, West Bay, Doha, Qatar
PAKISTAN
3/25, Block 5, Gulshan-e-Iqbal,
Karachi, Sindh 75650
USA
CANADA
PAKISTAN
UAE
talk to us
Got an idea?
Let's get in touch!
Let's discuss your project and find out what we can do to provide value.
I am interested in discussing my ideas with you for
COPYRIGHT 2023 TEKREVOL ALL RIGHTS RESERVED.